Back to the Moto Guzzi Page  |  Ghezzi-Brian Race Team
What a motorcycle!  Here's Larry Hubbard's beautiful theme on the Moto Guzzi: a Ghezzi-Brian Supertwin 1100 motorcycle in all its glory! 
Larry writes:
"I personally own the first Supertwin the importer brought in and these are my thoughts on it.  The first thing you notice is quality of components, high end appointments in every detail and not just bolted on randomly.  The frame was engineered from a "pure" race effort which gives loads of feedback to the rider which promotes confidence as handling is superb.  The 1100cc V-twin engine fuel injection is tweaked to produce 94 horses and gobs of torque which makes this 420 lb. cycle accelerate like no other,  while the Ferrari paint and Tubi style (Ferrari) stainless steel upswept exhaust is beautiful "eye candy".
Quality control is very high due to the small numbers made (8 per month worldwide) which is not one of Moto Guzzis ' forte'. I really enjoy my Supertwin and the envy I get from longing Ducati/Japanese owners, who insist their bikes are "one of a kind".  I work very closely with the importer and he has brought in the only Ghezzi-Brian Furia into the states.  Needless to say he is cleaning out his garage to make room for his new love.  These bikes are superb-I don't understand why the magazines haven't given them their due.  Note: this bike is for sale, contact Larry at hubbard-lyons@mindspring.com.  Thanks, Larry, for sending these photos!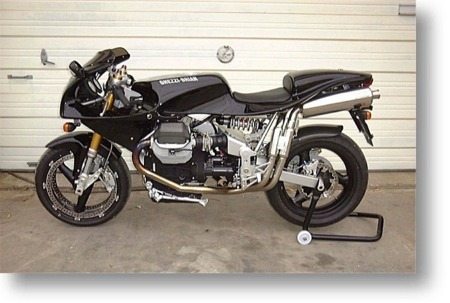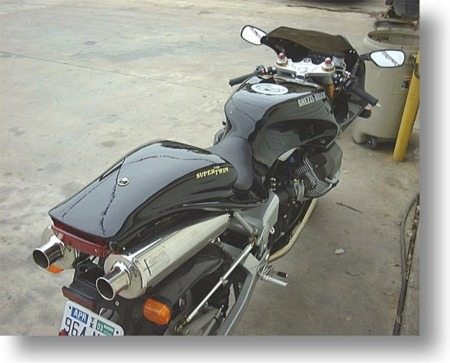 Other WebBikeWorld Brands Posts