Gerber Reactor 3 LED Flashlight Review Summary
Gerber Reactor 3 LED Flashlight Image Gallery
LED technology is evolving at a rapid pace, and motorcyclists are reaping the benefits.
LED taillight and brake light replacements are now fairly common and original equipment LED lights have appeared on motorcycles.
They can't come too soon — there's no reason why every motorcycle shouldn't have an LED brake light/tail light and LED directionals.
The benefits of LED lights on motorcycles are overwhelming; they resist failure from vibration, they consume very little current, they cycle on and off in milliseconds and they're lightweight and run cool.
Motorcycles are at a premium for real estate, and the ability to mold LEDs to various shapes and sizes would be beneficial for motorcycle appearance, styling and safety.
LED technology is starting to spread to all sorts of different consumer products, and it won't be long before we see LED headlights, I'm sure.
We've reviewed several different LED flashlights and head-mounted lights on webBikeWorld.
And although battery life seems to be an improvement over their incandescent cousins, they just don't seem to put out the light that a decent incandescent flashlight can, and the LED varieties are sometimes 2-3 times more expensive.
We're not sure what type of LED powers Gerber's Reactor 3 flashlight.
The package only says it's a 1-Watt LED "bulb". But it definitely surprised us the first time we turned it on.
It has a powerful beam that equals a similarly sized incandescent halogen bulb flashlight, and it blows away the last LED flashlight we tried, the pretty (but pretty weak) five-LED "Cynthia" flashlight.
This series of three photos below are un-retouched, other than resizing from 3MP to 250 pixels wide.
The photo on the left is the control photo, i.e., a photo taken with only ambient light.
The photo in the middle shows the Cynthia 5-LED flashlight, and the photo on the right illustrates the single LED Gerber Reactor 3. As you can see, the Reactor 3 is way more powerful than the Cynthia.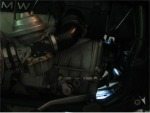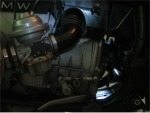 (L) Ambient light. (R) With Gerber Reactor 3 LED flashlight.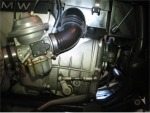 The Gerber Reactor 3 weighs a reasonable 159 grams (5-5/8 oz.) with batteries on the webBikeWorld scales. It's 8″ long, which is a bit longer than most LED toolbox sized flashlights.
The main body tube is made from machined "aircraft" aluminum, with a knurled section in the middle.
It would have been nicer if the knurling continued up towards the head of the flashlight, which would be more towards the balance point and under the user's thumb and forefinger.
The Reactor 3 is turned on and off by twisting the ABS polycarbonate head. It goes from off to on and off, then back to on and then to off again.
The diameter of the head and the non-traditional off/on/off switch makes it easy to use, although it's still a two-handed operation.
We're not very keen on these types of switches for flashlights, because they're sometimes hard to switch on with one hand holding a part and the other grabbing for the flashlight in the toolbox.
But Gerber's design is better than most twist-on types.
We're always working on our motorcycles, and we've found that flashlights and especially head-mounted lights are essential for even the most basic maintenance checks and tasks.
So we always have a variety of flashlights and headlamps around the garage and in the toolbox.
This Gerber LED flashlight has become our favorite, displacing the sturdy aluminum body of the Cynthia model that seems so weak in comparison.
Gerber is known for their high-quality knives and other outdoor equipment, and the Reactor 3 is no exception.
Manufactured in China to Gerber's design and specifications, it feels substantial and carries a limited lifetime warranty.
O-rings are used in the head and at the rear, where a drilled cap, which can be used to attach the flashlight to a lanyard, opens up to pop in the three AA batteries.
Gerber throws in 3 Energizer brand batteries, but once they die we'll replace them with our Energizer rechargeables, which we've found to work very nicely in a variety of electronic equipment.
The Reactor 3 is a newer and more powerful version of the original Gerber Reactor, which holds two AA batteries.
Gerber claims that the Reactor 3 will burn for 100 hours on the three AA's and that it will illuminate up to 100′ away.
The Gerber Reactor 3 is available at various online retailers; we purchased ours through REI with our membership for $41.95.
Either Gerber bought the CMG "tactical" flashlight company, the original designers of the Reactor, or CMG is manufacturing this flashlight for Gerber, we're not sure.
Either way, this is a lot of money for a small flashlight, but for flashlight connoisseurs, this is probably the most powerful small LED flashlight on the market today, and if you have to have the best, this is pretty close to state-of-the-art in LED flashlights.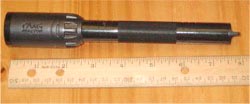 w

BW

 Review: Gerber CMG Reactor 3 LED Flashlight
Manufacturer: Gerber
List Price (2004?): $41.95
Colors: Black anodized aluminum and ABS polycarbonate.
Made In: China
Review Date: 2004 (?)
Note:
 For informational use only. All material and photographs are Copyright © webWorld International, LLC since 2000. All rights reserved. See the webBikeWorld® 
Site Info page
. Product specifications, features and details may change or differ from our descriptions. Always check before purchasing. Read the
Terms and Conditions
!
Owner Comments and Feedback
Other WebBikeWorld Motorcycle Flashlight Review
wBW Flashlight Review  Info