Autumn has arrived in the northern hemisphere
That means it's time to start thinking about those winter maintenance projects!
Maybe it's finally time to install a set of heated grips or install a new set of tires?
Or how about flushing and refilling the brake fluid or the fork fluid?
Or maybe get to that overdue valve adjustment?
Check out the wBW Motorcycle Maintenance and Repair index of over 80 articles that describe various projects that can be tackled during the winter months.
If you're lucky enough to have a garage, you may want to think about springing for a kerosene heater.
We bought one a few years ago, and it works great. It only takes about 15 minutes or so to bring an unheated garage up to shirtsleeve temperatures, even on the coldest days.
In fact, we usually have to shut it off after about 1/2 hour or so, because it actually gets too warm. We call it the "Temple", as in "Let's fire up the Temple!"
So we figured this is a good time of year to do another tool review.
Besides, it's getting close to the holidays, and what better gift for your favorite motorcyclist than a nice new set of wrenches?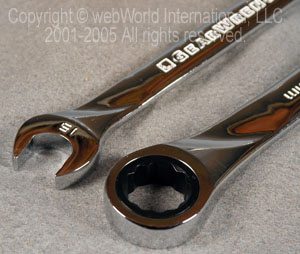 GearWrench
The wBW Motorcycle Tool Reviews have been very popular with tool freaks, and the engineers at GearWrench have been very busy lately.
We became fans of GearWrench products when they were first released a few years ago when we purchased one of the first GearWrench basic combination wrench sets.
Well, GearWrench has come a long way since then.
They now have a huge array of products and much higher quality than the originals.
There are now all sorts of different GearWrench products, including torque wrenches, tap and die sets, FlexHeads and even the wild Half Moon ratcheting wrenches.

The GearWrench XL
The new GearWrench XL series of tools is designed to be the "professional" line.
These tools are longer than the standard GearWrench line and more robust, with a unique twisted shape at the ends that is designed to provide greater strength.
GearWrench claims that the XL's "Surface Drive Plus" provides a better grip on the fastener and helps prevent rounding of corners.
The XL uses the typical GearWrench 5-degree ratchet box end, but the XL is claimed to be 20% stronger than the original.
Note that we don't recommend using the box end of the GearWrench combination wrenches for breaking free fasteners that will require huge amounts of effort or your favorite cheater bar.
But we think they're perfect for the precision torque necessary on motorcycle fasteners, which are usually threaded into relatively soft aluminum or other alloys.
The XL line is supposed to have a new oval shape that makes them more comfortable to hold, but we really don't notice a difference between these and the originals.
One thing hasn't changed, and has actually improved: the finish on the GearWrench XL is super, and I find myself wiping them off before putting them to sleep in the toolbox!
It's a shame to have to actually use these beauties!
They make the old rough-cast Sears Craftsman set look like something out of the 1940's. And the special twist on the ends gives the XL's a special sort of futuristic appeal.
GearWrench XL Dimensions
The XL must stand for "extra long", because one of the features of this design is their length, which is claimed to be 25% longer than the original GearWrench.
For example, an original 15 mm GearWrench measures 198 mm long (7-13/16″), while the Sears Craftsman 15 mm is just a hair longer at 199 mm.
The 15 mm GearWrench XL is 251 mm (~9-13/16″), which is just a bit over 25% longer than the original.
I also weighed the three different wrenches just for grins; not really a fair comparison, because the XL is so much longer:
15 mm Combination Wrench Weight Comparison

| | | | |
| --- | --- | --- | --- |
| | Sears Craftsman | GearWrench Original | GearWrench XL |
| Ounces | 4.375 | 3.875 | 6.125 |
| Grams | 136 | 110 | 172 |
The GearWrench XL line is currently available as a combination wrench and as a locking flex head.
The metric set shown here includes 8, 9, 10, 11, 12, 13, 14, 15, 16, 17, 18 and 19 mm wrenches, which should cover just about any motorcycle maintenance or repair project.
They're also available in 13 SAE sizes, with 1/4″, 5/16″, 3/8″, 7/16″, 1/2″, 9/16″, 5/8″, 11/16″, 3/4″, 13/16″, 7/8″, 15/16″ and 1″.
The wrenches can be purchased individually and also in sets of 8, which drop off one at the small end and a few at the large end.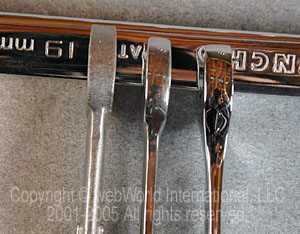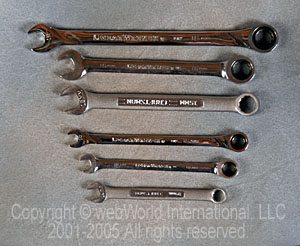 Top to bottom: 15mm XL, 15mmstandard, 15mm Sears 10mm XL, 10mm standard, 10mm Sears, original and XL.
Conclusion
GearWrench products are manufactured by the Danaher Tool Group, who also makes professional tools like K-D, Matco, Armstrong, Holo-Krome and more.
The GearWrench XL is a solid wrench that is serving us well in the webBikeWorld garage.
Danaher offers a lifetime warranty on these wrenches.
We know some webBikeWorld visitors had problems back when the wrenches were first introduced to the market.
But it's our understanding that those days are long gone now that GearWrench has a solid presence in the U.S.A. and other world markets.
We've put away our Sears Craftsman wrenches after many years of hard use.
Not because they don't perform, but it's just such a pleasure to use the highly polished GearWrenches, which work so well for motorcycle duty.
w

BW

 Review: GearWrench XL
Manufacturer: GearWrench
List Price (2005): $186.95 (set of 12)
Colors: Polished chrome
Made In: Taiwan
Review Date: November 2005
Note:
 For informational use only. All material and photographs are Copyright © webWorld International, LLC since 2000. All rights reserved. See the webBikeWorld® 
Site Info page
. Product specifications, features and details may change or differ from our descriptions. Always check before purchasing. Read the
Terms and Conditions
!
Owner Comments and Feedback
Other WebBikeWorld GearWrench Posts