GearWrench Ratcheting Combination Wrench Review Summary
Summary
I had been eyeballing a set of Craftsman ratcheting box-end wrenches for quite a while, thinking they would come in awful handy when working on the confines of a motorcycle.  They were on my list, but Santa had other ideas.
So when a flyer came in the mail claiming that they were on sale, I took a spin up to the local Sears store to take a peek.  Poking around on the shelves, I didn't see what I was looking for, until a salesperson pointed to a set of "GearWrench" ratcheting combination wrenches.
My eyes had passed right over them, because they certainly didn't look like any Craftsman tools I had seen before.  I'm a big fan of the Craftsman products — they're readily available, have rarely failed me (if they do, the lifetime warranty works), and the prices are always great.
But these were different; highly polished chrome plating, very thin and stamped with the GearWrench logo, they just didn't look like they had Craftsman genes.
And they weren't like the Craftsman ratcheting combo wrenches I was looking for, which I now realize are very industrial looking, too thick, and made of stampings rather than forgings.
But what really got my interest was the GearWrench display — the 12 mm wrench from the metric set was attached to a little plastic nut, and it yelled "TRY IT" in big, bold letters.  I was really amazed — just a tiny movement clicks the ratchet and allows you to torque the nut.  I had never seen anything like this before.
The package claims that a standard box wrench needs 30 degrees of movement to engage a nut; the GearWrench needs only 5 degrees.  Flip it over and you have reverse.
It struck me that these would be worth their weight in Brembos in a motorcycle workshop — let's face it; we work in some pretty tight spaces, and the ability to use a box end ratchet, much less one that works with only 5 degrees of movement, would be a real time (and wrist) saver.

The fact that these things are very thin is also a plus — it allows you to get in spaces where normal wrenches won't fit.  GearWrench also claims that the tools use a "Surface Drive" box end, which, they claim, "virtually eliminates the rounding of fasteners".
They say that by "moving the contact points of the wrench back from the edge of the fastener, the area of flat contact is expanded, distributing the load over a wider area".  Whatever, they seem to work great.
The GearWrench is available in metric and English sizes, in both standard length and "stubby".   Sears was having a sale on the standard length sets for $39.95, so I grabbed one.
Even my wife was impressed!  The metric set includes an 8, 10, 12, 13, 14, 15 and 18 mm sizes.  The normal price is $49.95.  The more I use them, the more I like them.  They're one of these things that comes along every once and a while where you think "how in heck did I ever get along without these?"
One of the reasons I like to buy Craftsman tools is that they are made in the good 'ol USA. But the Craftsman ratcheting wrench (note: old style, before Sears started carrying GearWrench under the Craftsman brand) is so bulky in comparison, there's no contest.  I wonder if the Sears tool engineers realized this and just threw in the towel and decided to outsource?
NOTE:  After this review was written, Sears started carrying both the GearWrench brand wrenches and a very similar wrench, sold under the Craftsman label.  There may have been some confusion when the product was first released to the market about where to send a GearWrench for a warranty claim; however, all GearWrench wrenches carry a lifetime warranty.
wBW Visitor "C.A." sent this information  –  "The packaging for my GearWrench set says: "LIFETIME WARRANTY: If this wrench when used for its intended purpose, fails to give you complete satisfaction, we will at our discretion, send you a free replacement of the same or similar item.
Questions, comments, or for more warranty information call toll free: 1-888-757-1812."  Also on the package: "The GearWrench is a precision tool and is not intended to free frozen fasteners."  At the bottom of the package is the following: "Manufactured in Taiwan R.O.C. for Danaher Tool Group Lancaster, PA 17604-3767 USA (c) 1999"
So far, the only thing that's been a disappointment is that they are made in Taiwan. It's interesting that they don't say that on the tool itself, only the packaging.  They are distributed by the Danaher Tool Group in Lancaster, Pennsylvania (now located in Hunt Valley, Maryland, just down the road a piece from me!).
I did a bit of searching on the web, and discovered that Danaher Tool Group is a pretty big company that owns Armstrong Tools, Jacobs Chucks and others.  Armstrong's site has a section on geared wrenches, and the items shown there look pretty much like the GearWrench product, except they're made in the USA.
One last thing — I have to admit that I haven't really used these tools yet for "pouring on the torque", but for basic wrenching they've worked great.  NOTE:  GearWrench wrenches are not designed to apply the same type of torque loads as standard box-end wrenches.
GearWrench wrenches come in very handy in tight situations, but be aware that you should not apply heavy torque loads to the box end, or you may risk breaking the mechanism.  But there should be no problem with just about any fastener on a motorcycle; a 6-point socket may be a better choice than any type of box end wrench if the fastener is over-tightened or frozen.
Product Review:  

GearWrench Ratcheting Combination Wrench
Available From:  Sears, Roebuck 
Made in:  Taiwan for Danaher Tool Group
Suggested Retail Price:  $49.95; occasionally on sale at Sears for $39.95
Sizes:  Available in common metric and English sizes; also available in "stubby" lengths.
Product Comments:  Excellent quality, appearance and feel; highly polished chrome; lightweight; thin; needs as little as 5 degrees of sweep to move a fastener; lifetime warranty; "meets or exceeds ANSI, DIN and U.S. Federal torque specifications (is there such a thing?) for standard professional combination wrenches".
More:  

w

BW

 review – GearWrench Flex Head Wrenches  |  Sears now carries Gearwrench  |  See Below for comments from webBikeWorld visitors who have purchased Gearwrench tools.  If you have some comments on these tools, please send them to me at  and I'll post them for others to see.  |  Non-Craftsman Gearwrench Warranty and Replacement Info
Note:  For informational use only.  All material and photographs are Copyright © webWorld International, LLC – 2000-2011.  All rights reserved.  See the webBikeWorld® Site Info page.  NOTE:  Product specifications, features and details may change or differ from our descriptions.  Always check before purchasing.  Read the Terms and Conditions!
Owner Comments and Feedback
Comments are ordered from most recent to oldest.
Not all comments will be published (
details
).  Comments may be edited for clarity prior to publication.
---
From "C.S.":  "I recently purchased two 10 piece GearWrench Ratcheting Combination Wrench sets from Sears and the packaging indicates that they were made in China.  I find it a little disturbing that the "Lifetime Warranty" logo on the packaging shows stars and stripes implying that they were made in the USA.  I probably wouldn't have bought them, opting for the Craftsman instead, but they were on sale at 50% off.
I too wouldn't try to break a stuck fastener with them (it tells you not to on the packaging) opting instead for a regular wrench or flex handle/socket for that.  However, these are decent wrenches and will do their job in tight areas if used as intended.  The warranty info says that Sears will exchange for same or similar."
---
From Larry Adams, VP of Sales for GearWrench:  "Rick- great to read all the positive comments about our GearWrench.  Just to clear the record this product was first designed and manufactured by our company in Taiwan.  We worked on the product for over two years getting the torque strength close to that of a standard non-ratcheting box wrench.  We are very happy with our success.
The Craftsman product, also manufactured by Danaher, is a great tool but came second -this time!  We now offer at Sears and other outlets standard styles, offset reversible models, stubby models and the new Flex-head GearWrench – I think the best of all – great for work on the Harley!
GearWrench has been bought now for 7 years by serious users.  We stand by our warranty and hope that if your readers have quality issues that they will let us replace the product.  This also allows us to see what went wrong and continue to improve our product.  Thanks to all of your readers for giving GearWrench a try! – Larry Adams V.P. Sales ."
---
From "C.A.":  "Thank you very much for your review of GearWrench ratcheting combination wrenches!  After looking at both the Craftsman Reversible Ratcheting wrenches and the GearWrenches at my local Sears store, I decided to purchase the GearWrench.  My decision was largely driven by price, which at that time was $120 for the 7pc Craftsman set versus $50 for the 7pc GearWrench set.
(Note: The price for the 7pc Craftsman set is inconsistent — it's either $80 or $120, depending on where you look).  Even though they're made in Taiwan the GearWrenches have a lifetime warranty, so I figured at that price I didn't need the reversing switch.  Also, the Craftsman wrenches are made in the USA but they're clearly the same design, so any quality advantage of the Craftsman is limited to materials and/or fabrication.
I don't abuse my tools and I've used the GearWrenches only a few times (never to free frozen fasteners), but I've been very happy with them so far.  Also, the reversible ratcheting wrenches are now available under the GearWrench name, which I found along with a great deal of other information on GearWrenches at K-D Tools."
---
From "J.C.":  "Hello Rick, I was reading your web page about Gearwrench ratchet wrenches.  I have had the severe misfortune of purchasing these wrenches.  I have them in metric, they have proven to be nothing but junk.  They break easy when torque is applied.  I have only had them less than 2 weeks and 4 of the 7 broke.  I was shocked to read that others find these wrenches to be so great.  I depend on my tools every day for work.  These wrenches have left me down 4 times to many.
While I know that these wrenches have a lifetime guarantee I do not know if I want to keep them.  Who is to say that if the company stands behind them that they will not break immediately again.  I was so angry about these wrenches breaking that I have not contacted the company about replacing them.  Truthfully I am not so sure that I want to do that.  Or throw them in the trash can where they so justly belong. I can not nor will not recommend these tools to anyone, get the Craftsman.  Then you know you got a quality tool."
Editor's Reply:  Sorry to hear about your Gearwrench problem.  I wouldn't apply heavy torque loads to the ratcheting end of the Gearwrench, just as I wouldn't apply heavy torque loads to a ratchet/socket combination — I'd use a breaker bar instead if necessary.
The ratcheting action sure comes in handy in tight situations.  Fortunately, I've never had to apply so much torque to a wrench that it broke.  Since Sears now carries the Gearwrench under the Craftsman brand, you're suggestion is a good one — buy only the Craftsman branded Gearwrench so that if it breaks you can bring it back.  However, note that the Craftsman name doesn't necessarily mean good quality — I've had loads of problems with Craftsman torque wrenches, and found out that they are NOT guaranteed for life!  Bottom line: caveat emptor!
---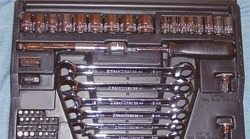 From "M.K.":  "During the recent 2002 Christmas season, I was browsing a local Ace Hardware and found a set of Gear Wrenches on sale for $49.99.  I've owned an eight piece set of these wrenches for quite some time and have been pleased with their performance.
Even though I have my original set, I was astounded when I spotted the Gear Wrench set pictured here.  It not only included six wrenches but nine 3/8 inch sockets, eight 1/2 inch sockets, 6 metric Allen heads, 4 SAE Allen heads, 6 Torx heads, the Gear Wrench ratchet adapters in both 3/8 and 1/2 inch, a swivel extension and 6 screwdriver bits!  All in a carry case for only $49.99.  What a find!  I took the new purchase on a trip down to Southern California and fortunately or unfortunately, needed the tools.  Working on the side of the road is never fun, but at least with good daylight and a great set of tools, it made the job much easier.  I love Gear Wrenches and would recommend them to anyone."
---
From "N.T.":  "I have a set of the standard Gearwrenches.  I mainly use them to work on my Harley-Davidson, but have used them on other things as well.  They are very handy for very tight spaces and they look sharp too.  My only two complaints are that they are made in Taiwan and the forward/reverse switch gets accidentally bumped sometimes."
Editor's Reply:  Apparently, there are several different types of GearWrench products out there.  The set I purchased a while back when they first came out does not have the lever to allow reversing the ratchet — I have to flip mine over to reverse.  Mine were made in Taiwan also.  I have also noticed that Sears now carries a GearWrench product made in the U.S.A.
I'm guessing that the product was originally designed in the U.S. by Armstrong tools or one of their subsidiary companies.  They probably outsourced it to Taiwan, but their website always listed other GearWrench products made in the U.S.A.  A bit confusing, I guess, but anyway the product is now available at Sears and is labeled "Made in U.S.A."
---
From "D.C.":  "We bought a set of these wrenches for my Dad.  He is a Journeyman Electrician.  He said he has pushed them hard and has had no problems with them, he uses them every day.  Just thought you would like to know!"
Other WebBikeWorld
Motorcycle Accessory 

Posts

wBW Motorcycle Accessory Info