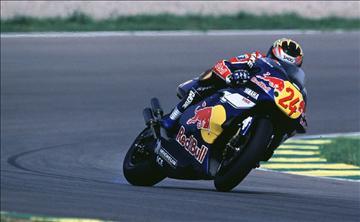 Three-time 500cc and two-time 125 GP winner Garry McCoy is still leaving tyre marks where he goes.
The legendary "Mr Squiggle" has been sideways over the past few months at the Le Minz 24-hour scooter race on the Gold Coast, the Troy Bayliss Classic and on the flat track at the North Brisbane Cup.
Now we hear he is putting together a motorcycle facility on his property at Cooroy on the Sunshine Coast hinterland and getting heavily involved in training the racers of tomorrow.
"It covers every disciple of bike riding except there's no road track, more off-road," he says. "There's speedway, flat track, motocross, I'm half way through a big enduro loop and a trials section as well. Once I get those done, I'll do a junior track and an area where I can train some people one on one. I would also like to get it MA approved and maybe run some meetings out there."
Meanwhile, Garry attends the monthly coaching clinics at Warwick's Morgan Park run by Motorcycle Sportsmen of Queensland. "I do a coaching day on the Thursday and there's a track day on the Friday followed by race weekend but I usually don't stick around for them," he says. "It's got around pretty quick that I'm training people so they turn up at a meeting and ask me about it or ask me to follow them around the track and tell them what they're doing wrong."
Garry's Cooroy tracks are taking up most of his time and he's not considered returning to racing or international testing, although he is open to discussions. "I've also been asked if I'd race in Australia, but I'm getting a bit over 40 and these young guys don't mind pushing it to the edge. I just want to have fun and that's why I did the scooter race and the other guest events."
He's also not considering following in Casey Stoner's tyre tracks to V8 Supercars. "I've been on two wheels since I was a kid and I'll stay there. Casey has done a bit of karting and he's come out for MotoGP with a lot of confidence and I'm sure if he sets his mind to it he'll be a success."
As for the state of play of MotoGP these days, Garry is not very optimistic. "I hope it picks up because where it's at at the moment it doesn't really excite me," he says. "There are two classes in one race and less MotoGP bikes than CRT. Maybe they should have a race just for the CRT bikes but then the grids would be very small. How you fix it is a tough one. If you look at V8 Supercars when they finish with their cars they get passed down to another class. Rather than having CRT they should have the previous season's bikes. That's how it used to be in the 500 series. They would immediately double the field."
Visit: motorcyclesportsmen.com.au