Garmin VIRB Review Summary
Garmin VIRB Image Gallery
The Garmin VIRB is brand new and ours just arrived yesterday.
The battery is still charging, but here are a few very quick pics and initial impressions.
A full webBikeWorld review will be coming soon and we'll compare the Garmin VIRB with the GoPro Hero 3 (review).
It seems like everybody and his brother are getting into the "action" camera game lately.
When we first started reviewing them, they were simply called video cameras, but hey — what do I know about marketing?
And speaking of way back…when we first started reviewing motorcycle video cameras on webBikeWorld, cheesy VGA resolution was all you got.
HD was a Big Deal when it first came out on a small, portable video camera — uh, I mean action camera.
Even the original GoPro Hero SD (review) only had standard resolution — and that was waaay back in…2008!
GoPro then quickly released the GoPro Wide (review) towards the end of 2008. It had a BIG 170-degree lens as a sort of fake HD.
The first HD motorcycle video camera we reviewed was the excellent Contour HD (review) as soon as it was released in February of 2010. The first GoPro HD video camera was the GoPro Hero HD (review) in April 2010. Remember when they called them the GoPro "Hero"?
Anyway, that's how fast this market has changed.
The Garmin VIRB
Here's a .jpg that lists the Garmin VIRB specifications. Interesting features include the IP7 water-resistant rating and image stabilization; a first for an action cam, as far as I know.
The basic version of the VIRB shown here does not include a GPS function — strange for a company like Garmin, don't you think? It's available…but you'll have to spend another $100 to get the Garmin VIRB Elite to get GPS. The Elite also has the Garmin ANT+ software, which is apparently a type of wireless application that allows file transfers and device control.
Why they don't include Bluetooth is a mystery (to me, anyway). Neither the Garmin VIRB nor the Garmin VIRB Elite include Bluetooth. The basic VIRB does not include WiFi, but the Elite version does (802.11 bgn).
Video specs are as expected for an action camera in 2013:

Garmin VIRB video specifications.
Note that Garmin does not yet list specifications for the lens angle or field of view. The camera can be switched from "Wide" to "Zoom" in the "Setup" menu, but we haven't been able to find any more information than that. There is also a menu choice that supposedly removes lens curvature in software.
First Impressions
This is a super-quick preview, with a few grab shots we took as soon as the box arrived, so I know nothing at this point about the video quality of the Garmin VIRB — the battery is charging as I write this!
We'll do the full webBikeWorld review as soon as we can, but in the meantime, I thought I'd jot down some first impressions.
And the first of the first impressions is that…this is a solid camera. It seems like it's built to a much higher level of quality than anything else we've seen. It feels more or less like a small brick in the hand and it has a kind of soft/hard rubbery covering.
Garmin says that the VIRB has an IP7 water resistance rating, which means water immersion to one meter. Curiously, Garmin says nothing about dust/solid particle or impact resistance, using the sort-of-a-copout "X" in the IPX7 rating instead.
But nevertheless, the VIRB seems built. Unfortunately, the convex lens sticks out like a wart on a chicken's beak, which means owners will have to be very, very careful about not scratching it. The lens, that is…
Note that the lens does appear to have a cover that's attached with four small Allen screws, but still, it's way too easy to scratch the cover.
And continuing the trend we've complained about with just about every motorcycle video "action" camera we've reviewed, the VIRB does not come with any type of carrying case. C'mon Garmin — you couldn't throw in a micro-fleece bag to carry the thing? Especially after we paid 300 bucks…
More complaints: the 2,000 mAh battery fits very tightly into its recess. So far, it's difficult to remove the battery once it's in the camera — we have to use a thin-tipped screwdriver to pry it out and that may cause problems down the line. I'm hoping it will loosen up a bit over time.
To make matters worse, the microSD card (Class 10 or above recommended by Garmin) sits underneath the battery in a weird little compartment with a flap/door that opens up. Then the microSD card is placed loosely on the contacts, then the flap is closed, then pushed forward towards the lens. Very strange arrangement and it's hard to know whether the microSD card is inserted correctly or not.
My advice? Don't try to change a card when you're on the road, you'll likely lose it. The trick with this one is to buy a honkin' big fast microSD card and leave it (and the battery) in there and access it only through the non-micro USB port under the rubber door at the bottom end of the camera.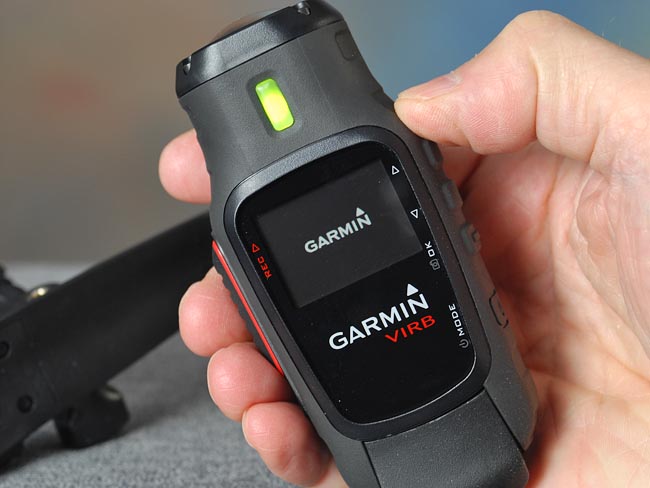 Garmin VIRB Included Mounts
Our other perennial complaint is with the mounts provided with most (all) action cameras. Apparently, no motorcycle owners are also video action camera designers who work for a camera manufacturer, because the mounts that are provided are typically pretty useless for mounting on a helmet or motorcycle.
The VIRB at least comes with a half-way decent base, but the only mount is a stick-on double-sided tape deal. The 1/4-20 standard tripod mount is a $6.99 option, which we just ordered (and cost another $6.00 for shipping). You think they could have given you one with a 300-buck camera? The VIRB doesn't even have a standard tripod mounting threaded hole.
With the battery inserted, the camera alone weighs 178 grams (6.125 oz.), which is pretty heavy to mount on a helmet. Not sure how this will turn out, but we'll let you know in the full review.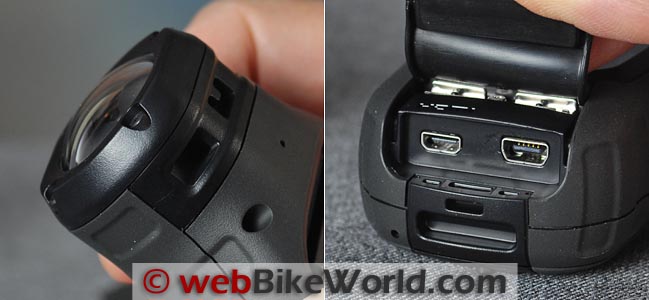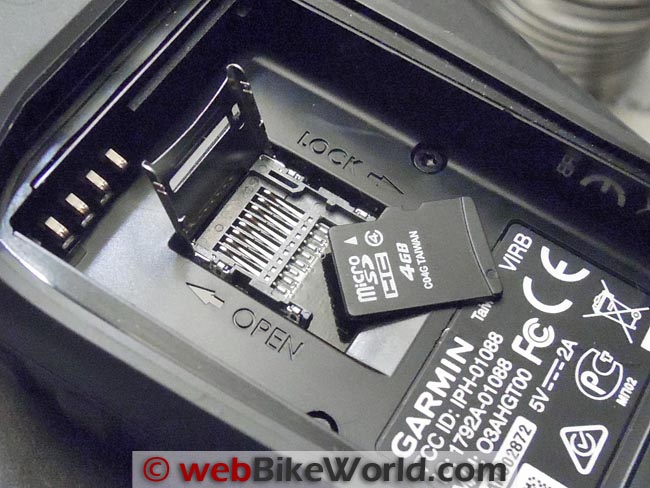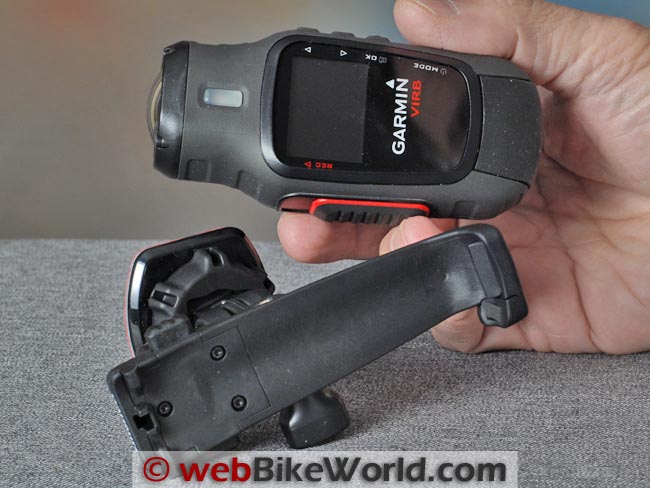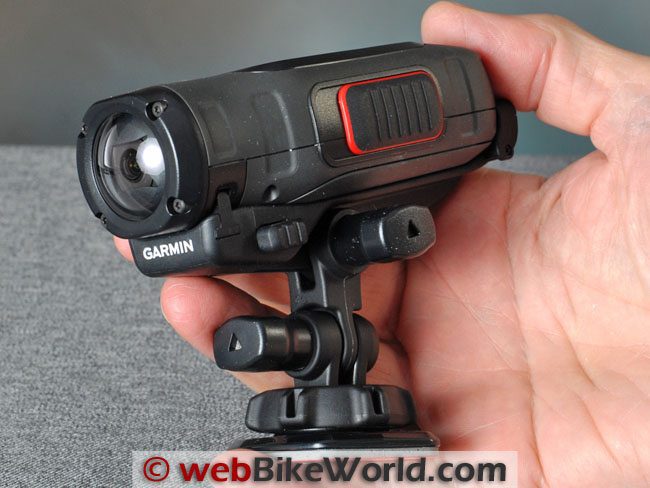 Conclusion
Too early to tell; the proof is in the video quality. We'll get it into the webBikeWorld review queue as soon as possible and let you know what we think.
More: wBW Motorcycle Video Camera Reviews
w

BW

 Preview: Garmin VIRB Video Camera

Manufacturer: Garmin Ltd.
List Price: $299.99 (Basic). $399.99 (Elite).
Colors: Black.
Made In: Taiwan
Publication Date: October 2013
Note:
 For informational use only. All material and photographs are Copyright © webWorld International, LLC since 2000. All rights reserved. See the webBikeWorld® 
Site Info page
. Product specifications, features and details may change or differ from our descriptions. Always check before purchasing. Read the
Terms and Conditions
!
Owner Comments and Feedback
---
From "S" (October 2013): "ANT is Garmin's proprietary communications protocol and is in direct competition to Bluetooth, so that will be why they don't include it. It is in newer Samsung and Sony phones as quite a few of the health-related wearable technology devices. It is not in iPhones or most other phones.
Only time will tell which protocol wins. They both have their strong points."
---
From "H.S." (October 2013): "I really don't understand why camera manufacturers can't figure out that riders like mounting cameras on their helmets.
As prolific as the GoPro has been for years now, there's still not an easy way to put one on your helmet in a way that doesn't stick out a foot to the side. Sony and JVC's action cameras are similarly ill-equipped for helmet mounting. The only ones I've seen do it right are Contour, Drift, and Replay.
More than any other feature I look for in a camera, I look for how it mounts. Even though it doesn't do 1080p and the battery life isn't great, I wound up buying a Replay XD720 simply because it mounts so tightly to the helmet with such a low profile. When a camera is such a small device that you can leave it on your helmet full time, you're much more likely to record more often. Just my two cents.
By the way, thanks for reviewing the Replay 1080 (review); finding out about that company was a watershed moment for me."