GRS Motorcycle Boots Review Summary
GRS Motorcycle Boots Image Gallery
The Gaerne GRS boots have a cumbersome entry system but the boots are comfortable once they're on.
Gaerne is not one of the most widely recognized names in motorcycle boots, at least in the U.S.A.
But you may recognize some of their sponsored racers.
The list includes Makoto Tamada (MotoGP); James Toseland and old-timer Ruben Xaus (WSBK); and Jakob Smrz and Sylvain Guintoli in the 250cc World Championship class.
And don't forget Mike LaRocco and others in AMA Motocross.
Of course, Mike wears the Gaerne SG 10 when he's racing. But for the rest of the bunch, the GRS is the boot of choice.
Gaerne actually refers to this boot by the clumsy moniker "G_RS 06", but let's bin that spelling and simply call them GRS for short.
For some reason, motorcycle manufacturers will constantly tinker with a basic motorcycle boot design. Motorcycle boots are a commodity product, so the designers rack their brains trying to come up with a distinguishing characteristic to make their brand stick out from the crowd. And for some reason, they go over the top when it comes to full-on race boots.
Now there's nothing wrong with that if it brings us innovation and feature-driven safety that's better than the next guy's. And the Gaerne GRS are sure different, although some might call them gimmicky, depending on their point of view. Me? I haven't decided yet. As you'll see; I'm of mixed minds when it comes to wearing them.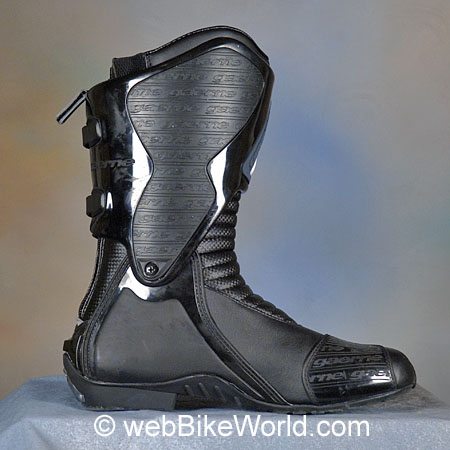 The Gaerne GRS Boots
One thing that definitely saves the day for the Gaerne GRS is their fit and comfort — once you get them on, that is.
Understand that dedicated race boots by their nature are very focused tools so it doesn't make sense to complain about their lack of comfort for casual walking around. The GRS boots are not made for walking, period.
I'm perfectly OK with that, and what's really amazing is that after hobbling out to the bike and climbing on, the GRS boots seem to magically disappear down there on my feet somewhere as soon as I start riding.
"Disappear" is the only way I can describe it and I know it sounds strange, but it happens every time I wear them. I struggle to get the things on, hobble around with them to get on the bike, but once I'm there, the boots just plain work.
I'm not sure why or how this happens, but it does. But let's back up a step, because getting these babies on is the trick.
While most boots have a side zipper with a big folding cover flap that secures everything with the magic of Velcro, the GRS boots are entered through the rear. But before you can get to the zipper, the two adjustable buckles must be unlatched.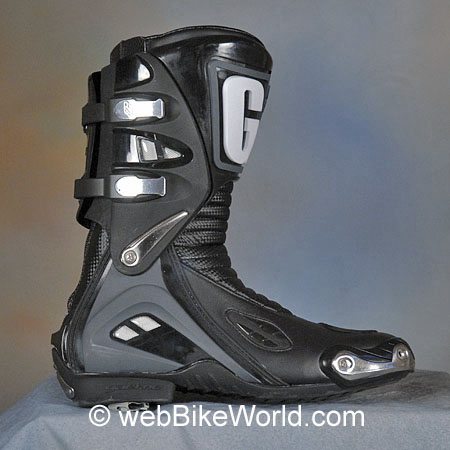 Straps and Buckles
The design of the straps and buckles remind me a lot of the Vendramini Marathon Adventure-touring boots we reviewed a couple of years ago. Except in the GRS, the length of the buckle strap can be changed by manually adjusting the teeth of the strap to the desired position, rather than using the buckle as a ratchet like the Marathons.  The metal buckle latch then fits flush when it's closed, folding into a sort of receiver on the side of the boot.
The buckles are attached to an outer hard plastic-like sleeve that covers the entire front and sides of the shin and rotates downward, exposing the soft inside "gel" boot liner (see photos below). To put the boots on, the buckles are opened and the sleeve is rotated forward, then the rear facing zipper can be opened, ready for entry.
The rider's foot is placed down into the soft "gel" padded liner and into the boot. A padded tongue covers the back of the ankle, held on by some elastic straps on the inside. It has a grab loop which must be held to prevent the tongue from bunching up as the foot is sliding down into the boot.
The soft innards of the boot have some elastic towards the top and here's the problem — this elastic doesn't continue down far enough to open the liner up wide enough for most legs. The elastic should have been continued down all the way to below the ankle to offer the best chance at fitting different calf sizes, but it doesn't.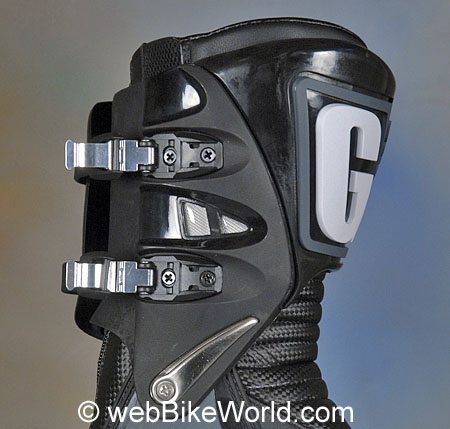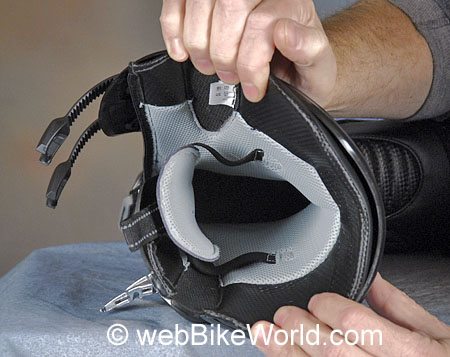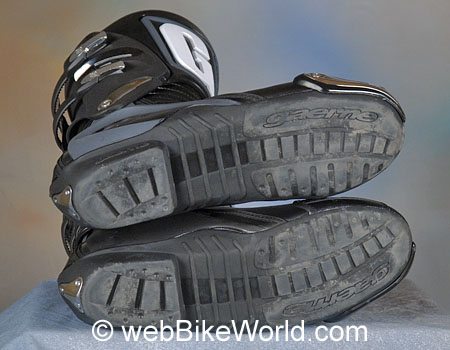 Fitting the Gaerne GRS Boots
I have what I think are pretty small diameter calves, and I really have to struggle to get the boots zipped up over a pair of leather pants (see photos below). My wife, whose calves and lower legs are even narrower, also struggled, even though the boots are about 4 sizes too big for her. It does help if you lean your leg forward while trying to zip up the rear.
But it makes no sense to have adjustable buckles for the outer plastic sleeve if the inner fabric sleeve can't open up wide enough for your leg.
So what we have here is a nicely designed, very high quality pair of motorcycle racing boots that, if you can live with the radical rear entry and buckling system, are made for tiny racers with pipe stem legs.
We get a lot of email from riders who have problems finding boots that fit, and it's almost always because their calves are too thick. If that's the case with you — if you have even average sized calves (whatever that means), then make sure you try on the GRS boots before you buy. Riders with muscular or thick calves will probably not be able to fit into these boots.
I honestly think Gaerne could have simply added some more elastic on either side of the liner and the GRS's would probably fit at least a two-to-three size wider size range. I'm not sure what they were thinking.
By the way, the boots also have replaceable metal sliders on the toe, the back of the heel and the outside of the ankle. And although there are no obvious air vents, they don't seem to get as hot as I'd expect.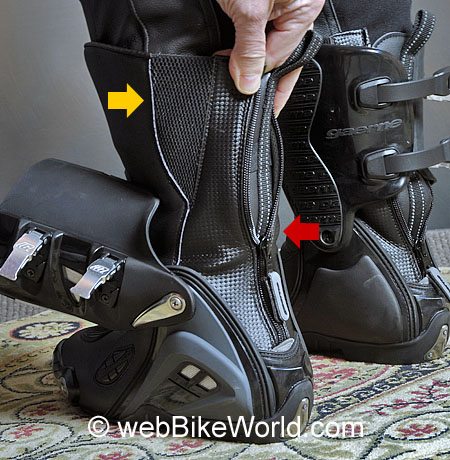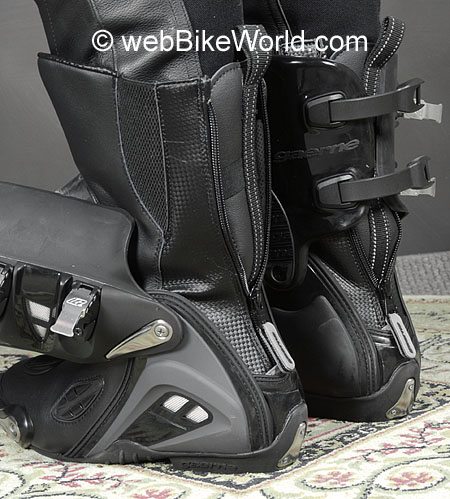 Conclusion
Thus the paradox when it comes to these boots. They're a struggle to put on, I don't think the zippers will hold up to the huge pressure necessary to get them zipped up and I also wonder if the buckles will catch something and come undone in a crash.
But then I get the boots on and climb on the bike and all of a sudden, they're in their environment and these are probably the most comfortable race-style boots I've ever worn.
They also have some type of special sole formulation that really allows you to feel the bike through the pegs. This is in contrast to a touring boot, whose goal is comfort.
A racer's interface with the bike is through the hands, feet, legs and butt; thus the hard soles, thin kangaroo-palm gloves and Saltine-thin seat pad. The GRS boots provide an excellent feel at the pegs, sending up all sorts of messages to the bridge.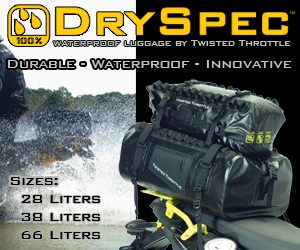 w

BW

 Review: Gaerne GRS Boots
Manufacturer: Gaerne (Italy)
List Price (2007): $299.99
Colors: Black, Blue or Red with White; Carbon and Gray.
Made In: Italy
Sizes: 6-13 (U.S.)
Review Date: February 2011
Note:
 For informational use only. All material and photographs are Copyright © webWorld International, LLC since 2000. All rights reserved. See the webBikeWorld® 
Site Info page
. Product specifications, features and details may change or differ from our descriptions. Always check before purchasing. Read the
Terms and Conditions
!
Owner Comments and Feedback
---
From "T.B." (10/08):  "Just a note from a guy who bought these when they first came out (some 4 years ago?). Originally they had the buckle "latch" molded into the plastic.
These wore rather quickly to the point they would no longer hold the buckle handles in place. I contacted the company and was promptly sent the "updated" top plastic parts with new metal latch pieces (as they are now). Easily replaced this remedied the only significant complaint I had.
The real beauty of these boots is you can lay your leather pant legs over the inner boot & "clamp" them in place with the outer plastic sleeve. No more crammed in, wrinkled-up-against-your-leg pant leather anymore!
My previous boots drove me to distraction with this. Wearing the pant leg to the outside wasn't an option – I want them tucked in where they don't catch on pegs at a stop. These are so comfortable as all you have is smooth padded boot from your ankle to the top! 4 yrs and still going strong with regular use!"
---
From "W.O." (9/08):  "Wish to add my two cents worth. I purchased a pair of these boots and I am not sorry I did. After much research on different brands etc, I made my choice. These boots are so comfortable it's like wearing slippers. One thing I did discover, I wear a size 9 runner and I purchased the size 8 and they fit perfect.
The only thing I thought was a little tacky for such a well made boot was the buckle system, a little more engineering would have gone a long way in creating the Ultimate boot."
---
From "T.S.":  "I primarily wanted to disagree with your comment about them being uncomfortable for guys with big calves. I have quite large calves and have found, with some fiddling on the buckle adjusters, the boots fit me very well. I've worn them all day and have found them to be very comfortable. The only sizing issue I had was that I found them to be a bit large, but with an extra sole insert they fit just fine.
I have had these boots for three years now and so far so good on the zipper is good, but I agree it does feel a bit cheap. Regarding it snagging I've found that if I pull up on the tongue with one hand while zipping with the other the zipper goes right up with no snags at all. I wear them over my leathers (and a pair of socks) and have no issues zipping it shut."
---
From "M.L.":  "I read your review about this boots and was at first a little scared and hesitant to buy these sight unseen on the internet. My interest in these spiked mainly due to their very well known motocross exposure and because a set in my size just so happened to be priced very reasonably. After taking the plunge and having lived with them for a couple of thousand miles, I am absolutely in love with them!
Yes the rear entry may sound or seem gimmicky at first, but it isn't! It makes slipping on/off the boots so much easier! I previously owned a set of Vendramini boots with a more conventional design and it took much more effort getting my feet in. With this I just slip my foot in (no bending or reaching down necessary). At the end of the day I leave the boot unlatched and ready for the next ride. Sweet.
The calf/buckle sizing issue definitely wasn't a problem for me with. I'm a medium build, 6′ and 170lbs and oddly I have to cinch up the buckles all the way when worn with pants outside of the boot. But the adjustability on the buckles is huge! It took me a while to figure out how to loosen it — no instructions included 🙁 — but after I realized you just pull the buckle away from you and out, I found the buckles could become absurdly big! I'm not sure if you tried doing this in your review.
For riders with normal to wider feet, this should fit you good compared to some brands of boots that seem rather narrow like Alpinestars. Comfort is superb and the zippers still function and slide as smoothly as they originally did (granted a couple thousand miles isn't much). My only concern is if/how can they be re-soled. I do take them around for a short walk here and there (not as bad as the review made it out to be) but am paranoid about wearing down the sole."