Furygan is the latest company to add an airbag vest that goes inside your jacket and can be easily reset at home after being triggered.
Most airbag suits and jackets include the airbag and some airbag vests go over the top, while others go inside.
We weren't sure how an airbag exploding under your jacket in a crash would work if the jacket is tight!
However, the French motorcycle clothing brand says the vest will work just fine if you zip out the thermal layer.
It is compatible with most jackets as well as the 2019 and 2020 Furygan jackets with the airbag connect logo.
Their jackets feature an additional inner zip allowing users to zip the Fury Airbag into position in less than 15 seconds.
Furygan says the advantage is that the vest is comfortable, fits all sizes and is invisible from the outside.
It also uses 3D breathable mesh technology to create a "thermal bridge" between the outside temperature and the body.
The breathable material also stretches to provide extra comfort.
How it works
The vest includes an In&Motion "brain" that measures the position of the user 1000 times per second and works with an algorithm that improves as it receives more data.
If the algorithm believes you are in an accident, it deploys and the bag is inflated immediately in just 60 milliseconds.
Designed to protect the neck, back, chest and abdomen areas, the Fury Airbag protects areas often left vulnerable in the event of a crash or impact.
The airbag stays inflated to prevent any resulting injury and to protect the user from any further injuries after the accident.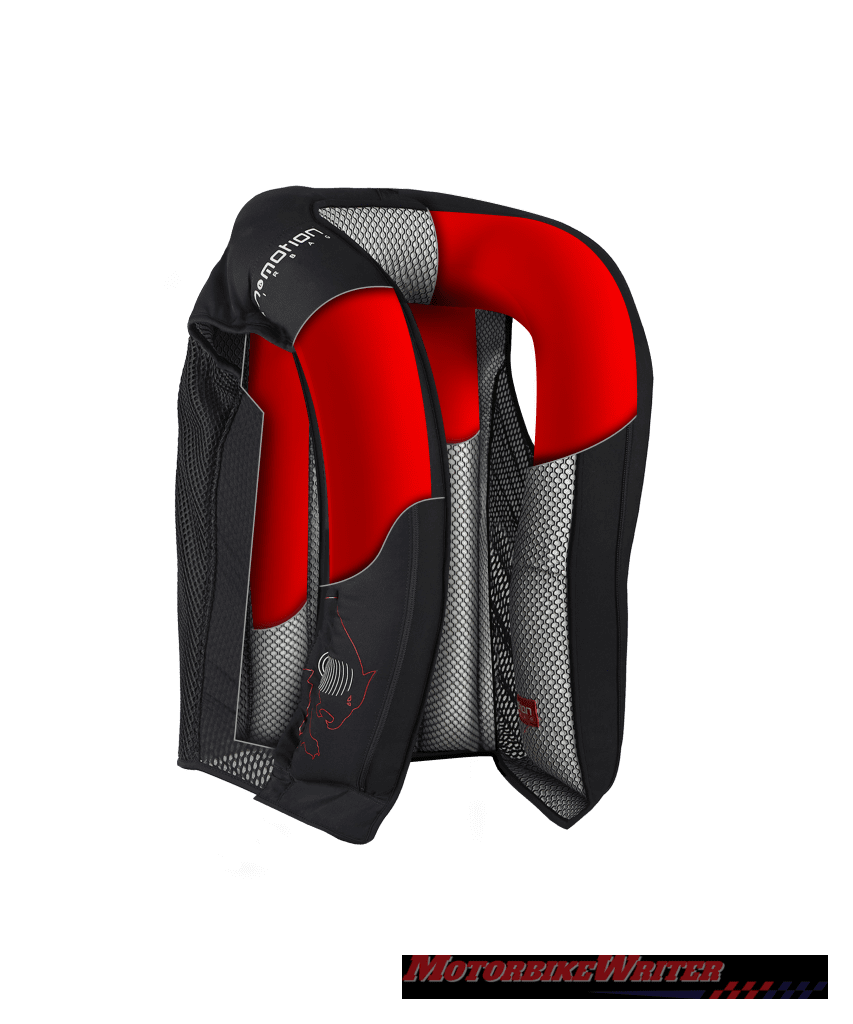 The system – which takes three hours to fully charge – offers up to 25 hours of active riding and 15 days on auto-standby mode.
Once connected with Wifi or mobile data it will automatically look for software updates.
Furygan spokesman David Robert says it has different modes for road and track.
"Putting it into perspective, braking on a MotoGP bike from the long straight at Mugello causes the same force and level of deceleration as a scooter hitting a car at 50km/h, so it's important to tell the computer what it should expect as 'normal'," he says.
The inflation module is housed above the vest's CE-approved back protector for extra protection and to ensure the inflator doesn't cause injury. 
Furygan cost
The Fury Airbag vest with the In&Motion 'brain' is available online and is not cheap at about $A715, while the airbag inflator costs an extra $A170.
That compares with the Dainese airbag vest at $A699 and the Helite airbag outer vest at $825.
It can be reset by removing the discharged inflator unit in the back protector and replacing it with a new one.
The free In&Motion App has a handy video guide and there is no need to send off the vest to be reset by Furygan.