Daytona Boots Review Summary
Daytona Boots Image Gallery
Retro styling conceals modern features in this top-of-the-range touring boot.
All-season, waterproof, and with a built-in height advantage that shorter riders will really appreciate.
I promised myself a pair of Daytona Lady Star boots when I passed the Institute of Advanced Motorists riding test, following a glowing recommendation from one of the instructors.
Usually boots would be a routine purchase rather than an indulgent treat.
What made these suitable as a reward to aim for was the price tag: the Lady Stars retail at around £300 in the UK ($400 in the US), putting them at the high end of the scale for road boots.
I bought mine online from Germany and saved myself a bob or two, but in my experience so far they're worth the full price.
German manufacturer Daytona is well-established in the field of motorcycle boots and has built a reputation around their practical, long-lived creations.  My flashier acquaintances might not be seen dead in Daytona (the brand, that is – the beach is another matter), but friends who enjoy touring in all weathers swear by them.
The Lady Star is closely related to Daytona's popular Travel Star GTX touring boot, but has been designed specifically for the female rider.
What's so special?  The Lady Star's unique feature is a raised platform inside the boot which adds 2.5cm of height to the heel area and 8mm at the toes.  Combined with a chunky sole, this gives the rider about an inch and a half of valuable extra height.
That might not sound like much, but for the vertically-challenged it's a real godsend.  It can mean the difference between standing on tiptoe when your bike is stationary and putting your feet flat on the ground – a huge confidence boost – and helps if you're hopping on a friend's pillion too.
The boot also has a lower shaft than its big brother the Travel Star, making it a better fit for shorter legs.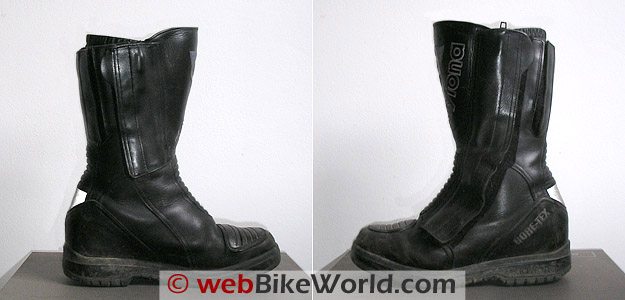 The upper is constructed from leather panels, held together with double rows of small, neat stitches that so far show no inclination to break or come loose.  Daytona's website says their boots consist of up to eighty separate components, and I can believe it, but they're all held together well.
There are two zips, one on the outside of the leg which stops an inch or so short of the sole and one which runs halfway down the inside.  Each is covered by a broad strip of leather and closed with Velcro to keep the water out.  There's also a panel on the back of the boot with a Velcro tab on each side for width adjustments.
All this means it's easy to get the boots on and off and they should fit comfortably whatever shape and size your calves happen to be – you can even adjust according to the thickness of your socks, should you feel the need.  I wear them inside my overtrousers, but you could equally tuck close-fitting leathers into the boots.
I found the fit excellent and the boots comfortable right out of the box. One caveat, though, is that the sizes seem to run a little small: I'm usually a European 39 (UK 6), but I take a 38 in the Lady Stars.
Surprisingly for a high boot, the Lady Stars are very easy to walk in.  The thick tread on the soles means you won't slip up, while the embossed brand name lets you leave little 'daytona's everywhere you go.  Two ribbed and padded areas, one at the back of the ankle and one over the front of the ankle and top of the foot, allow for foot and ankle movement on and off the bike.
Sometimes I'll take a spare pair of shoes to put on at journey's end, but very often I don't bother.  Peeking out from under a pair of jeans, these boots are socially acceptable on almost all occasions.  The rubber gear change panel is a giveaway, but there's one on each foot so at least they look symmetrical.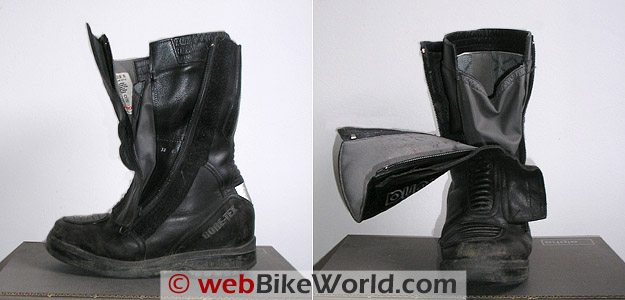 Looks-wise, the Lady Stars are about as far from the cutting edge as it's possible to be.  Designed to be practical rather than stylish, they're black, plain and simple – and, dare I say it, boring? T he retro appearance of the big lowercase 'daytona' embroidered across the front can also put off those potential purchasers who value form over function.
Daytona's website bristles with testimonials from happy customers, some of whom have been riding in the same pair of boots for longer than it takes to put a child through school.  Perhaps it's to please these clients that the outward appearance of the boots has changed so little over the years, despite technological advances under the bonnet?
To my mind, however, their no-nonsense look is just right for a touring boot.  'These are Serious Boots, and I am a Serious Rider' is the message I like my footwear to put across – when I'm not wearing my Doc Martens with the Union Jack toecaps, that is.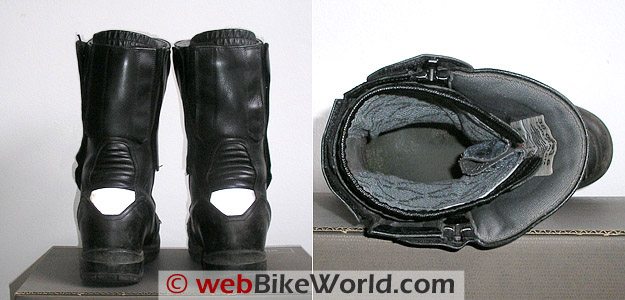 The boots have a Gore-Tex lining and a slightly gathered lip to stop water trickling in from the top.  They are hands down the most waterproof item ever to grace my feet. I've ridden through some real downpours and emerged warm and dry from the ankle down (more than could be said for the rest of me), while off the bike I can splash through the deepest puddles with impunity.
The Gore-Tex does mean my feet can get a little too warm on the two or three days per year which count as summer around here, but if I'm absolutely 100% certain it's not going to rain I can always wear something else.
You might be protected from getting wet feet, but how about protection in a crash?  I'm confident that the Lady Stars, with their thick leather and firm ankle support, would keep my lower legs from harm if the worst should happen.
There's a cupped pad under the leather at the ankle and a high, stiff plate over the shin – which is nonetheless flexible, unlike the rigid plastic found in racing boots, so it doesn't hobble you when you're strolling around.
For added safety there's a small panel of 3M reflective silver above the heel – not that it's much use to me, as I ride a scooter!  I suppose it might help if I ended up face first in a ditch, or if I broke down and needed to walk along a darkened road to safety.
I have owned my Lady Stars for almost two years now, during which time I have commuted to and from work in sun, rain and snow, as well as heading out into the countryside at weekends and holidaying in Europe. The only signs of battle fatigue I've noticed are a little wear to the rubber soles at the heels and outside edges, and some pitting of the leather around the right toe.
In the boots' defence, I had made no effort at all to look after them – leaving them encrusted with mud and letting them dry out unaided when they've had a soaking.
Everywhere else the leather has remained supple and glossy, and happily for my boots I've now been shamed into a more regular polish and wax routine.  I can't vouch for the lifespan of the gear change panel, mind, since I've never used it in anger (that scooter thing again).
If you do break a zip or wear down a sole, Daytona offers a repair service.  Given the boots' quality and longevity, this might well be a good option to go for – you could squeeze just one more decade out of your old faithfuls.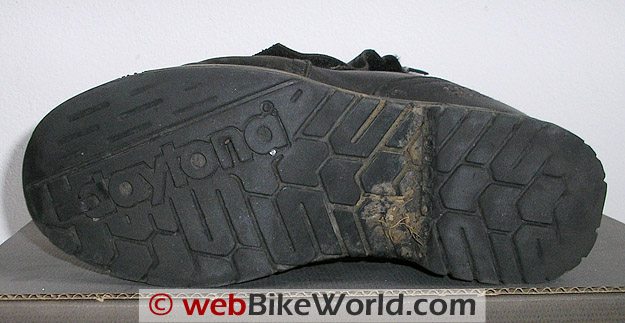 Conclusion
It's easy to understand the rave reviews and brand loyalty the company inspires.  I am totally satisfied with the quality and performance of my boots and I hope to be wearing them for many years and thousands of miles.  They might look as though they rolled off the production line in 1970, but why mess with a design that works?
I'll leave you with these words of wisdom from the English version of Daytona's website:
"To improve the dirt resistance and to prevent the leather becoming blocked up, we recommend that the boots be impregnated."
Steady on.  I may love my Lady Stars, but not in that way!
wBW Product Review:  Daytona Lady Star Women's Motorcycle Boots

Available From:  Frey Daytona
List Price:  $400.00 / £300.00
Colors:  Black.  Sizes:  35 – 39 European (the M-Star for men is available in 40 – 43)
Made in:  Germany
Review Date:  August 2009  

Note:  For informational use only.  All material and photographs are Copyright © webWorld International, LLC – 2000-2011.  All rights reserved.  See the webBikeWorld® Site Info page.  NOTE:  Product specifications, features and details may change or differ from our descriptions.  Always check before purchasing.  Read the Terms and Conditions!
Owner Comments and Feedback
Comments are ordered from most recent to oldest.
Not all comments will be published (
details
).  Comments may be edited for clarity prior to publication.