Ducati Australia will provide free tech tips and riding advice at Ducati track days in Sydney, Melbourne and Perth next year.
Importers of Ducati, NF Importers, will partner with local Ducati dealerships to provide free technical and suspension advice and adjustments as well as riding tips at the track days.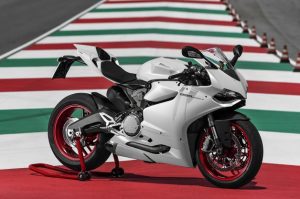 The events are organised by Phillip Island Circuit, Champion's Ridedays and Sydney Motorsport Park not Ducati or NF Importers who will only be providing free support and advice.
It's one thing to take your motorcycle to the track and have fun, but it makes a track day a whole lot more enjoyable and beneficial if you can get technical advice, especially suspension tips, as well as some coaching on your riding.
Lap after lap won't make you any faster if your bike is not set up right or you are replicating the same rider errors every lap.
Seven-time and reigning Pro Twins Champion Craig McMartin will be on hand at most events for support and advice.
NF Importers boss Warren Lee says this level of customer support is unique in the motorcycle industry and "consistent with distinct advantages of owning a Ducati motorcycle".
"The professional knowledge and experience our team can provide creates an excellent opportunity for Ducati owners to refine their Ducati and their track riding experience for maximum enjoyment and fun," he says.
Ducati 2015 Rideday Dates 
Sydney Motorsport Park:
Tuesday March 17 (Craig McMartin)

Wednesday May 6 (Craig McMartin)

Saturday June 20 (Craig McMartin)
Phillip Island:
Tuesday February 10 (Craig McMartin)

Tuesday March 10 (Ducati tech)

Thursday April 23 (Craig McMartin)
Barbagallo Racetrack:
Friday February 13 (Ducati Technician)

Thursday March 12 (Craig McMartin)

Friday April 17 (Ducati tech)

Monday June 1 (Craig McMartin)
Dates for the 2nd half of the year will be released in May.