Flatbed Motorcycle Utility Trailer Review Summary
Flatbed Motorcycle Utility Trailer Image Gallery
This flatbed utility trailer is the generic type commonly found for sale at the local trailer store, hardware store or farm supply store.
But with a few modifications, it works very nicely for hauling motorcycles and, of course, other cargo.
That makes it easier to justify as a household purchase.
It also has a large ramp with a shallow angle on a hinge.
The 13″ wheel diameter on this trailer makes a big difference.
This one is fairly well made with heavy-duty angle plate but be mindful of rust, especially at the weld points.
Take a look at the webBikeWorld Motorcycle Trailers page and you'll find that there are literally dozens of different types of trailers available for sale.
My neighbor had a motorcycle trailer that we used to transport many bikes, but it was a purpose-built trailer, not designed for carrying any other type of cargo.
No problem with that.
But when I finally realized that it was time to have our own dedicated webBikeWorld trailer (i.e., when I finally wore out my welcome with the neighbor!), I decided that it would be nice to have a multi-purpose utility trailer that could haul many different types of cargo.
I wanted something that would work well for hauling motorcycles.
But it also had to work for hauling things like a riding lawnmower, hay and feed for my wife's horses, or carrying trash to the local recycling center.
We have a small Ford Ranger pickup truck that is used for various webBikeWorld chores, and I considered the idea of transporting a motorcycle in the truck bed, but I'm not too keen on the idea of pushing a motorcycle up a long ramp to the height of the tailgate.
It can be done, no doubt, and maybe we'll get a set of ramps to try it one day, but the trailer was my first choice.
The other nice feature about a trailer is that it can be used behind a car or other vehicle.
This gives it some added flexibility, with the downside of having to store the trailer somewhere in the backyard when it's not being used.
I visited every one of the motorcycle trailer retailers listed on the webBikeWorld Motorcycle Trailers page, and I found some very nice trailers.
Some were very expensive and some not so expensive.
The "Top Brand" Utility Trailer
But in the end, I purchased a "Top Brand" trailer at the local trailer and RV center.
The price was right — only $750.00 for this brand-new, 4′ by 8′ bed trailer with 13″ wheels.
They had one size smaller, but with 10″ wheels. The 13″ wheels are one of the features that sold me: they turn fewer RPMs at speed, keeping the wheel bearings theoretically cooler, besides having a higher load rating.
I haven't been able to find a website for the "Top Brand" brand flatbed trailers, but I've seen them at just about every trailer store up and down the East Coast, so they should be easy to find. I've also seen other brands of very similar trailers.
This must be one of the most common designs for flatbed trailers around.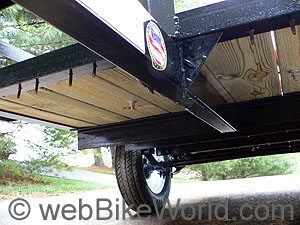 Sizing a Trailer for Hauling Motorcycles
This trailer configuration is available in many sizes, from the smaller 4′ by 6′ with 10″ wheels, up to big cargo trailers with huge dual wheels on either side, used for hauling tractors and other heavy equipment.
There are a few important features to look for when choosing a motorcycle trailer.
This particular trailer seems robust – it uses 2″ wide by 3/16″ thick angle plate all around. The welds certainly aren't artistic, but they do the job.
Various pieces of plate have been welded into the corners for support.
The photo illustrates one of the corner supports; a section of diamond plate welded under the front cross-member that helps strengthen the tongue.
The tongue is made from a large piece of box section tubing, and it extends under the first third of the trailer floor to the second horizontal cross-member (see photo).
This trailer has a non-reinforced tongue; the larger trailers all have box or angle section framing welded from the front horizontal cross-member and extending up the tongue towards the hitch, forming a triangular support frame.
The extra framing provides additional support and helps to prevent the trailer bed from torsion when carrying heavy loads, but it also adds a lot more weight to the trailer and I don't think it's at all necessary for my purposes.
This trailer has no problems with twisting, even when fully loaded.
Wood Flooring?
The floor of the trailer is made from 2″ by 4″ treated lumber, rather than the cheaper plywood used on many small cargo trailers.
This makes it easier to replace a section if necessary.
It also adds strength to the trailer itself and the 2×4's make a good platform to mount motorcycle wheel chocks, such as the Bike-Grab shown in these photos.
The tires on this trailer are good quality trailer tires 175/80-13 on 4″ wide rims with 5 lug nuts.
They are rated as high-capacity trailer tires.
The trailer tires are specifically designed for trailers and they carry a higher load rating than normal automobile tires.
Top Brand must use multiple suppliers for tires, because some of the trailers had Kelly tires, others had Goodyear or several other name brands.
I learned that trailer tires require much higher tire pressures than car tires.
The tires on this trailer require 50 psi, which is also the maximum pressure printed on the sidewall. Make sure you follow the trailer manufacturer's recommendations for tire pressure.
The high pressure usually means that the tires will cause the trailer to bounce around quite a bit when it's not loaded.
We've found that at certain speeds, usually around 30-40 MPH, the empty trailer caused some type of harmonic with our Ford Ranger pickup truck and it bounced around rather severely and could definitely be felt in the truck.
That's when I discovered that trailer tires must be balanced! (See sidebar).
The trailer now rides along nicely at 60-65 MPH or so, both empty and loaded.
I also purchased a spare tire, and I carry it, a spare jack, a selection of tools and some extra tie-down straps whenever I'm hauling a motorcycle or other cargo.
The other very nice feature on this particular trailer is the built-in ramp. This type of ramp is commonly found on the cargo trailers used by lawn service companies.
The ramp is held upright by two flat bars on either side, which simply and easily slide into a welded pin on either side of the ramp and are held by clevis pins.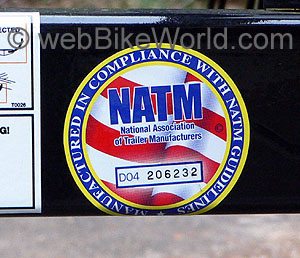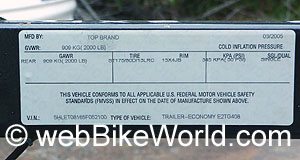 Trailer Balance
Top Brand did a great job of locating the wheels so that the trailer balances fore and aft.
When the ramp is in place, the tongue weight is minimal and the trailer is easily balanced and can be moved around by one person.
The ramp can also be removed by sliding out the long rod at the back that serves as a hinge. I remove the ramp and lay it on the trailer bed for storage, and a 4′ by 8″ tarp is a perfectly sized cover.
Certified Trailer Manufacturers
When choosing and purchasing a motorcycle cargo trailer, make sure that it meets the legal safety specifications in your country.
In the U.S.A., all trailers must conform to the Federal Motor Vehicle Safety Standards. A label should appear somewhere on the trailer testifying to its conformance.
This trailer was also manufactured to the guidelines of the National Association of Trailer Manufacturers. Other countries have government set standards, but in the U.S.A, standards are normally set by the private sector, mostly through trade associations.
They are sometimes called "standards" and sometimes "guidelines". Our advice is to make sure your trailer meets all necessary safety standards and regulations.
This trailer also has square-section tie-down points on the side towards the front. However, the angle plate that's welded to the sides of the trailer are located with the angle towards the side, leaving a gap underneath.
We find this space to be very useful for placing the hooks at the end of the ratcheting tie-down straps.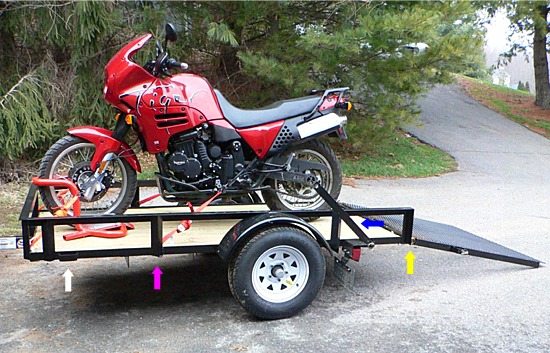 Conclusion
We immediately put this cargo trailer to good use, hauling several different motorcycles back and forth over several hundred miles.
Other than the aforementioned bouncing when empty and some occasional bouncing when accelerating through certain speeds when loaded, we're very pleased with this trailer.
Although we haven't tried it, I think the trailer could easily hold two motorcycles side by side for transport.
The Bike-Grab front wheel chock works very well with this trailer also, and now that it's bolted to the Bike-Grab mounting plate on the floor of the trailer, it's easy to remove when the trailer is needed for other duties.
Other than some help required to push the motorcycle up the ramp and on to the trailer bed, one person can easily tie down the trailer in about 5 minutes using the Bike-Grab and some ratcheting straps.
We think the price of $750.00 for this trailer is very reasonable when compared to other motorcycle cargo trailers, especially considering the multiple uses for this type of flatbed trailer.
w

BW

 Review: Flatbed Utility Motorcycle Trailer
Manufacturer: Top Brand (no website)
List Price (2005): $750.00
Made In: U.S.A.
Colors: Black, red.
Sizes: Fits most motorcycles.
Review Date: April 2005
Note:
 For informational use only. All material and photographs are Copyright © webWorld International, LLC since 2000. All rights reserved. See the webBikeWorld® 
Site Info page
. Product specifications, features and details may change or differ from our descriptions. Always check before purchasing. Read the
Terms and Conditions
!
Owner Comments and Feedback
---
From "J.S.", who sent this suggestion about adding shock absorbers to cure bouncing trailers:
"I don't want to give you this info to just think about, it works, so if you or a friend can do a little welding, it's fairly easy, just weld your mounts on the axle and frame.
But first, go to an auto parts shop (Schuck's, etc…, because they'll give you a life time warranty) and buy the smallest shocks (in length) and cheapest shocks they have.
Nothing spendy, cuz any normal shock will go 30 – 50,000 miles on you car, which will last forever on your trailer. I have them on a single axle trailer, 2 axle, and my boat (and many grateful friends).
I have built about 8 trailers over the years and shocks really work (try taking one off of your car and see what happens and how it handles … so why not a trailer).
I almost got rid of a boat and trailer years ago (single axle), do to the unreal balancing at hi-way speeds (you could look back in the mirror and see under the tire as it bounced off the road!!!)
After you do this once, you'll see and feel the difference in handling and wear on tires, you'll do it on all of your trailers even a new store bought one (I wish I could say I thought of this, but a friend showed me years ago).
Now a 2 axle doesn't bounce as much as a single, because they kind of work against each other and stop the bouncing effect somewhat.
I'm happy to have helped out, please pass it on, and I'll send you a couple of picture's after this email of my rigs (below).
Another tip on installing the shocks (with the trailer empty), is to measure the full extended length and fully retracted length of the shock.
Then weld your steel mounts (with holes that you drill in them for your bolts) in the middle of your measurement, this will insure enough travel for a loaded trailer and when it's empty too.
Also, most shock's come in a box with bolts, nuts, and washers that you will be able to use.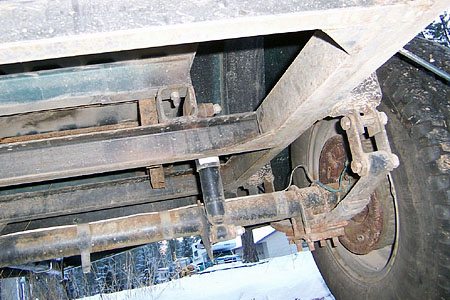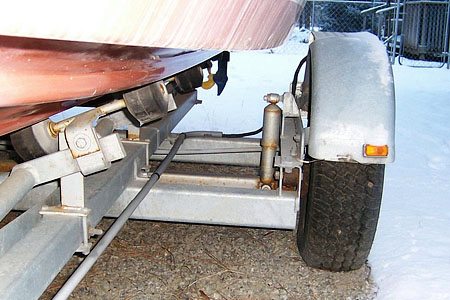 Other WebBikeWorld
Trailer

Posts