Firstgear TPG Rainier Jacket Review Summary
Review Summary
I'm sure some of you will think I'm savaging the Firstgear TPG jacket. My feeling is that this may be somewhat deserved, because I don't think I'm completely misreading their advertising materials. I honestly think the Tucker Rocky/Firstgear marketing staff got a little carried away on this. But I think the $399.95 list price is rather high. For that kind of money I personally would rather spend the extra 50 bucks and get a Rev'it Cayenne.
Pros
Styling
Quality of construction
Fit
Smooth sleeve and cuff profile
Waist and hem adjusters
Liner is a nice separate light jacket.
Cons
Price
Lack of wind barrier in placket
Extra cost for the "System" third layer
Weak ventilation
Limited collar adjustment
Weak insulation in liner
3.5
Average, With Drawbacks
Rainier Jacket Image Gallery
The Firstgear Rainier 3/4-length jacket has high-quality construction. It also has sophisticated styling and good looks. The TPG "system" includes a comfortable liner that can be worn as a windbreaker. The base layer is optional and costs extra, however. Collar has very limited adjustment. Surprising absence of front placket wind barrier under the main zipper.
Firstgear has been making motorcycle clothing for many years, but the job apparently hasn't been easy. The company has seemingly gone through more corporate reorganizations, buyouts and strategies than just about anyone else in the business.
It's not clear to me where or when the company started making motorcycle clothing, but at one point the Firstgear name was synonymous with high quality gear. I remember one of the first "real" motorcycle jackets I saw was a Firstgear 3/4-length enduro style jacket worn by a passing BMW rider, and I thought it looked pretty cool. Over the years, the quality of the brand has see-sawed up and down, and the brand was bought and sold like a cheap trumpet at a pawn shop.
Intersport Fashions West and Fairchild Sports were two recent owners — and, I believe even Fairchild Sports itself was bought and sold at least once. The brand name spelling has even changed, having been known as both "FirstGear" and the apparently correct current version, "Firstgear". So along comes Tucker Rocky, one of the largest motorcycle product distributors in the U.S.A., who now owns the Firstgear brand.
I'm not sure which of the several brands listed on the TR website are actually owned by the distributor; some of them are apparently other motorcycle gear manufacturers that have a distribution agreement with the firm.
We're still uneasy about a distributor owning a brand or a manufacturer. I'm not saying this is a problem with the Tucker Rocky/Firstgear arrangement, but there could theoretically be a conflict of interest with a distributor trying to push their own brand over others to increase their profit margins.
If something like this happened, it could affect the choices available to motorcyclists. In any case, Tucker Rocky has promised to revitalize (my words) the Firstgear brand.
They said:
"All of the elements that have made Firstgear the number one brand in its category — quality materials and construction, attractive new designs with innovative features, strong dealer support, effective consumer advertising, and reliable customer service — will remain central to Tucker Rocky's accelerating growth strategy for the brand", according to the company.
We have a few reviews of the "classic" Firstgear products on webBikeWorld, including theFirstgear "Jaunt" Jacket (review); the Firstgear Hypertex Mesh Jacket (review) and Firstgear "Burnout" gloves (review).
The Firstgear Technical Performance Gear (TPG) clothing line is new for 2008.
It includes the Firstgear TPG Rainier jacket shown here; the Firstgear TPG Teton short jacket and a women's version, the TPG Monarch 3/4-length jacket.
Value Comparison
Firstgear is making quite a lot of noise about the TPG line, with bucket loads o' greenbacks being spent on print ads in just about every magazine around.
The company claims that TPG clothing is the "first set of riding gear designed to function as a cohesive 3-part layered system".
It consists of "optional Basegear to keep you dry, a Tech Liner (doubles as a casual jacket) to maintain correct body temperature and a selection of jackets and pants engineered to work together with the first 2 layers to protect you from the elements wherever you ride."
Some Commentary…
I'll probably catch some flak here from Firstgear fans (and maybe the company), but webBikeWorld is all about rider's personal opinions, and here's mine:
Based on the Firstgear marketing blather that I've read, my expectations were very high that this was indeed going to be a "revolutionary" (Firstgear's words) motorcycle clothing line.
But I'm disappointed — I don't think it is revolutionary, and I think that Firstgear's advertising department is violating a basic law of marketing; that is, it's better to under-promise and over-deliver, rather than vice-versa.
My feeling is that by using words like "revolutionary" and statements like "the first set of riding gear designed to function as a cohesive 3-part layered system…", they have, at the very least, led me to me expect something very unique.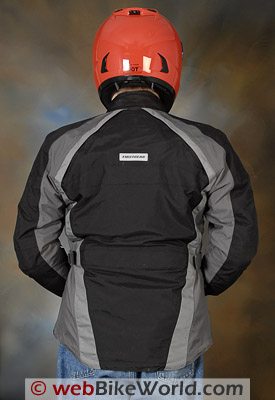 So wasn't I surprised to find that the "revolutionary 3-part layered system" consists of a fairly basic 3/4-length outer shell and a zip-in, un-insulated liner with a windproof outer shell.
It also includes, and here's what really gets me — an optional set of Firstgear "Baselayer" underwear that can be purchased separately (unisex short- and long-sleeve top for $39.95 or $44.95; unisex pants for $49.95).
This on top of a relatively high price ($399.95 list) for the jacket.
Leading people to believe that this is some type of revolutionary "3-part layered system" is ingenuous, to say the least, if not downright deceiving, in my opinion. I feel a bit tricked, and I'm disappointed.
The kicker is that the Rainier TPG is a pretty good jacket — if it was marketed based on its merits. But again, my opinion is that Firstgear is making this out to be something it isn't.
They've set me up with their advertisements to expect something beyond what the reality, and isn't that basically the definition of disappointment? I wonder how many others will feel the same…
Is this jacket any better than our 2007 Motorcycle Jacket of the Year, the Joe Rocket Ballistic 7.0 (review)? That's a natural question, and the answer is…I don't think so.
The Rocket jacket costs $150.00 less.
That Franklin and Grant will buy you a pretty nice windproof fleece jacket liner from, say, LL Bean and a nice set of Duofold undies, so you can make up your own "3-part layered system" with whatever jacket you'd like.
Or it can buy you a pair of nice riding pants; or, if you want to get fancy, a super set of windproofKnox "Cold Killers" (wBW review)..
The Rocket Ballistic 7.0 in size L at 4.5 lbs. also weighs 1.5 pounds less than the feels-heavy 6.0 pounds for the size L Rainier.
I'm not sure where all that extra weight comes from; not from hardware, because the venting on the Firstgear TPG Rainier isn't as good as the unique venting on the Rocket jacket, at least in my opinion.
Although I will admit that the Rainier feels like it has slightly more substance than the Ballistic 7.0.
But does that mean anything?  I'm not sure…
The bottom line here is that the Firstgear TPG Rainier jacket is a decent choice, but I do think that Firstgear is over-hyping the TPG lineup.
I've worn a lot of motorcycle clothing in the course of the past few years of writing for webBikeWorld, and I'm not sure I see anything unique with the TPG line.
And apparently I'm not the only one who thinks there should be something different about TPG, because several emails from visitors have indicated the same unrealistic expectations.
Firstgear also shows a cutaway photo of the TPG "System" with the 3 layers, but I didn't realize until I bought the jacket and studied the website that the third layer is actually the optional underwear.
OK, that's a heck of an introduction, so let's take a look at the jacket.
Styling
The Rainier does have a nice style — the contrasting medium- and light-gray vertical fabric sections are always flattering to mid-life figures and the cut and sewing is nicely done.
I tried to get a yellow or red or even the tan/taupe version, but black was the only color available when I placed the order a couple of months ago, and I wanted to get a review posted as soon as I could, so black it is.
The gray works well with the black and the only complaint I have (other than visibility) is that the black picks up lint like the veritable magnet.
This isn't Firstgear's fault — black Nylon or Cordura (600 denier nylon is used in the Rainier) just seems to have an affinity for dust, lint and pet dander. It's not fun to look dowdy within the first 5 minutes of wearing the jacket…
Pockets
The Rainier has four front pockets; the top pockets fold over and have a zipper underneath and the left pocket is lined with taffeta and has an additional vertical side zipper to allow access for something like a wallet.
The bottom pockets are accessible only from the top, with the same fold-over flap and zipper arrangement.
They're taller than normal at 9-1/4″ (about 23.5 cm) when opened, making it slightly difficult to reach down in because my arm has to come up way higher than normal to get in to the top.
The lower pockets have hand-warmer openings behind them — does anybody actually use these things?
There's another narrow zippered pocket up on the top of the right arm; I'm not sure what this one might be used for — maybe a cell phone?
Unfortunately, none of the zippers on this jacket have extended zipper pulls, regardless of Firstgear's claim that "Easy-grip pulls let you get into your pockets without having to remove your gloves".
The zippers have just the basic and small YKK zipper tab, which appears to be made from plastic, as far as I can tell.
This jacket really calls for some nice, big zipper pulls to make it easier to grab the zipper and open the pocket when wearing gloves.
Another short pocket lives on the lower left sleeve. This one is about 2.5″ deep (63 mm) and is useful for stowing the bike keys — as long as you remember that's where you put them (don't ask).
The ubiquitous 3/4-length jacket rear pouch is well hidden — I didn't even know it was there until I read Firstgear's description of the jacket.
If you really try, you can stuff the liner in there, but it's probably better suited (as most of these rear pockets are) for storing a pair of gloves, a windbreaker or maybe a bottle of H20.
The Rainier also has a vertical zippered pocket just inside the left placket, accessible by unsnapping the front flap. By the way, the snaps are nice — they're made from metal and labeled with a "Road Silk" brand.
They have real metal springs inside, so they give a satisfying "snap" when they're opened or closed.
The snap fronts are hidden under the outer shell fabric in the main front flap to protect against scratching the paint.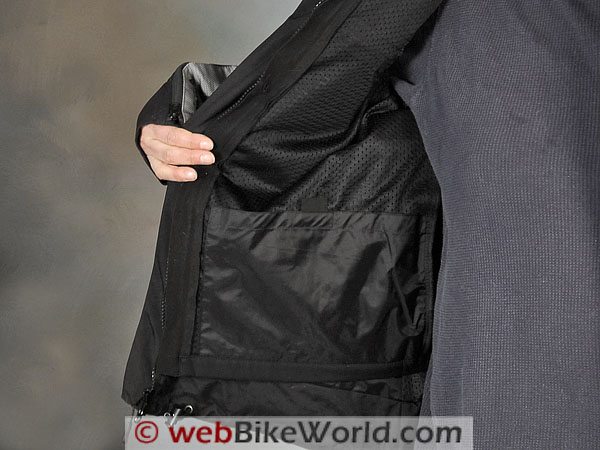 Liner
The liner has a large unstructured patch pocket on the inside left and another breast pocket on the right.
The liner actually does look good when worn alone, and it has its own set of two lower pockets and an upper pocket on the chest, all with waterproof zippers.
The liner has a zip-open vent placed horizontally along the upper back, and it's nicely tailored with a comfy fleece lining in the back and fleece surrounds at the cuffs and neck.
I'll guess that it adds at least $75.00 to the price of the Rainier TPG jacket, and I wonder if they wouldn't be better off selling it as an option, as they do with the third part of the base layer, the underwear.
Like I said, the liner works as a nice casual lightweight jacket, but you probably have one or two similar jackets in your closet anyway — do you need another in black?
It actually has very little insulation. It's very thin with light fleece or felt on one side and a thin wind blocking shell on the outside.
The fact that it's thin helps in one regard — when the liner is removed, the sizing of the jacket doesn't change much, so you won't end up with a baggy jacket that feels 1-2 sizes too large.
The liner attaches to the Rainier TPG jacket with two snap loops at each cuff, a snap at the upper neck in back and the zipper on the front of the liner, which zips in to separate matching zippers on each side of the jacket shell.
I had immediate trouble with the left liner zipper; it was separated in the middle right out of the box, and if I stretch the jacket, like when putting it on, the zipper tends to come unzipped.
I have to pull the zipper down, reattach it and zip it back up and hope that it stays. I've had this problem occasionally after some wear, but not usually with a brand-new jacket.
Part of the problem is that it's one of those very thin "zig zag" type zippers that looks different from the normal zipper with teeth.
The liner is relatively thin, and it seems to do a decent job of keeping me warm, but I can not say that this is the warmest 3/4-length jacket I've tried.
That honor has to go to the REV'IT! Cayenne jacket (review) or the original REV'IT! "Motion" jacket (review), in my opinion.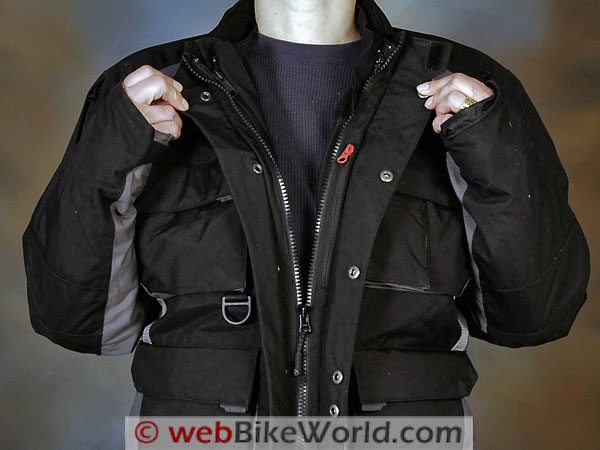 Zippers and Placket
The REV'IT! Cayenne jacket has something like a half-dozen overlapping flaps in front, under the front zipper opening, which serve to prevent wind from getting through this critical area.
The Firstgear TPG Rainier has…none. This is a huge surprise to me — the jacket has no wind-blocking flaps behind the front zipper?  Strange…
Zip up the jacket and the only thing between you and the outside air is the front flap that snaps to the outer shell.
The liner has a wind blocking outer fabric, but I do think there should be one or more inner flaps to protect the rider's chest from the cold wind.
I have been wearing the Firstgear TPG Rainier lately in our cold January and February weather in temperatures down to 35 degrees F (~2 C).
My opinion is that the jacket isn't as warm as the best 3/4-length jackets I've tried and it does feel cooler to me in front than I think it should. I guess I'm just surprised at what seems to me to be an oversight with the missing front wind flap.
I can say that the wind blocking liner probably keeps my arms a bit warmer than some of the other, more basic 3/4-length jackets I've worn.
But this is probably due to the absence of any vent openings on the arm, which may be a drawback when the weather turns warm.
The sleeve cuffs open with a waterproof zipper located towards the outside of the gray contrasting fabric that continues vertically down the sleeve.
The cuffs also have a hook-and-loop attachment, and the hem on the cuffs is kept minimized to allow the cuffs to fit under a glove gauntlet.
The end piece of hook-and-loop on the cuff may stick out a bit on riders with narrow wrists, but it's not a problem and should fit under most riding gloves.
Ventilation
Firstgear's description of the Rainier TPG venting system calls it the "Max-Flow" vent system, with a claimed 10″ intake vents in front (~25.5 cm) and 12" exhaust vents in the rear (~30 cm).
I measure the front vents at ~6-3/4″ fully open (~17 cm) and the rear vents at ~8-3/4″ fully open (~22 cm).
Firstgear is apparently counting the entire zipper and covering flap length, but the zipper pull (dual on the rear) takes up some room.
So the 10″ and 12″ lengths quoted by Firstgear are, in my opinion, another example of marketing over-hype.
Here are photos of the vents — the first photo shows the upper vent on the left-hand side and the second photo shows the back vents: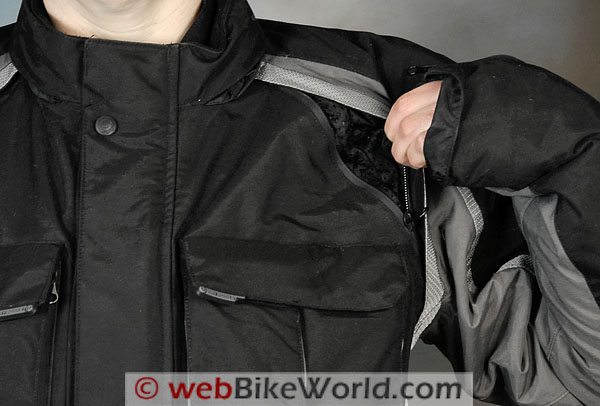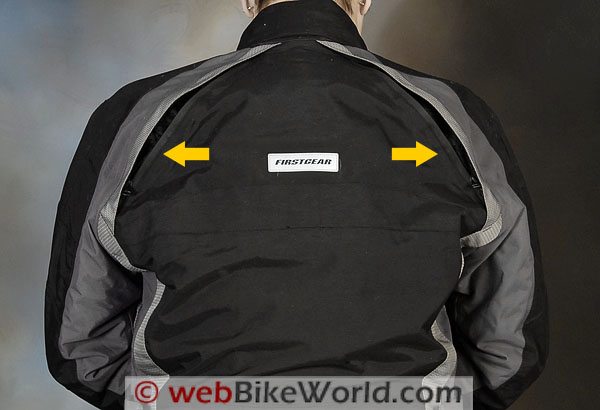 Ventilation Notes
The vents do have one unique feature to back up at least some of Firstgear's claims.
Inside the breast behind the placket on each side in the front are cords that can be pulled inwards to hold the vent open.
The cords are attached to the inner vertical section of the zipper, so when the cord is pulled and secured with a spring-loaded keeper, the vent in the front stays open, more or less.
The problem is that the cord keeper is located under the liner, and it takes two hands to operate.
So to keep the vents open, the jacket must be opened, the liner has to be unzipped, the cord must be pulled with one hand while the keeper si squeezed with the other and then the cord can be secured in the keeper.
This must be repeated on the opposite side if both vents are to remain open.
The system works, after a fashion, but seems complicated to me, and it doesn't really hold the vents open that well. The back vents do not have this "Max-Flow" system to keep them open.
Now since it's been pretty cold, I haven't tried the jacket without its liner to evaluate the vents.
But I have played with opening and closing the vents without using the keeper system, and they are located in such a way that they don't seem to scoop in much air.
The flaps that cover the zippers and the stiffness of the fabric seems to hamper the ability of the vent to stay open.
This is a problem with many jackets. But this is one of the areas where the Joe Rocket Ballistic 7.0 jacket (review) definitely out-classed the Firstgear TPG Rainier in the air flow department, in my opinion.
The Ballistic 7.0 has an interesting solution to this problem: the flaps that cover the zippers can be folded over and they have hook-and-loop arrangement that allows them to create virtual air scoops to direct the air into the jacket.
The Ballistic 7.0 jacket also has vents with this functionality on the sleeve and across the back.
The Firstgear TPG Rainier has no sleeve vents and only the two angled vents at the shoulder in the front and the two at the shoulder in the rear.
Also, the Ballistic 7.0 jacket has the unique and ingenious front vent system that uses a "stretcher" to keep the front chest vents open.
The venting system on the Joe Rocket Ballistic 7.0 jacket really works — probably about the best I've used in a 3/4-length jacket, yet the jacket also seems to me to be as comfortable and warm as the Firstgear TPG.
Other Features
The Firstgear TPG Rainier jacket in size large fits me perfectly, with a nice, snug fit that should keep the Knox CE-approved shoulder and elbow armor in place if needed.
Note that the Rainier's sleeves do not have cinch adjustments.
Although they're not necessary for my middling arm diameter, these come in handy sometimes for thinner riders or on bikes where the windscreen dumps turbulent air on the rider's arms.
Loose sleeves can get jostled in the air stream, causing fatigue and/or unwanted steering inputs.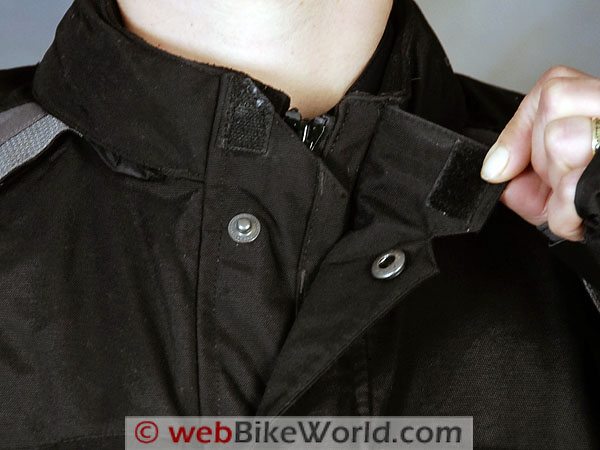 Collar Notes
Note also that the collar has a very limited adjustment (photo above).
It has only a single 3/4″ wide (~20 mm) piece of hook-and-loop sewn on to the tab on the left side, and it can attach only to a matching 3/4″ wide piece on the right side.
Fortunately, the neck fits me, but I'm surprised again that Firstgear hasn't provided a wider range of adjustment in this critical area.
The collar has a hidden thin Nylon hood underneath, which seems a bit strange to me, as it's not something one would wear over a helmet.
And I can't see this jacket being worn as a street jacket. I'd have rather they spent the money on the collar adjuster.
The Rainier has a nice waist cinch located under each arm, and and additional vertical zipper on each side, with a section of fabric underneath.
Opening this zipper allows the bottom hem of the jacket to expand for more comfort or when sitting.
A couple of other interesting features include a D-ring sewn under the right top pocket, where you can hook your keys (and make it easier to find them!).
Firstgear sells an optional LED light that will attach to a loop on the upper back, just below the "Firstgear" label seen in the photos of the rear of the jacket. I'm not sure if this is legal or not, but it's probably a good idea.
web

BikeWorld

 Opinionator – Firstgear TPG Rainier Jacket
Picks…
…and Pans

Styling.
Quality of construction.
Fit.
Smooth sleeve and cuff profile.
Waist and hem adjusters.
Liner is a nice separate light jacket.

Price.
Lack of wind barrier in placket.
Extra cost for the "System" third layer.
Weak ventilation.
Limited collar adjustment.
Weak insulation in liner.
Conclusion
I'm sure some of you will think I'm savaging the Firstgear TPG jacket. My feeling is that this may be somewhat deserved, because I don't think I'm completely misreading their advertising materials.
And I know that other potential owners I've talked to are under the impression that TPG is some type of new system that offers something that is new and different. I honestly think the Tucker Rocky/Firstgear marketing staff got a little carried away on this.
If they would have sold it to me as a high-quality, cold-weather riding jacket for, say $249.00 or so, I'd have probably been pretty happy.
But I think the $399.95 list price is rather high, much less the $450.00 or so it takes to make it the "3-base layer" system when the Firstgear underwear is included.
For that kind of money (although the Rainier can be found at discount for around $360.00), I personally would rather spend the extra 50 bucks and get a Rev'it Cayenne.
Or, for $249.99 list and around $225.00 at discount, you could get a Joe Rocket Ballistic 7.0 that's lighter and is more comfortable and has better venting in my opinion
And you'd still have enough money for the undies and a nice fleece insulated liner from LL Bean or Cabela's.
I'm sorry Firstgear, I know you're not going to be happy about this, but that's the way I see it. Please read the comments section below for a detailed response from Firstgear.
More: Firstgear Teton TPG Jacket Review (2009 version)
2011 Firstgear TPG Reviews:
w

BW

 Review: Firstgear TPG Rainier Jacket
Manufacturer: Firstgear
List Price (2008): $399.95
Colors: Black
Made In: Vietnam
Review Date: February 2008
Note:
 For informational use only. All material and photographs are Copyright © webWorld International, LLC since 2000. All rights reserved. See the webBikeWorld® 
Site Info page
. Product specifications, features and details may change or differ from our descriptions. Always check before purchasing. Read the
Terms and Conditions
!
Owner Comments and Feedback
---
From "J.C." (1/10):  "I've owned a Rainier for just over a year now, and to cut to the chase I've been happy with the jacket as my go-to piece of gear for all but the summer months.
I should note that I live British Columbia, so there's no shortage of wet and cold, and if you don't ride in the wet and cold, you don't get many riding days up here.
A few of the features you had questions about are actually selling points for me.
For a touring rider, and not just a commuter or somebody who does a little cold-climate scratching, versatility is the key, and the TPG is nothing if it's not versatile.
When touring, most of my nights are spent in a campsite, not a hotel, and I find the hood on the Rainier is very handy.
I get quite a bit of use out of it, and it's especially welcome when setting up a campsite in the rain. Between genetics and a razor, my head is bare, so I'm more sensitive to a wet head than more hirsute riders might be.
I also find the hood works well under a helmet, seals up that gap in the rear that can and will leak a lot of body heat in colder weather.
It also helps to reduce fogging, believe it or not, that extra layer traps moisture (no hair to do it for me) and keeps the inside of the helmet less humid.
Hand warmer pockets: I won't buy a three season jacket without them, period, as I use them a lot, and feel naked when wearing a jacket that doesn't have them.
Once again, most of my off-bike time on the road is spent outdoors. Besides keeping my hands warm, the pockets end up serving as the catch-all place to put stuff temporarily when you need your hands free when off the bike, without having to fight snaps or Velcro.
Flashlights, keys, snacks, change, camera, tissue, etc find their way into my hand warmer pockets when off the bike (and back into the tank bag/panniers when riding).
Alas, the plethora of other pockets found on ADV-style jackets these days (Rainier included) get almost no use, other than an inside wallet/passport pocket.
I won't use the jacket as a storage system, I've seen what cell phones, keys and cameras can do to riders who have a get-off with them in their pockets.
I'd really like to see less Charlie/Ewan styling and more streamlined styling on 3/4-length jackets.
With other cold-weather jackets I find that I generally just remove the bulky supplied liner and it never sees the jacket again, replaced by a heated liner.
With the Rainier, the supplied liner is thin enough that it doesn't add appreciable bulk, so I can leave it in when using the heated liner and therefore the heated gear has less work to do.
It does make a decent light windbreaker when detached from the jacket, though I haven't used it much for that purpose since my Gerbing's liner is also good for this, and doesn't require unzipping.
As for the front plackets, it's a non-issue for me.
I've never noticed adverse cold getting through that area, possibly masked by the heated liner and also due to the fact that when riding, my windscreen and tank bag are serving as effective wind blocks from the neck down.
What I do appreciate is the simplicity of the design, it's a lot less fussy than more elaborate placket/front closure systems I've dealt with in the past (Belstaff/BMG, I'm talking to you), and it's never failed me in the rain.
The collar is the one of two areas where I've been less than happy. I have a thick neck, and there's also the added bulk of the hood, and the neck tube on my Gerbing's liner, so the adjustment flap tends to, well, flap.
Solved it by having a bit of cut-down textile glove Velcro gauntlet strap sewn in as a bridge between the two sides, adding about ¾ inch more material to the left side, all of it backed in Velcro.
Cost me $5 for the sewing, and nothing for the material as they came from non-waterproof waterproof gloves I'd never wear again.
The other issue I have (and probably one you'll be entirely contrary to, as webBikeWorld's love of gauntlets is almost legendary) is that the jacket is designed for external gauntlets.
And up here in wet world, I prefer to keep my gauntlets inside the jacket, otherwise on my type of bike (Triumph Sprint ST) in the riding position, water runs down the sleeves and inside the gauntlet.
That can turn even the best waterproof gloves into buckets in a matter of minutes.
The Rainier is a bit fussy accepting bulky gauntlets underneath compared to many other jackets I've owned.
And finally, at the time I'm writing this, the prices on the Rainier have come down quite a bit (less than half the original retail), so it's an even better value proposition.
I paid nearly full retail for mine, and don't regret a dime of that purchase, and the jacket still has many seasons of riding left in it."
---
From "J.W." (10/09):  "Below is my user review of the FirstGear Rainier Jacket. I think that this is a fair objective review.
Firstgear Rainier Jacket Review
My experience with this jacket has been over the last 2 months/ 2000 miles. The jacket has been through wind, rain, and even some sleet on city streets, highways and interstates.
Quality of Construction: 4.5 of 5
This jacket is imported from the Far East (Vietnam), and it is of very high quality construction. This jacket has been completely 100% waterproof while traveling down the interstate at 70 mph in 39 degree rain.
There has not been any leakage of rain into the pockets or any of the external zippers. The Kevlar areas are well integrated into the jacket.
There is CE armor in the shoulders and elbows. However, there is no significant back protection.
It was surprising to know that this is a top of the line jacket and it has that piece of basically Styrofoam for back protection. Knock off half a point for that.
Also the slender design of the pocket that holds the supplied back pad is too narrow to accommodate most other CE back protectors. The seams are well stitched.
The inner liner provides great wind protection. The zippers have been completely wind and waterproof when folded over and zipped properly.
Styling and Design: 4 of 5
The jacket is nice looking and stylish. It tapers well at the waist. The small nylon hood tucked into the collar is an excellent design feature which is nice to have in the heavy rain.
The outer shell of this jacket is waterproof. This is an excellent design feature as well.
My experience with liners is that they fair okay in a slight rain, but when it's heavy the liner directs the rain into your pants and you get soaking wet in the crotch. This has not been my experience with the Rainier jacket and Escape pants.
With all of the pockets available however the design is "busy". The liner supplied with the Rainier jacket is nicely styled and useable on it's own, though it is unarmored.
One problem with the liner is that the zipper supplied in the back of the liner to allow you to zip together the Rainer jacket to the Escape pants is placed too high.
One strange design feature is a larger waterproof pocket is the lower portion of the back of the jacket. My SO has used it when we have rode two up and thinks it's novel.
The venting in the jacket works fine for warm weather to about 85 degrees or so.
Once you get to 90 degrees you need to pretty much keep moving. The Aerostich Darien Jacket has a large vent on the back. Why has no one else copied it?
Overall: 4.25 of 5
The Rainier's price point is about the same as the Aerostich Darien without a liner.
The Rainier does come with a windproof liner and it's pockets are waterproof. It is definitely more stylish than the Darien.
However, it does have a few design quirks and having CE-approved back protection and better venting for hot weather, would strengthen it's market position.
Despite these minor limitations, it is an awesome jacket that will keep you dry."
---
From "S.C." (9/08):  "I am surprised by all of the negative comments on the Firstgear TPG system.
I bought mine in March and since then, have ridden about 3,000 miles using this jacket and pants. I am really impressed.
So far, it has been totally waterproof and riding in the 30's I've never been cold.
On top of all that, it's a very comfortable jacket. Comparing it with my BMW Rallye II, my only gripe is that I would like bigger vents for the warm days.
Compared with the BMW jacket at twice the price, I would say the TPG is a pretty decent value for the money."
---
From M.K., Apparel Specialist, Firstgear / River Road Tucker Rocky Distributing:  "I read your review on the TPG Rainier and agree on some of your points on the jacket.
I do however think you missed the mark on a few items. Yes, I work for Tucker Rocky as a field apparel specialist with primary focus on the recently purchased Firstgear brand.
First and foremost I came into this job as a long time user and fan of the Firstgear brand and a rider who understands the many dynamics of a long ride, not 200 miles but 6000 to 10,000 mile jaunts.
You mentioned being uneasy about Tucker owning the brand and profit margins.
A few comments on that one: Tucker has always been the sole distributor of the Firstgear brand over the years it has enjoyed being on top and quite frankly the purchase of the brand came down to control.
Margin from a distribution standpoint vs ownership is just not true.
We now are responsible for design, production, warranty and development of the brand. Tucker has hired people and managers to tackle this huge task. It's about control of the future.
You also mentioned other apparel products we distribute. Rest assured Tucker is equal in spreading the love. If you look at what we sell it fits different segments of the market.
We strive to allow dealers to buy all of the apparel from us for convenience and world class service.
On to the review…Basic Outer shell:  In my mind, a basic outer shell has some armor maybe some reflective piping and some pockets; some dry some not dry.
Good abrasion protection is pretty much a standard on most jackets but looks can be deceiving. The outer shell on the Rainier is loaded with features not found on many other outer shells.
Items you missed or misunderstood:
Unique feature #1:  The hood is designed to go under your helmet, not over it. This is great feature and as far as I know it's the only jacket on the market that has such a feature on the outer shell.
Nothing like water running down your back while stopped at a light. The material is ultra thin so it does not change the fit of your helmet.
Safety feature #2:  Reflective panels, not piping is all over the front and back of this jacket. You mention the nice touch of gray but missed the huge amount of reflective material right next to it.
This reflective material is not cheap and adds some major cost once it gets to a retail level. In fact even the Firstgear logo on the back is reflective.
Unique safety feature #3 (a first for an outer shell):  Loop on the back of the jacket for the first Active safety device on any jacket. Just place your favorite L.E.D light on you back and your in business.
This could be a life-saver.
On a side note I have asked several officers if this would cause a problem each time the answer was no, due to the fact that it's on your body not the bike and on the back not the front so you don't look like your a cop. But as always ask if your concerned.
Pockets – yes lots of pockets:  All of the pockets are dry pockets; not all jackets feature all dry pockets.
Now we could have done the flap and the massive amount of Velcro but we went to all waterproof zippers and minimum use of Velcro.
Which by the way we use none on the main zipper and as you mention quality snaps. Again this cost money.
Armor — Safety First: The TPG jackets are the only jackets we produce with Knox CE branded armor instead of the basic CE rated armor.
Knox is well know and just like the BMW logo you pay for it. It is also weighs more than standard CE armor.
Weight of a jacket has never been an issue from what I have experienced and 1.5 lbs. is not an issue unless you plan on peddling your motorcycle.
Backup for the Armor:  The Knox armor is backed up in the shoulders and the elbows with Teramid,  which is a Kevlar blend. In fact if you look on the back of the tag located on the left arm it says Kevlar.
Once again this is a well know and high performance product that cost money.
Vents and Vent lock:  Vents are a touchy subject for a few reasons. In your review you did not mention what bike you rode while testing the jacket.
Depending on what you ride will depend on how much air passes into your vent.
One thing I would like to point out is the TPG jackets feature a waterproof outer shell; most jackets do not have a water proof outer shell instead they use a water proof free hanging or bag liner.
A simple test is to unzip the liner and place your hand up into the vent and look into it from the outside you will most likely see a white bag and some seam tape or a gray material.
So the vents only vent to the bag liner not your core. Look at our vents you can see your hand because of the materials we use. The vent lock is not new but it does work.
Closing on the outer shell:  Most of the items that you suggested like the larger pull tabs have already been suggested.
It takes over a year to make a simple change and since this jacket won't be a year old until September we will have to wait. Good call though
Mid layer or liner:  Insulated liners are more bulky as you mentioned and not as flexible as our soft-shell liner.
Remember we are trying to hit a wide range of climates layering with thin layers is much more flexible than a bulky insulated liner.
In fact, you can leave in our mid layer and use your heated liner under it.
That's pretty tough with an insulated liner, so in effect we have a 4-layer option. You will also notice that the liner is very slick this aids in movement.
When I talk about the mid layer, I refer to it as the go out on the town after a long day in the saddle jacket.
As you mentioned it looks nice as a stand-alone. It also has three zippered pockets and two vents on the front.
In your review you mention the vent on the back of the liner. That is not a vent; that is a portal for the zipper-to-pants zipper to go through so you don't bind the liner up.
In your review you mentioned LL Bean — on this end of the country it's R.E.I.
A soft shell from these stores run in the range of $150.00 to $400.00 dollars depending on the brand and they won't zip into your jacket.
(Editor's Note: Bill was referring to fleece jacket liners, which are currently available from  LL Bean for prices ranging from $35.00 to $59.00).
Base Gear: Lets talk price first and the existence of it.
Again a quick trip to any hi end outdoor store will surprise you. Our current base gear is a summer weight and has an SPF 50 rating and has a anti bacterial feature baked into the fabric.
It is a hi performance product and if you look at other performance layers you will see we are lower than they are.
It is also branded Firstgear for a complete system. Dealers love it because they are keeping the customer at the store for a one stop shopping option.
Again the future is options depending on the time of year and your location.
A winter weight base layer is in the works. So in order to add to the line we must sell it as a separate item. You mentioned selling the liner as a separate piece.
This has been discussed in different weights for the flexibility aspect.
On the marketing side of your comments I'm not sure where to start, but do recall some other things that are skewed. Ballistic comes to mind and you mentioned that term in your review.
Ballistic nylon starts at 1000-1050 denier so if I had a ballistic jacket what would it weigh?
Now I may use ballistic in the elbows and shoulders for abrasion but not the whole jacket. is that miss leading.
Kevlar is know to be a better product than Ballistic Nylon and much lighter.
Price value and service:  All of the Firstgear jackets have our phone number in the inside of the jacket. If any one ever has a problem they simply pick up the phone and call us.
If the jacket is still under warranty we will handle it quickly. Do any other brands have a direct phone number in the jacket?
Price:  Price is important to all of us but the Wal-Mart mentality is taking it's toll. I paid $325.00 dollars for my first Kilimanjaro 12 years ago and I still have it and it still keeps me dry.
You get what you pay for and I am sure many of your readers still have some very old Firstgear products.
As I pointed out in the missed details it's easy to see the price.
If you don't want to spend $399 you can get a Kilimanjaro for $299 and if that's not in your budget then how about a Jaunt for $199. We try to offer something for every wallet.
Apparel is just like motorcycles; I have seen guys on V-Stroms that ride in the best gear money can buy.
Think about it, a year-round system boots several pairs of gloves, several jackets, pants, heated, high end helmet, your talking some coin. But this is your life your dealing with.
Then you go to the other end. Guy buys $25,000 dollar BMW and spends $99.00 dollars on a helmet and the cheapest jacket he can find.
So do you buy three $100.00 dollar jackets that last a year or two or a $400.00 dollar jacket that will last 10 years?
Thanks for the chance to reply and keep it coming we are always looking for ways to improve."
---
From "T.M.":  "I wanted to like this jacket. I saw my first one in October at European bike day at Larz Anderson Transportation Museum near Boston. The fabric felt great and fit and finish were excellent.
A couple of weeks later, I went to the reseller's store to try on a few for size. Everything seemed okay so I ordered one in red.
When it arrived and I zipped it up, the deal breaker was the lack of any protection from the zippers inside the neck.
I'll be keeping my Kilimanjaro 4. The TPG is a loser for me. On the other hand (leg?), the TPG over-pants are excellent. I'm keeping those."
---
From "L.P.":  "I just finished reading webBikeWorld's review on Firstgear's new TPG Rainier jacket and I have to compliment you on your frankness and honest evaluation.
You guys are to be congratulated for your "telling it like it is" approach, it's refreshing to hear and I hope Firstgear will appreciate there are a lot of us who listen.
I recently bought one of the REV'IT! 4-season Devil jackets for $299.99 and I love it.
To date I've ridden a couple of 100 miles in 32 degree weather and didn't bother to take my electric vest, never felt chilly at all.
Since then I've ridden similar rides in driving cold coastal rain with similar results although I did take on a bit of water after the first 100 miles or so.
This last may have been due in part to the way I had my gloves/sleeves configured and in any case the water getting in was very minimal.
I guess what I'm saying is for under $300 bucks you can buy a truly effective 4-season jacket and there's no need to buy anything extra."