Firstgear Burnout Gloves Review Summary
FirstGear Burnout Motorcycle Gloves
FirstGear has gone through an interesting evolution over the last several years.
The brand was once well known among BMW motorcycle owners as a manufacturer of high-quality motorcycle clothing.
A FirstGear jacket had as much cachet as an Aerostich or Motoport does now.
I'm not privy to the whole story, but FirstGear has certainly had its ups and downs. Intersport Fashions West (later called Intersport Fashions) was the U.S. distributor for a while, and now Fairchild Sports, better known as the aerospace Fairchild, is now distributing the brand.
Whether or not this will make a difference will become evident over time; let's just say I'm an agnostic skeptic regarding their success.
By the way, they also inherited from Intersport Fashions the distribution for some pretty big names in the motorcycle industry, including Held, Schuberth, Oxtar, Vemar, Hein Gericke and Honda apparel.
At least the Fairchild influence has been felt on the FirstGear website.
It actually works, and it's relatively easy to find information on their product line. The Intersport Fashions websites were, to put it kindly, not quite up to par.
My opinion is that the FirstGear products are not what they used to be, but I decided to give these "Burnout" gloves a try because I was intrigued by the way they fit. Summer is just around the corner, and these gloves looked like they would be a nice solution for hot weather riding.
FirstGear products used to be semi-exclusive, but they now seem to have moved into the commodity pricing model, competing against the zillion other brands of gloves that stock just about every Japanese motorcycle dealer on the planet.
Not that I'm complaining; I have no problem with being able to easily find decent gear at a great price. But it does make it harder to choose, for example, a glove with enough of a distinguishing characteristic or two that stands out from the crowd.
The Burnout gloves certainly do that. They don't look or feel like other gloves. I normally take an off-the-rack size large glove, but the size medium Burnouts fit me like, well, a glove.
They're a little hard to put on, but once my mitts are squeezed in, the gloves feel great.
The (faux?) carbon fiber knuckle protectors look great and they have some type of rubber-like padding underneath. These are the first gloves I've worn where I actually look forward to making a fist or grabbing the throttle!
The fingers have some knuckle protectors also, right above the second joint. The protectors on the forefinger and pinky finger is different than the protectors on the middle two fingers, but I think that's for style purposes.
They also have a touch of padding underneath, which adds to the comfort. These finger protectors are soft; when they're squeezed, they feel like they're filled with some type of gel.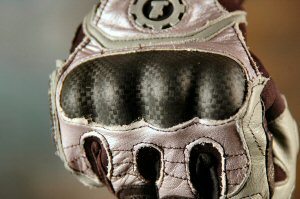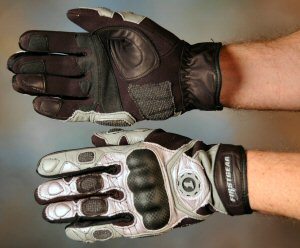 The outer skin of the glove over the top is made from neoprene. This gives the gloves a very stretchy feel, which moves with my fingers and feels great.
The neoprene fabric allows air to flow through, and these gloves are very cool and have lots of ventilation, so my feeling is that they are definitely summer motorcycle gloves and aren't suitable for cool weather, even when it gets below about 65 degrees Fahrenheit or so.
One downside of the neoprene that I noticed is that if my hands aren't completely out in the open, like when if I'm riding a motorcycle with hand guards, my hands can get sweaty. So you may want to take this into consideration if most of your riding will be behind a fairing.
The Burnout gloves also have a few sections of "Clarino" leather on the palm, under the thumb and the upper palm. This gives them a good grip and also helps add to the comfort.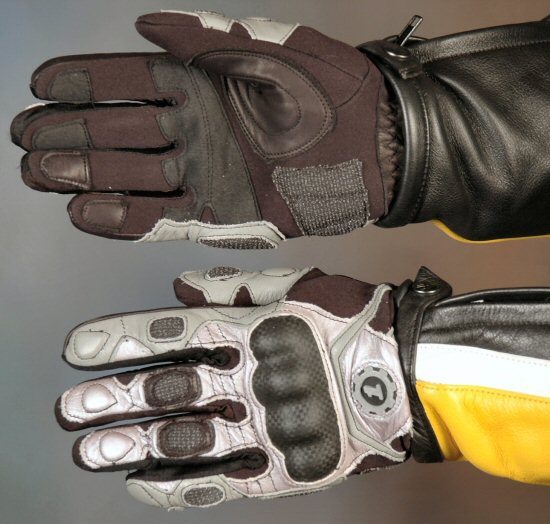 These are short gauntlet gloves, and they can get bunched up around a leather jacket with close-fitting cuffs. That's another drawback, but I get around it by wearing the gloves under, rather than over, my sleeve.
This works fine with tight fitting race jackets, but can cause a problem with some looser fitting sleeves. The gauntlets on the gloves are medium length, and they would probably work better if they were either shorter or longer.
Short gauntlet gloves seem to be all the rage lately, and I have to admit, they do work nicely in hot weather, but I question their protective ability.
Speaking of protection, it's impossible to determine how well these gloves will protect the rider.
The older I get, the more protection I wear, and the FirstGear Burnout gloves probably represent the minimum amount of protection I feel comfortable with.
And while we're on the subject, the stitching on these gloves doesn't add much to my confidence in their ability to protect. The silver leather cutouts on the back side of the glove are very rough looking, using only single-row stitching, probably cotton.
I guess I'll have to keep my fingers crossed if I go down. In my mind, this is one of the differences between the old FirstGear and the new one.
Conclusion
I like these FirstGear gloves for summer riding. They're comfortable (don't forget, mine are one size smaller than I normally take) and they flow lots of air, as long as they're out in the open.
The price is right; they list at $49.95 but can be found for $10.00 or so cheaper.
w

BW

 Review: FirstGear Burnout Motorcycle Gloves
List Price (20XX): $49.95
Made In: China
Colors: Silver, Black, Blue, Red
Sizes: S-XL
Review Date: 2004 (?)
Note:
 For informational use only. All material and photographs are Copyright © webWorld International, LLC since 2000. All rights reserved. See the webBikeWorld® 
Site Info page
. Product specifications, features and details may change or differ from our descriptions. Always check before purchasing. Read the
Terms and Conditions
!
Owner Comments and Feedback