Three Australian companies have merged to form the first nationwide motorcycle rental and tour company.
It's called BikeRoundOz, which has been around for 14 years, but has now joined forces with the Australian division of worldwide tour operator Compass Expeditions and Sydney rental and tour company Bikescape.
It gives riders a single source for pre-ride advice, rental bikes, self-guided or guided tours and support right across the nation.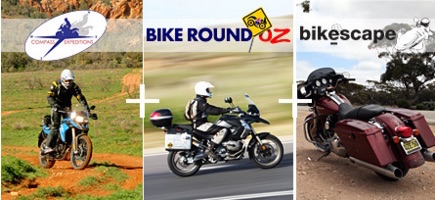 Managing director Selena Thurbon says the new organisation has a central booking office with collection and drop-off depots in Sydney, Melbourne, Perth, Brisbane, Cairns and Adelaide.
"The key things that ensure fellow riders enjoy their time in Australia are high-quality advice from real people that have ridden the routes many times, expertly prepared bikes, attention to detail and fast support no matter where you are in the country," she says.
"The country is vast and without good knowledgeable advice you can miss all the good stuff. Our daily focus is to ensure clients make the most of their time here whether it's a day trip from the city or a cross continent, gravel road epic."
The national fleet is focused on BMW and Harley-Davidson motorcycles but Japanese bikes are on the list and even scooters for zipping around the cities.
Visit: www.bikeroundoz.com