Fifteen Times – Giacomo Agostini Review Summary
By: Giacomo Agostini and Luca Delli Carri
ISBN: None listed
Dimensions (in cm): 21 x 15
Publisher: Fucina Srl, Milan, 2004
173 pages, 80+ black and white and color photographs.
This is another in our occasional series of reviews of classic motorcycle books. Some of these books some are very rare; some are out of print, obscure, forgotten or generally out of the mainstream.
I have always been of the opinion that deepening our understanding and knowledge of what has come before can help us better appreciate what we now have and what will come in the future. Our hope is that you will discover something new, just as we have, and that you will become as inspired as we have been to deepen your knowledge of motorcycling history.
Giacomo Agostini made his motorcycle racing debut in 1961 at the age of nineteen and dominated the motorcycle racing World Championship from 1966 to 1975. This book's title refers to the 15 World Championship titles won by "Ago", including eight 500cc titles and seven in the 350cc class.
Thirteen of those titles were won on MV Agusta motorcycles and two with Yamaha. He won a total of 122 Grand Prix races and 18 Italian Championship titles. No one, including Valentino Rossi, has done more and this isn't fully realized by many fans of modern MotoGP racing.
Not to take anything away from Rossi or any of the other racers at all — in fact, Rossi is my all-time favorite. But modern fans sometimes have short memories, forgetting that there could possibly have been excellent racers in the past.
Agostini is still with us, fortunately and he is a regular at many motorcycling events. This book is a very interesting read, not only because of the deep insight into Agostini's thinking in both his personal and professional life, but also because it provides an insider's knowledge of what motorcycle racing was like back in the day.
But it's also more than that — the book uses a very intriguing (and rare for a motorcycle biography) format for its narrative. It pretends to be a novel, whose subject is the "Winner", narrated by the author, who is writing about an imaginary writer and correspondent named "Nao" who is writing about Agostini!
Nao conducts a long series of detailed interviews with Agostini, and this is how we gain the deep insight into his life and times. It sounds contrived, and I have to admit that it took me some time to get used to the format, but I ended up really liking it. It makes the book so much better than the normal run-of-the-mill bland motorcycle racer biography, typically churned out with some stock photos to make a few quick bucks. One thing to note though is I think that the translation from Italian to English has a few grammatical problems…
Fifteen Times is also an autobiography, because it was written with full cooperation of Agostini and uses many of the photographs from his personal collection.  And there are a lot of photographs, which is another bonus, covering everything from the beginning of Ago's career to the present.
It also starts out with a very interesting dialog from Agostini about the dangers of motorcycle racing in those days — there were so many fatal accidents due to the lack of safe tracks. There are reasons for this and Agostini describes the tensions between the "pay as you go" racers who came to the grid no matter what, and the factory supported teams who were pushing for safer tracks and who even wanted to go on strike for better conditions.
Agostini comes off like the real gentleman he is — berating his fellow racers for their sometimes unfortunate treatment of the fans.
This is a highly detailed but very interesting biography of what surely is and will always be one of the premier representatives of our sport and who serves as a role model that every racer — and every motorcyclist — should aspire to. This is a must-read!
And here's something else — there are a very few volumes of Fifteen Times for sale signed by Giacomo Agostini himself!  We purchased this autographed copy for £29.99 (see photo below) through Grand Prix Legends in the UK, who always have some very nice autographed models, cars and memorabilia from motorcycle racers and others for sale (We have a signed Nicky Hayden Honda coming soon, so stay tuned for that!).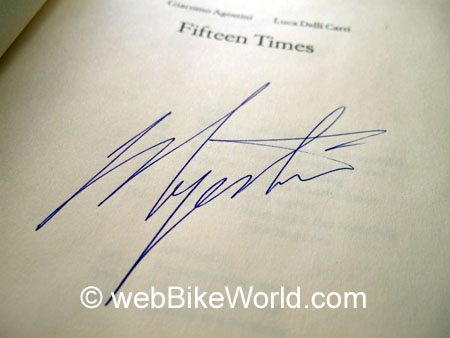 The wBW Rare Motorcycle Book Review Series:  Grace and Grit: Motorcycle Dispatches From Early Twentieth Century Women  |  Triumph Bonneville: Portrait of a Legend  |  60 Years of MotoGP  |  Hold ON! by Stan Dibben  |  Classic Motorcycling: A Guide for the 21st Century  |  The Rugged Road by Theresa Wallach  |  Exotic Motorcycles by Vic Willoughby  |  Fay Taylour – Queen of Speedway  |  Fifteen Times by Giacomo Agostini  | Historic Racing Motorcycles, Famous Racing Motorcycles and Built for Speed by John Griffith  |  Great Motorcycle Legends by Richard Renstrom  |  Bahnstormer by L.J.K. Setright  |  British Motorcycles of the 1930's  |  Tuning for Speed by Phil Irving  |  Café Racers by Mike Clay  |  Tuning for Speed by Phil Irving  |  Bill Lomas: World Champion Road Racer  |  More wBW Book Reviews  |  wBW Book Review Ratings
[books/book-includes/amazon-horiz-w-search.htm]
wBW Rating:




The wBW "Flaming Helmet" Book Review Rating System  |  Book Reviews Home  |  All Reviewed Books Ranked by Rating
Other WebBikeWorld Book Posts