Suzuka Leather Jacket Review Summary
Review Summary
The Suzuka is a comfortable, breathable, and well-made jacket that delivers good value with CE level 2 armor, high-visibility trim, and a removable interior liner rounding out the package. Priced at $500, the Suzuka is very price competitive with comparable jackets.
Pros
Quite breathable
comfortable
made well;
removable liner
shoulder and elbow armor
high-visibility strips
seamless integration with matching pants
Cons
Pre-formed shape is a bit restrictive when you're off the bike
ight fit in chest and shoulders sometimes unzips top 2-3" of zipper when stretching
Suzuka Leather Jacket Image Gallery
I've been on a quest. This time, it's in search of the perfect summer motorcycle gloves. But I'm not sure if the perfect pair really does exist. Sure, there are plenty of textile mesh or perforated leather choices. But I haven't really found anything that offers the winning combination of protection and lots of cooling air flow.
The comfort factor is also important, as always, so give me a nice glove that hits aces on all three criteria and I'm in. The problem seems to be the balance between ventilation and protection. Large amounts of air flowing through a glove means plenty of holes, and holes provide less integrity, generally speaking.
Can you have both?  I'm not so sure… Another factor comes in to play for owners of adventure-touring bikes, like the 2007 Triumph Tiger, our current Project Bike. The Tiger has hand guards that block the wind at the grip, just where it's needed for cooling the digits. This definitely complicates the cooling equation but if a glove feels cool when riding the Tiger, it's probably going to be aces on everything else. When I evaluate a summer riding glove on the Tiger, I'll hold my hand outside the grip to simulate a "normal" hand position. Most of the time, there's a huge difference. But this still doesn't solve the protection vs. ventilation paradox.
Fieldsheer Sonic Gloves
The Fieldsheer Sonic gloves are a fairly typical example of the textile mesh variety of summer glove.
They feel light at 64 grams (2.25 oz.) in size large and they have a comfortable, sheer and thin stretchy lining.
They also flow lots of air through the open mesh (see photo below); I'll even go as far as saying that I think they flow more air than any other summer glove I've tried.
But I'm concerned about what they really offer in the way of protection — they feel almost too thin.
While I don't have a problem with a glove that will only last for one crash, I do have a problem with a glove that won't last through one crash.
The Sonic gloves have a layer of thin leather over the back of the hand, with some lightweight "gel" padding over the knuckles and back.
These leather sections are sewn with only a single row of rather exposed stitching.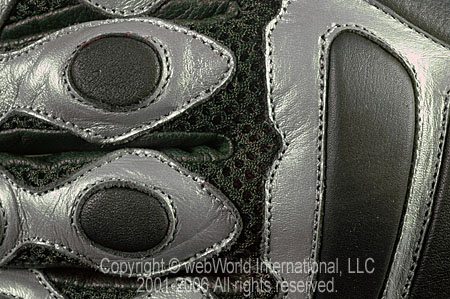 The palm, which is probably the most critical area for protection, is completely covered with leather; Fieldsheer calls it "aniline cowhide".
There are double layers of the stuff sewn over the palm, between the thumb and forefinger and a small patch over the heel of the hand.
I do feel a bit more confident about the protection offered here than the mostly mesh top side.
Fieldsheer also says that the palms have gel padding, but if this is true, it's the thinnest gel I've ever seen, because I feel absolutely no padding whatsoever in the palms of the gloves shown here.
The Fieldsheer Sonic gloves have a decent sized gauntlet for a summer mesh glove.
It secures with a smallish piece of hook-and-loop over the wrist, which seems to be typical for this type of glove.
A section of elastic is sewn in to the top of the gauntlet at the wrist, but I don't think this will do much to keep the glove on the rider's hand in a crash.
Even with the gauntlet tightened up as close as possible, it's very easy to pull the glove right off my hand.
There are many tradeoffs when choosing summer gloves; maybe too many tradeoffs for a serious rider.
For those truly concerned about wearing the safest gear possible at all times, it may be better to sweat it out in a pair of heftier leather race gloves than to take the chance with a too-thin mesh that might come flying off at the first sign of trouble.
On the other hand, there are motorcyclists who subscribe to the theory that "anything is 100% better than nothing" (what I tell myself when I can only get out for a jog about once a week).
They may find that the Fieldsheer Sonic glove offers a reasonable compromise between safety and cooling.
I will say this — the Sonic gloves are comfortable and they flow lots of air, and in ultra-hot weather, that may be all that matters if it's a choice of riding or not.
The Sonic gloves in size large are just about a perfect fit on my hands, with a slightly long thumb at rest that gives me enough stretch room when my hand is curled around the grip.
The fingers are slightly too short and the mesh fabric does not seem to be stretching enough over time for a nice broken-in feel.
That means I do have to pull the gloves at my fingertips once in a while to give me the room I need.
This is something to remember when you're looking for a new pair of motorcycle gloves. Extra room in the throttle hand is important and can help prevent discomfort.
A perfect fit at the glove display may end up feeling too tight after 10 minutes on the throttle.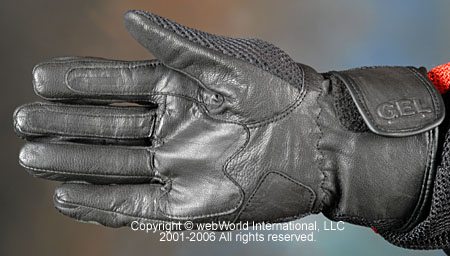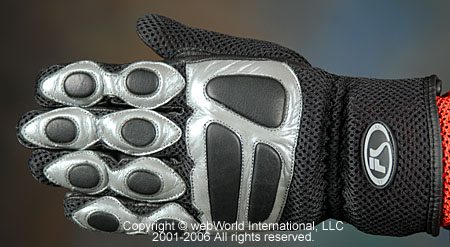 Conclusion
While the Fieldsheer Sonic gloves flow about as much air as any hot weather motorcycle riding glove that I've tried, I'm concerned about their ability to protect my hands when the time comes.
But they're comfortable, the price is right and they may be just the ticket on those super-hot southern days.
In the meantime, I'll keep looking for that perfect combination of air flow and protection.
w

BW

 Review: Fieldsheer Sonic Air Mesh Gloves
Manufacturer: Fieldsheer
List Price (2006): $75.00
Colors: Black, Red, Blue, Silver
Made In: Pakistan
Review Date: August 2006
Sizes: XS-4XL
Note:
 For informational use only. All material and photographs are Copyright © webWorld International, LLC since 2000. All rights reserved. See the webBikeWorld® 
Site Info page
. Product specifications, features and details may change or differ from our descriptions. Always check before purchasing. Read the
Terms and Conditions.
Owner

Comments and Feedback