Review Summary
The Fieldsheer Mobile Cooling® Hydrologic Vest provides cool comfort so you can stay outdoors longer. Fieldsheer® Hydrologic® Quilted Evaporative Cooling fabric keeps you cool longer, simply wet it and wear it! For extra cooling, icepacks for the chest and back can be added.
Pros
Simple and effective
Odor Control
UV protection
Comfortable No chemical coating
Reusable ice packs
It fits well under a jacket
Cons
Can leave you a bit damp
Takes a strong hand to wring it out well
Fieldsheer Hydrologic® Cooling Vest Image Gallery
Fieldsheer Hydrologic® Cooling Vest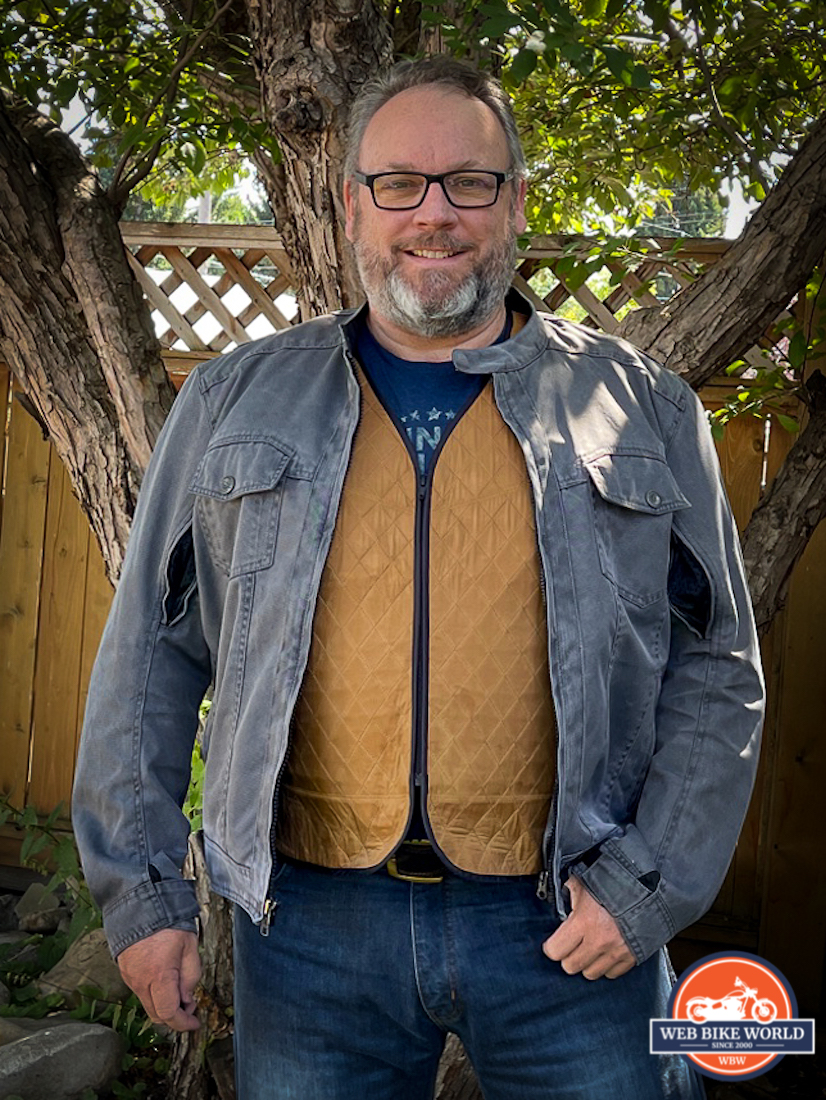 Testing riding gear is always a fun adventure, but this cooling clothing is a new type of product to me. Fieldsheer is trying unique approaches to help regulate the body's temperature, and I have spent a few weeks testing the Hydrologic® Cooling Vest.
Who Is Fieldsheer?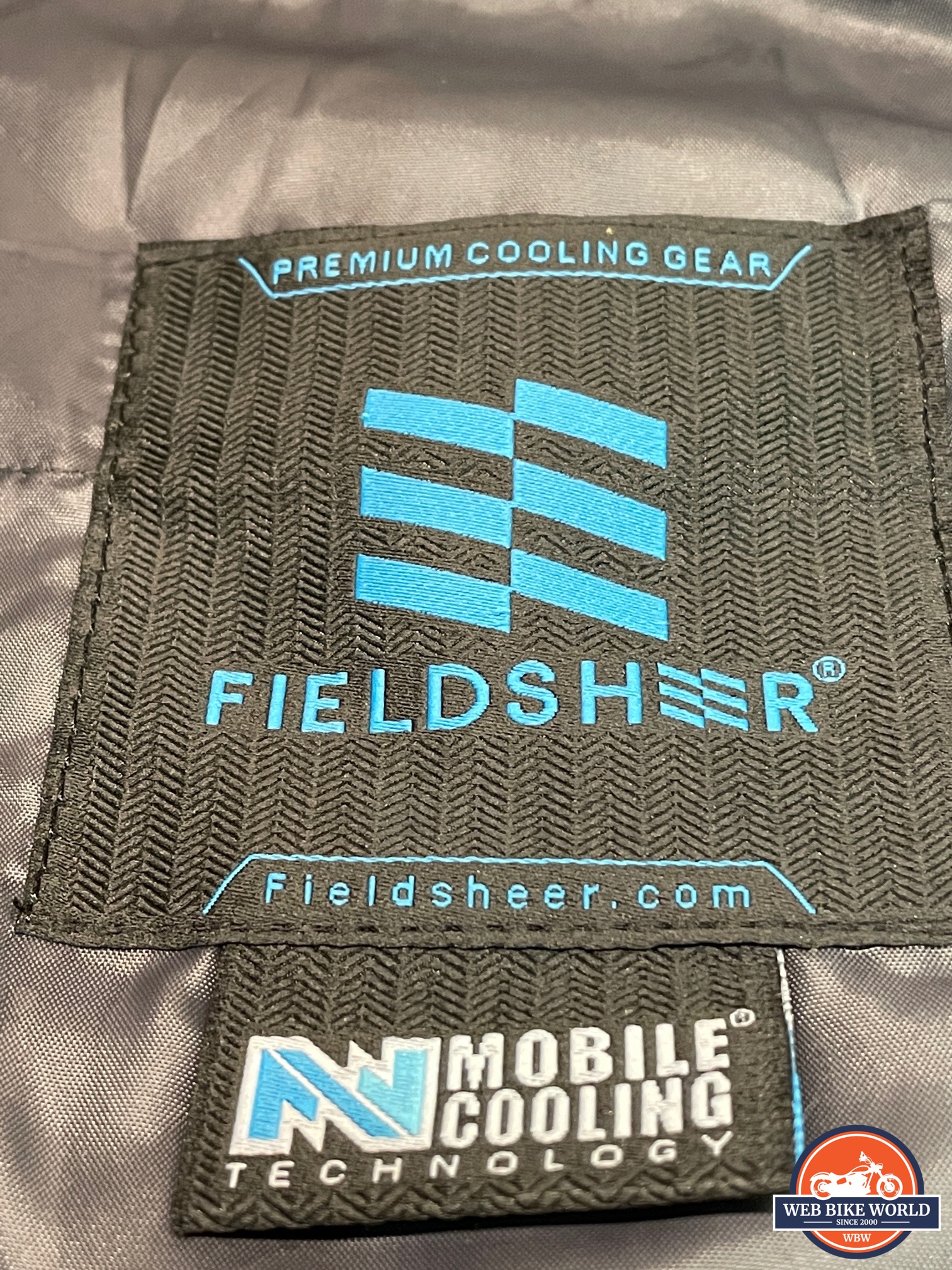 Fieldsheer got its start in 1978 designing motorcycle jackets with integrated protective pads. Next came heated motorcycle apparel, and now Fieldsheer describes itself as not a clothing company but a technology company. New innovations in smart tech and advanced fabrics do support this corporate vision, but as a consumer, what I find most valuable is their front-to-back ownership of their product supply chain.
Owning each step of the manufacturing process from initial R&D thru product completion provides tight quality control, which is evident in the quality product I received to test.
I Have Zero Patience; Let's Ride With It!
At first glance, the vest seems to be nothing more than an interesting quilted fabric vest with integrated pockets at the back and the chest. The khaki and grey looked nice and the fit was accurate to the size chart. I was sent three ice packs that freeze up quickly and fit nicely into said pockets without feeling overly bulky.
So this is where I will be 100% honest and admit to my standard man move of completely failing to read the instructions that came with the vest. I mean, come on, this seems pretty basic, Vest, pockets, ice packs, it all seems pretty obvious right? Well… sort of.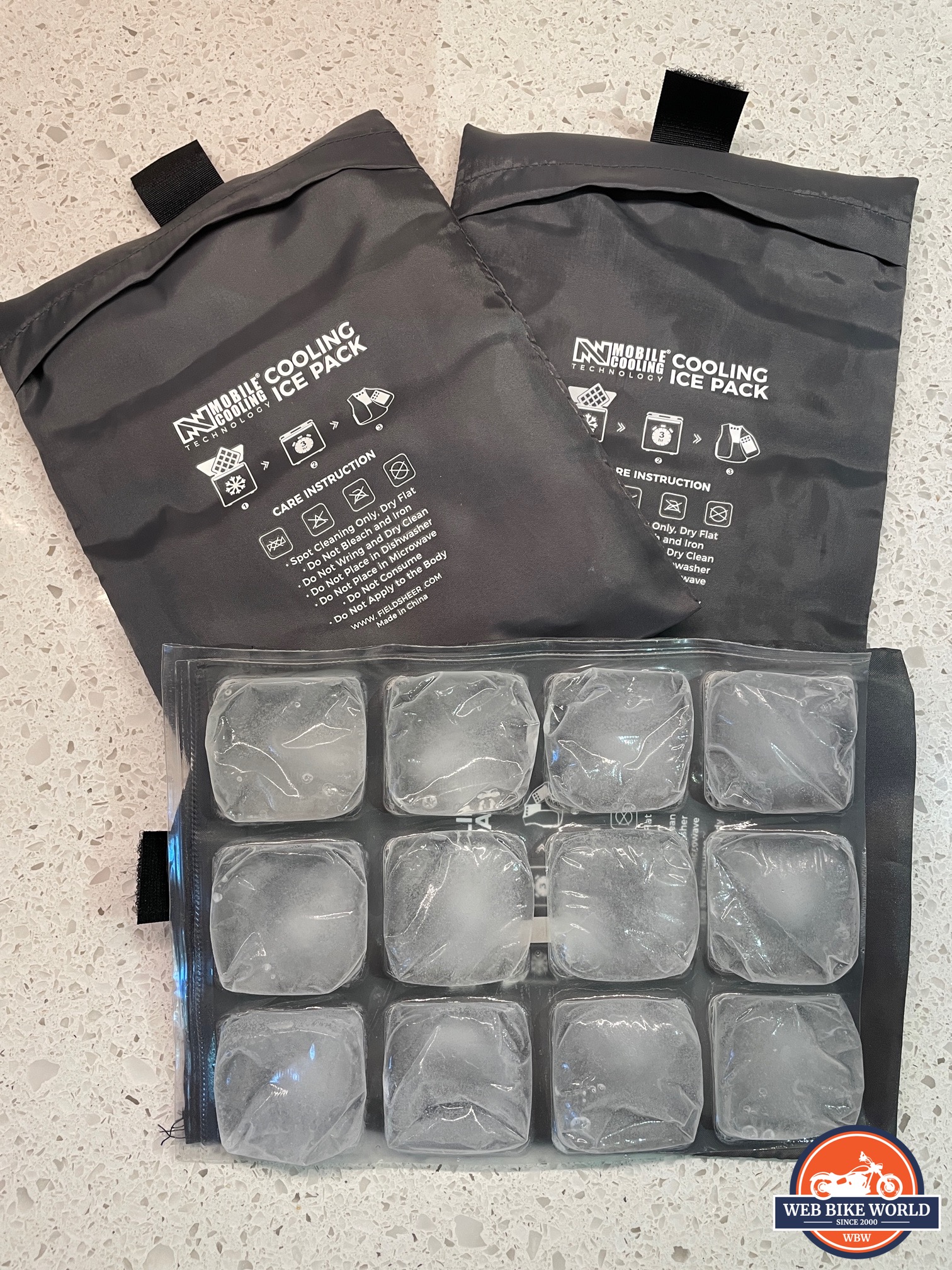 Wearing the vest with ice packs inserted it all fit fairly nicely under my Joe Rocket jacket. For a base layer, I just wore a typical moisture-wicking t-shirt, and I immediately felt the nice cool sensation of the ice thru the thin layers of fabric.
The temperature was 33 Celsius, and with all the venting on my jacket open, I was comfortable and only feeling the heat on my arms until I had some speed up and air moving through the jacket.
In this setup, the issue I found was the fabric of the vest seemed to block the airflow through my jacket, and even though the ice helped keep things cooler during slow speeds, I just wasn't very impressed over the normal air movement thru my jacket at higher speeds.
Now back to my admission of being an instruction-skipping knucklehead, I knew that there had to be more to this vest than just a holder for the ice packs, and yes… yes there is. The Fieldsheer Hydrologic® Cooling Vest is all about water-activated comfort and cooling. Wet it, wring it, snap it! Oh my! There we go; now this all makes much more sense. Soak the vest in cool water. Wring it out, and give it a few good snaps to remove much of the excess surface water.
Take Two!
After eating my humble pie, and reading about how the Hydrologic vest is designed to work, I can happily report, this vest delivers. From the moment I put it on the cooling sensation was vastly increased, and this was without yet inserting the ice packs. Now under my riding jacket, the airflow through the jacket worked well with the Hydrologic fabric to really keep things feeling comfortable.
After a short ride, I came back and inserted the ice packs. Wow, okay that was definitely a temperature drop. For me, it was actually too much, but this seemed mostly due to the increased temperature transfer due to the vest being sandwiched under the riding jacket.
There Is A Learning Curve To The Product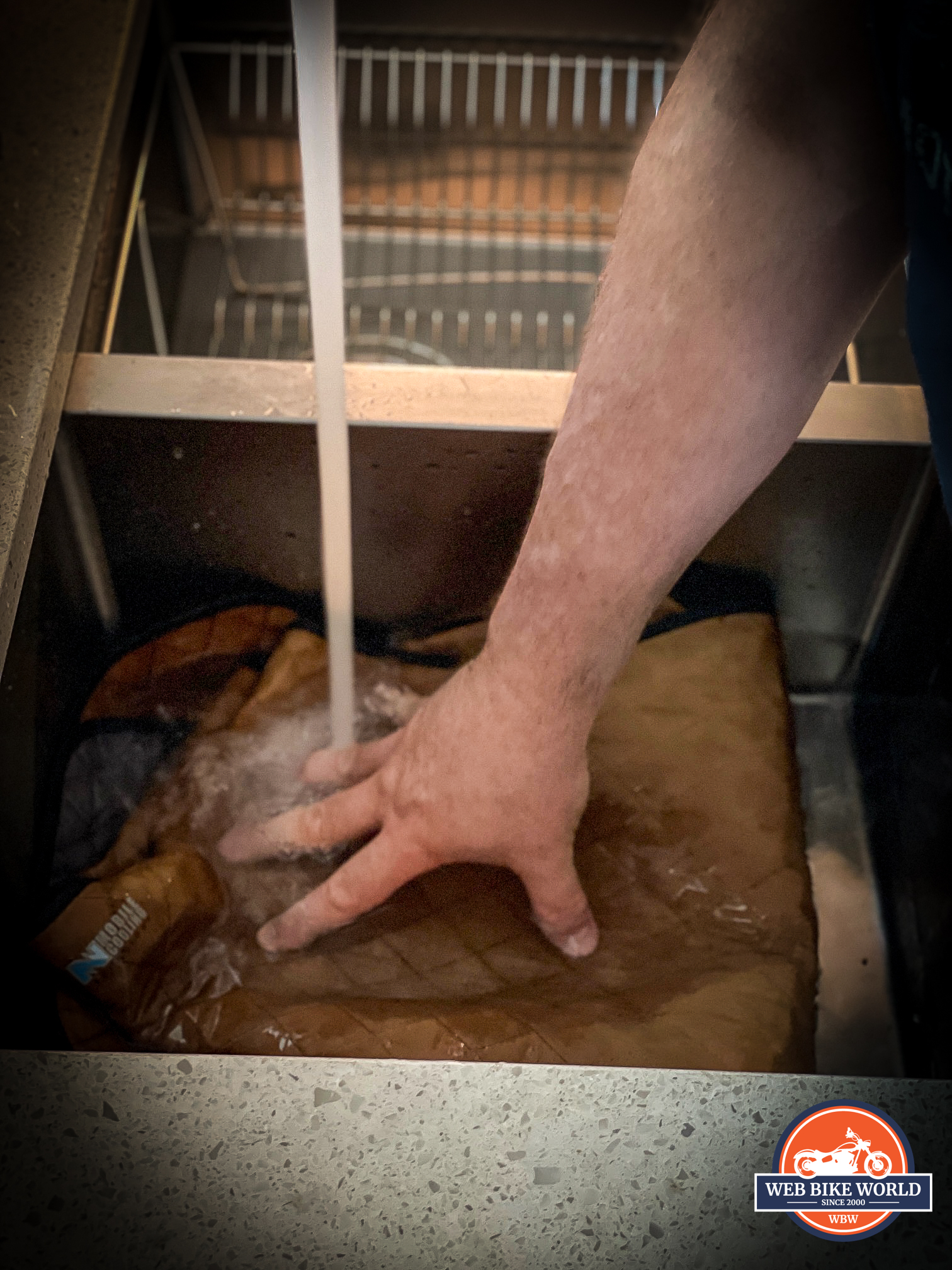 With a bit of trial and error, I have come to discover a few things about how to use the vest effectively. The first step is to really give it a long soak, at least 2-3 min. This allows the quilted chambers to all fill more evenly.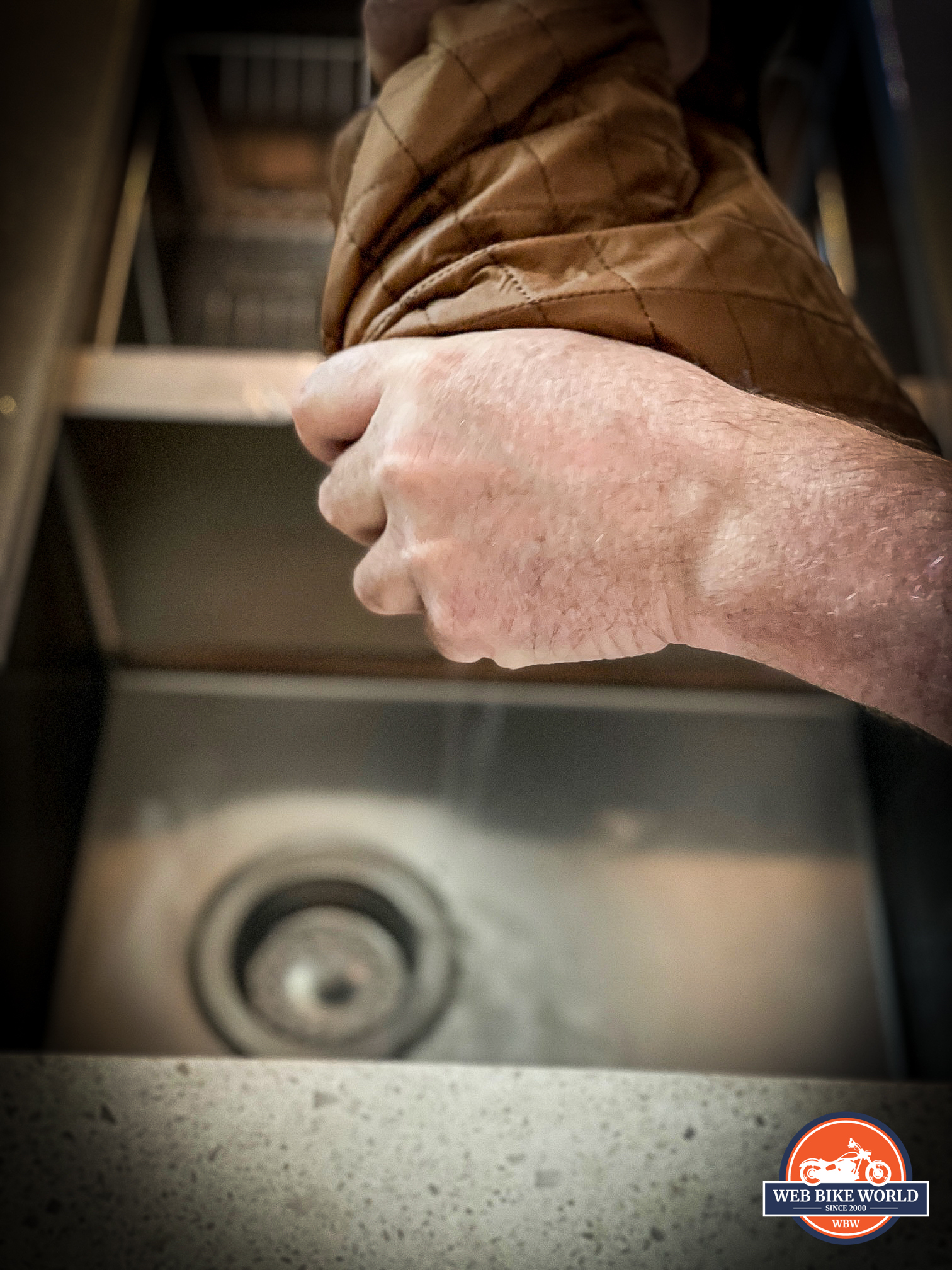 For the first wringing out, make sure to go from the shoulders down to the waist, and then two more wrings going both from the waist up to the shoulders. I found this method equaled out the water retention much more evenly and prevented a buildup at the bottom of the vest.
When I only gave it one wringing out and I went from the shoulders down, I ended up with a damp shirt at my waist. Sitting in the bike saddle, it felt like the riding position, the bottom of the vest and the jacket all conspired to squeeze the fabric of the vest and leave me wet.
The Snap
I didn't really see the point of this step when I was at the house prior to leaving. Instead, I would just give all sides of the vest a quick once over with a towel and it seemed better to me. If I was giving the vest a re-soak during a ride, then yes the snap did fairly well.
Fieldsheer Hydrologic® Cooling Vest: Uses Beyond Moto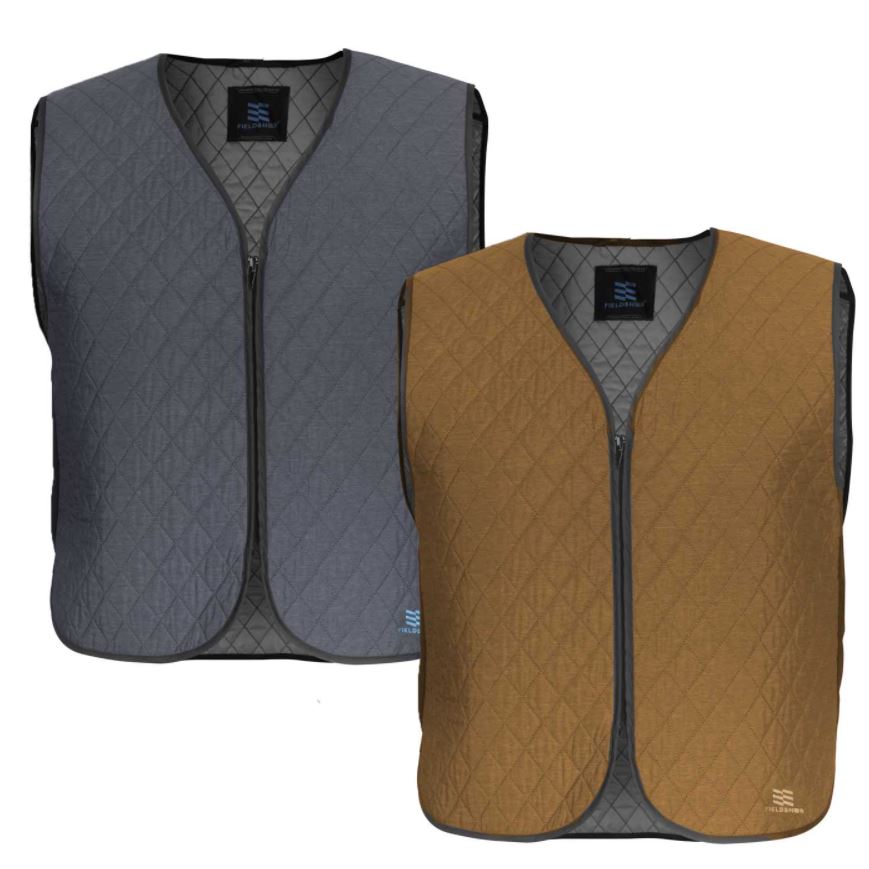 I come from a career as an industrial electrician and always working in full FR-rated coveralls. I tried the vest under my coveralls while working on a welding project in the garage, and the Hydrologic® Cooling Vest in this capacity was brilliant.
Without it, I had been sweating like a Masterchef competitor serving Gordon Ramsey a Risotto, but with the vest, I was feeling comfortable, and I quickly forgot it was even on. I can now see myself using it for yard work or any strenuous outside activity.
Fieldsheer Hydrologic® Cooling Vest: Construction & Appearance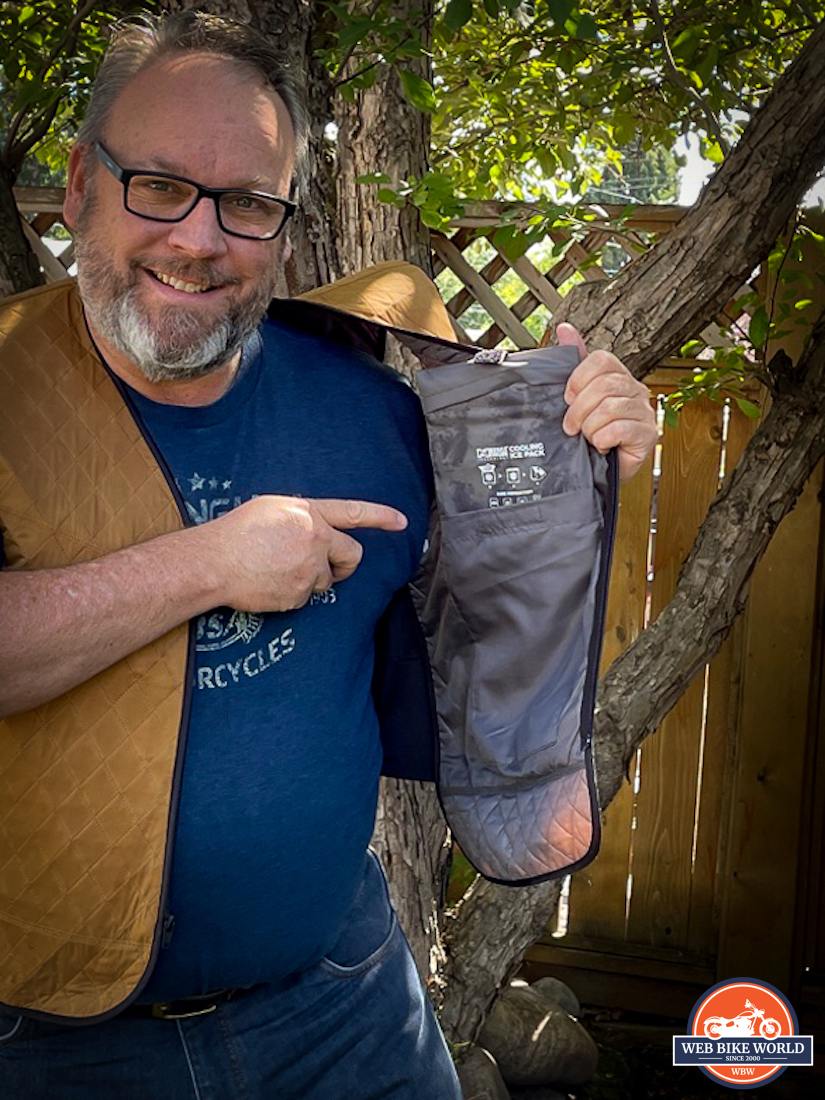 There is not much to enhance the styling of a vest, yet the quilting, which serves a functional purpose, does provide an upscale feeling. I received the khaki and grey vest. The polyester fabrics showed no change at all, nor did the stitching after multiple soakings and wringing out. The sizing charts are accurate, and I found the fit comfortable, including when the ice packs were inserted.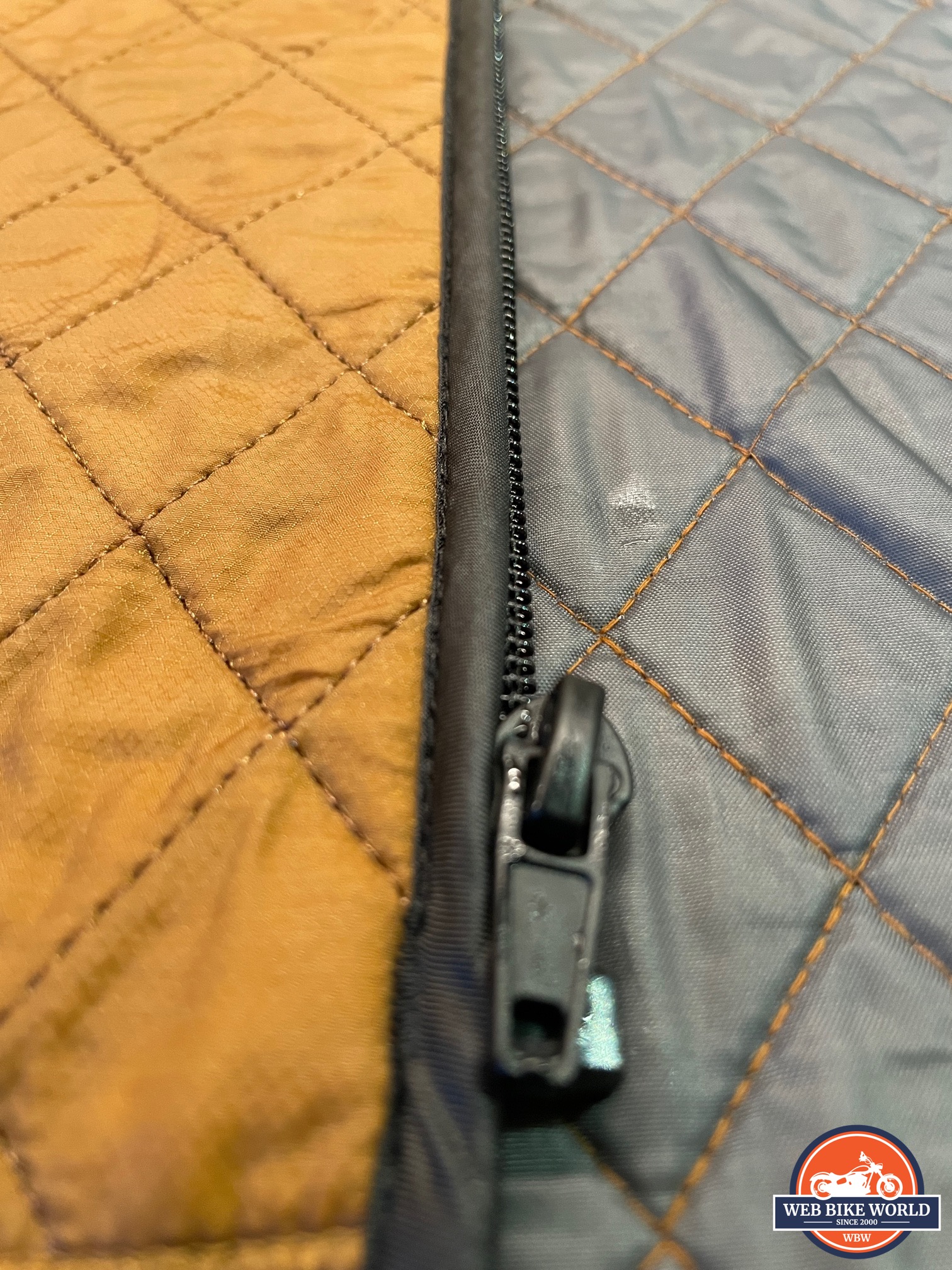 Vest Features:
Hydrologic® Quilted Evaporative Cooling fabric keeps you cool longer, simply wet it and wear it!
Sunsheer™ UPF 30+ protection keeps you safe from harmful UV rays
Odorsheer™ anti-odor technology prevents the growth of odor-causing bacteria
Sweatsheer™ moisture-wicking tech wicks sweat away to keep you cool and dry
Comfortable and stylish V-neck
Front Zipper closure
Side knit stretches for complete comfort
Optional 3 phase removable Cooling Ice Packs provide even more cooling options
Phase changing zones include front left and right as well as upper back
100% polyester quilted woven fabric
85% Nylon 15% Spandex Contrasts
100% Polyester Lining
Unisex sizing: SM-4XL
Fieldsheer Hydrologic® Cooling Vest: Fabric Technology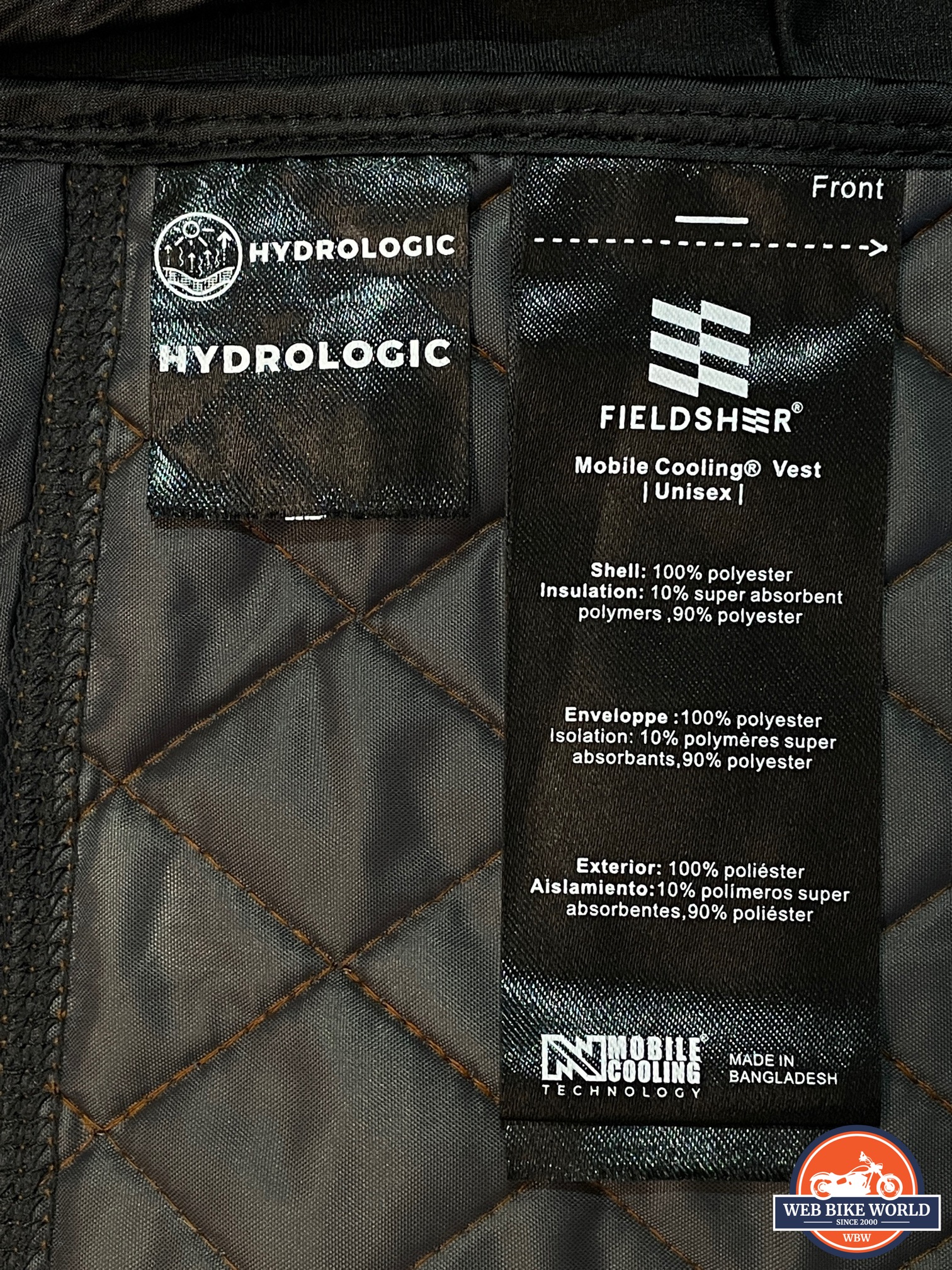 | | |
| --- | --- |
| | ODORSHEER™ – is Fieldsheer's anti-microbial technology used to reduce odor from the body and outside sources. |
| | SUNSHEER™UPF 50 – UPF50 fabric technology provides a protective barrier to the sun's harmful UVA/UVB radiation. |
| | SWEATSHEER™ – technology combines with other proprietary fabric technologies to draw sweat away from the skin. |
| | HYDROLOGIC® – Hydrologic® technology is our water-activated advanced evaporation technology that invokes an accelerated cooling experience. |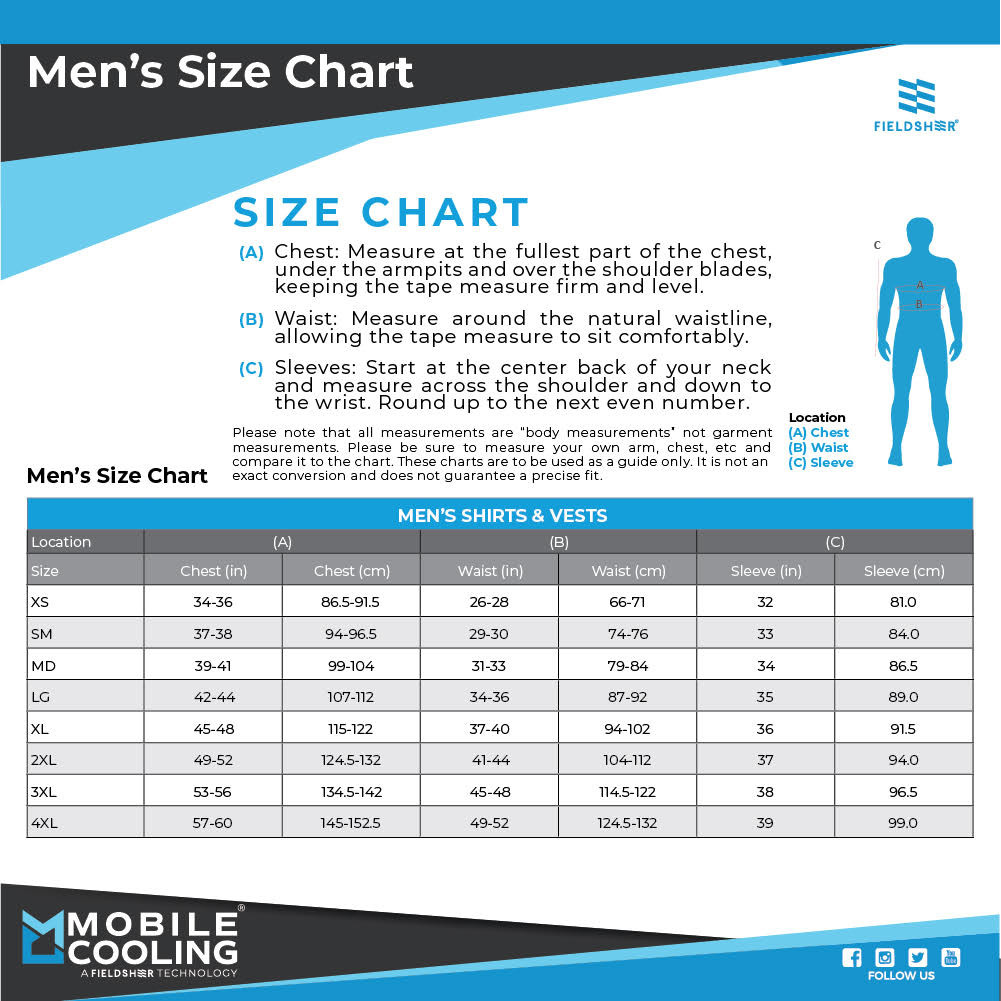 Fieldsheer Hydrologic® Cooling Vest: Final Thoughts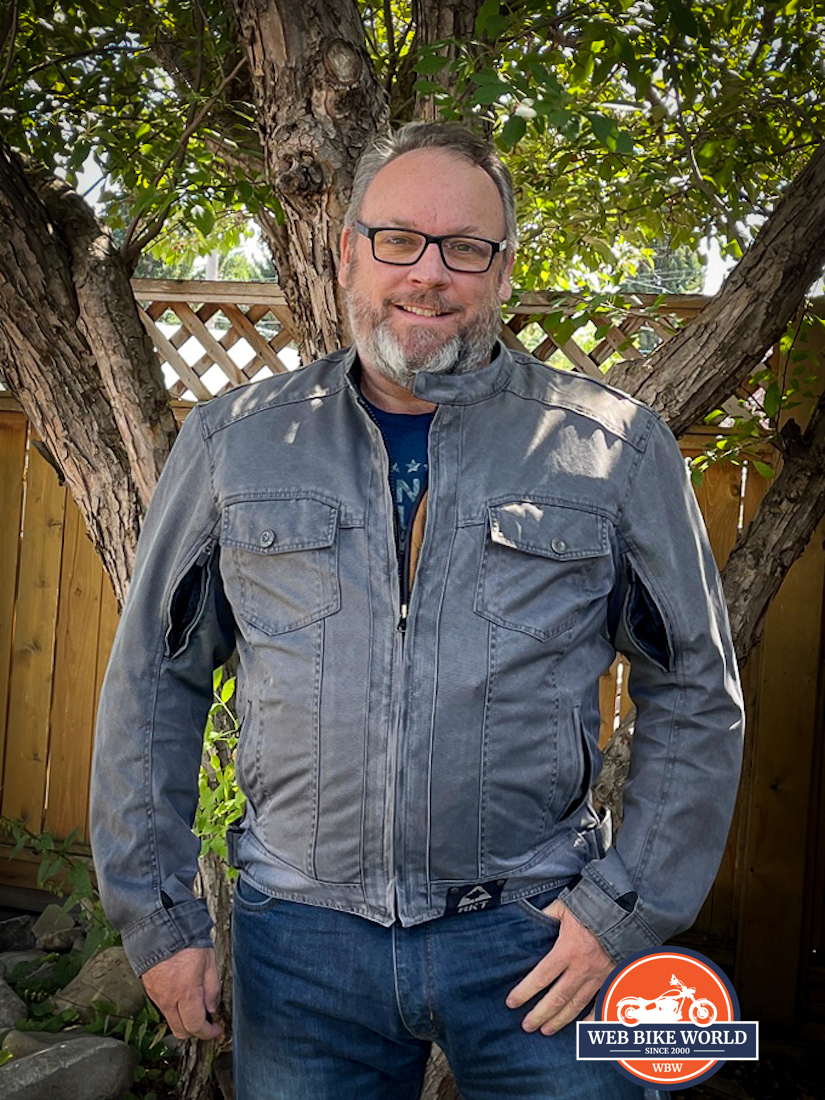 The Fieldsheer Hydrologic® Cooling Vest works as stated. This is a big step beyond what we are traditionally sold as clothing to stay cool, adding the water provides an additional evaporative effect far beyond simple moisture-wicking fabrics.
Fieldsheer makes high-quality products, the materials and stitching are all well done and very durable. The ice packs are really only useful for about 2.5 hours, but that never bothered me because I preferred to leave them out while riding. I found the soaked vest was good for about 4 hours. The vest and my jacket's airflow combined worked very well, it was simple to take a few minutes during a rest stop on a long ride to soak the vest again and return it to full effect.
I liked having the ice packs when I wore the vest for other tasks or not under a jacket. In this arrangement, they were much more effective.
Fieldsheer prices the Hydrologic® Cooling Vest under $100 with ice packs. If you ride in hot climates or work out in hot weather, this product gets my recommendation.
Pros
Simple and effective
Odor Control
UV protection
Comfortable
No chemical coating
Reusable ice packs
Fits well under jacket
Cons
Can leave you and the jacket a bit damp
Takes a strong hand to wring it out properly