Fibre Flare Safety Lighting
November 9, 2011 – Hundreds of manufacturers, retailers and distributors are displaying their wares at EICMA; in fact, there are 635, according to show management.
It's impossible to visit them all, and as the show starts to fill up with warm bodies as the week progresses, it's even more difficult to get to the displays you really want to and need to see.
One expects to find some very cool products at the Ducati booth or the Nolan Helmets booth (and the new and upcoming N-104 flip-up is a stunner, more on that soon!).
But what makes it all worthwhile really is discovering the unexpected stuff. The stuff you find by total chance and coincidence as you're walking down one of the interminable aisles, searching for a specific booth.
99% of the products in those backwater booths are of little interest to someone on a mission and although I'm always scanning the aisles for something new and interesting, most displays are ignored. But while walking in this morning, we stumbled upon a tiny booth with an enticing display of a product that will probably sell by the zillions.
The Fibre Flare
A Fibre Flare is a flexible fiber-optic tube of about 5 mm in diameter. It attaches to a helmet or motorcycle with suction cups, or pants or jacket via a pair of silicone belt loops. Fibre Flares were designed by an Australian and they are made in China with a mix of Australian and Chinese parts.
There are 3 different sizes of Fibre Flares and the largest, the Fibre Flare M.V.P., uses four AAA batteries (rechargeable preferred for environmental reasons).
The batteries fit in either end and the end caps fit over the top, making the assembly waterproof. The kit comes with high-quality suction cups that attach to the helmet and touch the Fibre Flare to turn it on. It first comes on with a solid glow; touch again and it blinks; touch again and the colors pulsate and mix back and forth and then touch it once more to run it off.
Fibre Flares come in a variety of neon-bright colors and some mixed colors, which are very cool, because they can be set to pulse back and forth, mixing the colors from side to side for what might be called a psychedelic effect.
The neon rainbow colors are highly visible, making the Fibre Flare an interesting safety device currently used by miners when placed on their helmets. Fibre Flares can be strrapped to jackets, pants, motorcycle body parts and even frame parts with the ladder-type silcone straps that come in the kit.
Fibre Flare claims they've been tested on helmets at speeds up to 200 km/h and the construction and special suction cups looked pretty sturdy. The kit includes a few removable "landing pads" that are placed on the helmet first to improve the grip of the suction cups.
These babies should sell like Duomo plaza gelato on a hot day in August. They look like loads of fun and they have the potential of adding a lot of visibility to a motorcycle. More information at Fibre Flare and in the photos and video below.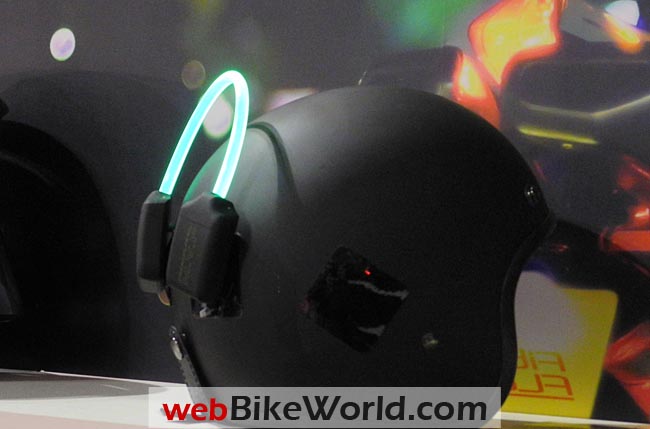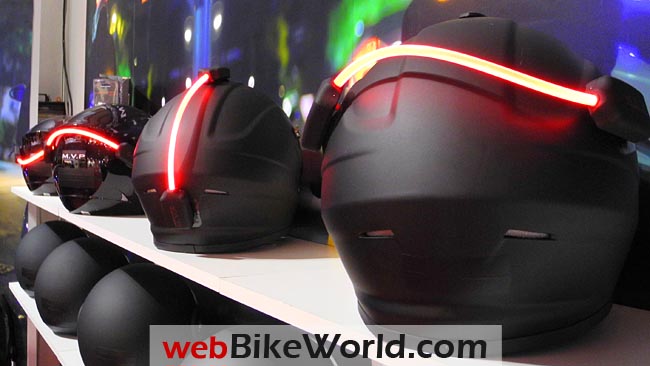 Publication Date:  November 9, 2011
Note:
 For informational use only. All material and photographs are Copyright © webWorld International, LLC since 2000. All rights reserved. See the webBikeWorld® 
Site Info page
. Product specifications, features and details may change or differ from our descriptions. Always check before purchasing. Read the
Terms and Conditions
!
Owner Comments and Feedback
Comments are ordered from most recent to o