Kawasaki's officially on the move, filing homologation papers for her two electric motorcycles in Australia – and we can't help but wonder if Team Green is prepping her zero-emission machines for EICMA. 
The filings (sourced by Dennis Chung at Motorcycle.com) have christened the duo "Ninja e-1" and "Z e-1" – fitting, considering how both bikes pull aesthetic inspo from the iconic Z and Ninja ranges. 
Here's a look at the media that came with the homologation papers:
This slideshow requires JavaScript.
Kawasaki tells us that both these electric motorcycles will be compliant with the EU's A1 licensure; don't expect anything crazy for range, either, as Kawi's website identifies both bikes to be "intended for short-distance commuting."
How powerful are the Kawasaki Ninja e-1 and Z e-1?
We already know that the power train chosen for this fleet includes "two removable battery packs (approx. 12 kg each) with a maximum capacity up to 3.0 kWh;" couple this with the fact that the homologated power level was registered at 9kW, and the Ninja e-1 and Z e-1 appear to have only around 125cc's of power… but there's far more to the fine print than meets the eye here.
This slideshow requires JavaScript.
The "continuous output catch" of electric motorcycles
Ben Purvis at CycleWorld reminds us that an electric bike's written specs are less accurate than her fossil fuel counterpart, especially when logging power ratings; since electric motorcycles tend to be measured by continuous power, the continuous power for these two are 9kW… but peak power is "TBD."
In this case, "TBD" could be almost twice that of the continuous rating.  
"Some electric bikes have peak power figures close to double their continuous figures, so the Kawasakis' outputs might be more impressive than they seem on paper," reminds Purvis.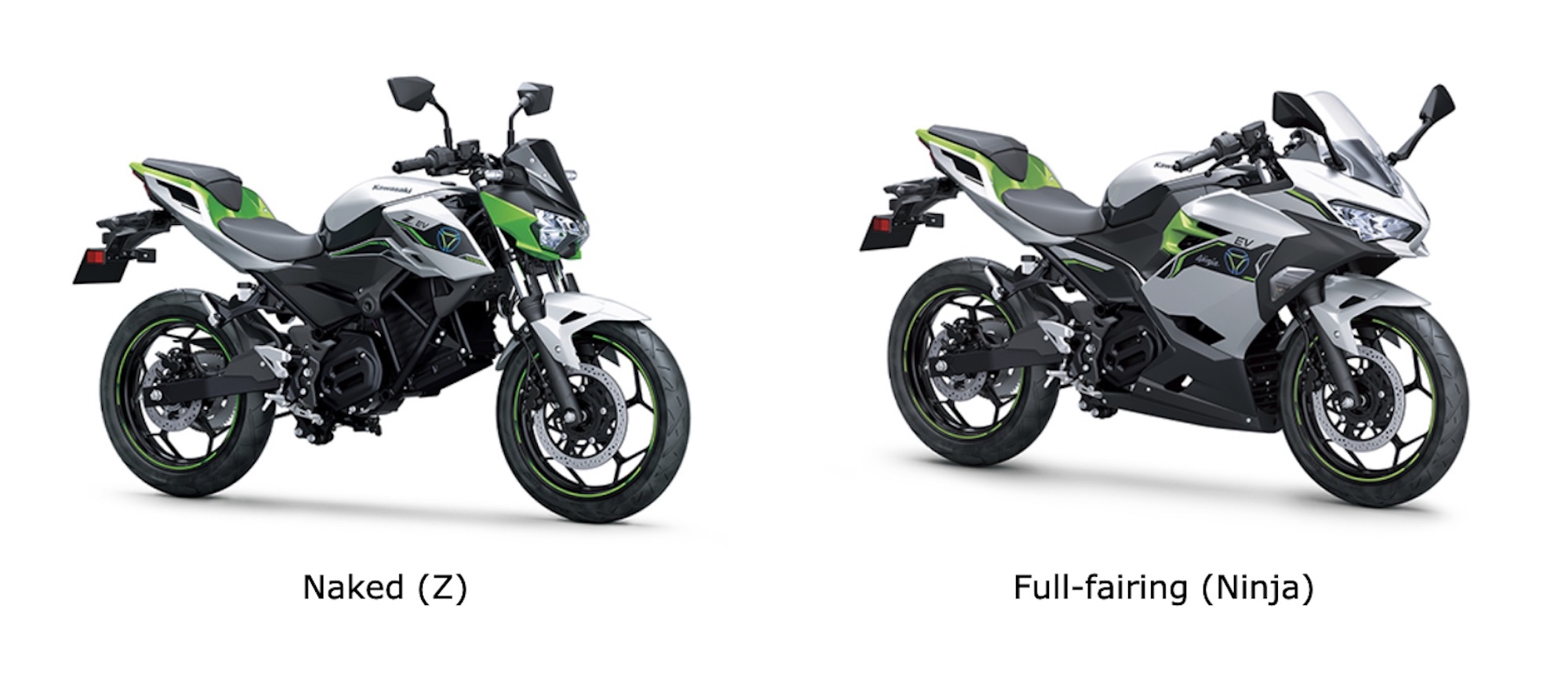 Bottom line, we look forward to hearing when these bikes are headed for the US; both are guaranteed to roll to the front of the stage before 2023 is out, as this year is Kawasaki's deadline to release two electric motorcycles… and there are certainly no additional candidates. 
What do you think of Kawasaki's Ninja e-1 and Z e-1?