FAMSA 260 Motorcycle Tank Bag and Panniers Set Review Summary
FAMSA 260 Motorcycle Tank Bag and Panniers Set Image Gallery
The FAMSA 260 is a well integrated system of tank pad, tank-bag and two side tank-pannier assemblies.
The tank panniers mount and are removed quickly without disturbing the main tank bag fitting.
The FAMSA motorcycle-specific systems (260 series) fit perfectly.
And the overall design reflects an understanding of user needs.
Quality of construction is evident throughout and the system is extremely durable under all conditions.
A Hunch That Pays Off…
We've been trying new stuff and swapping accessories between motorcycles for many years.
So now that we wanted to provide an even more adventure-touring functionality to the Versys, it was only natural that we consider fitting the FAMSA 260  tank bag and pannier system.
We have been using it previously on both of the BMW R1200GS Adventure bikes in the fleet.
So after a quick "Mark 1" eyeball survey one late fall evening, the initial fitting was undertaken.
Five minutes later the survey was validated — even the fuel filler cutout on the tank pad lined up almost perfectly!
Another five minutes and the tank panniers from a FAMSA 260/7 (R1200GS) system were zipped on et voilà!  The Versys adventure touring look was now complete.
Famsa Tankset Luggage Systems
FAMSA has been making scooter and motorcycle products for over 40 years and they started making soft luggage in 1980.
Many of us are also probably using manufactured by FAMSA products and don't even know it, given that they supply many other soft luggage items to other major European motorcycle OEMs.
The FAMSA 260 Tankset System was specifically designed for off-road, dual-purpose and adventure-touring motorcycles.
Each set consists of a custom made base or tank pad for the applicable motorcycle model (with matching fuel filler aperture); a tank bag and two side panniers. However, unlike other FAMSA sets, the tank pad is simply a base, without the stand-alone map pocket feature.
As long-time users of FAMSA products, we can attest that their tanksets and other luggage items are virtually unbeatable in terms of features, fit, quality of workmanship and durability.
The whole assembly is made with tear-resistant and waterproof polyester, in basic black. 3M reflective material is used throughout, and the piping and inserts are highly visible when energized. .
With a capacity of 13 to 19 litres (standard or expanded), the tank-bag features a main storage space and three external pockets, two of which are small horizontal pockets on the sides and one square pocket on the rear — perfect for holding a rain-cover or always-needed small items.
A clear map-holder pocket on the top flap is accessed by a side zipper.
The shoulder strap is mounted around the bag itself, totally unobtrusive, but quickly available for use. A semi-opaque rain-cover rounds out the provided items.
The side panniers each offer up an additional 9 litres of stowage space.
Measuring 30 x 30 cm x 11cm (11.8 x 11.8 in x 4.5 in), they are accessed by opening a heavy duty zipper running in an inverted "C" shape along the upper outside edge, itself protected by an over-flap, that also serves to streamline the pannier.
While not (totally) waterproof, the internal coating used on all components does a very good job of keeping moisture out for extended periods.
A secondary flat mesh pocket, with a top zipper, located on the bottom two-thirds of each pocket is exposed to the elements, but regardless, it is great for carrying the separate side pannier shoulder straps or other soft items.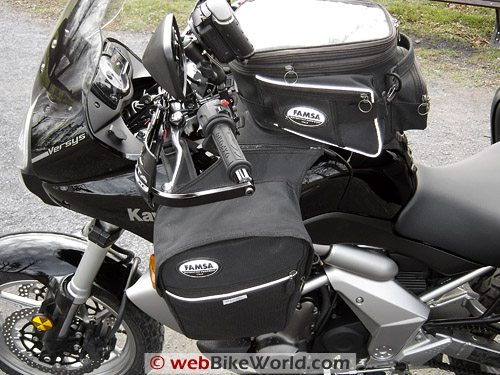 Versatility is a Good Thing
The FAMSA 260 tank bag and pannier set shown here was originally purchased for use on a 2005 R1200GS. But when the '05 was traded in January for a 2007 R1200GS Adventure, the tank pad and bag were migrated over to the new machine.
However, as the side pannier assembly of the 260 was designed for the slimmer GS, they were just a bit too short to try and fit over the greatly expanded girth of the Adventure's 33L saddle tank and plastic tank protectors.
Accordingly, they were relegated to the shelf — but not forgotten.
On a related note, another earlier hunch had also paid off when it was discovered that the FAMSA tankset from an even longer-departed V-Strom could be fitted successfully to the Adventure.
The longer assembly of the V-Strom side pannier is a perfect match for the more rotund "Tanker" Adventure, as it is affectionately known. And the "Tanker" name is apt, because, we do carry a portable (squeeze) gas pump for field-expedient fuel transfers.
With the FAMSA tank pad and tank bag assembly secured using the adjustable rear hook straps and front neck-strap, attention was turned to securing the tank panniers.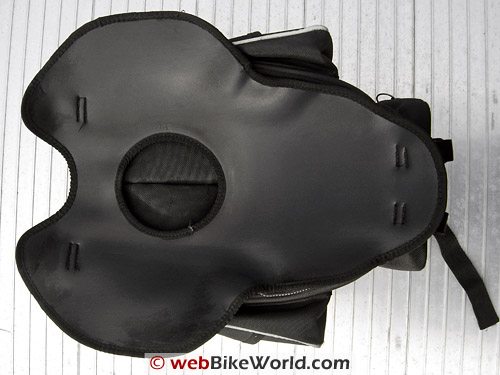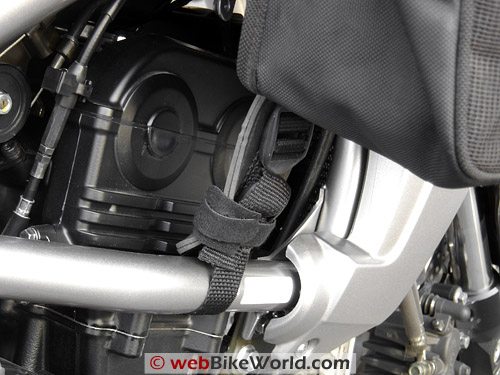 The original harness used to secure the top and the middle points was replaced with an equivalent flat strap while the bottom mounting point was secured to the (frame) tubing that runs alongside the cylinders, using a narrow piece of strapping.
After 30 minutes of work, it was done. The whole assembly looks like a custom fit, including the side panniers which end up being tucked in nicely just behind the front signal lights. Every other rider we saw had positive comments to make about the whole setup.
While the side panniers, as used on the Beemers, are typically well loaded, some restraint has been shown during this evaluation — neither side has been loaded with more than 2-4kgs (4.4 to 8.8 lbs.).
This common-sense limitation is more than enough for extra riding clothes, raingear, spare oil and some small light items.
As noted on the Beemers, the panniers do cause more wind deflection at the knee and lower leg levels, but without creating undue turbulence, although some of that deflected air is now pushed up higher.
Outside of this observation and the width of the tank bag itself, there have been no other issues and no concerns about its effect on engine cooling.
The reason we make this observation is that some evaluators have determined that the Versys generates a fair bit of heat from the radiator.
We do not dispute this, but it is only felt only when the machine is accelerated hard; this surge of heat dissipates quickly and is never a problem, even in warmer temperatures and when trolling around town in traffic.
If accessory RAM mounts and other devices are mounted on the left and right sides of the bars, some interference with the front sides of the tank bag may occur.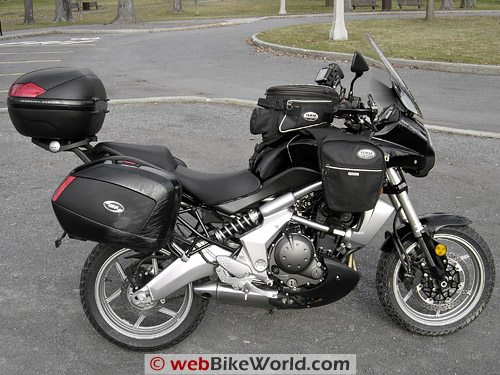 On the Versys, with the left-hand control assembly RAM mount for the Garmin zumo (long or short arm), the handlebars can still be turned lock to lock with only minor pressure applied to the top edge of the bag by the RAM mount.
If the tank bag itself was about one inch narrower, it would be an absolute perfect fit all around.
Even with the custom strapping used, the panniers still go on and off in a couple of minutes without disturbing the tank bag assembly itself, a feature very much appreciated of the FAMSA system.
While there are other separate tank pannier sets on the market, larger and smaller, the FAMSA tankset system is unique in its integrated approach that provides ease of installation and quick access to anything packed inside.
Another bonus is that side panniers provide excellent additional protection when riding off-road (appreciating width) and can act as great cushions in event of a spill.
We have seen one FAMSA tank pannier that went for a slide, and while scruffed up, the assembly had stayed in place and kept the actual motorcycle fairing from making contact with the ground.
Conclusion
The FAMSA 260 tank bag and panniers tankset assembly simply delivers. They seem to last forever.
No matter what motorcycle the system is manufactured for, or adapted to, it has and will remain an invaluable component of our travel luggage ensemble.
As a final comment, a small picture set with some fitment information has been submitted to the manufacturer.
They have been very attentive to my FAMSA needs over the years and they have a good relationship with FAMSA headquarters in Italy. It is hoped that the company will look at providing a specific product for the Versys.
w

BW

 Review: FAMSA Model 260
Manufacturer: FAMSA Italy
List Price (2008): $299.00
Colors: Black
Made In: Italy
Review Date: February 2008
Note:
 For informational use only. All material and photographs are Copyright © webWorld International, LLC since 2000. All rights reserved. See the webBikeWorld® 
Site Info page
. Product specifications, features and details may change or differ from our descriptions. Always check before purchasing. Read the
Terms and Conditions
!
Owner Comments and Feedback
Other WebBikeWorld Luggage Posts