Just because you only pillion doesn't mean you have to miss out on adventure riding in exotic locations such as the Himalayas, says Sydney professional travel writer Maria Visconti.
"I have, for the last year, been riding in the Indian Himalayas. Spiti Valley (pictured above), Zanskar Valley, Gangotri where the source of the Ganges is, Uttarakhand and more," says Maria who rides unsupported on a Royal Enfield with her partner who is a photographer and veteran rider.
"I had no previous experience, but have now 10,000km of Himalayan roads behind me. Got the bug. Can't wait for more," she says.
In fact, this week she heads off to another exotic location.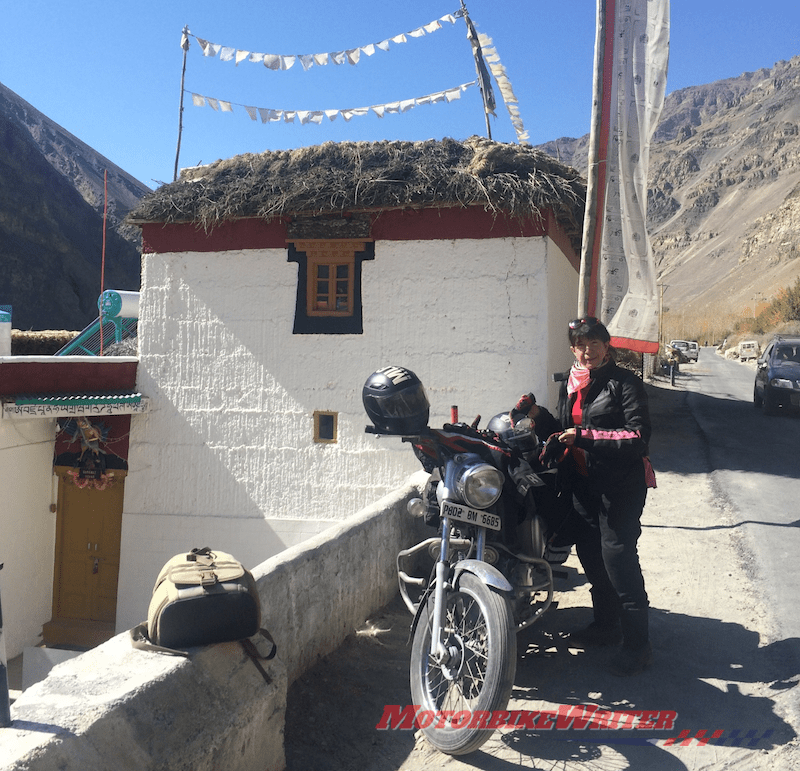 "I am no daredevil and had no previous experience of motorbikes but jumped at the offer of doing some adventure motorcycle riding in the Indian Himalayas. You could say I was thrown in at the deep end.
"Back in the city, I look at passing motorcycles with a mixture of curiosity and desire (the way some men look at women).
"I'd like to know their names, their origin, and wonder how they might handle on the road."
Fundamentally sexy
Maria says riding pillion with your partner is a visceral experience.
"There is something fundamentally sexy about adventure motorbike riding with your partner," she says.
"You are a complete unit, a harmonious team facing the same difficulties and enjoying the same beauty.
Click here for 10 reasons why couples should ride together.
"Your whole world is contained over two spinning wheels. All you need is in the saddlebags -showing how little one really needs. Your bodies work in unison to keep the bike upright and your minds automatically adjust to make the ride a safe one.
"While motorcycling touring, a couple might spent 20 out of 24 hours in each other's arms, counting the long hours of riding plus bedtime minus the time spent eating…Bliss?
"It can be but as the saying goes, travelling together can make or break a relationship, especially if you are undertaking wild, independent rides, unsupported, in remote areas and without pre-booked accommodation as we normally do."
Adventure riding is usually a solo pursuit and the fact this couple had done it two-up is a great example to others.
"A real pillion (as opposed to a reluctant one that just rides like more luggage in the back) is an integral part of the team; co-piloting, mapping routes, making sure the very needed snacks are in the bag, etc," she says.
Maria encourages women to ride, even if just to pillion with their partners.
"I discovered I am a natural but I would have never known it if I hadn't tried," she says.
"There are thrills and adventures out there for women to seize. Motorcycle riding offers thrills, freedom anda chance to test your mettle."
Her most recent exotic trip was a 6000km trans-Himalayan ride on the world's highest roads to the source of the Ganges.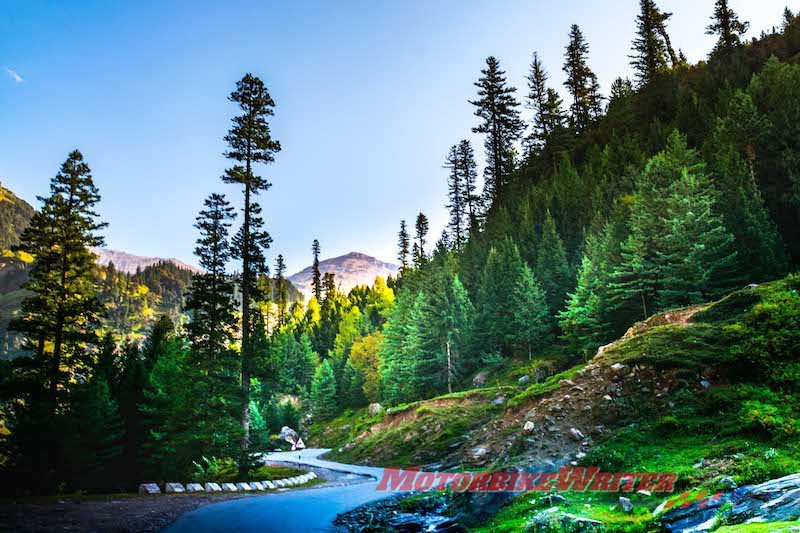 "It is an exhilarating ride thru Uttarakhand, a state that is investing heavily on infrastructure," she says.
"This means newly resurfaced roads that take you past rivers, the highest dam in the world, cool Uttarakashi and alpine forests."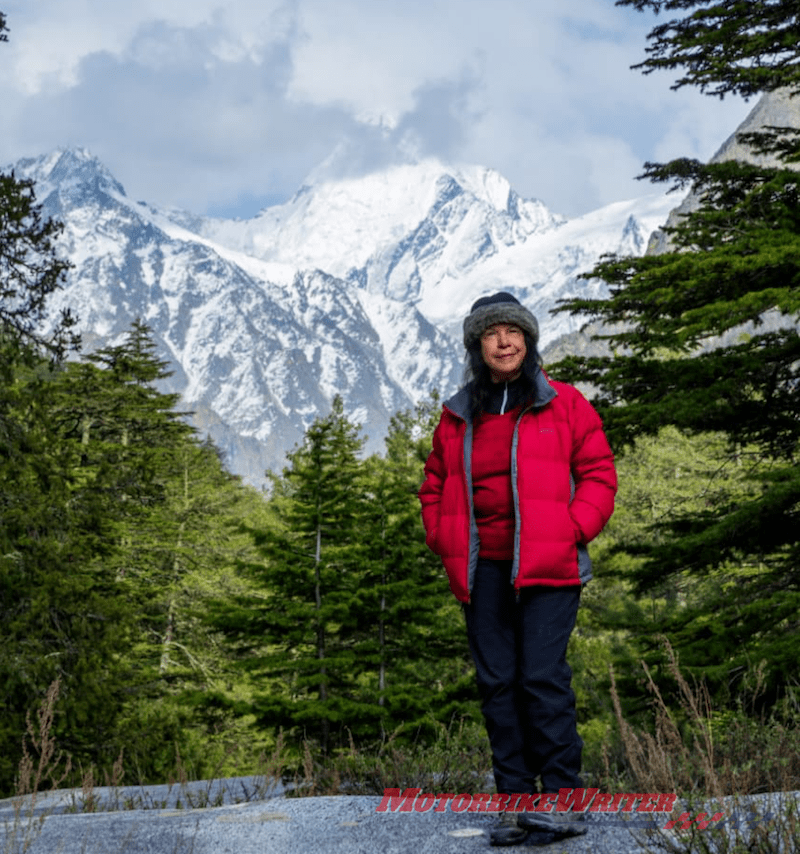 Maria's exotic ride story
When the Himalayas are mentioned, we all tend to think of Nepal and Tibet but the reality is that 70% of the massive range falls into Indian territory with a stunning variety of landscapes, climates, flora and fauna. From high altitude deserts -such as the Spiti Valley – to green alpine forests – in the case of getting to the source of the Ganges.
This sacred Indian river of life – and death — the one most of us associate with the cremation ghats of Varanasi, pollution and crowds, sees the light of day gurgling happily and pristinely from under the Gangotri glacier, a day's trek away from Gangotri town.
The combination of motorbiking and trekking is an awesome one and while one might think that getting to the source of the Ganges is a nearly impossible feat, it turns out to be a very do-able and enjoyable experience. You can get there in one day if you are very fit or you can break it into two stages, camping mid-way in the middle of a pine forest. We trekked in brilliant sunshine, under sapphire blue skies surrounded by blindingly bright, snowed high peaks.  That night it snowed quite heavily making the forest appear like a Christmas postcard under more blue skies again … The only difficulty of this trek is the landslides that occasionally block the path and make you scramble over boulders at regular intervals. Aside from that, it is an easy trek, not too steep and spectacularly beautiful.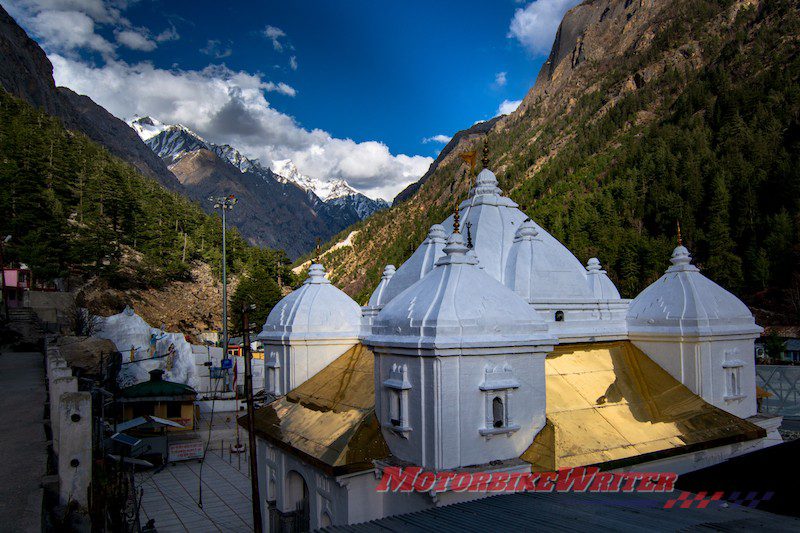 Why Gangotri?
A pilgrimage destination for Hindu Indians, this place is of interest to Nature lovers, trekkers, culture vultures, thrill seekers, photographers, writers and those who have 'a bucket list' such as: the reaching the roof of the world (Tibet); the source of the Nile (Africa); the source of the Ganges (India), the Arctic, the Antarctic and so on.

Gangotri is a small town that exists for the purpose of catering to pilgrims. You will be able to observe pilgrims arriving to the place together with bands of Sadhus (renunciants) clad in saffron, white or black robes with dreadlocks piled up high on their heads. These Sadhus or holy men, come here to perform rituals for the pilgrims and lend the place an air of colourful holiness.

There are many easy day treks you can do from Gangotri just to enjoy the fragrant pine forests and the mountain scenery or to visit the cave-dwelling holy men who will greet you warmly and offer you some chai.

And you can walk all the way to the very source of the Ganges, the glacier from which the river flows. There is a Government run refuge near it providing basic accommodation and good meals. There is also an old ashram (Lal Baba Ashram) also providing basic accommodation and meals for a small fee.

For bikers in particular the ride to Gangotri is absolutely, breath-takingly beautiful. The state of Uttarakhand has invested heavily on infrastructure to boost up tourism. The roads have been resurfaced, lines have been added and safety barriers are being installed at crucial spots.

Uttarakashi: you are likely to make a stop here before the final run to Gangotri. This bustling little town has a newly opened café The Food Habit on the Market road (look it up on Facebook). Here good coffee and teas are served along great mod-Indian food in a super modern and attractive locale. The place is run by an extreme adventure biker who understands travellers' needs such as Internet connection in a chilled out place.

From Uttarakashi to Gangotri, the road is a dream, the kind that makes you yahoo out loud under your helmet when you slalom over a solitary orange carpet of pine needles surrounded by 50m tall pine trees. This doesn't mean the roads are not dangerous. They are. Narrow and full of blind turns, they require your full attention. When the occasional vehicle appears coming against you it will likely be riding in the middle of the road, so take care…
The legend of the Ganges
In ancient times, King Bhagirathi, overwhelmed by an ever lasting drought that had decimated his people to the point of nobody being able to even wash down the ashes of the dead, implored Mother Ganga (the river Goddess who until then had the heavens as her abode) to come down to earth to end the misery. The King was forced to reconsider his pleading when the Goddess explained that the force of her unleashed waters would wipe humanity away. Turning to mighty Lord Shiva, the King begged for his help. Shiva agreed to take the brunt of the exploding waters on his head breaking their force by channelling the flow through his multiple dreadlocks. This event took place here in Gangotri according to local lore.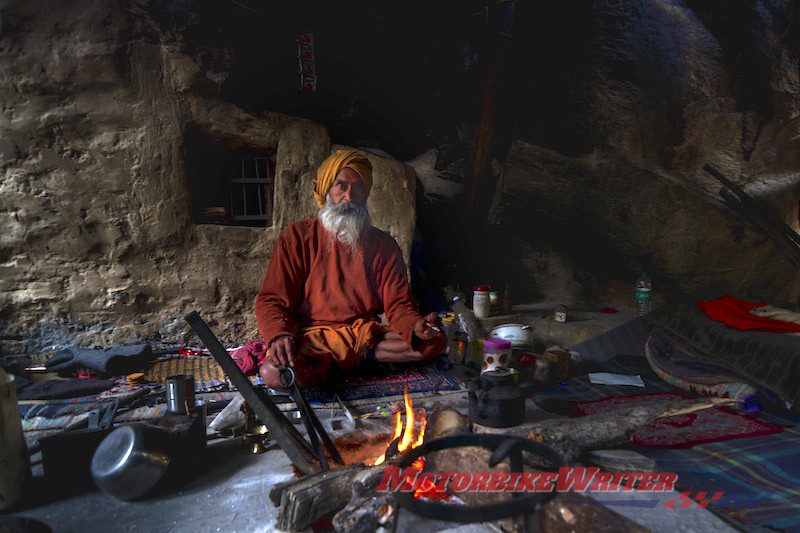 Practicalities
Gangotri offers an immense variety of eateries catering to Indian and foreign tastes.

Accommodation aplenty and good but not luxurious.

The temple houses Mother Ganga's effigy for the pilgrimage season and is the hub of all activities including local music and dance performances.

The Sweet Café, opposite side of the river facing the temple, is run by Gopi, a local who spent 5 years in Italy, speaks fluent Italian and English and can organise treks, camping equipment, porters and whatever needed should you decide to camp on the way to the glacier.
For more information on organised motorbike adventures in the Indian Himalayas, see: www.littlefrog.in or contact via email.