Esquad Jeans Review Summary
Esquad Jeans Image Gallery
Expensive as far as jeans go, but if they live up to their claims — a bargain.
Are any jeans worth $399 a pair?
Only you can decide, but for me it's cheap insurance.
This reviewer caught the motorcycle bug again — 15 long years since selling his last bike, a 1989 Honda CBR 600.
Back then — short on funds and long on optimism — a pair of Levis, an old leather jacket, and a helmet would do for riding gear.
Fast forward to January 2007 and the purchase of a very slightly used 2006 Ducati Paul Smart 1000LE, along with a gift subscription to the Robb Report, that nouveau riche catalog of products that regular working stiffs can never afford but Hollywood celebrities get for free.
While perusing the February issue, I noticed an article about some brand-new jeans by a company called Esquad (see the comments section for more information on the company). I was intrigued with their claim of "Those preparing to push a Superbike to 175 mph might consider wearing Esquad jeans during the ride."
My Paul Smart 1000LE is no 160HP 1098 S Tricolore (the $25,000 Superbike in question), but with abrasion protection claimed to be superior to leather and with the comfort of denim, the acquisition of these Esquad jeans became a top priority in my quest for understated but highly protective riding gear.
A visit to Esquad's website (see summary table below), however, left me frustrated. At the time, and as of the writing of this article, no U.S. retailers of these fantastic new jeans are listed anywhere on their site. After some web surfing, I landed at the Pro Italia website and a listing for a brand new product for 2007: Ducati Protective Jeans. A little more research confirmed that Esquad was supplying the Ducati pants in sizes for both men and women.
I ordered-up a pair of size 34's immediately, only to find out the jeans were so new that they would not ship for 2-3 weeks. No big deal really, it was January 31st in New Jersey, and temps were hovering around freezing.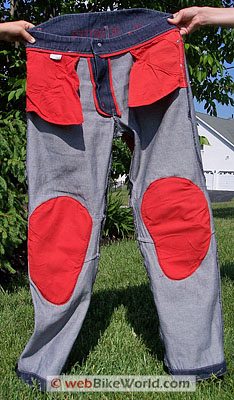 Esquad Jeans Details
The Pro Italia website lists even waist sizes from 32 to 38 inches. DeSimone Motorsport carries even sizes from 32 to 42 inches plus a 33-inch waist. There appear to be no inseam choices — I guess everyone in Europe has the same length legs (Editor's Note: The Esquad website lists 30″, 32″ and 34″ inseams for the European market).
The pants arrived within the time frame Pro Italia stated. The waist on the 34's I ordered actually measure 36.5 inches, but they fit very well. Any tighter would be uncomfortable and would not allow for shrinkage.
The inseam measures 31 inches. I have a 30-inch inseam so they were just a bit long when standing, but when crouched in the café racer style required of my bike, they cover my ankles well. Riders with longer legs may have a problem.
As you can see from the photos below, the bottoms of the jeans are curved in the back. Riders with very short legs probably won't be able to hem them as a result, and based on the work that Esquad purports to put into the seaming process I don't think you would want to mess with them anyway.
The jeans are made entirely from a fabric called Armalith, which is claimed to be "the most resistant of all textiles" and is blend of cotton and high-tech fiber. The website doesn't disclose the "high-tech fiber," but the tag inside the jeans says its polyethylene — yep, plastic. Probably an ultra-high molecular weight polyethylene (known as UHMWPE) that is so strong and elastic it has replaced Kevlar in bulletproof vests.
Esquad has several video clips on its website that are pretty amazing, including a slide by a stuntman off a motorcycle from 100km per hour, a stuntman being dragged behind a specially equipped van at 40km per hour, and a pair of the jeans holding up a 4 ton truck. The dragging video compares leather (of unknown thickness) and nylon to the Armalith — the Armalith wins, of course.
The styling of the Ducati jeans is clearly based on Esquad's Technik design with just a slight modification that deletes a small front left thigh pocket but includes all of the other pockets typical on a pair of jeans. They are not your typical western style jeans, but are described as "avant-gardist".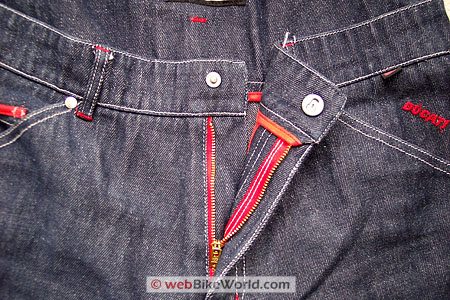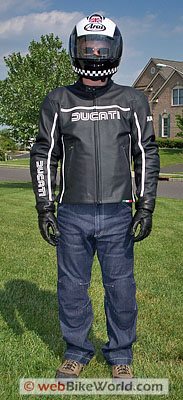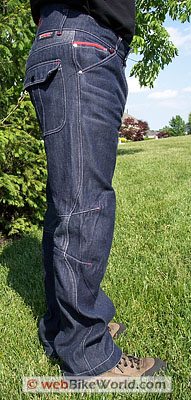 Fit and Comfort
They are quite comfortable with a loose fit and a high waistband in back that keeps air from getting down your pants when wearing a jacket. The Esquad website claims the comfort is due to "morphological data used in the work specifications."  I think that's equivalent to pre-curved fingers on a good set of gloves. The inside seat and knees of the pants are lined with a Nomex III heat shield. The Ducati jeans have no internal pockets for armor.
So far I have worn these jeans in temperatures ranging from the mid 50's up to the low 80's and I would rate their warmth and ventilation as very similar to a pair of standard jeans. They are not quite as soft as regular denim, but not uncomfortable.
The stitching and construction are very nice and straight and everything is reinforced well. As you can see, you also get a few Ducati logos thrown in. I like the small one on the pocket, but I'm not so crazy about the one on the waistband.
Fortunately, my belt covers the large Ducati lettering and logo there and it looks like the embroidery would easily come out. The only negative I have found is the hook closure on the waist, which has a tendency to come undone while riding. There is a small strip of metal that is supposed to provide friction to the hook, and it may just need to be pried out a bit.
Conclusion
So are the Esquad jeans worth the price of admission?  The Ducati Protective Jeans are cheaper than a pair of leather racing pants. And if you're looking to gain the protection of full-on leathers and avoid the boy-racer look these jeans just might be the ticket. One thing is for sure – $399 is cheaper than skin grafts.
More wBW Motorcycle Jeans Reviews  |  Motorcycle Clothing Reviews
List Price (2007): $399.00
Note:
 For informational use only. All material and photographs are Copyright © webWorld International, LLC since 2000. All rights reserved. See the webBikeWorld® 
Site Info page
. Product specifications, features and details may change or differ from our descriptions. Always check before purchasing. Read the
Terms and Conditions
!
Owner Comments and Feedback
---
From "R.F." (June 2015): "Whilst in the UK (I live in Malta), my friend asked if I could see if there were any offers on Esquad Jeans. I had never heard of them before so off I went on the 30th December 2014 to the only UK supplier that I could find, who were "Gorgeous Bikes" now located in Fulham, London.
The owner Colin did such a good sales job that I ended up buying a pair, for the princely sum of £275. Since there were no offers at the time, my friend did not buy a pair. I went for the Steam model because they seemed to be less "biker" in appearance and would be cooler in our summer weather.
Colin was quite dismissive of other Kevlar jeans since he contended that they are only Kevlar inserts and not woven into the fabric.
I asked why Esquad had no CE rating/certification if they are so much safer than the competition. Colin explained that it was because the manufacturers are a small organisation and could not afford the cost of certification.
I bought them for two reasons, the first was that on the face of it, woven in Armalith would seem to be better than the majority of Kevlar offerings, also they have hip protection, which my Draggin Jeans do not.
It wasn't until I arrived back in Malta that I tried the Jeans on with a bike. I only wore them twice and was really quite disappointed.
The jeans are a close fit, which is actually a good thing because they will not move much in an accident so the protectors should remain in place. However, the material is also quite stiff which resulted in the legs of the jeans riding up at least six inches when I sat down.
My solution to this was to sew elastic loops at the bottoms which went under my boots. Since something had to give, the knock on effect was that the waist now dropped, meaning that I needed heavy braces to hold them up.
Even so, being more of a hipster design, it still creates a "builders bum" effect which isn't good for keeping the lower back warm. Also because there is no stretch or relief panels at the knee, the material bunches up behind the knee which makes this area very sore in a short space of time.
The position of the knee protectors holders was 10 cm too high above my knee, which meant that the knee and just below was not protected at all.
The protector pocket is a close fit to the protector so there is no possibility to adjust its position. The hip and knee protectors are made by Sas-Tec. The hip protectors are SC-1/78 level 1 protection and the knee protectors are SP-2/23 level 2 which are a slight variant of the SP-2/20.
They are both type A size and this is what their competitors Forcefield say "You may come across Type B, Type A and CE Type protectors. Type A and Type B refer only to the size, shape or coverage. All our protectors are Type B which means they meet the Type B template for coverage within the standard. Type A is a much smaller template more suited to children's sizing."
This is when alarm bells started to ring, why would a company that claims to have the safest jeans use a level 1 hip protector and choose the small type A size for both?
Another annoying feature of the knee pockets was that they have an opening slit across the middle that gaps open resulting in your toes getting caught in them when putting the jeans on, which at best causes the pocket to rip and at worst causes you to fall over. I cured this by sewing in some Velcro to secure the pockets closed with the upper flap overlapping the lower flap.
Whilst doing that my wife discovered that the stitching inside on one of the leg seams had completely come away from the material. So even their quality of stitching does not match their claims.
I contacted Colin regarding the inferior protectors, the defective stitching and the positioning of the knee pockets. He said he was meeting the owner of Esquad and would discuss it with him.
Some time passed, I sent a few emails and eventually Colin said that they may have been supplied with the wrong protectors, and that I was to send them back and they would be rectified by Esquad or they would replace them with a new pair of jeans. I did this at a cost of some €20 postage.
Time passed emails exchanged, Colin said it was not in his hands, the factory was taking their time. Eventually he sent them back to me with no explanation of what had been done. They arrived on the 6th May 2015 in the exact same state that I had posted them.
Five months is a long time to wait for a pair of jeans at that price, I think that I had been very tolerant, but this was the last straw.
When I sent the jeans, I had marked my knee position and the knee position of the protectors on the jeans with tailors chalk, the only thing that had been done was an attempt to rub this out. At this point Colin became non-contactable. He ignored emails and on two occasions rejected my phone calls to him.
I sent a final email asking that he explain what had gone on and pointing out that ignoring me would not make me go away. He did respond asking what I wanted and obliquely offering a refund. I reiterated why I had sent them and that was the last I heard from him.
So now I am writing this to warn others that this seems to be Colin's way of handling problems. Whether they were actually ever sent back to Esquad or not, I have no idea. Esquad do not publish a contact email address and they do not answer the contact facility on their web site.
Unfortunately I do not speak French so there is  little point in phoning them. My trust in Colin is now so low that sending the jeans back would only incur more cost without a guarantee that I would actually get my money back.
It's interesting that he played a similar trick with the other writer here. The biggest problem with these jeans is that they have no certification to back up Esquad's claims.
Hanging a 4×4 from the jeans is a nice trick but is no indication of how they will perform in an accident. Torsional strength is a factor, but abrasion resistance is also very important.
The labels say not to hot wash them or iron them, so presumably they are not heat tolerant. In an accident, heat through friction is a factor, so just how well will the material bear up?
Since Draggin jeans are the only manufacturer who have one model in their range that has CE rating, I suspect that not getting approval has more to do with the difficulty in meeting the standard than the cost. In the case of Esquad, the quality of workmanship is not great and the design is sloppy.
So I will now have to modify the protector pockets and replace the protectors with higher level protection at yet more cost. If you are prepared to do the same and add to the cost of such an expensive set of jeans, then by all means take the risk on them actually performing as claimed.
I am lumbered with mine so have to make the best out my mistake in buying Esquad and dealing with Colin, who runs a company which in my opinion is anything but "Gorgeous".  Judging from the other write up here, I am not the only one who thinks that about Colin or Esquad."
---
From "O" (11/08):  "This is a comment for your article about Esquad jeans. I just bought a bike to go to work and see clients. I was looking for biking clothes, which provide really good protection and look good enough to wear in the office without looking like a biker, Esquad jeans seemed to fit the bill with the promise of 'designer jeans' look.
I bought the jeans from 'Gorgeous bikes' shop in Chelsea (London).
They feel very comfortable and do not get too hot even on a sunny day in summer, I was quite happy with the material.
What I found surprising and very disappointing is the quality of workmanship: the zip is mis-aligned by 20mm!  This is causing the zip to open every now and then, and I when I am talking with clients I constantly have to be conscious that my fly might be open.
The belt loop at the back came off after I wore the jeans twice without a belt!  This raises doubts about the safety of all other seams, advertised as one of the main features of these jeans
This the one of the most expensive biking jeans on the market: I paid £225 for them. But even £20 Gap jeans made in China have zips attached better than these jeans. You market it as a premium jeans, the quality has to be premium as well!
The service was anything but premium service I came to expect when buying trousers for over £200
When I highlighted these points to Colin from Gorgeous bikes, I did not get any understanding, all I got was "you are just complaining, maybe you should not come to our shop again", at the end he said that he is going to pass these comments to the owner of the company, and see if I can get a replacement pair. I have not heard any more about it yet."
---
Editor's Note:  More information on Esquad jeans and Armalith from their press release when the jeans were introduced at the 2006 EICMA show:
"Esquad of France, a jeans designer, has launched a range of jeans for motorcyclists using Armalith, a fabric that is at least as strong as leather, yet with the appearance, suppleness and permeability of denim.
Armalith is a mixed fabric produced from a fiber that is generally used for non-textile applications (for example in the defense, space or offshore sectors). The fiber is reworked, treated and combined with a cotton thread, and is then woven using a special process — the breaking limit of a trouser leg made of this material is greater than 10 tons!  Powerful bikes can be ridden in complete safety by bikers wearing Armalith outfits.
Esquad has worked with several clothes designers to produce the new Esquad jeans collection. It comes in four designs, all made of raw denim. The styles in the Classic line (E-Chimede for women and E-Stein for men) use the latest technology as well as having a classic appearance — an ergonomic cut, a heat shield, reinforced seams and, for women, double buttons at the waist and a contoured waist.
With their contemporary design, the styles in the Technik line (E-Rwin for women and E-Strong for men) include all the latest technical advances incorporated in a pair of jeans. Designed with femininity and safety in mind, the E-Rwin includes hip reinforcement in 3D textile only 3mm thick. It enhances the silhouette while providing essential comfort. The E-Strong has impact reinforcement in patented 3D textile and is ventilated and washable. It is tailored in Armalith, with some of the details made from a "broken twill" version of that fabric for contrast, as well as safety stitching and a heat shield.
About Esquad 
Esquad, a start-up company headquartered in Pessac in south-west France, was an award winner in the 2005 ANVAR national contest to promote the creation of innovative technology companies. The Bordeaux Unitec science park is assisting this company, which has also benefited from the Aquitaine Amorçage regional fund. Pierre-Henry Servajean, the director of the company, has 10 years of experience in the textile industry."
Other WebBikeWorld Jeans Posts