The coming wave of electric mopeds are designed for urban transport and are restricted in power and speed for licensing reasons. However, this Odyssey electric trike can be ridden without a licence, on a car licence or on a motorcycle licence (depending on your jurisdiction) even though it has a potential top speed of 80km/h.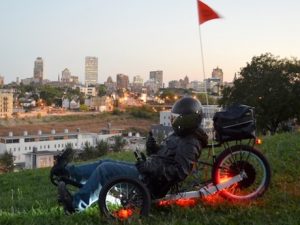 Inventors Dustin Herte and Ryan Bass of Milwaukee have fitted it with a computer-controlled three-phase 4kW electric motor that allows you to choose the output. The Odyssey Mk 5 electric trike will be shipped with a programmed power limit of less than one horsepower, but the included cycle computer will let you switch to anywhere between 80 and 4000 watts (0.1hp to 5.3hp) for maximum speed. It will be interesting to see how the licensing authorities deal with that.
The eight-speed electric trike is powered by an 80V 1.6-kWh lithium-iron-phosphate battery with range of 80km and a charging time of three hours on 110V. It also comes with pedals so you can extend the range or you can add saddle bags with auxiliary battery packs.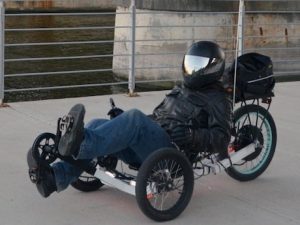 The Odyssey electric trike looks like a lot of fun, but its low height would make it rather difficult to see in traffic, hence the addition of a flag. The video shows the electric trike out on the trails where it could be a whole lot of fun except it doesn't look like there is a lot of suspension. It comes with only a hinged rear link with a pneumatic shock absorber like you would find in a car's tailgate strut. It has disk brakes, weighs only 48kg and accessories include head and tail lights and a heated seat.
The inventors are looking for investors to help get the electric trike to market and if you pledge $US4500 now you will go on the list for a trike when they are released in June. There is no indication how much they will cost then.