Electric motorcycles have caught the attention of the public for many good reasons. The following 16 e-bikes will pop up as you search for what may become your favorite production model, and we'll take a look at some concepts below too that have not been started in the production process yet, but we hope that they will soon.
Agility Saietta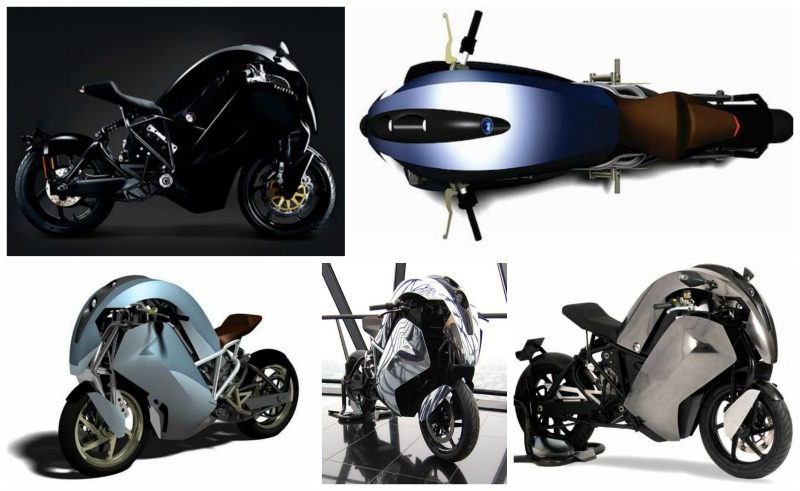 $23,000 price tag, 11kWh power pack, an estimated 120 mile range, 1.5kW charger (110V), 96.5HP, 93.7ft-lbs, and weighs in at 485lbs and runs 0-60 in 4 sec.!
This is happening to the new breed of electric urban sport cycles. You can really get your cool on with the Saietta. Obviously jamming some serious torque into the screaming machine to reach 60 MPH in 3.9 seconds demands some righteous power.
The first composite monocoque chassis, which means the chassis is integral with the body or all one piece, with the skin or shell supporting most of the stress. It is an extremely well thought out and designed bike.
A range of 112 miles on a single charge, with a little extra in reserve for this 485 lb. bike. Top speed of 105 MPH, and it gets there quick with no gear shifting, this is a ride you won't get tired of. The only thing that might get a little boring is all your friends wanting to take a ride.
It will be interesting how so many will think that since it doesn't make all the noise of the typical bike, that somehow it's safer, and a breeze to ride. While in part it's true, falling off at 100 MPH is no joke on anything. Time is 3.5 hours for a full charge, so this makes it an easy computer bike as well. No gas. No oil. With an electrifyingly ergonomic style, you will turn heads wherever you decide to roam.
Engineering, racing and motorcycles make up the three divisions of Saietta, which translated just happens to mean, "thunderbolt" in Italian. Innovative producers of electric motors and drivetrains, Saietta believes it is time to embrace a world where fossil fuels are no longer continuing to be depleted. Their mission is to be the vanguard in development of electric motor and powertrain technology.
Never satisfied with just refining but redefining what has worked to determine how it will work better.
Lightning Motorcycle LS-218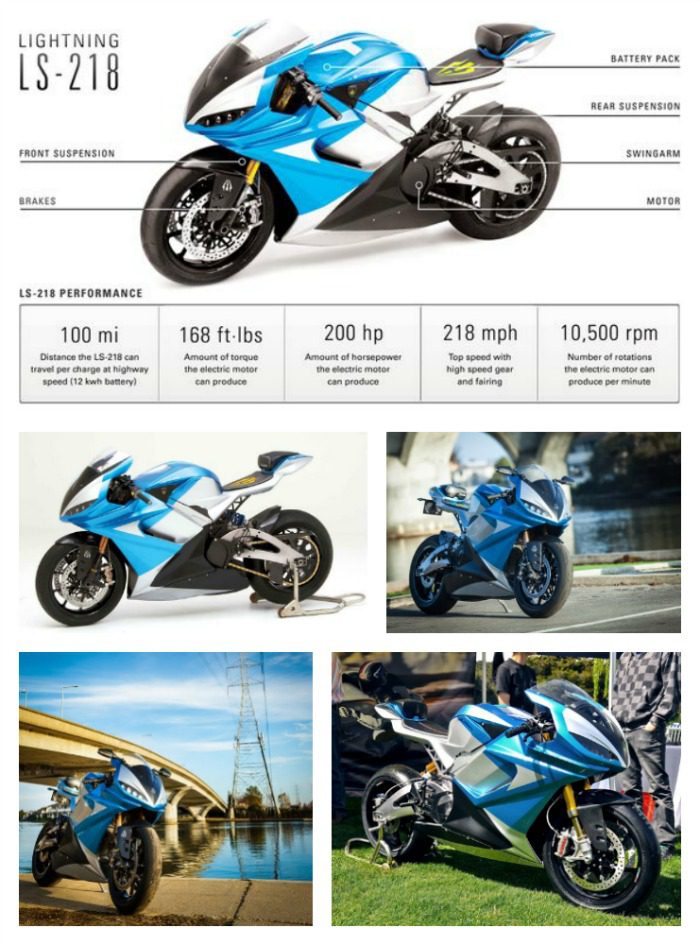 Can you imagine an electric Ducati? Well why would you? When it was all about speed of the gas powered bikes Ducati was in a class by itself.
Now comes the Lightening LS-218. THE fastest motorcycle on the Salt Flats clocking through the speed trap at 218 MPH. An electric motorcycle that has set new speed records which include the Pikes Peak win.
With 200HP it far surpasses any of the other eBikes in the market today. Pushing around 495 lbs. of weight allows for 100 miles on a full charge. Recharging times are 2 hours with a class 2 charger and the 320V 12 kWh battery pack.
With the 380V 20 kWh pack, range is 160-180 miles per charge. This Superbike has an liquid cooled 150kw+, 10,500 rpm electric motor. That's what produces those tire smokin' starts with a single speed drive train requiring no gear changes.
Along with being a Superbike it is only natural to require some super components, such as the Dual Brembo 320mm disc; Brembo radial-mount forged 4-piston calipers, 2 Brembo T-Drive 320mm Fully-Floating Rotors and 2 Brembo GP4-RX CNC Radial Calipers.
That combination of disc brakes gives you some serious confidence in stopping ability, just in case speed becomes an issue. Added to that is regenerative braking, which takes that kinetic energy to use immediately, or to be stored as power in a form to be used later. Priced from $39,000-$47,000 depending on battery pack choice.
This is not only the fastest bike at the Salt Flats or Pikes Peak. The Lightening Superbike is the fastest period! More than that it goes way beyond what conventional motorcycles offer in terms of innovation, especially when it comes to utilizing electric energy as opposed to internal combustion. Makes choices between the two worlds interesting.
Yamaha PES1 and PED1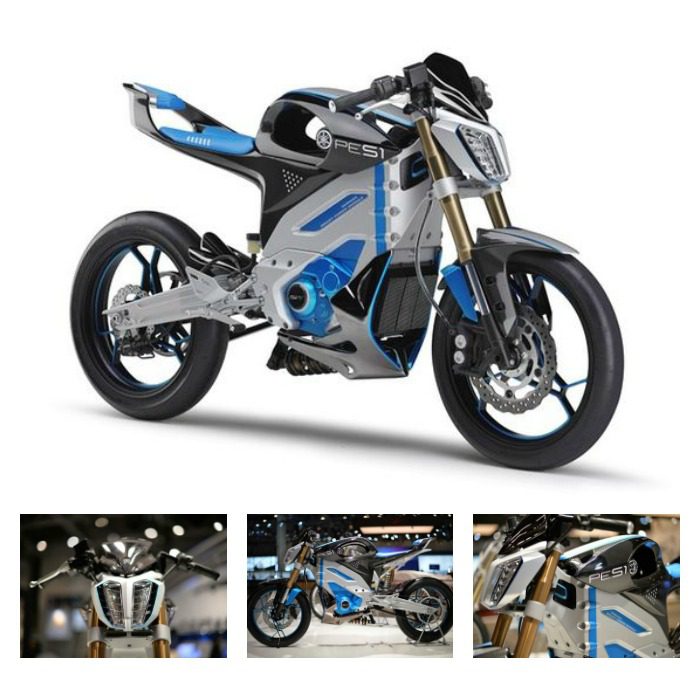 The Yamaha Passion Electric Street (PES1) and the Passion Electric Dirt (PED1) are supposedly in the works as of 2015. At the 2015 Tokyo Motor Show few realized that these were not concept bikes but actually in production. However as things tend to change it is no different for Yamaha.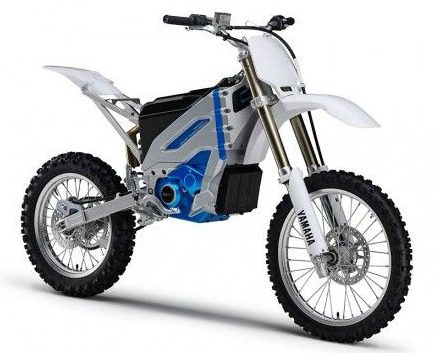 As 2016 nears, these two bikes have morphed into the PES2 and the PED2 respectively. Now that doesn't mean they have actually delivered any of these to a showroom yet. It does seem to mean it's close.
Sporting a monocoque structure for both models, means Yamaha is taking advantage of utilizing the entire chassis for strength and energy.
What is new is the PES2 will have an additional motor in the front wheel hub making it the only 2WD electric bike in the marketplace. This is a first and absolutely puts this bike in an arena of it's own ready to explore performance like no other to date.
The PES2 and the PED2 are still in development stages and not yet in the showroom of any dealer. So as much as they are both anticipated, the fact remains they have not appeared…yet.
The PED2 dirt bike is a planned weight of just 220 lbs, making it light enough for an SUV for transport to favorite trails. The PES2 is only slightly heaver at 287 lbs. which is still lighter than a Ninja 250.
So while the electric motorcycle enthusiasts await the real time delivery of the two new electric bikes for Yamaha, there is always speculation if it will make it to market for 2016?
Patience is always rewarded when it comes to actually seeing the prototypes turn into reality. There is little doubt that Yamaha will enter the electric market, and has in fact two entrants in the wings ready to go.
While exact specifications have yet to be confirmed along with prices, it seems clear that the intention is to enter with bikes at a price point below what competitors are offering. Here again, time will tell.
LITO SORA ELECTRIC MOTORCYCLE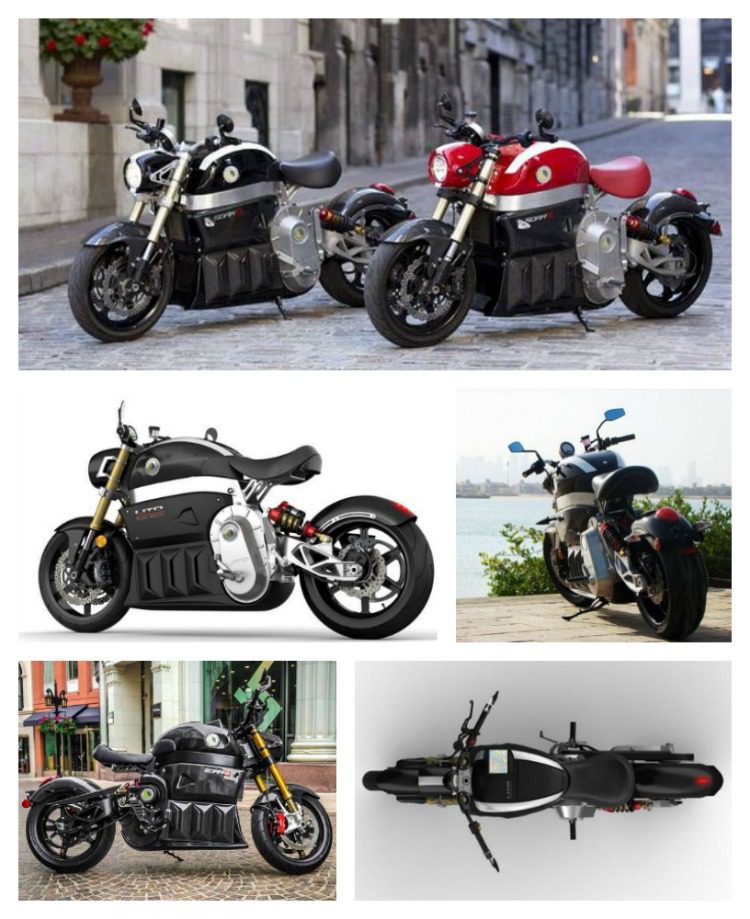 $49,000, 124 mi. range, 60 HP, 573 lbs. Made by Lito Green Motion with a carbon chassis and a power packed motor producing 124 mph. Sora means "sky" in Japanese but this model has it's tires firmly on the ground…somewhere.
The Lito Sora electric motorcycle sports a hefty price tag at $44,000, but it remains to be seen as to how it differs from all the others in the field, such as the Lightning LS-218 at $47,000 or the Energica Ego 45 at $68,000. Claiming to be a superbike, hopefully they are not counting on the electric seat to make a major difference in performance or accouterments.
An additional GPS system and lockable storage compartment are included. If speed were part of what makes this a superbike, the 0 to 60 time of 4 seconds would not be all that impressive compared to the other models mentioned. So what seems to qualify this as a superbike?
With just 60 HP and 573 lbs. of weight, top speed is rated at 124 MPH. Even with a carbon fiber chassis this is still a heavyweight. In Japanese "Sora" means sky. A few of these bikes have been seen, but for the most part they seem pretty elusive. It could make one wonder if this is Sora pie in the sky?
All joking aside, it is a contender in the electronic motorcycle market, and it has it's own pedigree. Each of the contenders in this electronic movement have something to offer, and primarily it is the freedom from oil changes, constant maintenance, the cost of gas and good mechanics, plus being able to actually carry on a conversation while traveling without shouting. Any need for a loud voice will be over the sound from the wind and not the exhaust.
Then there is the lack of emissions, and no matter how you cut it, the "cool" factor of the radical design these bikes all offer.
So the Lito Sora, when it shows up with more frequency on the road, will fit in nicely.
Zero Motorcycle SR, DS and FX

The shinning star of electric motorcycles is Zero Motorcycles and their SR Max Performance. At the current price of just $14,395 after a rebate of $1,600 from a Federal Tax Credit, that makes this a real deal for an electric bike.
Offering an ABS braking system by Bosch, a longer range up to 120 miles with the optional power tank, smartphone app and direct transmission. The range has increased for this model, that has a max, software induced speed of 102 MPH. What's unique about this bike? Imagine using a smartphone to control the speed while a friend tests your bike. Has that got your attention?
The $11,000 DS is in the lineup as the dual-sport option with three configurations on the power pack. The brakes, tires and suspension stay the same. Highway or dirt, this model performs beautifully with it's 9.8kWh power pack and 110 mile range.
The 54 HP will move the 381 lbs. down the highway in style while the larger 15,9kWh produces 178 mile range with a weighty 457 lbs costing $16,700.
Now comes the Zero FX and FXS. The FX is no stranger to those looking for the bike offering the most fun for around town riding. The $8,500 price tag just increases that enjoyment along with a power pack that can put a grin on faces as that from wheel flies up in the air!
A transition to the FXS happens when the Pirelli Diablo Rosso II tires take place of the Pirelli Scorpion MT 90 tires that are stock on the FS.
Take your pick starting with the S, SR, DS, DSR, FX and FXS models in the Zero lineup. No matter which you choose from this manufacture there's one that will add the ride you're looking for at the price you will be happy to shell out. Money may not buy happiness, but a Zero can sure put a smile on your face!
KTM Freeride-E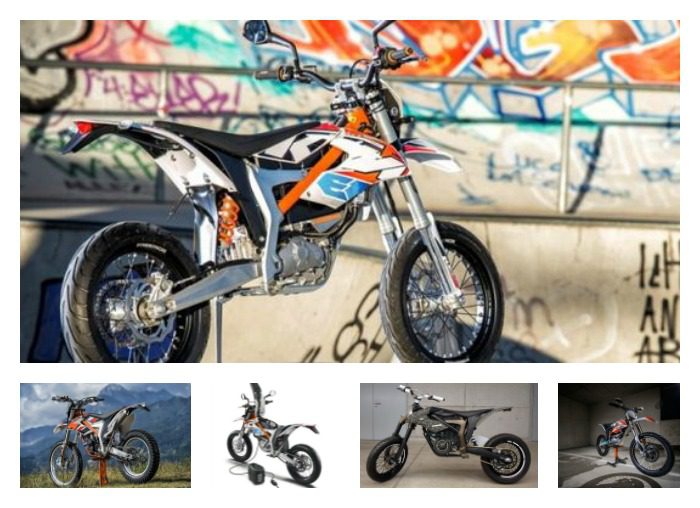 An electric motorcycle manufactured in Austria and not available outside Europe. Similar in form and function to most other electrical bikes offering the emission free, clutchless, gearless and lightweight chassis construction that helps define these bikes free of internal combustion.
The bodywork and styling of the KTM Freeride-E utilizes a spoiler bodystyle giving freedom of body movement while maintaining cohesion of machine and body contact points.
The graphics are molded into the plastic of the frame parts. This seems to answer the problem found in the urban environment of Mattighofen where pollution and noise are a mounding issue. The Freeride is an timely answer to counteract in even a small way some of these challenges.
Basically noiseless, emission free, a small footprint and free of the use of fossil fuels, it definitely fits into the move towards helping to create a cleaner environment.
A 22 HP motor allows for plenty of riding with roughly one hours worth of energy, perfect for running around on errands of back and forth to work. Need to recharge? Not a problem, as it can be plugged into and recharged in little less than an hour.
Offering three different power modes of economy, standard and advanced, all controlled for the multifunctional instrument panel found between the handlebars and seat.
The lithium ion battery produces 2.6kWh of power for the hours worth of tooling around. Brake handles are on both side of the handlebar which makes it easier the having to search for the foot brake as in the past.
The seat has adequate padding and height, with a lever that provides access to the power pack underneath. The suspension system offers adjustable rebound and damping to avoid bottoming out.
An electronic motorcycle for all seasons? Why not? It certainly fits the environment, and upkeep is definitely minimal.
With a price tag of just over $14,000, it may pay for itself too.
Bell Custom Cycles: Brutus Electric Motorcycles

Models currently in the Brutus lineup are the Brutus 2, Brutus 2 Café, V2 and V9. 
The powerhouse of the Brutus corral is the V9 with it's choice of the 18.8 or 33.7 kWh power pack. Speed ranges up to 115 with restricted gearing. Mileage range is 165/280 city or 125/210 highway depending on the choice of power pack.
What's really a bit of a surprise with all the attention to the sub 500 lb. bikes, is the weight of the V9. At a whopping 784 or 886 lbs., depending again on the choice of power pack, that's considerably heavier than most other models in the marketplace.
The V2 Rocket on the other hand, with Dyno speeds of 154 MPH, and a weight of 545 lbs., is ready for the track. They definitely have their sights set on surpassing the speed and time of the Lightning on the Pikes Peak Climb.
Brutus has four models that fit four different styles of riding, from a stripped down version with the Brutus 2 minus fairings and the new V series frame, is ready for town.
The Brutus 2 Café will give you what Brutus describes as that "hooligan" feel, and still be "ECO" friendly to the planet. A naked chassis will help to sense of being ready for the road and whatever comes.
Chris Bell and Bell Custom Cycles is a family owned business, and committed to being fully engaged in manufacturing a product that is in tune with our environment.
Hand made in America with emphasis on sourcing U.S. suppliers, it has been said, "Brutus is the electric motorcycle maker who can pull off the Harley image and still be green." Not a bad comment for a company in today's environment.
Brammo Empulse Electric Motorcycle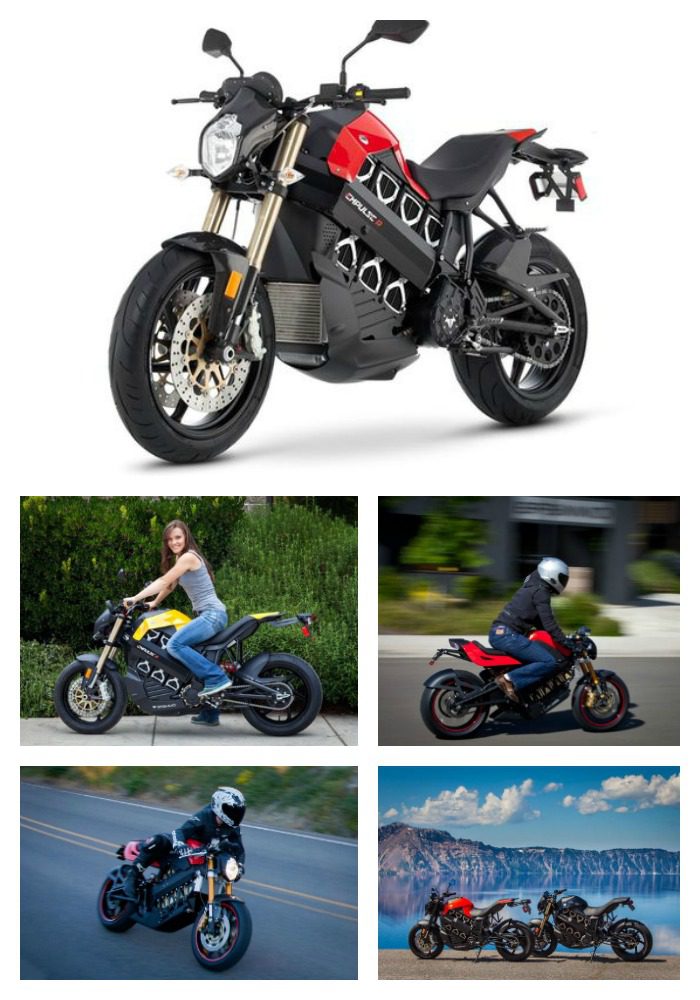 To start the year off in 2015, Brammo Empulse Electric Motorcycle was reborn in January 2016 as the Victory Empulse TT.
Polaris Industries Inc., purchased Oregon based Brammo Company, builders of the Empulse R and Empulse R/Icon Spec 32. Although not necessarily common knowledge, Polaris had been backing Brammo since 2011, and with investment capital becoming an issue and the lack of it, Brammo finally decided to sell of it's Motorcycle Division.
Showing as the only electric motorcycle with a 6 speed gearbox, The Victory Empulse TT and the 54 HP power pack have had a few minor tweaks. The weight of 470 lbs. is up 10 pounds, and so is the price…a little more than $10. At $19,999 it may be the Polaris loyal who are most likely to purchase.
Performance of the bike is somewhat of a mix, as the gearbox, clutch and final chain drive don't make sense on an electric motorcycle. Part of the excitement of riding one of these is the continual drive with no gear shifting. What the purpose of continuing with those elements of the "reborn" model, seem to be hidden with other intentions.
Polaris is a large company with 15 years building motorcycles, and with the Victory Empulse TT now in the marketplace, Polaris becomes the first large bike maker to offer an electric street bike, beating Harley Davidson by several years. The difference with Polaris and others with recent entrants in the electric motorcycle marketplace, is that Polaris has a huge dealer network to work with.
It would be difficult to speculate on the Brammo Empulse R/Icon Spec 32 since no other models have been presented by Polaris at present.
How well this Polaris Victory Empulse TT will fare is a different story, and what comes next will be or more interest. It looks as though the real deal was being able to get into the market in a big way to secure those "bragging rights" than really getting the best product out there.
Still, having all the intellectual rights from Brammo is bound to pay additional dividends with what was developed before the buyout. Time will tell if Polaris can take advantage of time.
Alta Motors (formerly BRD) Redshift Electric Motorcycle
BRD now known as Alta Motors, started 8 years ago to develop an electric motorcycle. Derek Dorresteyn and Jeff Sand had years of experience in fabrication, along with engineering and design. They both fell in love with the idea of making their own electric bike, the would go faster than anything else and be easy to ride.
Making their bikes with the thought in mind, that each new model will be faster than the last one! The results are the Redshift MX and the Redshift SM.
Created for the racing enthusiast the MX offers 25/40 HP, top speed of 80MPH, a real lightweight at 255 lbs., fully adjustable front and rear suspension, with an estimated retail of $14,995.
So all this might seem like the same menu for several of the electric motorcycles out there. That is until you see what happened at the 2015 SupermotoUSA held in Sacramento on November 6-8. In short, Kevin Butler on the Redshift MX 250, took the checkered flag in the first ever competition of this bike in a field of gas powered competitors.
Not only that, but the track conditions could not have been any wetter or muddier, but with the ability to dial in the performance of the bike on the move, Kevin was able to adapt the bikes performance to the track conditions. Now that was in competition with the 450cc bikes where he started at the back to come in second!
Now with the first deliveries anxious customers have been waiting on for some time, Alta Motors is in the game! Their intent to make one of the fastest dirt and track bikes seems to be off to a smashing start.
If the performance in Sacramento was any example of things to come, dirt track racing is ready for some interesting developments as electric motorcycles show their electric muscle!
Let's not forget the Redshift SM for those who simply want to get out on the road. It's out there too, so go for a test ride.
Energica Ego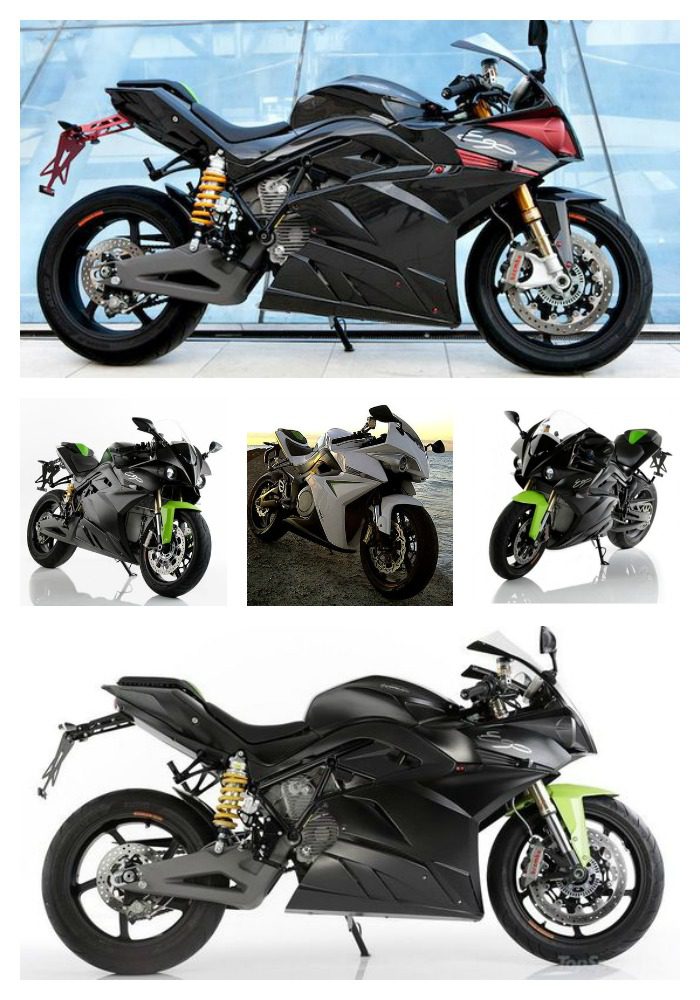 Yet another electric motorcycle emerges out of a garage in California, to become one of the best in the market. The Energica EGO, as so many of the others, sports amazing 0 to 60 mph speed in 3 seconds to reach a top speed of 150 mph! Not many cars do that much less gas powered motorcycles. Offering 136HP makes this bike faster than a 600 supersport.
The Vehicle Control Unit on the Energica offers some unique options such as a coasting feature which is provided by a "neutral" position between acceleration and regeneration. This bike is also equipped with a "PARK ASSISTANT" in order to facilitate parking and maneuvers on slopes or into rush traffic.
The reason this is important is unlike gas powered models with gears and clutches, the electric models have a continuous gear, which is regulated by the brakes. As brake pressure is released the bikes moves faster driven by the power of the battery pack.
This makes the braking systems of electric bikes like the Energica critical in the control of the bike. Calipers, brake discs, are even more crucial on an electric motorcycle, and the Energica has some of the best. Using braking systems by Brembo, ABS system by Bosch, prevents the wheels from locking and prevents overturn.
Sporting a digital dashboard from COBO TFT, there's plenty of connectivity for both Android and OX S systems, both short range and long range.
Plugging into your electrical socket at home, or the level 2 outlets found at more and more public locations will get you charged up on your Energica Ego. There's some rumble about Bluetooth being used for remote charging starting with 2016 models, but that remains to be seen.
Then again, what new surprises are in store for electric motorcycles in 2016 and beyond. Look where they have come from in just four short years. It's fair to say things have developed far faster than with computers and handheld digital devices.
$34,000 – 11.7kWh – 118mi – 3kW charger (220V) – 97HP – 144ft-lbs – 568lbs
Energica Ego 45 is available for $68,000 which includes upgraded suspension, brakes, and other obvious signs this is an upgraded version. Now if that doesn't get your attention, maybe the luxury watch made of wood included with this model will.
7 Electric Motorcycle Concepts I wish would enter into production
Harley Davidson Livewire
Is it a jet, a rocket, no? It's Livewire! It sure sounds like a turbine engine, which is exactly what Harley Davidson engineers planned in their design of this awesome electric motorcycle. It puts one in mind of Parnelli Jones in the legendary STP Turbocar from the 1967 Indy 500. The sound of the "whoosh" as the car flew around the track was almost too much for the senses to comprehend.
By the same token, the 74 HP electric rated motor producing a maximum of 95 MPH for a motorcycle weighing in at 460 lbs, sounds like a turbine engine as it goes by and creates a very primitive sensation.
All of 2015 was spent touring the U.S. with this demo bike, to get right down to the street level and see what the public thought of this new and radical breakaway from the V-Twin monsters Harley puts on the road today.
At present, it looks like it won't be hitting the streets anytime soon, and 2020 has been suggested as the potential release date for the first production entrants.
If form follows function and both feed emotion, this bike has the look, sound, and style to place itself strongly in the market, especially when no carbon emissions are spewing out of a non-existent tailpipe.The cast aluminum frame and swing arm with the single gear drivetrain are a radical departure for the 112 year history of this iconic brand.
While it seems the tour generated overwhelming positive response, it remains to be seen how strong the acceptance will be when an actual unveiling takes place by the grease and oil stalwarts loyal to the old style.
It's another change coming in the motorized industry, and it's certain it is only the advance messenger, as we have seen a gradual but begrudging conversion. Electronic motorcycles may lead the charge!
Oh, and just in case, Harley Davidson has not uttered a sound as to price on this project. If any of the other models currently on the road are any indication, it won't be cheap. A prediction would be somewhere in the $35,000 to $60,000 range at present. You could be in for a surprise!
Electric Motorcycle Route 66 by Yanko Design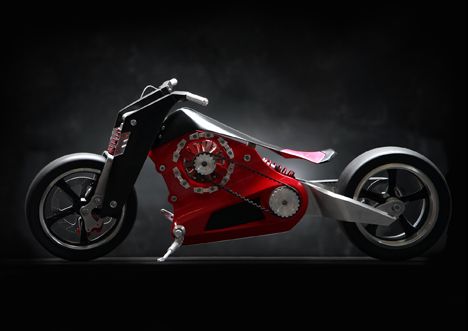 Talk about radical! A bike for a man's man! Well that's how designer Bernhard Ranner described it, and looking at the design that can be seen here would leave little question. This bike defies even the new tradition of electric motorcycles.
However this is the concept version of a truly radical electric motorcycle, and apparently has yet to go into production. Beyond the amazing and exciting photos, there just doesn't seem to be any indication of when this bike may hit the sales floor of a dealer in the U.S., or in Europe for that matter.
Looking up information on Bernhard, it appears this design was just part of a group project during his University studies in graphic arts in Vienna. So the likelihood of seeing this electric design on the roads any time soon, if ever, depends on some venture capitalist recognizing the hot market electric motorcycles have become.
An astounding design that the group deemed for the "real" biker in mind. The Harley of tomorrow, with the idea it would satisfy the desire for rough, tough, raw, powerful bikes, just not those powered by internal combustion.
Those who have seen this artists concept of the ZEVS will be disappointed, waiting for it to appear down the road. Like so many concept designs, if it makes if off the paper into an actual machine, it could really be deemed a "dream come true."
So don't go looking for this as being anything available now or in the future, at least the near future.
Shavit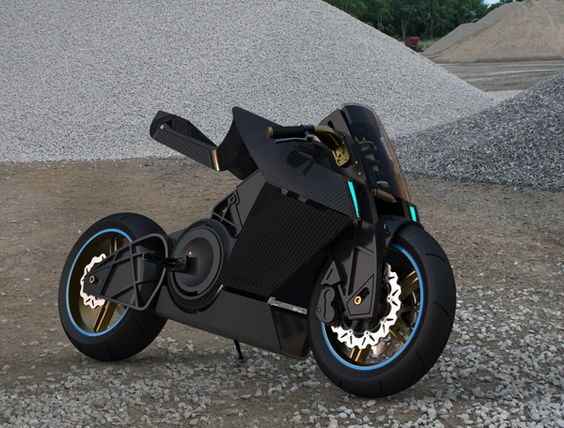 One of the singular aspects of this bike that make it unique are the adjustable riding positions, from race to road. Moving handlebars, foot pegs and seat make this possible.
Created by Eval Melnich for his engineering degree and named after Tal Shavit, the pioneer of motorcycle journalism in Israel and was killed in an accident March 2011. "Shavit" in Hebrew means comet. The boyhood hero for Melnich inspired the project to create the Shavit Electric Motorcycle.
It appears this bike is still in transition from concept to production, as very little new information can be found. Aside from offering an adjustable riding position, there does not appear to even be any track or testing info available.
That this is another concept for an electric motorcycle, with slight differences in design, nothing has been published as to testing a motor that is hinted to offer 180HP, weighing in at 374 lbs., making it one of the lighter bikes out there.
The estimated horsepower, since no test information is available, would make this about 100 pounds lighter than the Lightning LS-218. So it's conceivable once produced, this bike could attain a high speed if weight ti horsepower ratio is any indication. Naturally it all depends on the battery pack and the kWh it can produce. At this point there is no information available to suggest if it will be a 12 kWh, 15kwh or 20kwh power pack.
While the Shavit has won design awards, this still does not translate to performance. Great attention to detail has gone into the design making it all fit together nicely, but as the saying goes "the proof is in the puddin'!"
So too, will be the proof of design meets function with the first prototype that hits the track to show all those interested that this is more than just an award winning design, and can actually perform as intended.
Voltra Electric Motorcycle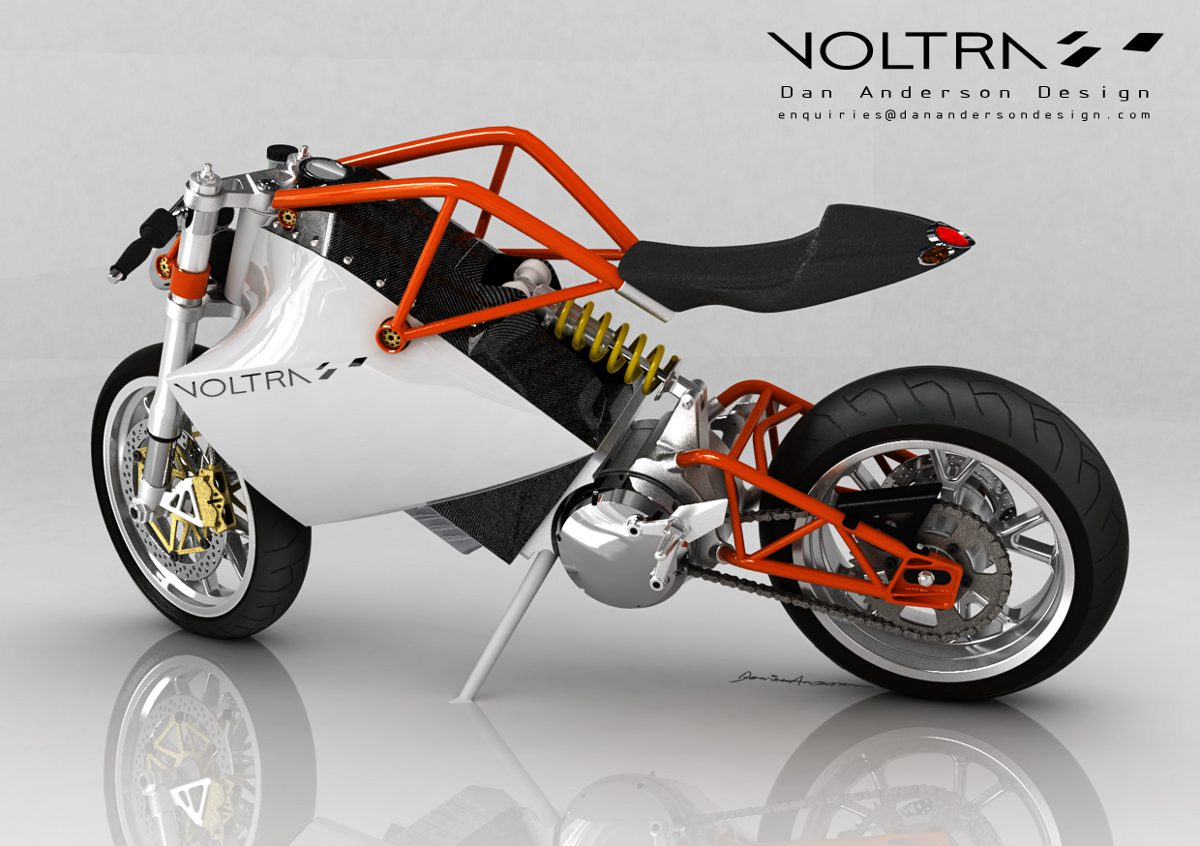 A concept motorcycle, this one by Dan Anderson, is another in a series of prototype designs that have not found their way to production with that name in place. Or any other name for that matter.
Dan Anderson is an industrial designer from Sydney, Australia. It appears he has created this rendering of the Voltra but just like the ZVES design of the Route 66 Electric Bike, it is just, well can it be said, a pipe dream?
Here again is an awesome design with nothing to show other than a fine piece of art. Dan Anderson is a member of a Motorcycle Design Group on Linkedin, and it would be difficult to know if any of those potential designs have worked their way off paper or monitor screens to become an actual machine.
This may be one of those instances where design does NOT follow function. This is however how things get started. Ideas that can be transferred into an image have a far greater chance of becoming a reality, than the ones that simply remain an image in someones mind.
At this moment in time, the Voltra is not going up in smoke, as in a pipe dream, yet it is just an image that captures our attention as another possibility for the emerging electric motorcycle market.
Again, will some venture capital investor see this as an opportunity? Chances are slim, as generally speaking they don't have to go looking for the opportunities to invest. So the Voltra may just remain an idea, that has seen that time has come yet remains in limbo.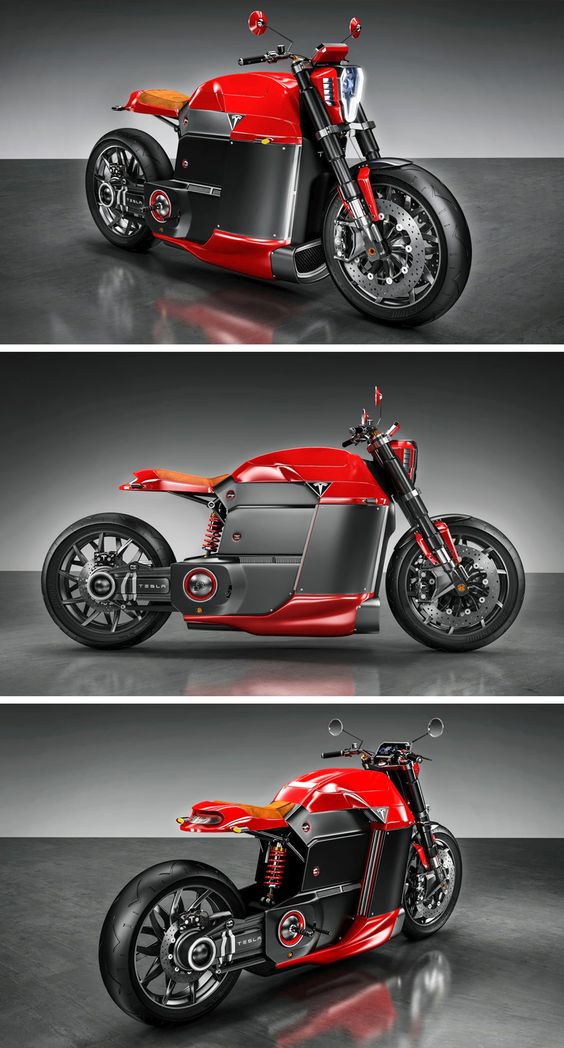 Sarolea SP7 Superbike, Chip Yates Superbike, KillaCycle are a few more names you may want to check out.
It sure makes things interesting to see where the electric motorcycle market is headed and the number of startups that appear, almost as if by magic!