Voters will have their first democratic opportunity to "speak out against the madness" tomorrow (Feb 8).
It's the by-election in the Brisbane-based Federal seat of Griffith vacated by former Prime Minister Kevin Rudd. While it's a Federal by-election, some voters may choose to cast a protest vote against the current Queensland Government, especially the anti-association laws in the VLAD Act. If they do, their choice may be independent Travis Windsor who is the founder of the Australian Motorcycle Business Chamber and a keen rider.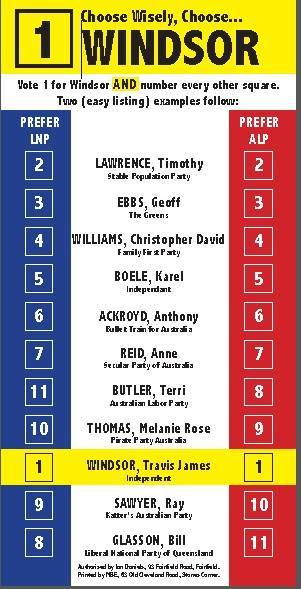 Travis says that apart from affecting the freedoms of many law-abiding citizens, the laws are costing the motorcycle industry about $2.5m a week and also affecting industries such as tourism and hospitality. Travis has a called for a Bill of Rights to protect our basic freedoms.
"The response has been overwhelming," he says. "Today I stood in the middle of 15 Liberal sign wavers on a busy road by myself and got as much response as they did. A platform has been laid. Regardless of the outcome, this has been a shown that the Australian people will actually do something when their freedom has been challenged. I'm sure I will not be the last. We will learn from this and we will be better next time. The next battle will be supporting Gabe Buckley in the Redcliffe (state) by-election and then helping Paul Keyworth and the Motorcyclists Australia Party. This battle may be over, but the war is just beginning."
While we wish Travis and all candidates the best of luck, the words of David Crosby are ringing in my ears. That's his line at the start of this article about speaking out against the madness. But he implores later in the song, Long Time Gone, "don't try to get yourself elected … if you do forsake this child you'd better cut your hair". In other words, as soon as you get elected you become one of the establishment.
We hope that if elected, Travis doesn't become a "politician". If he doesn't get elected, we wish him the best with his Chamber and ongoing lobbying for the rights of motorcycle riders. As a minority, motorcycle riders are more used to empathising with the marginalised in society and not with the might of government. While some may be members of political parties, in my experience most riders support policies rather than parties and oppose discrimination such as the anti-association laws.
Meanwhile, if you have a few spare hours on Saturday and want to help Travis, you can staff one of the voting booths. Go to his Vote for Travis Facebook page or call him on 0448 852 739.