Demolition worker James Stronsky of Sydney has learnt eight lessons from his epic seven-month ride from the North Pacific (Tokyo) to the Atlantic (Breste).
James spent two years building his own motorbike, sold all his belongings, got rid of his home and waved his family goodbye.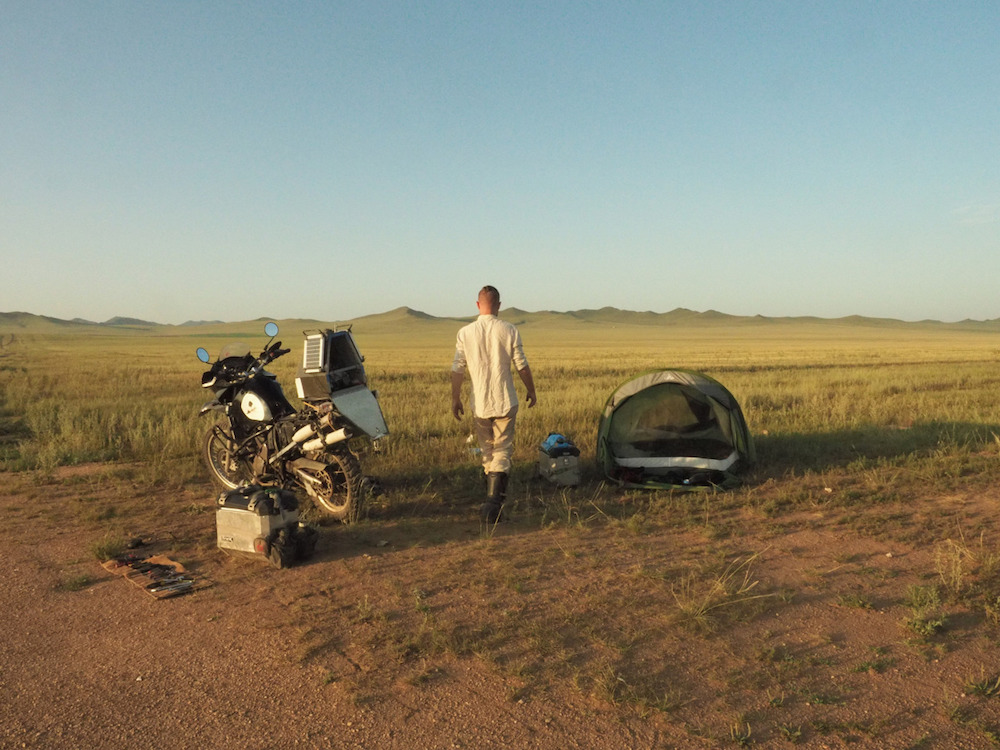 He has ridden across Japan, South Korea, Russia, Mongolia, Kazakhstan and is now somewhere in Tajikistan. 
Just the other week James disappeared in the Pamir mountain range for two weeks. A search operation including government bodies from three nations was launched and luckily James was found – snowed in – in a mountain pass near the Afghan border.
He spends his nights in his tent, days on the bike and life in the wild.
Here are eight things he's learnt.
Riding in the snow – never, ever, again please! Took too long making my way through Central Asia. On my way out of Kyrgyzstan it started to snow. My only way out had me go through the worst of it. A few mountain passes later, many days attempting the same stretch of road and I got clear. How? Drive in first gear, high revs, hand on the clutch, feet out and down like skids and forget about your brakes (a sure-fire way to slide). Be prepared for a long day of hard work. Work on your landing, you're guaranteed to fall off more times that you can count.
The art of night-riding – an art and a necessity. I've had to ride through the whole night in thick, freezing cold fog. Pick a car to follow and let their headlights light the way. Watch them bounce on the potholes and let the opposing traffic blind them. Keep your headlights down and follow at a safe distance. Their path will show turns and hazards, their rear lights will light the edges for you and, worst case scenario, let their cage take the hit.

OLYMPUS DIGITAL CAMERA

Everything breaks – 80% functionality is good enough. I've had to repair my bike way too many times, usually by the side of the road with only what I brought with me. Completing a trip of this size will break your bike and gear, no matter how much you prepare. You're simply asking too much of metal, plastic and fabric.
Attitude is everything – the highs are high and the lows are low. On a trip as big as one that spans continents, the high points will be very high (enjoy them!) and the lows will be very low. It's a tough exercise and the low points might ruin your trip. Keep a good attitude throughout, and you'll be fine.
You don't need half the stuff you think you do – but you do need to pick it up! I had 20kg more gear than I needed. If you're riding enduro off road you will at some point need to pick your bike up off the ground. And when that happens you'll feel every extra kilo.
Document your trip. I'm wearing one Olympus TG Tracker camera on the helmet and one on the bike (great crash footage) and I've a handheld Olympus OMD EM–5 mk-II. Pick whatever gear you prefer but my point is: I've met a lot of bike riders regretting that they didn't document their travels.
You can't do anything about the driving of others. All other road users are obviously not driving properly. Not as obvious is how much this will piss you off. When someone comes screaming through your lane from the oncoming direction, be calm. You can't change a country's worth of bad drivers but you can manage yourself. There's no prize for being legally in the right but physically smeared across the highway.
Planning is great, acting on those plans is better – a half baked plan is better than none. I spent years planning for this trip. In the end though there comes a point where planning stops and you just have to get going.
See more photos, follow James on Instagram or Facebook.