Finally, after two years of test phases and spy shots, the Austrians have lifted the covers on their new, sniper-sharp 990 Duke!
Brands have been bragging a bit with recent bike debuts (cough cough, Ducati), and KTM is no different; apparently, this 2024 990 Duke is, officially, "the lightest, sharpest, most performance-focused mid-class naked ever produced by KTM."
Tweak a couple of descriptives and that tout is no longer entirely relevant, but you get the point: The aristocratic House of Mattighofen is proud to provide a new addition to our noble Duke fandom.
By all appearances, it's a darn good addition, too.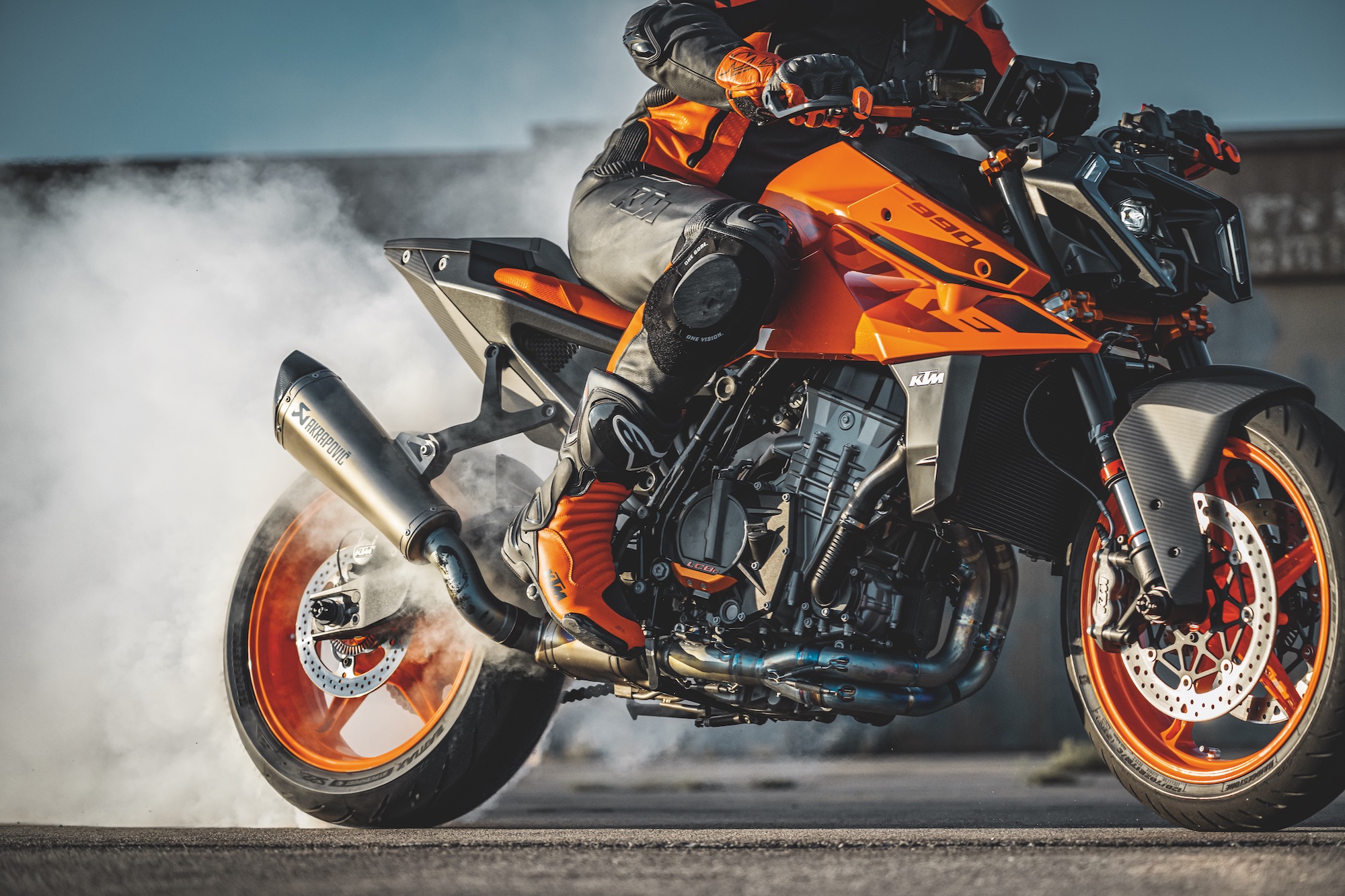 This year, by the way, marks the 30th year that we've had KTM Dukes on the planet; in commemoration of the occasion, the 2024 990 Duke has been blessed with the following: 
A "blisteringly potent engine," also known as a severely updated version of what's found in the

KTM 890 Duke R

; instead of an 889cc, this LC8 heart features more aggressive camshaft profiles and longer valve openings, punting out 947cc

A blissfully light, 394lb (179kg) package made possible by a brand new stiff steel-tube trellis frame and closed-lattice swingarm combination where the frame goes down the outside of the swingarm bolt.
Suspension is hefty: 43mm WP APEX open cartridge forks with 140mm of travel dress the front, featuring five clicks for both compression (left fork) and rebound (right fork); at the back is a gas-assisted WP APEX Monotube shock absorber with a new lighter linear spring, a 5-click adjustability setting and manual preload adjustment
Sweet rolling duty; Bridgestone S22 tires are fitted to the exact same rim types that dress the ridiculously competent KTM 1290 Super Duke R EVO (17" front and rear)
Clever brakes come in the form of lighter twin 300 mm floating discs (and lighter disc mount), with 4 piston radially-mounted calipers at the front and a 240 mm disc at the rear – oh, and the front runs through a radial master cylinder.
Akrapovic is the name chosen to carry the responsibility of output; for the 990 Duke, the system is brand new and a complete stainless steel system from the header to the silencer.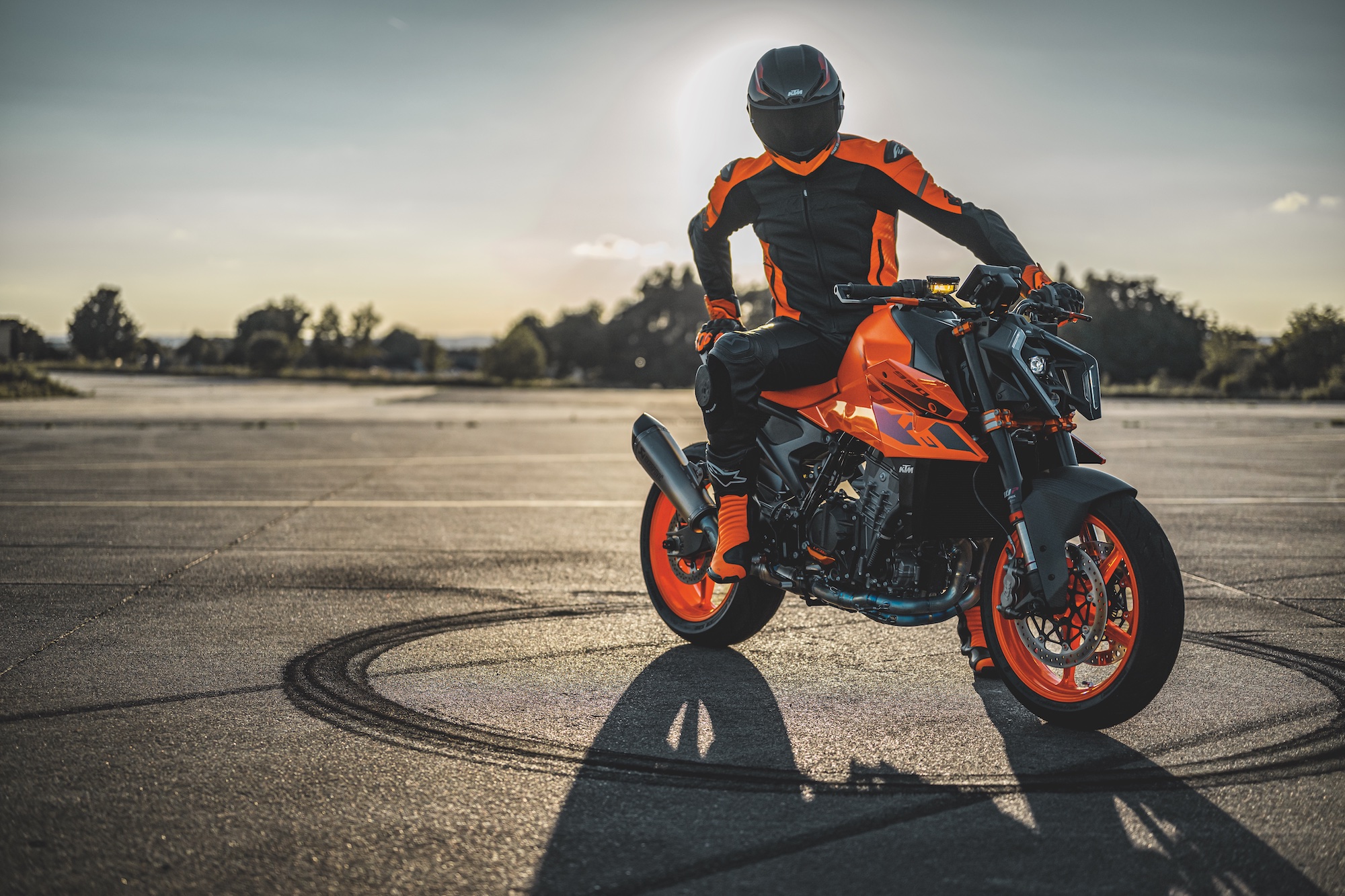 Other, newer stuff includes tweaked ergonomics, a four-position adjustable a tapered, 760 mm aluminum handlebar and a rethought LED headlight, as well as sensor-happy DRLs and more Ride Modes than you can shake a stick at.
Here's the official explanation of the latter from KTM.com: 
RIDE MODES
The KTM 990 DUKE boasts 5 unique Ride Modes, namely RAIN, STREET, SPORT, and the optional PERFORMANCE, and TRACK Mode. 
RAIN MODE
As the name suggests, RAIN MODE is the default mode for slippery road conditions, reducing the maximum power with maximum traction control and the smoothest throttle response.
The system aims to keep the front wheel on the ground under all conditions.
STREET MODE
The default mode for everyday riding, STREET Mode unleashes full power, default throttle control, and traction control settings suitable for street riding. Limited front wheel lift is allowed. 
SPORT MODE
Full power, more direct throttle control, and less traction control, allowing slight wheelspin and maximum front wheel lift, giving the rider maximum acceleration, making SPORT Mode the choice for spirited riding. 
PERFORMANCE MODE (OPTIONAL)
The optional PERFORMANCE Mode allows a certain level of customization, with a selection of traction control intervention and throttle control.
Anti-wheelie can also be switched off, and LAUNCH CONTROL can be toggled for perfect starts. CRUISE CONTROL is available in PERFORMANCE Mode, with riders having full access to KTMconnect, too.
TRACK MODE (OPTIONAL)
TRACK Mode allows the same level of customization as PERFORMANCE Mode but is 100% READY TO RACE focused. This mode allows for 2 additional bits of information to be displayed for the rider on the TFT display, with a focus on lap times and telemetry data.
In these modes, only key information is displayed, with secondary information discarded. Anti-wheelie can be switched off, and LAUNCH CONTROL is available for the perfect start off the grid, but CRUISE CONTROL and KTMconnect are disabled.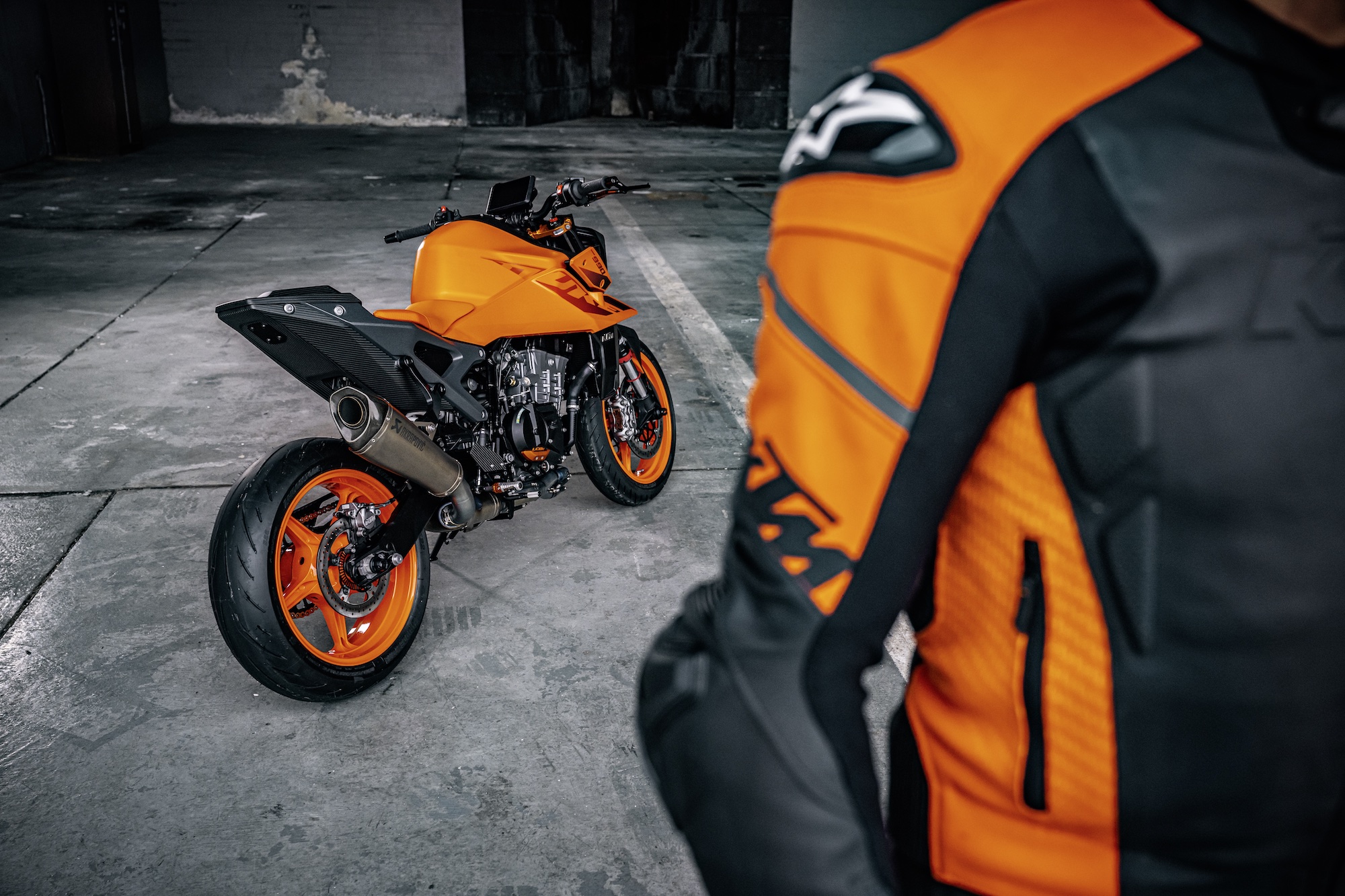 Two colorway options in – you guessed it – Black and Orange will roll out of our local dealerships by December of this year! Standby for the pricing – TBD at this point – and what do you think of KTM's 990 Duke?
*All media provided by KTM*