2011 Honda CBR250R and CBR125R 2011 Honda CBR250R
November 14, 2010 – Honda announced the new 2011 CBR250R (report) only a few weeks ago and the first photos looked scrumptious.
The bike was on display at EICMA 2010, along with its CBR125R sibling. Both of them look fantastic and I'll bet the CBR250R will surely have a lot of fans and a bracket racing class.
Hopefully, it will also bring more new riders to the sport.
If I was a youngster (or not so young), I'd have posters of these bikes splattered all over the walls of my bedroom.
The only rival to the CBR250R, at least in the U.S.a., is the Kawasaki Ninja 250R, which was also revised I believe for 2010.
The Ninja too is a looker, but the Honda has a more modern appeal I think, carrying the Honda family styling theme started with the CBR1000RR and VFR1200F (review).
Yet again, there was no information to be found at the vast Honda display. The booth attendants behind the counter were obviously hired for their looks and not their product knowledge.
II remain puzzled as to why a company would spend hundreds of thousands of dollars to display their products at a world-class show like EICMA and then have basically no information for either customers or the press to learn more.
Lighting in the Honda display was slightly better than the movie-theater dark Kawaski booth (or hall actually). Photos were challenging but I here are a few, starting with the CBR250R, then the CBR125R, which I assume will not make it to the U.S., unfortunately.
Honda VT750S (Honda Shadow RS)
It's funny, but with all the luscious Honda bikes on display, including the Crosstourer and Crossrunner concepts (report), along with an entire display of some very nice-looking Honda scooters and even some Honda race bikes (photos below), that more people seemed interested in the older Honda iron.
The "old school" Honda VT750S, known as the Honda Shadow RS in the U.S.A., had a surprising amount of attention from the crowd than most of the other bikes. Every time I passed the Honda display I could be sure of seeing a crowd gawking at, touching and sitting on the VT750S.
This may not be surprising, as I read when I was there that cruisers are becoming very popular in Europe, what with the near campaign against sportbikes taking hold across the continent and in the UK. Harley sales are up and riders are showing more interest in cruisers of every stripe.
I'm not a cruiser guy, but every once and a while, one of them plucks a chord on my heartstrings, and I'll admit the VT750S does it. Something about it looks right, from the proportions to the styling to the red, white and blue fuel tank. I can see an excellent bobber underneath the metal but it looks great as is.
Best of all, it's a relative bargain, at least in the U.S., where it starts at less than $8k. About the Honda Shadow RS Honda simply says "Cruiser Style + Roadster Cool = Instant Classic" and a truer statement has never been spoken by a marketing department.
2011 Honda CBR250R Photographs
2011 Honda CBR125R Photographs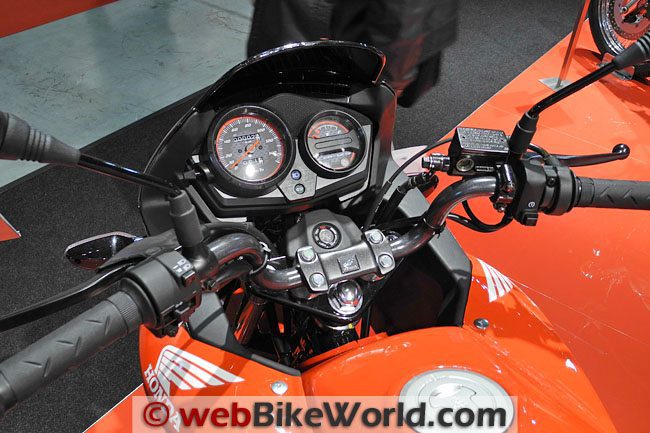 2011 Honda VT750S (Honda Shadow RS) Photograph and Honda Race Bikes
Publication Date: November 14, 2010
Note: For informational use only. All material and photographs are Copyright © webWorld International, LLC – 2000-2013. All rights reserved. See the webBikeWorld® Site Info page. NOTE: Product specifications, features and details may change or differ from our descriptions. Always check before purchasing. Read the Terms and Conditions!
Other WebBikeWorld Motorcycle Brands
 

Posts

wBW Motorcycle Brands Info