DuPont Motorcycle Chain Lubes Review Summary
DuPont Motorcycle Chain Lubes Image Gallery
The formula for the DuPont Multi-Use Dry, Wax Lubricant chain lube, which was a favorite for many years, has been changed.
The new formula is no longer recommended by DuPont for motorcycle chain lubrication and it has dropped off our favorite list also.
The company now recommends the DuPont Chain Saver product only for motorcycle chain lubrication.
The Teflon Chain Saver and the new Teflon Multi-Use Lubricant (without the "Dry, Wax" formulation) are now also available in 120 ml (4 oz.) liquid containers.
Included in This Review:
▪
 DuPont Teflon Chain Saver
▪
 DuPont Multi-Use Lubricant
▪
 DuPont Motorcycle Degreaser
▪
 DuPont Teflon Penetrant
▪
 DuPont Silicone Lubricant
▪
 DuPont Teflon Non-Stick Lubricant
There's the old saying "If it ain't broke, don't fix it." While perhaps cute, it implies that progress is not a good thing. And we're all for progress.
Change is good, inevitable and it should be welcomed. The entire universe we live in is in a constant state of evolution, right down to the last vibrating string, so there's no use fighting it. Time marches on, thrusting us ever forward into the future.
But, there are occasions where that crusty old saying is indeed relevant, and this is a perfect example. We wish DuPont had followed the "don't fix it" path, because here's an example of where it wasn't broke and change is not good: I'm sorry to announce that our once-favorite motorcycle chain lube, the DuPont Multi-Use Dry, Wax Lubricant, is gone.
So if you happen to be in one of those old-timey hardware stores and you find some dusty old cans with the "Dry, Wax" description on the label, grab 'em all and don't look back. "Hoarding", is what they used to call it during World War II.
That's right boys and girls: the product is now called "DuPont Teflon Multi-Use Lubricant". The "Dry, Wax" ingredient has been dropped. DuPont said only "it was changed for complex reasons".
Here's what they said:
"Please note that as of October 2011, DuPont Teflon Multi-Use Dry, Wax formula was modified. Many of our loyal customers have been purchasing DuPont Multi-Use for nearly a decade. We recently upgraded the formula to be a semi-dry lubricant with added corrosion protection but no longer features the "dirt-resistant, dry-wax" feature.
You will notice the most recent cans or bottles appearing on shelf do not contain the "Dry, Wax" claim on the label.
Many users have reached out wondering where their dry, wax formulation went. If you want to obtain that same dry-wax formulation, you should switch to DuPont Teflon Chain-Saver. This product contains the same Teflon fluoropolymer, molyebdenum and wax mixture that users have come to appreciate for its wear protection, water repellency and dirt resistance.
We were able to leave Chain-Saver as is. The formulations are very similar — Chain Saver has more moly and more Teflon so it has better wear protection. Everything else is exactly the same."
So let's take a look at the latest DuPont lineup relative to motorcycle chain lubrication and I'll tell you what we think.
DuPont Multi-Use Lubricant
It was 2005 when we first discovered the DuPont Teflon Multi-use Dry, Wax Lubricant (review)made an excellent motorcycle chain lube. It has been a favorite ever since and it became the benchmark for comparison with other motorcycle chain lube formulas.
It had everything going for it; the original formula was easy to apply, with very little overspray and it quickly dried to a waxy finish that resisted dirt and grime. And best of all, it was both cheap and readily available.
Alas, it is no longer. The new formula is now called "DuPont Teflon Multi-Use Lubricant", without the "Dry, Wax" qualifier. We have a couple of cans of the new stuff and we have been evaluating it recently on a few chain-driven motorcycles.
The new formula is quite different from the original, even though the 11 oz. (311 gram) spray can looks very similar. See the photo above; the can in the center is the original formula. Note the "Dry, Wax Lubricant" text that was placed below the "Teflon Multi-Use" text. Take a look at the revised can on the right, which now simply proclaims "Lubricant".
The new spray formula seems very "watery" and it has a lot of waste in overspray when you're applying it to a motorcycle chain. It is now no longer a favorite and, in fact, it pretty much drops out of contention — there are other chain lubes that do a better job, in our opinion.
Teflon Multi-Use also comes in a new 120 ml (4 oz.) liquid squeeze container (see below). It has a list price of $6.99 for the 11 oz. spray can (street price around $5.99) and $4.95 for the 129 mil liquid container.
DuPont Teflon Chain Saver
In fact, DuPont now only specifically recommends the DuPont Teflon Chain Saver (review) product for motorcycle chain lubrication.
We weren't all that fond of this product when it was first reviewed in 2009, at least when compared to the Multi-Use Dry, Wax Lubricant. It seemed thicker than the original Multi-Use Dry, Wax Lubricant, although the latest formulation seems thinner, despite DuPont's claims that the formula hasn't been changed.
[UPDATE: DuPont said that the Chain Saver product "is nearly identical in formulation and any differences you are seeing are purely attributed to when the can was filled during the production run. So our dry, wax formula is not gone, it has simply changed to a yellow can."
We can only report the results we have found during our evaluations. In practice, the Chain Saver product differed from the Multi-Use Dry, Wax formula in 2009 and it appears different today from both the Multi-Use Lubricant and the latest Chain Saver formulation used for comparison.]
The newest versions of the Teflon Chain Saver spray cans we tried result in a lot of overspray and corresponding waste (see the video below). This seems different from when we first reviewed the product.
The Teflon Chain Saver lube does (sort of) become dry after a while, but it's nothing like the original Multi-Use Dry, Wax Lubricant with its "instant dry" feel.
DuPont says that Chain-Saver "Goes on wet and sets up to a clean, dry, wax film which will not absorb dirt or grime". It is claimed safe for O-ring type chains.
They also state that the product "is a dry, self-cleaning lubricant made to withstand high RPMs for a more efficient, longer-lasting chain. Grit and grime activate Chain-Saver's 'self-cleaning' release agents, which shed dirt to reduce friction and help prevent failure. Chain-Saver's no fling-off formulation also prevents oil splatters on clothing and wheels.   The lubricant, which is enhanced with molybdenum and Teflon fluoropolymer for extreme pressure applications, is also designed for dirt bikes and ATV chains."
DuPont Teflon Chain Saver has a list price of $10.49 in the 11 oz. spray can (street price around $6.99) and $4.95 for the 120 ml liquid container.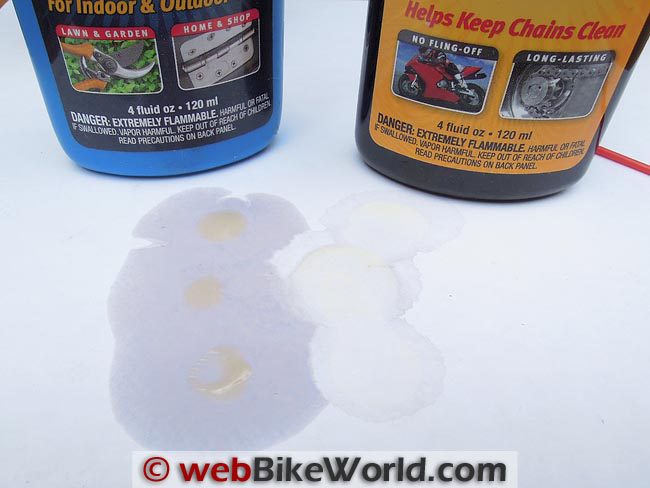 DuPont Liquid Chain Lubes in 120 ml (4 oz.) Squeeze Container
In other news, both the Teflon Multi-Use Lubricant and the Teflon Chain Saver are now available in 120 ml (4 oz.) squeeze bottles. This is something we requested to DuPont (Finish Line USA), as the liquid squeeze containers are more efficient for delivering the chain lube. They may also be the better bargain, because you're not paying for the can, sprayer and propellant.
Curiously, the new DuPont Teflon Multi-Use Lubricant formula is thicker in the liquid 4 oz. bottle form than it is in the spray can, which probably has to do with the propellant. As you can see in the video below, the liquid from the 4 oz. bottle is thick and a single drop can be applied to the motorcycle chain link at the junction of the side plates over the link pin (immaterial since Multi-Use is no longer recommended for motorcycle chain lubrication).
The 120 ml squeeze bottle of Teflon Chain Saver, on the other hand, is a very "loose" formulation in its liquid form, however. It's difficult to get a small amount on the chain, because the "watery" formula leaks out of the bottle, as you can also see in the video. This bottle would probably be much better with a longer application tip and a tiny hole that allowed a small drop at a time to be precisely placed on the chain.
Both of these containers are much easier to carry on a motorcycle, so the Teflon Chain Saver in the 120 ml format is a good choice to carry on the bike for motorcycle travel.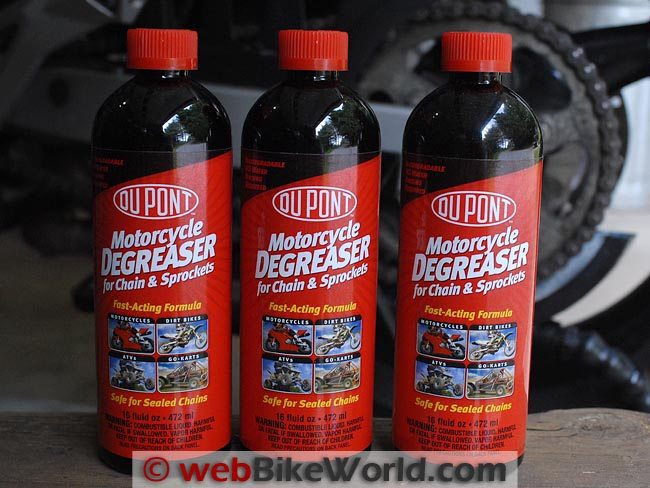 DuPont Motorcycle Degreaser
We reviewed the DuPont Motorcycle Degreaser (review) exactly two years ago, in May of 2010. This is a good product for cleaning a motorcycle chain. The product we reviewed was in an 11 oz. spray can, which is still available for a list price of $10.49 (street price around $6.99). It also comes in a 16 oz. (472 ml) bottle.
A little goes a long way and it works with the Grunge Brush (review) or by pouring a small amount on a couple of folded paper towels. The Motorcycle Degreaser also works well for general cleaning and degreasing on a motorcycle. It's O-ring safe and this is now our preferred product for cleaning and degreasing a motorcycle chain.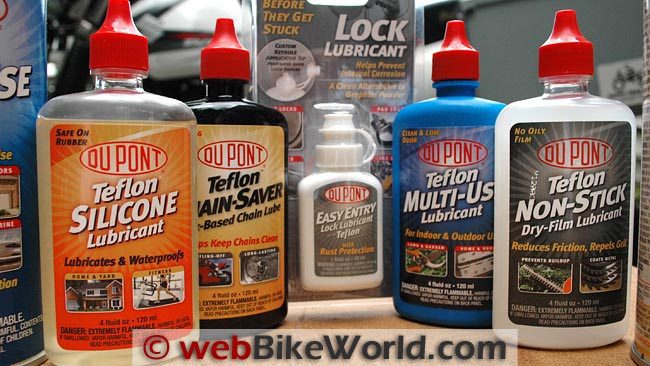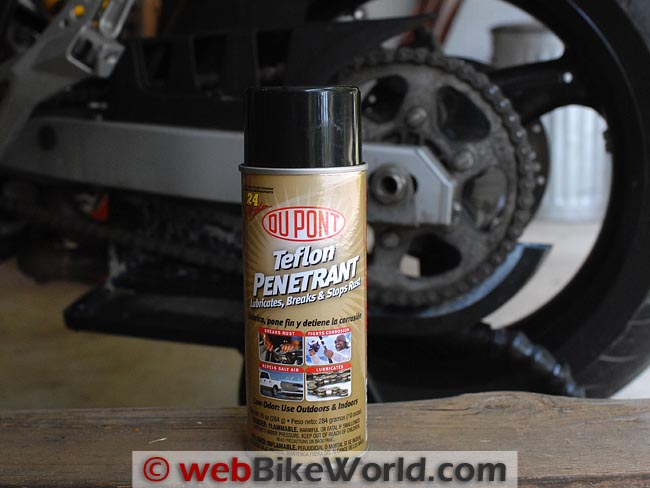 Other DuPont Products for 2012
The DuPont Teflon Silicone Lubricant and Teflon Non-Stick Dry Film Lubricant are also handy for motorcycle use. They are available in a 10 oz. spray can or the 120 ml liquid containers shown here.
We use the Teflon Non-Stick Dry Film Lubricant for lubricating old-style clutch and brake cables. A few drops poured down the cable sheath makes a big difference. (Note that some cables have a Teflon sheathing and lubrication is not recommended; check the owner's manual).
DuPont also has a new product called "Easy Entry Lock Lubricant", with Teflon, of course! It has a small square-shaped applicator tip that can be inserted into a lock. A couple of drops is all that's needed. Or, you can put a drop or two on the key, then insert the key and turn it back and forth a couple of times. This cleans and lubes the locks and ignition key barrel, but be careful to use very sparingly, as you don't want to harm the electronics.
Finally, there's the new DuPont Teflon Penetrant in an 11 oz. spray can (list price $10.49, street price around $6.99). This is a handy product to have but one that you hope you never have to use. It frees rusted nuts and bolts, a condition which any conscientious motorcycle owner should not experience on a relatively new bike. But, you never know when you'll need it…
w

BW

 Video: 2012 DuPont Motorcycle Chain Lubes
Conclusion
Too bad they changed the Teflon Multi-Use Dry, Wax Lubricant formula. It is now no longer in contention as a motorcycle chain lube.
And we just can't seem to warm up to the Chain Saver product; it's not bad and it works well. It's just that we think there are better chain lubes that are easier to apply, with less overspray and which "disappear" on to the chain, leaving a relatively dry surface that minimizes attraction to dirt and grime.
We think DuPont needs to change the design of the applicator tip on the Chain Saver liquid 120 ml (4 oz.) bottle to make it more useful and efficient for motorcycle chain lubrication. If they did, it would be the preferred lube to carry on the bike.
So our current favorites are now the Liquid Performance Chain Lube (review), the Original Bike Spirits (review), which was the winner of our 2010 Chain Lube Comparison or the Klotz KLR (review), winner of our 2008 Chain Lube Comparison.
See the wBW article "Motorcycle Chain Cleaners Redux" for many comments on lubricating motorcycle chains.
NEW! More 2012 Motorcycle Chain Lubes Reviewed
More Motorcycle Chain Lube Info:
Chain Cleaner Redux: Motul vs. Motorex  |  Motorex Chain Cleaner
2008 Chain Lube Comparison  |  2010 Chain Lube Comparison
Note:
 For informational use only. All material and photographs are Copyright © webWorld International, LLC since 2000. All rights reserved. See the webBikeWorld® 
Site Info page
. Product specifications, features and details may change or differ from our descriptions. Always check before purchasing. Read the
Terms and Conditions
!
Owner Comments and Feedback
---
From "T.B." (December 2012): "I was an avid DuPont Chain lube user after I discovered it by accident when I was at the ocean with my mountain bike, forgot my chain lube, and found the obligatory salt corrosion on the drive components. It was great to find that you guys liked it best for O-ring chains also. I've used it exclusively for 6yrs now and was also happy that it could be purchased at the local big box home improvement store.
I used up my stock of the "good" stuff and bought a new can as an experiment. That stuff is junk. Stay away if you value your chain, esp. in winter weather. Seriously. I used to go a couple weeks in the winter rainy weather not having to worry, about 400 miles. With the new stuff, it is gone in one wet ride.
It almost seems water soluble. The chain literally starts to grind on itself. Evident from the tiny shiny filings hanging around the front sprocket area. Things are still okay, but they won't take this much longer. Don't use the new stuff."
---
From "D.S." (September 2012): "Great articles on the DuPont Teflon Multi-use lubricant! I'm from Canada and have encountered a mysterious variant of this lube purchased from Lowes.
I've posted details in (this) forum thread and a member suggested that you might be interested to hear about it and/or possibly help shed some light. I've contacted DuPont about this myself but have yet to receive a response.
In a nutshell, the can I purchased appeared to be the French-Canadian equivalent of the current 2012 U.S. product. But upon reading the rear label I noticed that it stated "wax-based".
On the shelf next to it was a small squeeze bottle of the original "Dry, Wax" stuff so I was inclined to believe that the spray can also contained the original dry, wax formula. However, I ripped the label off the spray can and underneath was another label identical to the current U.S. can with no mention of wax anywhere. Now I'm confused!
User "G.U." posted another variant (in the comment below). Any chance you can convince DuPont to spill the beans on this one?"
---
From "A.R." (September 2012): "I just wanted to comment about the Finish Line/DuPont chain degreaser which I just bought yesterday and tried using this afternoon. While the product itself seemed to work well, there is a major problem with the nozzle which causes the fluid inside to leak out from underneath the white cap, getting all over the floor instead of my chain.
I understand that this is a special nozzle with a variable flow, but if this is what I can expect from now on, I say they go back to the regular design such as what is on the chain saver. If you read the Amazon reviews, you'll see I'm not the only one with this problem.
I've emailed DuPont about this, so hopefully they are aware of it… Thinking back, I did shake the can before use. Maybe that caused it? Seems unlikely…but who knows?"
Follow-up From "A.R." (September 2012): "FYI as a follow up to my original comment: It seems they are aware of the sprayer issues related to the degreaser and have since corrected it. The can I got did seem rather old, though it was the only one left in the store at the time. Hopefully as time goes on, less and less of these defective cans will turn up.
Luckily, (Finish Line) agreed to send me a replacement so if any of the readers have issues, they should definitely email DuPont and get a new one."
---
From "R.B.S." (June 2012): "I took off of work early today and made the long drive to my nearest (store). There was nothing but the new formulation of the DuPont Multi- Use on the shelf. I suspect that it's too late to go out and find the old stuff sitting on the shelf of a local (store) anywhere.
Here is what I suggest. We should inundate DuPont with (polite) feedback as to our displeasure at them having changed a near-perfect formulation for DuPont Teflon Multi-Use Dry Wax Lubricant. DuPont Customer Service Phone: 1-631-666-4186 or e-mail:performancelubricant@mail1.dupont.com.
Editor's Reply: In correspondence with DuPont (actually, these products are made by Finish Line, Inc.), we were told that the Chain Saver product is now their only wax-based dirt-resistant lube and that "The formulations are very similar — Chain Saver has more moly and more Teflon so it has better wear protection".
Follow-up From "R.B.S." (August 2012): "I've been looking for something to replace DuPont Multi-Purpose Teflon spray lube for lubricating my bikes' chains. I was very disappointed that the formula for DuPont Multi-Purpose was changed as I thought that it was just about ideal. It was the best chain lube that I have ever used, and I've been trying different products, looking for a really good one, for about 40 years.
I think that I may have found a winner! It's not exactly the same, but it's close. MotoPro Chain Lube is available at any Cycle Gear store in a big 13 oz. can. It's usually $10, but it is currently on sale for $6.
It sprays on as a very thin liquid that is almost completely clear, but there is a hint of black dust floating in the liquid (probably moly and/or Teflon, both of which the label says are in this lube). It doesn't dry quite as quickly as the Dupont MP, but when it does it leaves behind nothing but a trace of dry waxiness.
The DuPont Multi-Purpose smelled like a mixture of WD-40 and coconut; the MotoPro smells like some sort of petroleum solvent.
I haven't noticed any fling-off yet, nor have I noticed any propensity for it to attract dirt or to allow the chain to rust, but I've only been using the stuff for a few days and there hasn't been any rain here. (It's still August here in very sunny Sacramento.)
After our experience with the DuPont stuff, I'm tempted to purchase a case of MotoPro Chain Lube, but when I thought about it I realized that it's unlikely that the product would disappear overnight or that the formulation would be changed for the worse. That couldn't happen again…right?"
Editor's Note: I have heard rumours that the MotPro Chain Lube is a repackaged version of the Pro Honda Chain Lube With Moly, not sure if that is true or not. Also, see our reviews of the Liquid Performance Chain Lube (review), the Original Bike Spirits (review), which was the winner of our2010 Chain Lube Comparison or the Klotz KLR (review), winner of our 2008 Chain Lube Comparison.
---
From "C.L." (June 2012): "I have been using DuPont Multi-Use Dry, Wax Lubricant since I brought my Bonneville home almost two years ago. I don't lube the chain every 200 miles, but I do lube it often and just about every day when I'm touring. I got 30,000 miles on my first chain.
Late last fall, I bought four or five cans of lube when I was at (a local store), but I somehow left for a trip to Key West a couple of weeks ago with an almost empty can in my luggage. In south Florida, I spotted a (store), pulled in, and bought a full can.
When I sprayed the chain that night, I noted that the lubricant blew out the straw and all over the place whereas the old lube was easy to aim. I marked this down to being a fresh, full can, but I hadn't had this issue before.
After reading your article, I went out to my shop and pulled an old can off the shelf to compare it with the new one. Sure enough, no Dry Wax on the new can. I see from your article that DuPont is making a special "motorcycle chain lube," but I bet it's not going to be in every (store) and therefore it won't be easy to find for traveling motorcyclists…"
Editor's Reply: One of the really nice things about DuPont chain lubes is that they are readily available and, of course, available through the webBikeWorld affiliate retailers accessible through the links and ads in the review(s).
---
From "G.U." (May 2012): "After reading about the change in the DuPont spray lube I went to my garage to see what kind I had. There appears to be another iteration of the stuff, or at least the labeling of it.
I bought this can on a cross country ride where I had been using the DuPont Chain Saver but my chain kept getting more noisy and "jumpy". I made a search on my GPS for the nearest (store) and bought this can in Hurricane, Utah. It's about empty now."
---
From "S.S." (May 2012): "As soon as I read your article, I jumped in the car and drove straight to Lowe's to grab any old cans they had left. Unfortunately, that turned out to be none.
This brings up a good question: do the modern o-ring and x-ring sealed chains really require the lubrication properties of a product, or are we simply applying a protective layer to the outside surfaces to prevent corrosion? If the latter is true, then perhaps another product that I use for my firearms might be a good choice: Boeshield T-9?
It leaves a dry film to prevent corrosion, and has lubrication properties as well. I also use a lot of Amsoil Heavy Duty Metal Protector on other things in my garage, and on the can it says it is good for motorcycle chains as well.
When I first got my bike, I went with a product which was quite sticky, and picked up a lot of dust and dirt off the road as a result. I think that dirt and debris stuck in a layer of heavy lubricant probably cause more chain wear than lack of lubrication, and that's what made the DuPont product so appealing.
I also noticed the carrier seemed to have some solvent properties, as it seemed to clean the chain as well. In any case, I'm going to look around locally to see if I can find some cans of the old formula, and if not, I may try the Boeshield to see how it works. Thanks as always!"
Editor's Reply: My feeling is that with modern O/X/W/Z ring chains, there really isn't much lubrication needed and, in fact, some lubes may do more harm than good if they stay "sticky" and attract dirt and grime. To be honest, I rarely lube my chains and when I do, it's more to prevent surface rust than anything else.
The only issues with some of the products is whether or not they will compromise the O-rings, which are usually made from Buna-N or nitrile or other material. That could also do more harm than good.
I just checked the website and it does list "Chain Drive" under the "Motorcycle" category for Boeshield T-9, so perhaps it's ok. But, at nearly twice the cost of a "normal" chain lube and almost three times the cost of the DuPont liquid 120 ml. lubes, I'm not sure how efficient it will be…
---
From "J.K." (May 2012): "This website with a 2012 copyright still shows the DuPont Multi-Use Dry Wax Lubricant and says it is suitable for motorcycle chains.
I bought a can of the new stuff (without the Dry Wax label) you mentioned in the article and I used it on my chain several times this year, and frankly I didn't notice any difference but I wasn't comparing the two side-by-side.
My chain, which has always had the original Dry Wax stuff every 600 miles or so has now lasted more than 26,000 miles and seems to be in great shape."
Editor's Reply: Interesting, thanks. The representative from DuPont provided the quote that was added to the review which says they are no longer making it. The new formula seems quite different from the original.
---
From "L.R." (May 2012): "Thanks for the excellent review on the old and "new" DuPont chain lubes. It was here that I first learned about the DuPont product but it wasn't available in this part of Canada. Every time I crossed the border into the USA I picked up a spray can of the old "Dry Wax" product.
I have four chain-driven bikes so I'm happy to say that I have four cans on the shelf with one in use."
Other WebBikeWorld Chain Lube Posts