Prince William loves his Ducati 1198S, but his reign over two wheels may be the last for the Royal Family if his missus has her way.
Kate insists that their son, Prince George, will no be allowed to ride a motorbike when he is old enough because they are dangerous.
George has already been given a toy electric motorcycle at a bike show in London, but that may be as far as he is allowed to go.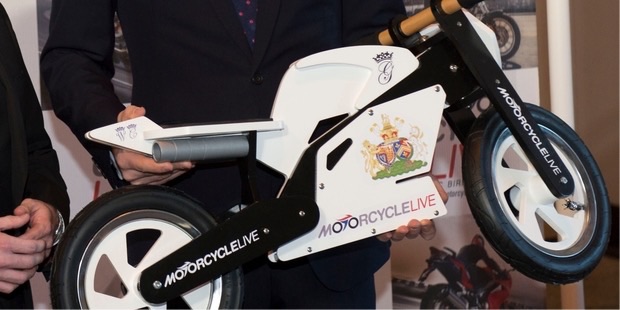 William and Harry both have a love for motorbikes and William event spent the night before his wedding riding his Ducati around London.
Their father, Prince Charles, has spoken before of his concern about the heirs riding motorcycles.
"It's about other cars not being able to see you. I'm always telling my sons that," he said.
Now it seems he has an ally in Kate who says she is "terrified" every time William goes out for a ride on his Ducati.
Royal fan Fearghas Simpson, 28, asked Kate at a public function in Scotland if William was still riding his motorbike and apparently she said he was.
"It always fills me with horror when he goes out on it," she is reported to have said.
"I'm terrified. Hopefully, I'm going to keep George off it."
However, motorcycles seem to be in the Royal blood.
Queen Elizabeth learnt to ride a motorcycle during the war while hubby the Duke of Edinburgh can also ride and has visited the Isle of Man TT.
King George VI, when he was Albert, the Duke of York, was a motorcyclist and entered two bikes in the Brooklands Royal Meeting in 1922, but he did not race.