Ducati Stuffed Animal Review Summary
The ultimate Italian stuffed animal – the Ducati Cucciolo – a collaboration between Ducati and Accademia creates a collectable animal that celebrates the first Ducati sport motorcycle, the "Cucciolo" of the 1940s and 1950s.  (Available for worldwide purchase at the Ducati shop).
Bologna 9th November, 2004: It all started with a little puppy. In 1926, the Ducati brothers founded an appliance business in a suburb of Bologna. Their motorcycle breakthrough came in 1946.
The Cucciolo or "Puppy" was no more than a 48cc four-stroke engine bolted to a bicycle frame. But Italians loved it and more than a quarter of a million were sold over the next decade.
These early scooters, fast, reliable, efficient – with a robust little engine – laid the groundwork for a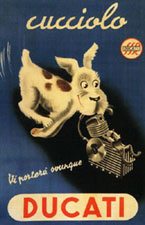 motorcycle revolution that led to high performance sport bikes like the 916 and 999 and cult motorcycles like the Ducati Monster and Multistrada.
Today, Ducati celebrates the birth of the Cucciolo with a range of children's stuffed animals manufactured by Accademia.
Designed to closely resemble the original puppy that appeared in Ducati advertising for the Cucciolo, the animals are made of fine plush material with a stuffing of 100% polyester.
Puppies come with Ducati bandanas and tee shirts or logo caps with the Ducati Corse symbol and race graphics. The Puppies are available in four sizes, 15 centimeters, 20cm, 30cm and 60cm. In addition, there is a keychain version.
Beginning in April of 2005, a range of vintage Puppies will be launched, dressed in the historic "Meccanica" logo and graphics that celebrate Ducati's heritage which dates back to the founding of the company in Bologna in 1926.
Founded in 1995, in the span of just a few years, Accademia has become a European leader in the back-to-school business. Since 2001, the company has been expanding in the gift business with noted success in stuffed animals.
The collaboration with Ducati began in 1999 with a collection that includes stationery and back to school items – segments in which Accademia is a European leader. Distribution of the line is strictly controlled to only the best boutiques and distribution outlets.
"Ducati is thrilled about its first-ever collection of stuffed animals," said David Gross, Ducati's Creative Director, "The Cucciolo is one of the most beloved of Ducati icons and the first sport motorcycle produced by the company."
Other WebBikeWorld Animal Posts