A broken battery cable could cause a sudden engine cutout in 2019/20 Ducati Hypermotard models, promoting a safety recall.
Ducati Australia has issued a safety recall through the Australian Competition and Consumer Commission for 34 Hypermotard 950 and 40 Hypermotard 950 SP models.
The vehicle identification numbers of the affected bikes are listed at the end of this article.
The official ACCC notice says:
Due to improper assembly, the battery's negative cable terminal may break. If the battery's negative cable terminal breaks, the engine may cut off while riding, increasing the risk of injury to the rider and passenger(s), and other road users.
Owners will be sent a letter asking them to contact their Ducati dealer or service agent "as soon as possible" to make an appointment for an inspection, free of charge.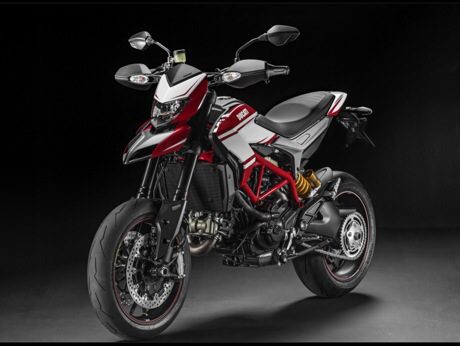 2019 recalls
This is the fourth recall in 2019 for Ducati following an issue with faulty gearshifts in Monster and Super Sport models, and fuel fires and oil leaks in various Panigale V4 models.
With just a few weeks to go in 2019, there have been 25 recalls of motorcycles plus two accessories (Harley bags and a Honda Monkey bike rack).
That compares with last year's 37 motorcycle recalls, the second highest number of recalls in the previous 10 years: 28 in 2017, 39 in 2016, 30 in 2015, 28 in 2014, 20 in 2013, 24 in 2012, 16 in 2011, 14 in 2010 and 23 in 2009.
The most recalls this year was six for Yamaha; followed by 4 for BMW and Ducati; Harley, Honda, Suzuki and Triumph on three (if you count the aftermarket accessories for Harley and Honda); and one each for Kawasaki, Indian, Piaggio and KTM.
That compares with the previous year where Ducati had 6;  Indian, Kawasaki, Suzuki, Yamaha, KTM and Triumph 3; BMW, Harley, Husqvarna and Moto Guzzi 2, Aprilia and MV Augusta one each.
Even though manufacturers and importers usually contact owners when a recall is issued, the bike may have been sold privately to a rider unknown to the company.
Therefore, Motorbike Writer publishes all motorcycle and scooter recalls as a service to all riders.
If you believe there is an endemic problem with your bike that should be recalled, contact the ACCC on 1300 302 502.
To check whether your motorcycle has been recalled, click on these sites:
• USA
• Canada
VINs of affected Hypermotard models
ZDMBB00AAKB000783
ZDMBB00AAKB000830
ZDMBB00AAKB000955
ZDMBB00AAKB000956
ZDMBB00AAKB001084
ZDMBB00AAKB001161
ZDMBB00AAKB001242
ZDMBB00AAKB001336
ZDMBB00AAKB001337
ZDMBB00AAKB001386
ZDMBB00AAKB001527
ZDMBB00AAKB001668
ZDMBB00AAKB001704
ZDMBB00AAKB001718
ZDMBB00AAKB001826
ZDMBB00AAKB001845
ZDMBB00AAKB001973
ZDMBB00AAKB002003
ZDMBB00AAKB002145
ZDMBB00AAKB002208
ZDMBB00AAKB002209
ZDMBB00AAKB002210
ZDMBB00AAKB002278
ZDMBB00AAKB002406
ZDMBB00AAKB002425
ZDMBB00AAKB002551
ZDMBB00AAKB002631
ZDMBB00AAKB002693
ZDMBB00AAKB002803
ZDMBB00AAKB002804
ZDMBB00AAKB002805
ZDMBB00AAKB002830
ZDMBB00AAKB002831
ZDMBB00AAKB002875
ZDMBB00AAKB002877
ZDMBB00AAKB002952
ZDMBB00AAKB002989
ZDMBB00AAKB003042
ZDMBB00AAKB003079
ZDMBB00AAKB003140
ZDMBB00AAKB003151
ZDMBB00AAKB003224
ZDMBB00AAKB003286
ZDMBB00AAKB003327
ZDMBB00AALB003409
ZDMBB00AALB003410
ZDMBB00AALB003426
ZDMBB00AALB003509
ZDMBB00AALB003520
ZDMBB00AALB003550
ZDMBB00AALB003558
ZDMBB00AALB003615
ZDMBB00AALB003693
ZDMBB00AALB003694
ZDMBB00AALB003746
ZDMBB00AALB003832
ZDMBB00AALB003852
ZDMBB00AALB003950
ZDMBB00AALB004045
ZDMBB00AALB004157
ZDMBB00AALB004280
ZDMBB00AALB004281
ZDMBB00AALB004282
ZDMBB00AALB004283
ZDMBB00AALB004284
ZDMBB00AALB004285
ZDMBB00AALB004286
ZDMBB00AALB004491
ZDMBB00AALB004495
ZDMBB00AALB004513
ZDMBB00AALB004542
ZDMBB00AALB004560
ZDMBB00AALB004563
ZDMBB00AALB004601