Ducati GT 1000 Seat Comparison Image Gallery
After trying four different seats on the GT1000, I can say that the KonTour "Air Cooled" seat has transformed the GT1000.
To me, it's been well worth every dollar.
I am a regular webBikeWorld visitor and the GT1000 bloghas been a great help to me as a GT1000 owner.
I've purchased a few seats for the GT1000 over the last few years and thought that the experience might be helpful to others.
I am currently very happy with my GT1000, though it's been a relationship like many others, with ups and downs but with a long-term commitment to make improvements and keep things moving forward.
Most motorcycle seats are the primary point of contact between bike and rider.
But lets face it — unless your passenger is connected to your Chatterbox and has a few negative comments about your driving, the seat is probably your greatest source of discomfort when riding.
I've heard it said that the best feature of the stock GT1000 seat is the "DUCATI" in white lettering on the rear. Sad to say, I have to agree with that.
The following describes the seats that I've purchased and used during the four years that I've owned my GT1000. Please note, any prices mentioned are approximate and may not reflect current pricing.
Stock GT1000 Seat
Price:  Free with every GT1000 purchase.
Weight:  6.2 lbs
Source:  Ducati
Materials:  The base of this seat is a (slightly) flexible plastic of some type. The cover material is vinyl, attached to the seat base with staples. The foam padding type is unknown. The padding is minimal and tends to slope from back to front.
Comments:  If wearing jeans or street clothes this seat is very slippery for both driver and passenger. Even when wearing textile riding pants, my regular pillion (who is not a nervous type) is very insecure on this seat. With the padding shaped as it is, I constantly slide forward into the tank.
'Nuf said about this seat, it's why I began searching for a replacement.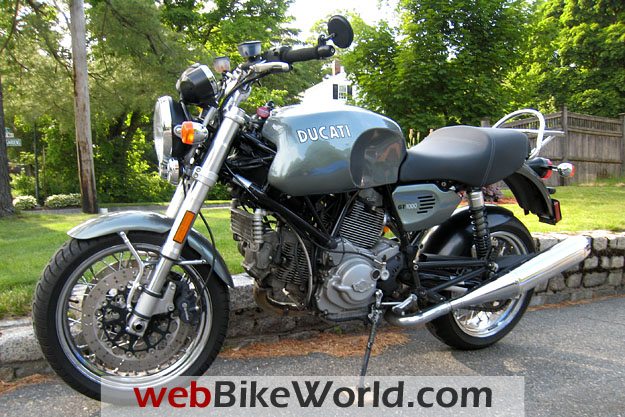 The Ducati Comfort Seat for the GT1000
Price:  Approximately $180 USD
Weight:  6.5 lbs
Source:  Ducati
Materials:  The base of this seat is a (slightly) flexible plastic of some type, visually the same as the stock GT seat. The cover material is a different vinyl from the stock GT seat, having a matte finish and is attached to the seat base with staples.
The foam padding type is unknown, but the Ducati website hints that it is some type of gel (Selle?). There is additional padding over the stock seat for both driver and passenger.
Comments:  This is the seat that Ducati should have shipped on the GT. If you are considering replacing your stock GT seat but have limited funds, buy this one.
The "DUCATI" on the rear of the seat is small, and tastefully embossed in the vinyl. The only complaint that I have ever heard about this seat is that it's difficult for those who you speed by when passing to read the Ducati logo.
Both the rider and pillion are treated to better padding and more of it over the stock seat, providing a slight but noticeable increase in leg-room. The seat cover is a far different material than the stock seat which means that all of the sliding around is virtually eliminated. My regular pillion (and also my reason for living, to hear her tell it) is very secure with this seat.
Of some interest, I had this seat on the GT when my Ducati service manager took it for a ride and he was positively gushing when he returned, said it was the best Ducati seat that he'd ever ridden on.
When wearing jeans on this seat, I can manage about 75 minutes of back road riding before I am itching to stop and take a break.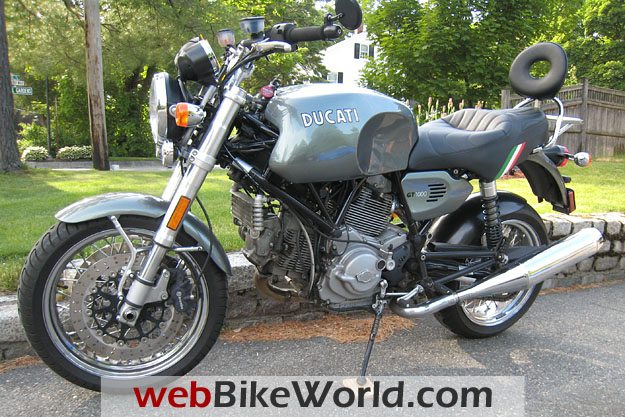 Corbin Canyon Dual Sport Seat for the Ducati GT 1000
Price:  Approximately $440 USD for the seat.
Accessories:  Approximately  $230 USD for the backrest.
Weight:  11.5 lbs (with backrest)
Source:  Corbin Motorcycle Seats
Materials:  The base of this seat is a heavy-duty plastic of some type, not much flex, and the points where it contacts with the bike frame are very sturdy rubber 'donuts'.
There is a cut-out for storage under the seat, similar to the ones on the stock and comfort seats, but no cover is provided (The purchaser is expected to use the storage cover from their original seat).
The seat cover is beautiful, custom leather that is fastened to the seat base by screws and not staples. The foam padding is top-shelf stuff, and the thickness of the padding is customized for each seat based on driver and passenger inseam.
Comments:  It's pretty obvious where the money went when you purchase one of these seats. Options abound, the quality of leather and workmanship is generally the best. The backrest is a feature welcomed by my passenger and it is the reason that I purchased the seat. Each seat is hand-built, so there is a delivery time to factor in to the delivery.
One thing which I would do if ordering this seat again is to ask Corbin to take some length off of the front. It seems to me to be too tight a fit against the tank, resulting in extra vibration being transmitted through the seat.
I begin to squirm after 15 minutes in this saddle and by 40 minutes need to take a break. My passenger doesn't have the same problem, which is why I'm suspecting the front of the seat as the culprit.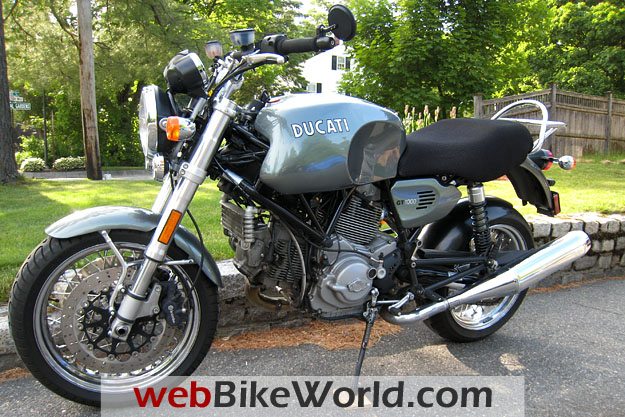 KonTour "Air Cooled" Seat
Price:  Varies by application (email KonTour for a quote).
Weight:  6.1 lbs
Source:  KonTour Motorcycle Seats.
Materials:  100% Mil-Spec?  Aircraft Quality?  For a motorcycle seat?  In short, you provide KonTour with your old seat (a good use for the stock GT seat), they remove and save the original padding and seat cover, then using your seat base with their high-tech materials build you a new seat.
The best explanation for their product is seen on their website <http://kontourseat.com>
Comments:  This is clearly not a traditional motorcycle seat. The mesh covering is odd looking at first, but it's growing on me. I've also had to vacuum crumbs (don't ask) from inside the weave.
Then there's the question of getting it wet; I chose to remove this seat when washing the bike but KonTour claims that water won't damage it.
As KonTour notes, the major cause of motorcycle seat discomfort is sticky clothing caused by sweat between you and the seat. Every traditional leather and vinyl seat will cause this condition.
On the other hand, the KonTour seat allows air to circulate between you and the seat foam, therefore no sweat. A close-up photo really shows just how deep the mesh which allows the air to circulate actually is.
The KonTour website makes some extravagant claims for this seat, so my expectations were sky high when it arrived. After roughly 1000 miles, I'm beginning to get a sense of what this seat is about.
To begin with, I expected to find that any vibration from the GT would not be transmitted through the seat, but I was mistaken. Vibration is still transmitted, however it's considerably less than I can feel from the Corbin seat, and somewhat less than the Ducati Comfort Seat.
The really significant improvement over a traditional seat is the benefit of having air flow between the rider and the seat foam. We've had a few hot (upper 80) days here in the north-east, days that I'd normally be sticking to my seat but there's no sticking whatever to the KonTour seat.
And on the flip side, the coolest weather that I've ridden it has been in the mid-40's and I really couldn't detect that the seat was making me any colder than usual.
Another benefit of the mesh is secure seating, there's very little sliding around on this seat.
So, how long a ride before I need a break?  I actually don't know yet. Prior to this seat I used the GT1000 for commuting and as an "afternoon" ride, perhaps 100 miles of back road riding before numb-butt got to me and I would call it quits.
With the KonTour there's no more seat discomfort and I now find myself thinking about adding some luggage and going on an actual tour with it.
One more thing about the Kontour Air-Cooled seat, and that's what I paid for it. The folks at KonTour prefer to email you a quote rather than publish prices on their website and I respect that.
I don't know the reason for their policy, but can guess that it's because each seat is hand made, and they can provide the most accurate and fair pricing only when they have the actual application. The seat made to my specifications cost approximately $600.00, which may differ, depending upon requirements.
I am willing to say the the KonTour seat is not inexpensive, but it's also not a fortune and it's really transformed the GT. To me, it's been well worth every dollar.

Summary
As the driver, I rate these seats from best to worst as follows:
KonTour "Air Cooled" Seat

Ducati Comfort Seat

Corbin Canyon Dual Sport Seat

Ducati Stock Seat
My regular passenger rates the same seats, best to worst in this order:
KonTour "Air Cooled" Seat
Corbin Canyon Dual Sport Seat
Ducati Comfort Seat
Ducati Stock Seat
Note: For informational use only. All material and photographs are Copyright © webWorld International, LLC since 2000. All rights reserved. See the webBikeWorld® Site Info page. Product specifications, features and details may change or differ from our descriptions. Always check before purchasing. Read the Terms and Conditions!
Owner Comments and Feedback
---
From "J.S.A." (7/10):  "I have a Corbin Canyon Dual Sport seat on my GT1000. The reviewer said "One thing which I would do if ordering this seat again is to ask Corbin to take some length off of the front. It seems to me to be too tight a fit against the tank, resulting in extra vibration being transmitted through the seat."
I have never experienced this problem. My seat barely touches the gas tank and it does not put any pressure on the tank. I would think that if vibrations were being transmitted from the tank to the seat then they would cause the seat to scuff the paint on the tank. I would return the seat to Corbin and explain the problem. They are very focused on customer satisfaction."
Photo of J.S.A.'s GT1000:  (and see John C.'s response regarding Corbin below):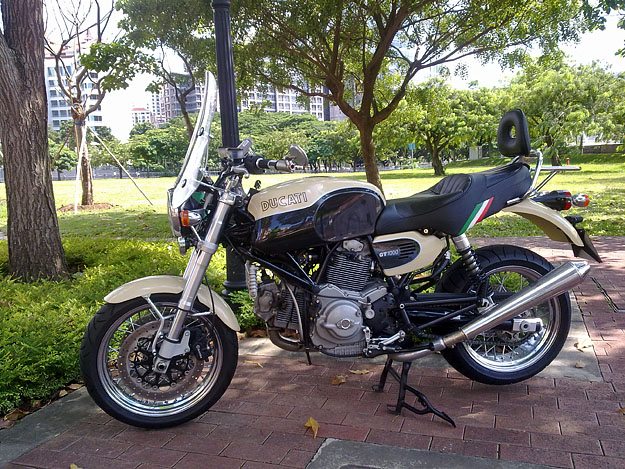 ---
From "S.B." (6/10):  "I don't ride a Ducati but, as with most riders, I can identify with the need to improve a stock seat. On my previous ride, a 1980 Yamaha XS850SG, I bought a Saddlemen seat and was never satisfied with it. Could not see spending several hundred dollars on seat for a bike that cost less than $1300.
I had the seat softened up a bit, to little avail. I modified it myself and got it a bit too soft. Here's where previous experience came in handy. The wooden beads (See B.L.'s comments below) work great – in my experience – on soft seats; not so much on hard seats. Wooden beads address air flow and heat, but do nothing to soften a hard seat.
My current ride – a 1987 BMW R80RT – came to me with a Corbin seat on it. No softy by any means. Plenty comfortable except for the seam that runs across middle of the seat – and my backside. After a couple hours, it is a constant pain.
The beads put me a bit higher than I like on this bike and added a hard barrier that wasn't helping. Alaska wool did not do the trick.
The good people at AirVent seem to given up, due to too much success. Air Hawk is just too much money for this tightwad. Then I read about the Eagle Air Seat – the poor man's Air Hawk.
This adds about 1/4 inch seating height and completely insulates me from the hated seam on my Corbin. The only down-side is the inflation valve location. But now, my rear-end comfort does not dictate when or how often I stop. And that's a great improvement!  For about 10% of what that absolutely delightful KonTour Ducati seat cost.
It's good to know what other folks have done to find the right seat – something that differs from bike to bike and rider to rider."
---
From "B.L." (6/10):  "An inexpensive alternative to the "KonTour 'Air Cooled' Seat" would be a wooden bead seat cover. Before you laugh, give it some consideration, and try looking up reviews of them on the Internet.
I found one review article where a group of five experienced riders rode five different bikes, from coast to coast of the USA, swapping five different seat covers between them and their bikes. Everybody had lengthy riding time sitting on each of the five covers materials: wooden beads, sheepskin, an AirHawk air seat cover, a gel pad, and an extra thick foam pad cover.
All reviewers liked the AirHawk best (the most expensive, as well; tried one, but it didn't work at all for me, or my wife), but the surprising second choice was the old-fashioned wooden bead seat cover, for all five riders!
The wooden beads provided excellent air flow (in 50-degree weather, it can be rather cool you your bottom — been there, done that), which kept the riders' bottoms dry, and comfortable — no monkey-butt!
The beads also allowed pressure points to change, dramatically (my personal experience!) just by shifting your position one-half inch! It really doesn't take much of a shift to alter the pressure on your bottom, and this can be a wonderful relief.
My wooden bead seat cover, made specifically for motorcycles, cost me $40+S/H. I bought two, one for each position. My wife and I rode for eight hours on the first day of our nine-day trip, last year, and we finally had to stop because it was getting dark, and our hip joints were getting soar, but our bottoms were ready to keep going for a while longer!
Without the wooden beads, on the same seat, we needed to stop every two hours to start with, and with each stop, our riding time diminished down to 1-1/2 hours, then none, after five hours, even with 45-minute breaks.
Cab drivers all over the world use wooden bead seat covers. Thousands of cabbies can't be entirely wrong. I recommend wooden bead seat covers to all who comment on their seat discomforts. While they don't work for everyone, they work for a great many.
Of all of the seat cover options out there, they are among the least expensive to try. While it would be nice to have a seat cover, built into the seat, that allows ample air flow to cool, and remove the perspiration from my bottom side, a $600 seat is not in my budget, but a $40 wooden bead seat cover was. Thanks for the article, and keep up the great work. Cheers!"
Editor's Note:  I haven't tried the beaded seat covers but I understand they're popular with BMW and other touring riders.
A couple of things to think about with added-on seat covers, based on my experience, is that they will increase the seat height. This is the case on the GT1000, which is a bit tall for me to begin with; a gel seat pad I tried raised the seat height just enough more to make it too tall.
Also, some of the air filled or gel seat pads I've tried make me feel like my butt is moving around on the seat during turns. The gel or air that makes the pad comfortable also adds a sort of rocking motion that felt disconcerting. For straight road touring, this effect isn't a problem, but just to note that it made me feel a bit like I was sitting in a rowboat out on the sea!