DESMOSEDICI RR: START YOUR ENGINES!
Ducati reports progress on the development and testing of the exclusive V4 engine for the upcoming street version of the Desmosedici MotoGP motorcycle.
Officially presented to the "Ducati tribe" in May at World Ducati Week 2004, the development of the Desmosedici RR project continues to evolve. For the last few weeks the new MotoGP Racing Replica Desmodromic 4-cylinder L engine has been put through the paces by the Ducati R&D department for its first reliability and durability tests.
The Desmosedici RR engine is undergoing motoring and firing tests aimed at determining the life and strength of the components subjected to the stresses this high power engine creates.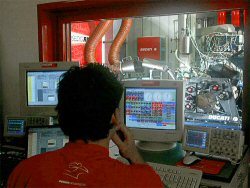 Testing of this engine will proceed as planned, proceeding to dynamic tests and the demanding and complex development that will take this new Ducati gem from the track to the road.
An ambitious and extremely demanding project, the new frontier of Ducati technological development preserves all the fundamentals of the bike used in the MotoGP World Championship. A dream come true, which once again testifies to Ducati's ability to transfer its vast racing expertise to the road.
This project offers unparalleled level of technological development. The Desmosedici RR engine accurately reflects the actual MotoGP engine: the traditional Ducati desmodromic timing system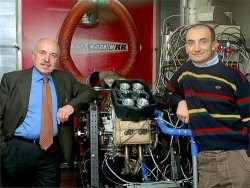 combines perfectly with the modernity of the 989 cc 4-cylinder (4 valves per cylinder) L structure, using cutting-edge technologies previously confined exclusively for racing, such as camshafts driven by a cascade of gears, entirely removable 6-speed gearbox, in addition to the use of high-quality materials and alloys, like sand-cast aluminium for the casing and heads, titanium for the connecting rods and valves, and magnesium for the engine covers.
The exclusivity of the new Desmosedici RR will be confirmed by meticulous care to detail and assembly. All this, together with top-notch performance, will make the Desmosedici RR the new standard in the motorcycle world.
As planned, the bike will only be revealed in its final form in November, 2005, on the occasion of EICMA in Milan. Delivery of the first Desmosedici RR will take place at WDW2006 where, on the same stage that saw the initial presentation of the project, the first dream machine will be handed over to a lucky Ducatista
Other WebBikeWorld News Posts