Ducati Carbon Fiber Belt Covers Image Gallery
Carbon fiber parts, in the form of belt covers, fenders and other bits are probably among the most frivolous of motorcycle accessories.
When done right, carbon fiber looks great.
But there's a lot of poor quality carbon fiber out there, which can make even an expensive bike look bad.
The Shift-Tech carbon fiber belt covers are nicely made and have good quality. They don't come cheap, but they look fantastic!
Does anyone really need carbon fiber motorcycle parts?
A rhetorical question, for sure. Surely motorcycle racers like Valentino Rossi, Casey Stoner and Ben Spies depend on carbon fiber for weight reduction and other technical reasons.
But when we're talking street bikes, the answer is also obvious…to me, anyway. It's very difficult, if not impossible, to make a technical argument for carbon fiber on a street bike.
Replacing heavy-duty polycarbonate or even steel (do they still make stuff from steel?) fenders, airbox covers and other bits with carbon fiber saves only a few mosquito-hide grams of weight. Carbon fiber can be fussy to install and it can be prone to discoloration or delamination from the sun's UV rays.
Twist the bolt with one nanogram too much torque when you're installing your $200.00 brake fluid reservoir cover and your expensive bling turns to instant dust.
So what's the big attraction? One answer: it sure does look good!
There are probably some motorcycle owners who don't like the look of carbon fiber, and I can fully understand that. You can always go in the opposite direction and add weight rather than saving it by choosing chrome instead. And low-rent customizers can work wonders with a simple can of hammertone paint.
But for the rest of us — and especially for owners of Italian exotica — there's only one fix when the bling jones hits: good ol' carbon fiber. And lots of it!
I got the urge recently to tart up the Multistrada and the first thing that needed tarting was those hideous-looking stock belt covers. The faded battleship gray plastic color looked like the inside of an industrial waste bin — way out of character for the otherwise shiny black metallic gloss coat covering both the frame and bodywork on this bike.
The belt covers had been bothering me since Day One and I was seriously considering that can of hammertone to a point of browsing the aisles of the local hardware store to see what flavors were available. Fortunately, nothing struck my fancy, so I decided there was only one answer: carbon fiber.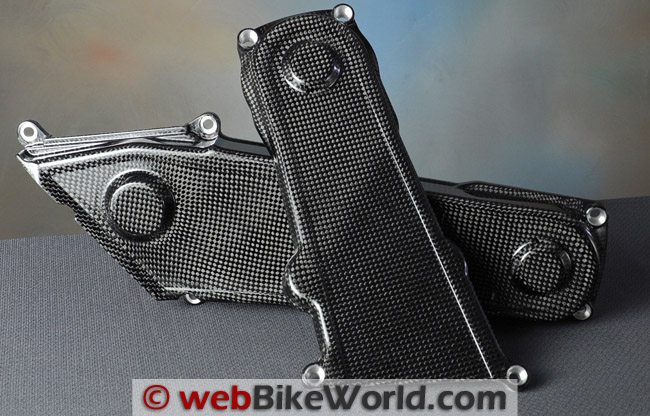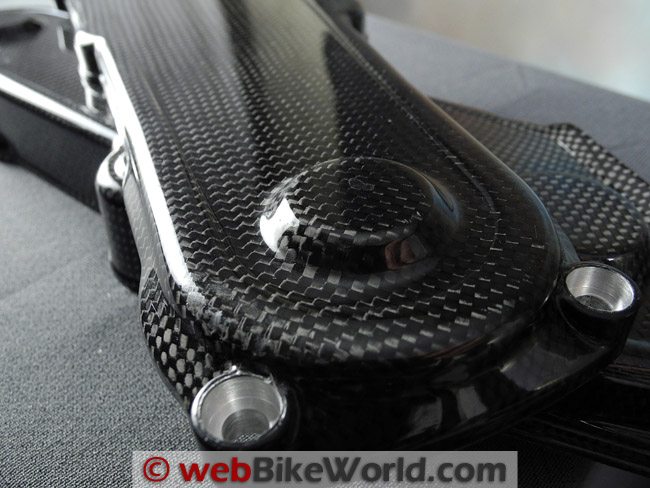 Shift-Tech Carbon Fiber
I'll admit to not knowing much about carbon fiber, although we did publish this interesting articleby Vin Heron several years ago that describes how to make your own carbon fiber parts. All you need is carbon fiber (natch), resin and…a vacuum cleaner.
In fact, now that I think about it, I'm pretty sure the belt covers would be the first real carbon fiber parts I ever purchased.
Not that I haven't been looking at it. I've seen my share of cheesy-looking carbon fiber; the worst kind of fake carbon fiber and even carbon and/or fiber. As far as I'm concerned, I'd rather use cardboard than some of the stuff that's sold.
Like, for example, when I was searching for the hugger I installed on the Multistrada. I went with the official Ducati part, thinking the quality would be perfect. Instead, it was an absolute piece of junk that even the retailer couldn't believe. It went back immediately, and this after we waited for weeks to get it shipped from Italia.
So when I put out a call to webBikeWorld visitors and local Mid-Atlantic Ducati Club members for recommendations on good quality carbon fiber, all signs pointed to Shift-Tech.
I wish I could tell you more about Shift-Tech, but I know very little and the company's website is strictly business. It screams "You want carbon fiber? We got it. The best there is."  I mean that — literally. Well, almost literally anyway…
The first thing that greets you upon visiting their website is this statement:
"Looking for cheap parts at low quality ? THIS IS NOT the place for you then, if you want high quality and 100% real carbon then we have what you need.  "CHEAP" does not just reflect the price…"
I figured that Shift-Tech was for me because: a.) I was definitely not looking for cheap parts at low quality; and b.) I was looking for 100% real carbon. I knew going into this that I'd be spending good money on quality parts and that there was no reasonable justification for adding carbon fiber to a Multistrada 620. But, as long as I was spending the money, why not buy the good stuff?
Shift-Tech sells carbon fiber directly from their website or through a network of retailers. Since the Multistrada 620 was only produced for two years, not all retailers list parts for this motorcycle, but the 620 cc engine was also used in hordes of Monsters, so basically anything that fits a Monster 620 will fit the Multistrada with the same engine. For example, the Multistrada hugger I installed was also originally designed for the Monster.
After confirming via an email to Shift-Tech that the Monster 620 belt covers would also fit the Multistrada 620, I ordered a set from Gotham Cycles, also recommended by local Ducati club members.
The covers are listed on the Gotham Cycles website as the "Ducati Carbon Fiber Belt Cover Set: Monster 620/750/800" and the price was — get ready — a whopping $230.98 plus $15.00 for shipping, for a total of $245.98.
Yep, I know — that's the kind of money you don't want your S.O. to know about, so make sure you cover your tracks. Pretty outrageous for a set of non-functional parts that serve no practical function and are more fragile than the originals, eh? But like I said, when it comes to farkling up the ride, what's money? I figured it was a one-time extravagance as a little present from me to me.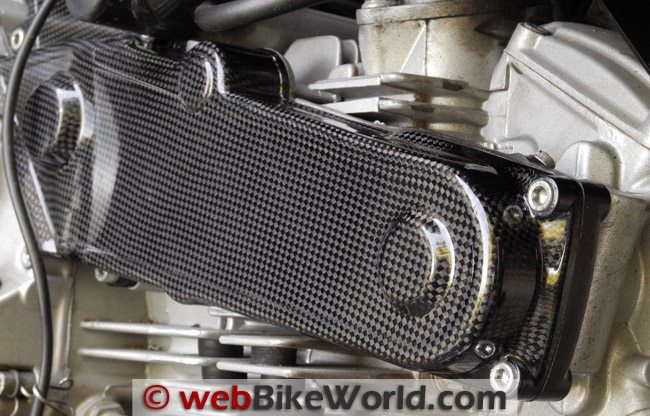 Removing the Belt Covers
Removing the belt covers on the 620 engine is a piece of pie. There are a total of nine 5 mm Allen head screws. Two of the screws are slightly longer; these go through the "crook of the elbow" where the vertical and horizontal covers meet.
Getting ahead of myself a little bit here, but our official Ducati Multistrada 620 shop manual does not list a specific torque setting for the belt cover screws that I can find, and I've looked carefully. It does have an entry of 10 Nm for general 5 mm screws, which would be 7 lb-f. ft. (or 88.5 lb-f. in.) which seems about right.
The screws came out with little effort and when you think about it, there's nothing the screws need to do other than lightly hold the covers in place — it's not like the covers are a stressed member or anything. The point here is to not overdo it; the screws should come out easily and only a very light amount of tightening is necessary when they're replaced.
Space is tight between the rear cylinder cover and the unique Ducati tube frame, so it takes a bit of fiddling to get that cover off. There is a small window of room where the cover slips right out once you figure it out. Patience is a virtue; doubly so when installing the fragile carbon fiber replacement cover.
The machined edges of the cylinders were clean, but I wiped them down carefully with a touch of contact cleaner and a lint-free rag just to make sure. There shouldn't be any gasket material between the covers and the cylinders because the covers are more decorative and slightly protective than anything, as you can see from customized Ducatis that run with no belt covers or "holy" belt covers. But it pays to make sure the mating surface is clean anyway.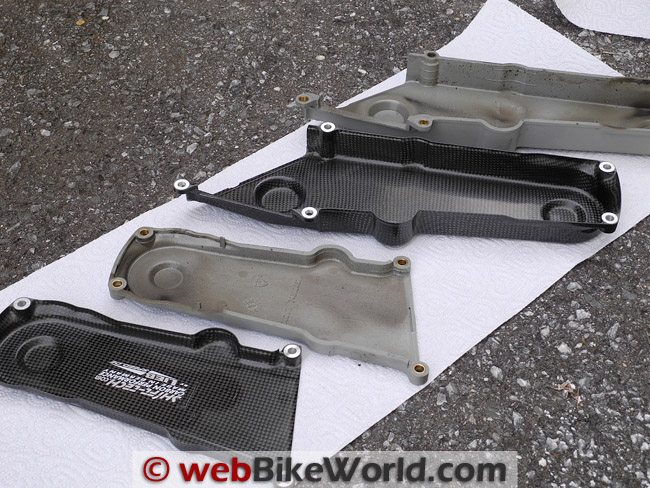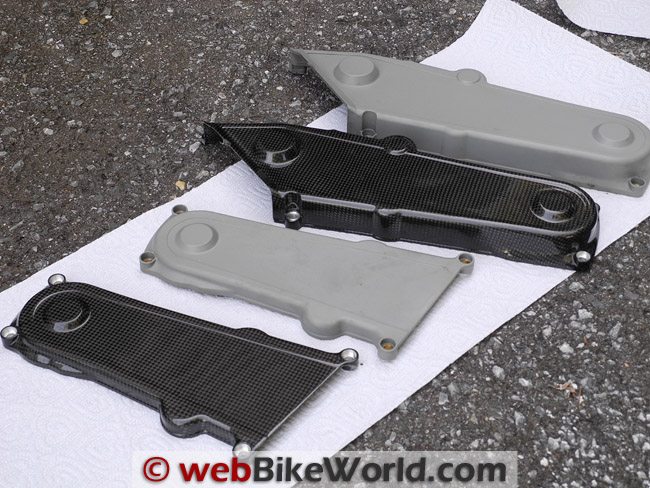 Installing the Carbon Fiber Belt Covers
Not much of the unexpected here, except to be careful when sliding the covers over the cylinders. I first laid out both the old and new covers to make sure everything precisely lined up, which it did.
This is another benefit of paying extra for good quality — the screw mounting holes in the carbon fiber covers are exactly aligned, so there should be no problem installing the covers. They're made from countersunk aluminum machined stock that are molded into the carbon fiber. The tolerances are very close and perfect.
The covers are installed in the reverse order from how they were removed; i.e., install the rear cylinder cover first, then the front horizontal cover.
It's best to just barely snug up all of the screws by hand first to make sure everything is lined up and fitted. Then I went around cross-wise to put the final tightening and torque on the screws.
I'll admit that I tried an inch-pound force torque wrench but 10 Nm seemed excessive to me, compared to the light effort it took to remove the screws. So the other 8 screws were tightened with just a touch of hand torque using the ball end of my Craftsman 5 mm T-handled Allen wrench (review).
Only after I installed the covers did I notice the one flaw in the carbon fiber. One of the rounded edges is slightly damaged, probably in the molding process but perhaps by over-zealous sanding or finishing during the final polishing stage.
It shows up in this close-up photo below, but otherwise you'd have to really be looking for it to see it.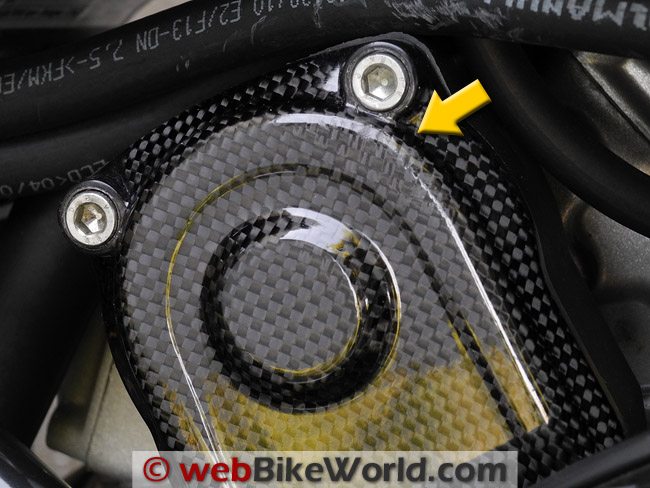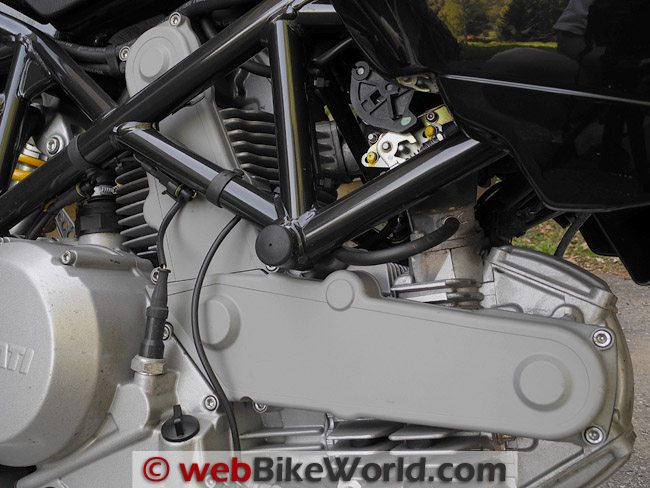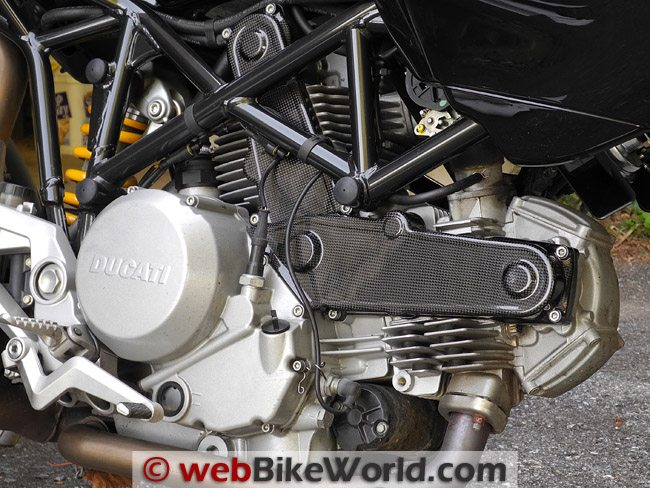 Conclusion
The Shift-Tech carbon fiber belt covers look great and do nothing other than add some style to the Multistrada. I think it's necessary to completely forget about the cost of these parts — you're buying them simply as an extravagance and there's no logical reason or argument to be made why you'd otherwise need them.
I'm sure there are other quality carbon fiber manufacturers out there also. But we all agree: these look great, and that's what counts!
w

BW

 Product Review: Shift-Tech Ducati Carbon Fiber Belt Covers
Available From: Shift-Tech
List Price: $230.98
Colors: Carbon fiber gray.
Made In: U.S.A.
Review Date: December 2010
Note:
 For informational use only. All material and photographs are Copyright © webWorld International, LLC since 2000. All rights reserved. See the webBikeWorld® 
Site Info page
. Product specifications, features and details may change or differ from our descriptions. Always check before purchasing. Read the
Terms and Conditions
!
Owner Comments and Feedback