Aprilia and Moto Guzzi have recalled 197 bikes over an issue with a dragging front brake.
The issue affects the following bikes made between 2015 and 2019 (Vehicle Identification Numbers of bikes are included at the end of this article):
Aprilia
Aprilia Dorsoduro 900

Shiver 750/900

Dorsoduro 750/900
Mana 850
Moto Guzzi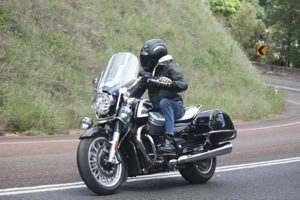 California 1400 Touring
California 1400 Touring SE
Eldorado
Audace
MGX-21
Dragging brake
The official notice filed wth the Australian Competition and Consumers Commission says the front brake master cylinders "may cause the front brakes to drag or bind, affecting handling and brake performance".
"Reduced brake performance and motorcycle handling increases the risk of accident or injury to the rider(s) and other road users," the notice says.
Owners of bikes with the dragging brake issue should contact their authorised Aprilia or Moto Guzzi dealers to book their vehicle for inspection and, if necessary, replacement of the front brake master cylinder, free of charge.
For more information, contact the nearest authorised Aprilia or Moto Guzzi dealer or email warranty@psimporters.com.au
Owners can click on these links to find their nearest authorised Aprilia dealer or Moto Guzzi dealer.
Even though manufacturers and importers contact owners when a recall is issued, the bike may have been sold privately to a rider unknown to the company.
Therefore, Motorbike Writer publishes all motorcycle recalls as a service to all riders.
In Australia, recall notices are issued by the manufacturer and the Department of Infrastructure through a voluntary industry code under the Australian Competition and Consumer Commission.
While any recall is not good news for the manufacturer, it shows that they are largely diligent in fixing problems.
Despite hundreds of recalls by various automotive manufacturers, only the Takata airbag recall has ever been mandatory.  All others have been issued by the manufacturer.
If you believe there is an endemic problem with your bike that should be recalled, contact the ACCC on 1300 302 502.
To check whether your motorcycle has been recalled, click on these sites:
• USA
• Canada
VINs of affected bikes
Affected VIN
ZD4KB0000HS000538
ZD4KB0000HS000541
ZD4KB0001HS000547
ZD4KB0001HS000550
ZD4KB0001JS000957
ZD4KB0001JS001252
ZD4KB0002HS000539
ZD4KB0002JS000840
ZD4KB0003HS000548
ZD4KB0003HS000551
ZD4KB0003JS001253
ZD4KB0004JS000841
ZD4KB0004JS001830
ZD4KB0005HS000549
ZD4KB0005HS000552
ZD4KB0006HS000544
ZD4KB0006JS000842
ZD4KB0006JS000954
ZD4KB0006JS001831
ZD4KB0008HS000545
ZD4KB0008JS000843
ZD4KB0008JS000955
ZD4KB0008JS001250
ZD4KB0009HS000537
ZD4KB0009HS000540
ZD4KB000XHS000546
ZD4KB000XJS000844
ZD4KH0000HS000599
ZD4KH0000JS001709
ZD4KH0000JS001712
ZD4KH0002JS001470
ZD4KH0002JS001565
ZD4KH0003HS000726
ZD4KH0003JS001851
ZD4KH0004HS000721
ZD4KH0004HS000735
ZD4KH0004JS001468
ZD4KH0004JS001471
ZD4KH0004JS001566
ZD4KH0005HS000999
ZD4KH0005JS001852
ZD4KH0006HS000722
ZD4KH0006HS000736
ZD4KH0006HS001000
ZD4KH0006JS001469
ZD4KH0006JS001472
ZD4KH0007HS000731
ZD4KH0007JS001710
ZD4KH0008HS000723
ZD4KH0008HS001001
ZD4KH0008JS001473
ZD4KH0008JS001859
ZD4KH0009HS000598
ZD4KH0009HS000729
ZD4KH0009HS000732
ZD4KH0009JS001711
ZD4KH000XHS000724
ZD4KH000XHS000996
ZD4KH000XJS001474
ZD4RAG000ES003834
ZD4RAG000ES003946
ZD4RAG000GS005182
ZD4RAG001ES003146
ZD4RAG001ES003194
ZD4RAG001FS004119
ZD4RAG001GS004543
ZD4RAG001GS005093
ZD4RAG001GS005112
ZD4RAG003GS004544
ZD4RAG003GS005094
ZD4RAG004ES003254
ZD4RAG004GS004987
ZD4RAG004GS005198
ZD4RAG005ES003831
ZD4RAG005FS004270
ZD4RAG005GS005095
ZD4RAG005GS005176
ZD4RAG007ES003393
ZD4RAG007GS004806
ZD4RAG007GS005096
ZD4RAG007GS005177
ZD4RAG007GS005180
ZD4RAG007GS005194
ZD4RAG008GS004961
ZD4RAG008GS005169
ZD4RAG009ES003833
ZD4RAG009FS004272
ZD4RAG009GS004807
ZD4RAG009GS005181
ZD4RAG00XGS004962
ZD4RAG00XGS005092
ZD4RAG00XGS005111
ZD4RAG00XGS005173
ZGULC0000GM200347
ZGULC0001GM200356
ZGULC0002FM200283
ZGULC0002GM200348
ZGULC0002GM200351
ZGULC0003FM200275
ZGULC0003GM200357
ZGULC0003GM200360
ZGULC0003GM200391
ZGULC0003GM200519
ZGULC0004GM200349
ZGULC0004GM200352
ZGULC0004GM200514
ZGULC0005GM200358
ZGULC0005GM200392
ZGULC0006FM200271
ZGULC0006GM200353
ZGULC0007FM200277
ZGULC0007GM200359
ZGULC0008GM200354
ZGULC0008GM200516
ZGULC0009GM200346
ZGULC000XGM200355
ZGULCA001HM000214
ZGULCA003HM000215
ZGULCA003HM000358
ZGULCA003HM000361
ZGULCA005HM000216
ZGULCA007HM000217
ZGULCA009HM000218
ZGULCA00XHM000213
ZGULCB000HM000159
ZGULCB000HM000162
ZGULCB000JM000393
ZGULCB001HM000087
ZGULCB001HM000154
ZGULCB001HM000302
ZGULCB002JM000394
ZGULCB003HM000155
ZGULCB005HM000156
ZGULCB006HM000084
ZGULCB006HM000294
ZGULCB007HM000157
ZGULCB007HM000238
ZGULCB007HM000286
ZGULCB008HM000085
ZGULCB008HM000152
ZGULCB008HM000295
ZGULCB009HM000161
ZGULCB00XHM000086
ZGULCB00XHM000153
ZGULCB00XHM000234
ZGULCB00XHM000301
ZGULCE000HM000079
ZGULCE000HM000082
ZGULCE000HM000096
ZGULCE002HM000083
ZGULCE002HM000097
ZGULCE004HM000098
ZGULCE006HM000099
ZGULCE007HM000080
ZGULCE007HM000094
ZGULCE009HM000078
ZGULCE009HM000081
ZGULCE009HM000095
ZGULCE00XHM000087
ZGULVB000GM200306
ZGULVB000GM200323
ZGULVB001GM200315
ZGULVB001GM200332
ZGULVB002FM200208
ZGULVB002GM200307
ZGULVB002GM200324
ZGULVB003FM200217
ZGULVB003GM200316
ZGULVB004FM200274
ZGULVB004GM200308
ZGULVB004GM200387
ZGULVB005FM200199
ZGULVB005GM200317
ZGULVB006GM200388
ZGULVB007FM200284
ZGULVB007GM200318
ZGULVB008FM200214
ZGULVB009FM200206
ZGULVB009GM200305
ZGULVB009GM200319
ZGULVB00XGM200331
ZGULVE001GM200235
ZGULVE002GM200230
ZGULVE003GM200236
ZGULVE004FM200163
ZGULVE004GM200214
ZGULVE004GM200231
ZGULVE005FM200091
ZGULVE006FM200097
ZGULVE006GM200182
ZGULVE006GM200232
ZGULVE007FM200092
ZGULVE008FM200098
ZGULVE008FM200165
ZGULVE008GM200233
ZGULVE009FM200093
ZGULVE00XGM200234