The ubiquitous army surplus shoulder bag is being replaced by more trendy and useful motorcycle bags with special compartments and extra features.
Riders love a one-shoulder bag because it is easy to access, but they can also tend to flap around and get in your way, and they often don't have many compartments or much weather protection.
American motorcycle luggage company Dowco has now added the Iron Rider Messenger Bag which can be worn by the rider or mounted directly to the luggage rack or sissy bar of the motorcycle, says Mitch Andrews, product engineer.
The shoulder strap means the bag can be slung over one shoulder and worn across your back with soft padding and webbing so it doesn't irritate you, make you sweat or flap around.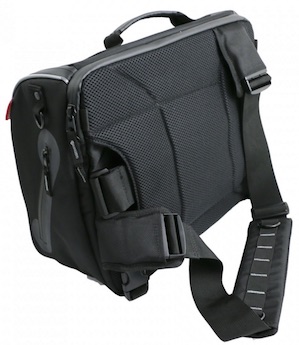 You can also easily swivel the around to your front to conveniently access items inside without having to take it off your shoulder.
The same strap also allows it to be secured over a sissy bar or luggage rack and the clips will securely lock it in place.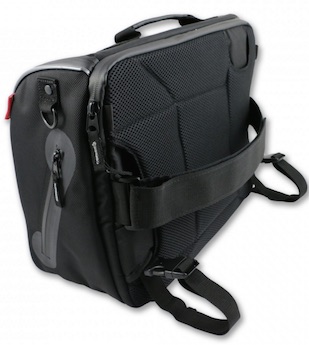 The Messenger bag has water-resistant zippers, a rain cover, padded sleeves to protect your tablet or laptop and a sturdy base to allow the bag to stand upright for easy access.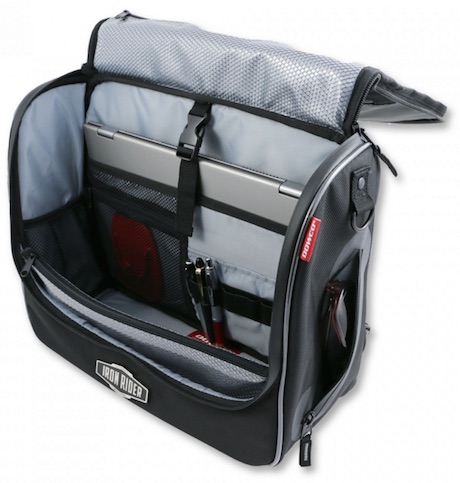 The bag is sized appropriately to carry your day-to-day necessities at 16.5" x 12.5" x 6.75".
It has multiple exterior and internal soft-lined storage pockets, reflective piping for nighttime visibility and safety and integrated strapping buckles to mount to your motorcycle.
The Iron Rider Messenger bag is made of 1680 denier polyester and comes with a two-year limited warranty.
It costs $US124.99 and is available online.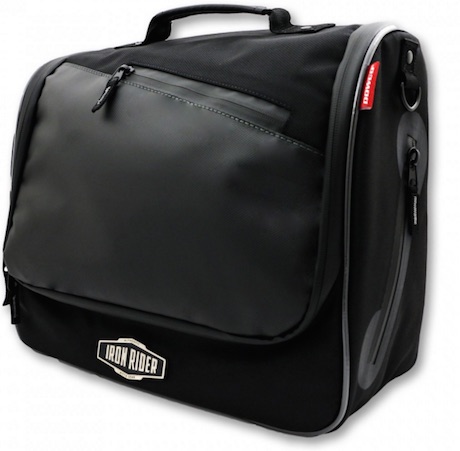 "When riders work and live in an urban environment, their messenger bag becomes an extension of themselves; everything you need for your day needs to fit it one bag," says Mitch.