Motorcycle tour company India Travelz has offered Motorbike Writer readers a special US$250 (about A$325) discount on their tours.
Just click below to search for availability and to make a booking. Make sure you include the coupon code MotorbikeWriter to get your discount.
Tours are reasonably priced from less than US$3000 (about A$3900) for a two-week trip. All prices are listed in US dollars on the website.
Searching Availability…
Actually India Travelz don't call them "tours". They prefer the terms "expeditions" and "journeys".
Marketing manager Ilona Solo says they specialise in "off the beaten path trips" for small groups.
"Even the popular trips offered are designed to take our bikers away from the crowds and explore the less trodden, touristic path," she says.
Right now, they are promoting their 15-day Ladakh motorcycle tour costing US$3984 (about A$5200) for the rider and $3484 (about A$4500) for a pillion and leaving in May and August each year.
"Ladakh is a well-known destination. However, this trip goes far beyond the usually visited places, to explore some of the most rural regions of India," she says.
"We ride next to the India-Tibet boarder, through Kardung La, the world's highest motor-able road. We experience a fascinating introduction to Buddhist culture and religion at the backdrop of some of the highest ridges of Indian Himalayas.
"Riding through this mountain-surrounded area allows a secluded feeling, of being away from civilisation."
The next Ladakh trips depart on May 26, August 3, 2016, and May 27, August 13, 2017.
All of their tours/expeditions/journeys are conducted on Royal Enfield motorcycles so riders get the full Indian experience.
Founder Raviv Roimisher started India Travelz in 2012, after travelling in India for more than 10 years.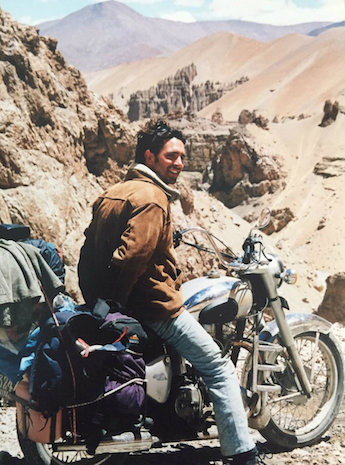 "The decision to give birth to our own business was generated by the fumes of our passion and love for India, and deep motivation to find thrills on one of the Himalayan peaks," he says.
We realised that the key component to creating extreme, unforgettable expeditions was missing in all travel agencies and tour operators that were already available.
"For me, travelling is a way of life, and travelling in India is the icing on the cake. For the past several years I have been researching Indian culture and history, focusing on political philosophy."