Ducati is the latest manufacturer to announce it will take over the direct import of its bikes into Australia from local company NF Importers next year.
It follows a similar announcement by KTM/Husqvarna earlier this year and Harley-Davidson about 15 years ago.
From next year there will be 11 direct importing manufacturers in our market and there could be more to follow.
So what does manufacturer direct importing mean for customers and dealers?
Retired industry veteran Stuart Strickland says there are both good and bad affects from direct manufacturer imports.
The 70-year-old has more than 40 years' industry experience and was awarded an Order of Australia Medal in 2012 for his service to motorcycling. (See more career highlights at the end of this article.)
Affect on dealers
"My introduction to the motorcycle industry was at Milledge Brothers. Alex Milledge had a great relationship with his dealers. He was a consistent entity as were his dealers," Stuart says.
"Policy was straightforward and consistent. His door was open to his dealers and together they did well selling bikes he imported."
Stuart says that when manufacturers move into direct importing, their policy is "not straightforward and corporate manoeuvres occur regularly".
"Senior appointments often come from head office without local industry knowledge.
"Their emphasis is mainly on 'moving iron'," he says.
"Factories may force their subsidiaries to take numbers local management don't want."
Stuart also says there can be a lack of talent among the Australian staff.
"Locals who work for the manufacturers can be an issue as they don't have any skin in the game and it's rare to find one who has actually run a successful business," he says.
"Dealers get frustrated with the constant changes and the regretfully incompetent representatives appointed by incompetent management. It creates havoc for dealers who work under a dictatorial franchise system."
Stuart says manufacturers do not seem concerned about the business viability of dealers.
"Rarely does return on investment get discussed," he says.
"Dealers are issued with constant franchise breaches which are used to intimidate and wear down resistance to policy that is often unfair." 
Cheaper bikes?
Pricing motorcycles can be a complex issue for the direct importer, Stuart says.
One of the most vexing points for importers are the tax implications.
He says the tax office in the manufacturer's home country as well as the export country each want their fair share of the manufacturer's revenue.
"It's easy for manufacturers to set pricing so they make more profit in their home country than in the subsidiaries countries," he says.
"But the tax offices are on to this. They compare revenue and tax with like businesses and if they believe there is anything irregular there can be heavy fines."
Stuart says exchange rates also have a huge impact on retail pricing.
"A weak Australia dollar is great for exporters but bad news for importers," he says.
"No manufacturer wants to be sitting on piles of obsolete or uncompetitive models, impeding financial competence."
He says there are many factors influencing retail price and buyers should be wary of manufacturers who get the local release price wrong.
This can result in massive discounting when the model fails to sell at a too-high price.
"This can have a huge impact on resale and trade values," Stuart says.
Model choice
Australia's market size also has issues for direct importers on which models to import.
"A great degree of skill is required to pick models that the buyers want and more skill to price it right at introduction," he says.
"Australia has very little if no influence on model development and currently sits in 32nd place in terms of volume in the world."
However, he says companies such as Honda which he worked for have been able to use Australia to test new models.
"If they can get it wrong here, there isn't too much global impact on the company.
"Although it's not big, Australia is a sophisticated market, so it's an excellent place to trial things."
More direct imports?
Will more manufacturers decide to take over their own imports?
"There has to be a tipping point where they show interest," Stuart says.
Ducati sold less than 2000 last year and the only brand with more sales that is not directly imported is Triumph (2122).
"Triumph would have to be having a look at it," Stuart says.
"It all comes back to what the parent company is doing and whether they are interested in investing money and staff in Australia."
Stuart Strickland, OAM, career highlights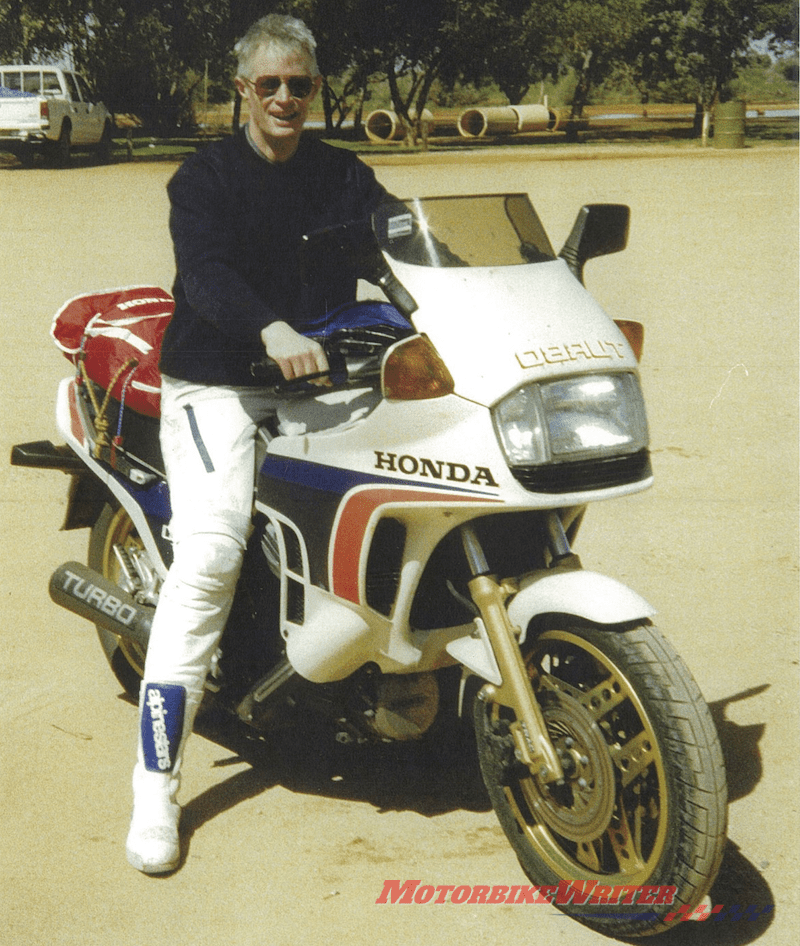 Motor Trades Association of Australia executive chairman 

Australian Motorcycle Dealers Association 

from 2014 to his retirement last month;

Chairman of the Motorcycle Division of the Federal Chamber of Automotive Industries and life member since 2007;

Victorian Motorcycle Advisory Council board member;

Australian Scooter Federation co-founder;

Ulysses Club member from 1990;

Honda Australia MPE managing director 2005-2010, executive 1990-2010 and employee 1981-1990;

Honda Australia Rider Training program co-developer 1989;

Victorian Automobile Chamber of Commerce motorcycle chair;

Director and Board Member, Motorcycling Australia from 2011;

Milledge Brothers parts and general manager 1971-81.