DicE Magazine has just paired up with Zach Hindes of Hindes Design to punt out a gorgeous, track-oriented, custom Indian Chief Dark Horse for the masses. 
Christened the R/T FOUR THIRTEEN, the bike showcases serious 70s-style racing era componentry, with the added quirk of ultra-modern, urban-inspired artwork for the fairings.
But first, the inspiration to create such a machine.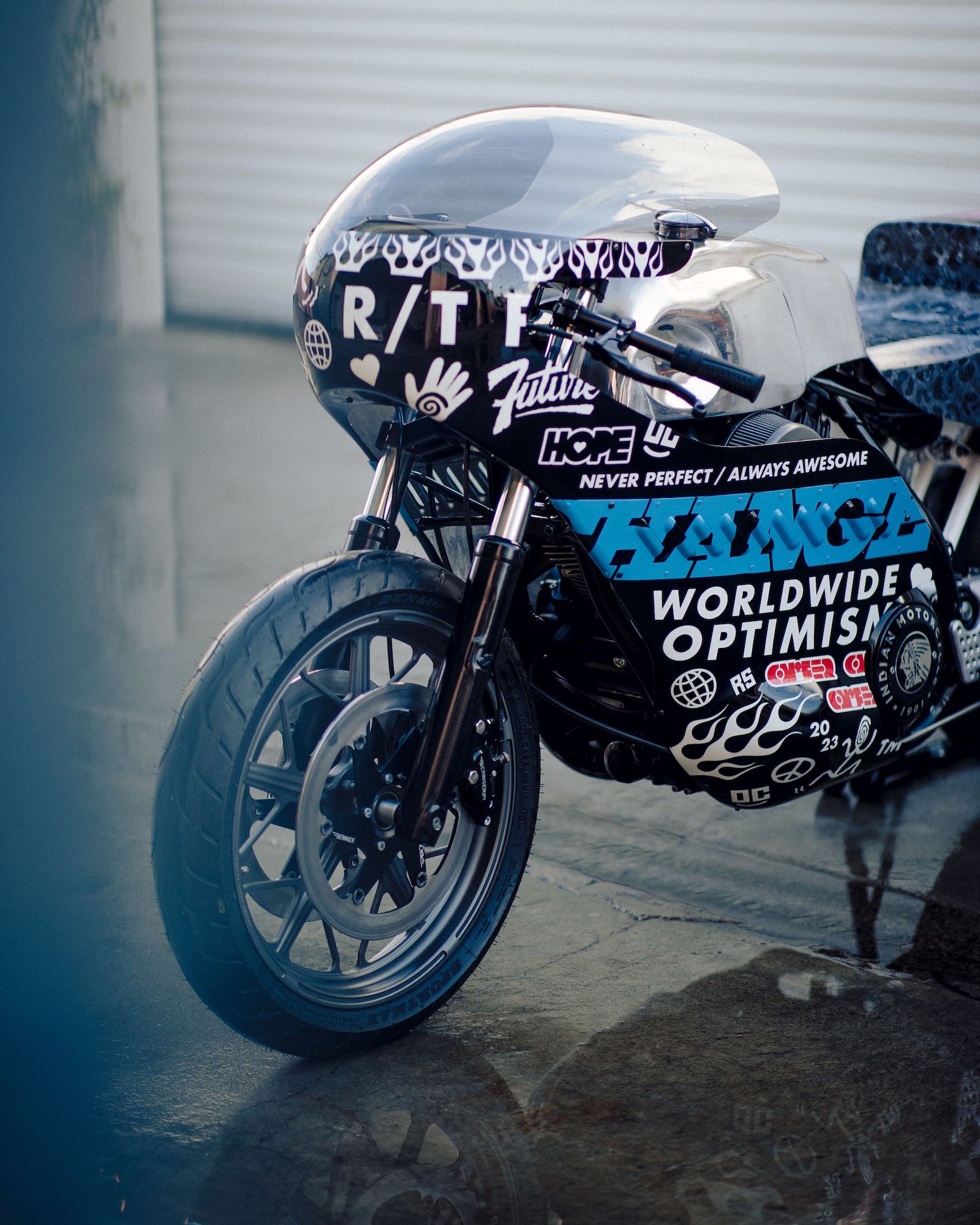 "The form and function of this motorcycle [were] very important in this build seeing as it's a dual-purpose machine for road and track," explains Zach in a recent press release. 
"Myself and my team at Hindes Design come from a racing background, so we understood the challenge at hand and approached it with that mindset. We worked together with Dean Micetich at DicE Magazine on the styling and final design of the bike and found the perfect blend between vintage-inspired track bike and a modern-day sport bike."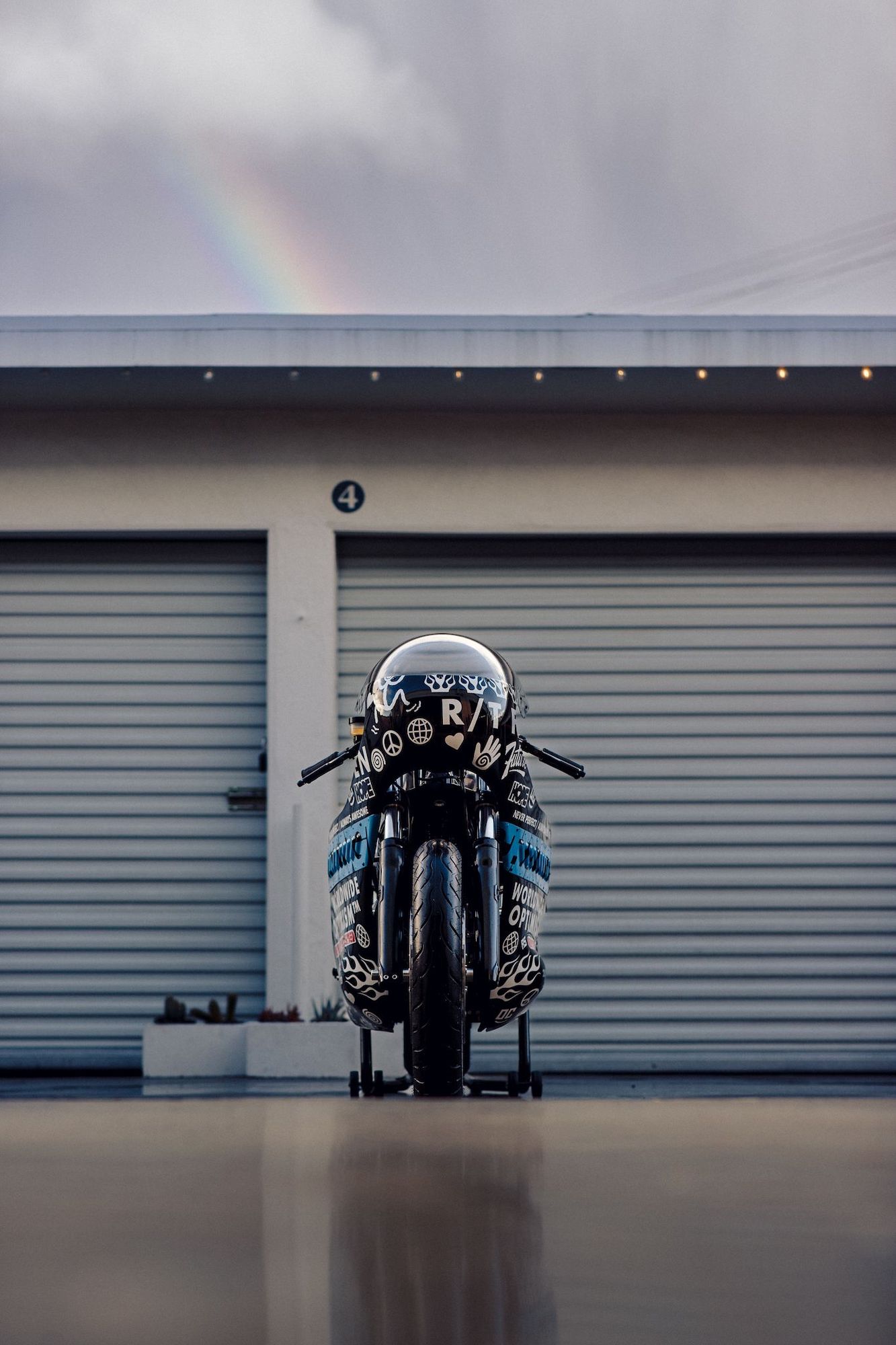 That blend churned out a timeless motorcycle with excellent handling – the perfect blend of old and new, present and past, this and that. While the stock Thunderstroke 116 has been kept for the project, Zach outfitted a custom stainless steel pipe to complement the muffler from Racefit.
The custom gas tank was also the work of Zach – as were the vintage racing fairing, the seat pan, front floating duties (dual disc, instead of single), and new business at the back of the bike, which was modded to hold a monoshock and tweaked swingarm.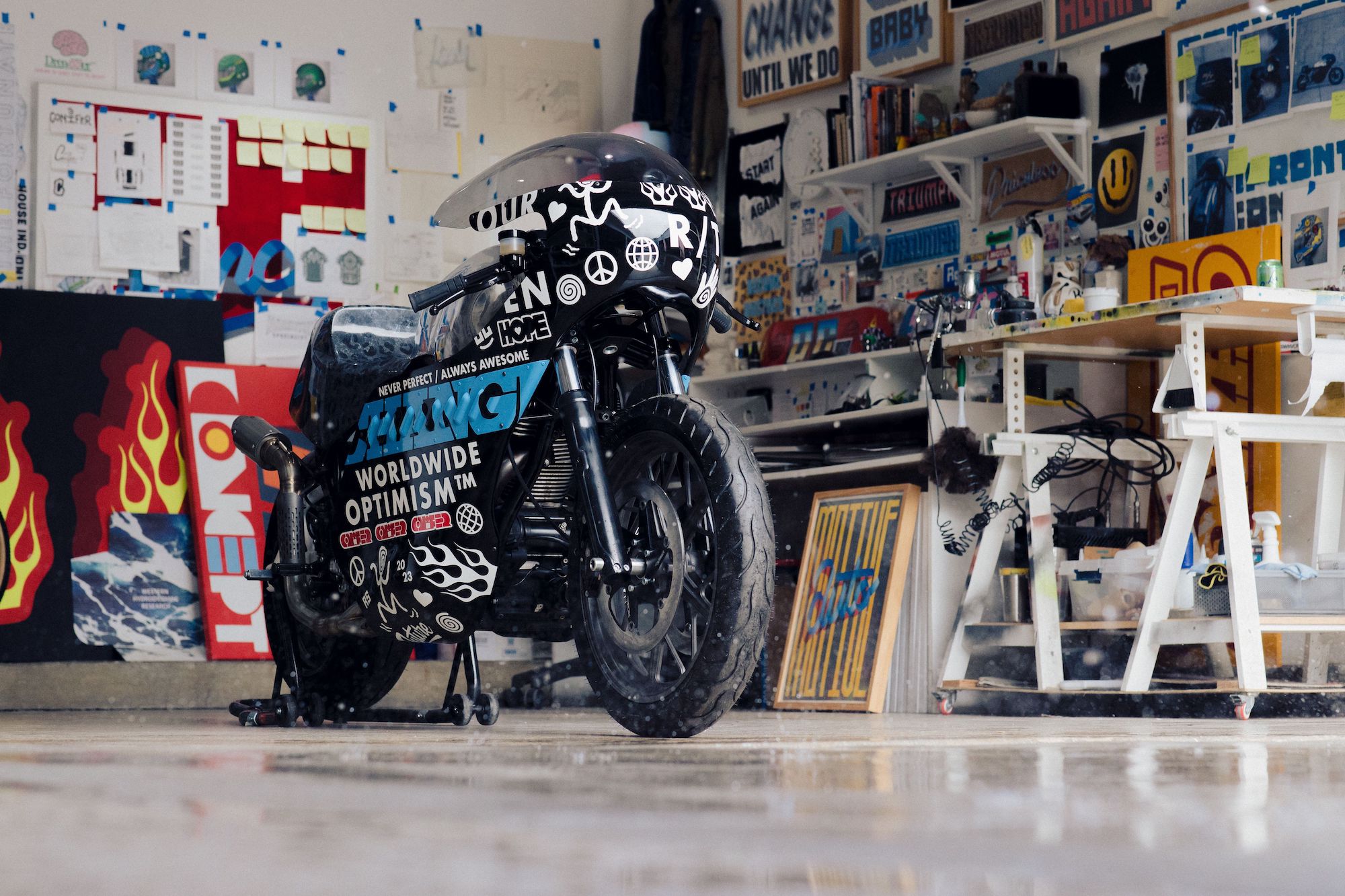 Brakes are Beringer, and Roland Sands Design contributed to the footpeg mounts and 17" rear / 19" front wheels, the latter of which carry Dunlop rubber. 
The biggest eye-catcher, though, is the one-off art that adorns the bike's bodywork. The job was carried out by none other than "Ornamental Conifer" (a suspiciously festive label for an English artist named Nicolai Sclater), who was exploring "the concept of branding in a post-consumer society."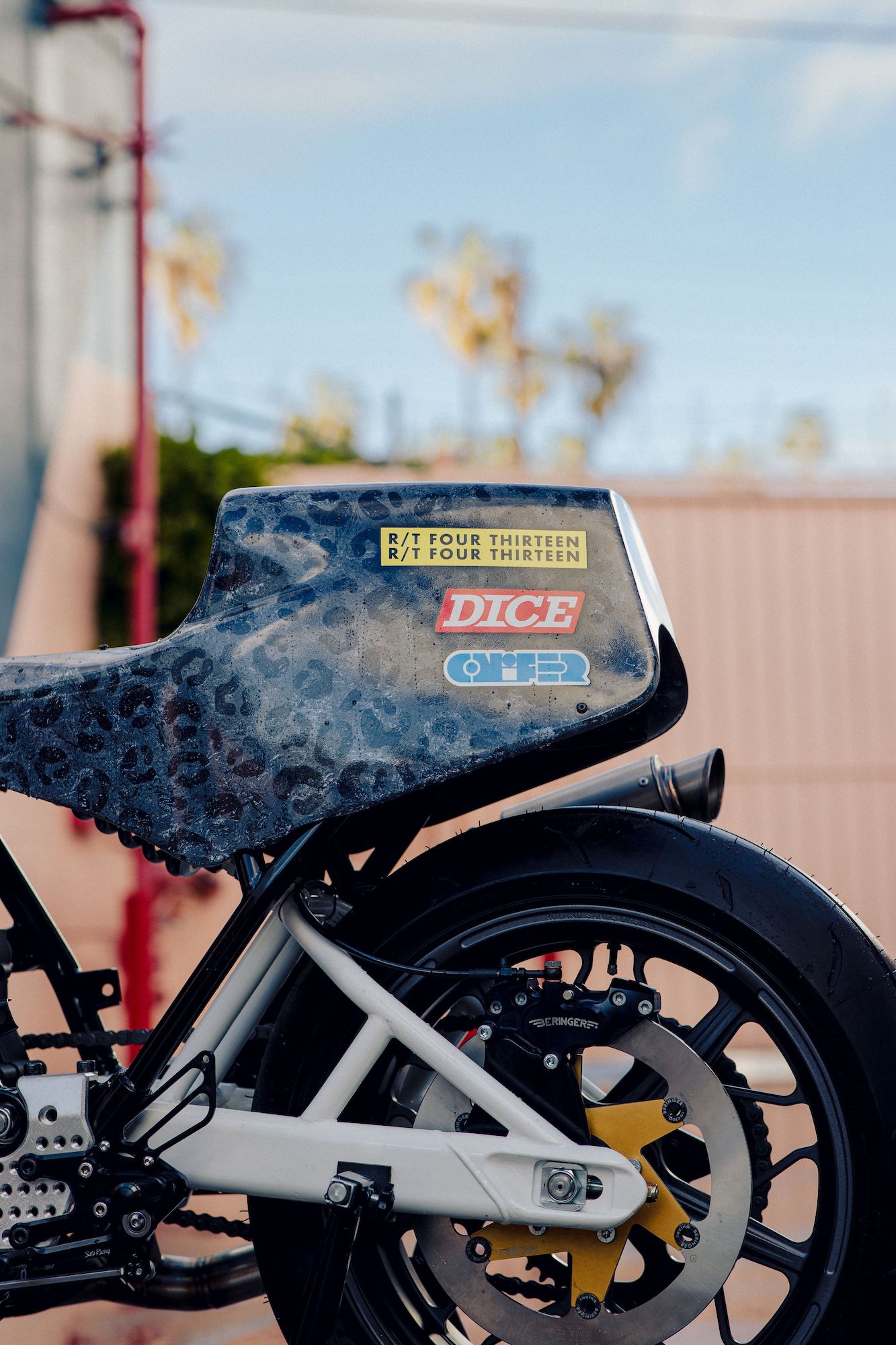 "In a world where signage and advertising are no longer required to sell products or drive business, there is a risk that our lives could feel empty, at least aesthetically," explains Sclater. 
"I love being surrounded by the visual cacophony of advertising and signage, but I can't help imagining, how might it be if the messages we are force-fed daily were messages of social connection, empathy, and optimism?"
"How would we, as a society, evolve if this narrative had the same weight and could issue the same impact as major brand messaging carries today?"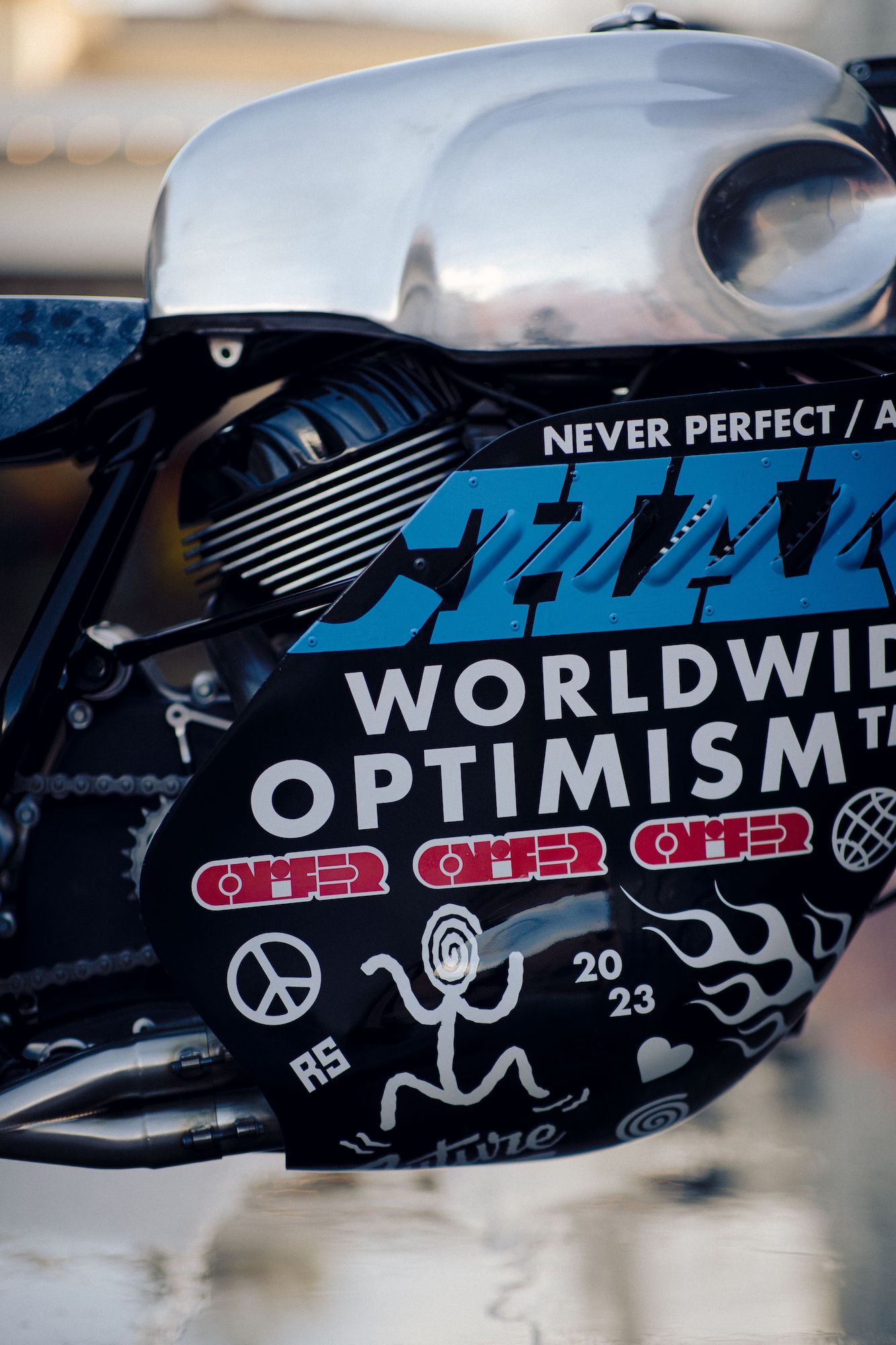 Finish the caboodle off with custom wiring by Motary, and you've got a fast, fun fizzer indeed; now all that's left is to find someone to take 'er for a spin.
Expect to see the R/T FOUR THIRTEEN custom Indian Chief Dark Horse at Daytona during Bike Week, where she'll be sitting at the Indian Motorcycle display on Main Street.
Do you like Indian's new R/T FOUR THIRTEEN?
*Media sourced from a recent press release*