It comes with a calibration compliance certificate that certifies the wrench to MIL STD 45662A and ANSI/NCSL Z540-1-1994 with accuracy traceable to the National Institute of Standards and Technology.
It's accurate to ±1% from 20% to 100% of its capacity in either direction.  One percent calculates to plus or minus 0.25 ft/lbs. at its maximum application of 25 ft/lbs.  This is just the ticket for those tiny little hex head cap screws that secure the flimsy aluminum side covers on motorcycle engines.
It's way too easy to apply too much torque, even with a basic torque wrench, and this goes double for motorcycles, which use soft aluminum just about everywhere.
We have two micrometer type torque wrenches in the webBikeWorld garage in addition to an old beam type torque wrench that we only use for nuts over 75 ft/lbs., but I don't trust them at all.
Some of the cheap torque wrenches don't even list an accuracy figure; others are accurate to within 5% or so.  This can mean as much as 2.5 foot pounds over or under the actual recommended torque at, say, 50 foot pounds.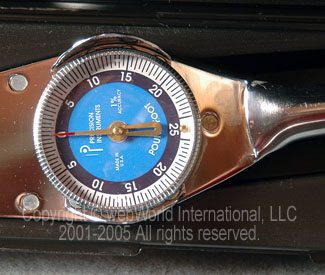 But most of the cheaper torque wrenches list their accuracy at a certain static number, like 20% of their capacity.  For example, on a 100 ft/lb. torque wrench with 5% claimed accuracy, this would mean that it's only within 5 ft/lbs. when applying 20 ft/lbs.
So what happens when it's used at 80% (80 ft/lbs)?  Who knows, but I've heard too many horror stories of stripped bolts during a motorcycle repair.
One thing I do to help prevent this from happening is to sneak up on the ultimate torque setting.  In other words, if the bolt is to be torqued to 30 ft/lbs, I'll first set the wrench for maybe 20 ft/lbs and tighten, then 25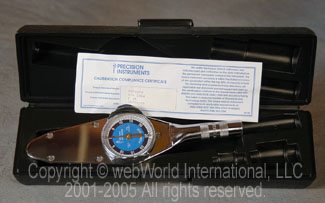 ft/lbs., and finally 30.  Kind of like a "measure twice, cut once" approach.
But this approach may not work with small torque settings.  Our Sears Craftsman "Microtork" micrometer torque wrench is supposedly calibrated from 25-250 inch pounds (2 to 20 ft/lbs.) with a plus or minus 4% accuracy at 20% of total capacity, which is 50 inch pounds, or 4.16 ft/lbs.
The micrometer type torque wrenches use an internal spring, and springs are notoriously non-linear in their application of force as they get wound up.  Precision is more important with small torque settings, because it's the smaller nuts and bolts that will have a greater potential to strip or break with the incorrect application of torque.
We're very pleased with our Precision Instruments split-beam-type torque wrench, both because of it's accuracy but also because it doesn't use a spring that must be unwound down to 0 ft/lbs. after use.  It's such a simple yet accurate instrument that it's a surprise that all torque wrenches aren't made the same way.
The Precision Instruments 0-300 in/lb. dial torque wrench shown here really does look and feel like the precision instrument that it's name implies.  Besides the certificate of calibration compliance, it also meets international requirements like BS6073:1988 and ISO 6789, among others.  It's a wonderful instrument (tool) to own and use, and I feel much better knowing that the exact torque (or as close as I can get) is being applied.
It's very easy to read the dial, which is calibrated from 0 to 25 ft/lbs. in 0.5 foot pound increments.  The ability to read the dial and the smooth working inner mechanism allow the user to apply a slow, careful application of torque.  It's thin and the end is tapered, which makes it fairly easy to fit into the tight spaces on a motorcycle.
Precision Instruments claims that it has an "Exclusive Torsion Bar Design", which connects the 3/8″ square drive directly to the dial.  This allows the user to get a reading directly.  They also claim that the position in which the hand holds the tool is not critical, unlike other torque wrenches, which must be held at a certain spot along their length to get a correct reading.
The 0-300 in/lb. torque wrench is 9-29/32″ long overall; 2-11/32″ wide and weighs 1 lb., 2 oz. (510 grams).  It comes with a plastic molded case and carries a one-year warranty.  It's finished in a shiny nickel/chrome plating.  Note that this is not a ratchet wrench — torque can only be applied in one direction and the wrench does not ratchet back and forth.
Tool freaks will definitely want this one and the Precision Instruments beam-type torque wrench in their toolbox.  This should provide all the accuracy you'll ever need for a lifetime of motorcycle wrenching!
Product Review:  Dial Torque Wrench, 0-300 in/lb.

Available From:  Precision Instruments
Suggested Retail Price:  $179.95
Sizes:  Many sizes and capacities available.
Made in:  U.S.A.
Product Comments:  Smooth operating, high quality yet simple tool is calibrated to provide about the greatest accuracy that can be expected in this price range.
Note:  For informational use only.  All material and photographs are Copyright © webWorld International, LLC – 2000-2011.  All rights reserved.  See the webBikeWorld® Site Info page.  NOTE:  Product specifications, features and details may change or differ from our descriptions.  Always check before purchasing.  Read the Terms and Conditions!
Owner Comments and Feedback
Comments are ordered from most recent to oldest.
Not all comments will be published (
details
).  Comments may be edited for clarity prior to publication.
[/column]
[/row]
This is the torque wrench for those really, really fussy mechanics.  Torque wrenches don't get much more accurate than this Precision Instruments 0-25 ft/lb. dial type.