Australian motorcycle apparel, accessories and custom company Deus Ex Machina is suing two movie studios over a fake jacket used in the "schamltzy" teen romance film The Sun is Also a Star.
The green and yellow bomber-style jacket worn by the film's female star Yara Shahidi features the brand name on the back.
However, it is not a genuine product of the company. In fact, it is nothing like any of their hipster-style motorcycle gear.
Deus filed the lawsuit for unspecified damages in Los Angeles, alleging trademark infringement by Metro-Goldwyn-Mayer Studios and Warner Bros. Entertainment.
Fake jacket
They claim the jacket is "gaudy and inferior" and "not consistent with and/or is inferior in quality" to their products.
"The jacket is not a product of Deus Ex Machina," the plaintiffs allege.
"Deus Ex Machina is informed and believes that the jacket was created by defendants for the movie."
The company has objected to being associated "with a schmaltzy teen-style love story" and "a flop".
The movie certainly was a flop, costing $US9 million to make and grossing just $US6 million at the box office.
Deus also alleges the male lead, Charles Melton, posed for promotional photos on social media wearing genuine Deus Ex Machina gear.
They claim this creates the impression that Deus Ex Machina was "involved in promoting the movie and that the use of inferior infringing products and references in the movie to Deus Ex Machina were authorised".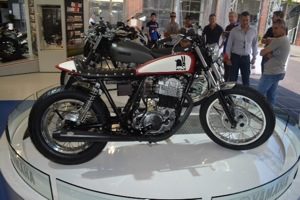 Deus ex Machina means "god from the machine".
The company started in 2006 with customised motorcycles and has branched out int a worldwide hipster fashion phenomenon.