Wi-Fi Endoscope Camera Review Summary
Review Summary
The DEPSTECH inspection camera is an excellent solution if you have some tight spaces on your motorcycle that you need to see. It's handy, easy to use, and well made.
Pros
Clear pictures & video
Easy to set up & use
Plenty of lengths in wire
Handy attachments included
Cons
The long wire can be cumbersome
ave to use your smartphone to see what the camera captures
Endoscope Camera Image Gallery
Ever wonder what the inside of your bike's engine looked like but don't have the skills or the time to tear it all apart? Curious about those hard to reach places between your bike's body panels and its wiring, engine, or anything else? Have a nook or cranny around the house or garage where you think you dropped something, but can't get back there to see if you did?
You need an endoscope inspection camera. These types of cameras are small and on the end of a long stiff wire that can be snaked down drainpipes, under doors, and, yes, into tight spots on your motorcycle.
DEPSTECH reached out to us to see if we'd want to review their WF028 HD Wi-Fi model, and because I have an old moped that I was curious to see the status of the inside of the cylinder, I said yes. We at wBW are no stranger to reviewing motorcycle cameras for on-the-road action, and this was a great opportunity to review a camera intended as a tool for inspection and more!
Overview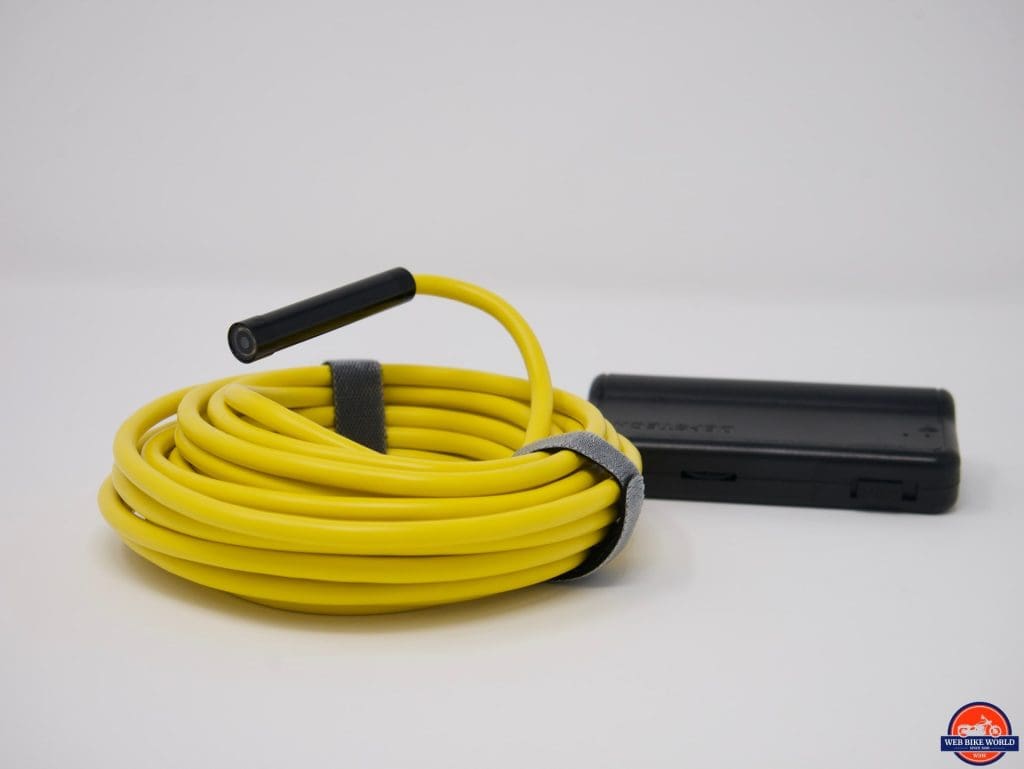 The DEPSTECH industrial endoscope inspection camera that was sent to me had a 16.5-foot camera line. This is way longer than I needed for the job I had in mind, but I can see where this kind of length could come in handy for many jobs.
Camera
The camera is an HD 5.0MP that can shoot everything from 640×480 to 2592×1944 resolution. You can choose this setting in the app, which I'll discuss in detail later. Yes, this camera works with your smartphone, and you'll have to download an app. If you don't have a smartphone, get one. It's 2019, and you should have one.
Wi-Fi
The camera has a little Wi-Fi box that also includes the on/off switch, LED indicators for power and Wi-Fi, and a dial to adjust the brightness of the built-in LED light. The light is at the end of the scope and allows you to see when the camera is placed into dark places. Seeing as how pretty much every place you're going to put this camera is going to be dark this is paramount. The LED is genuinely bright, too, which is a plus.
Waterproof
Also, this camera is waterproof. This is much needed for anything that's going to go into tight spaces like drains, oily spots (motorcycle nooks and crannies), and wherever else you'll snake this camera into.
Box Contents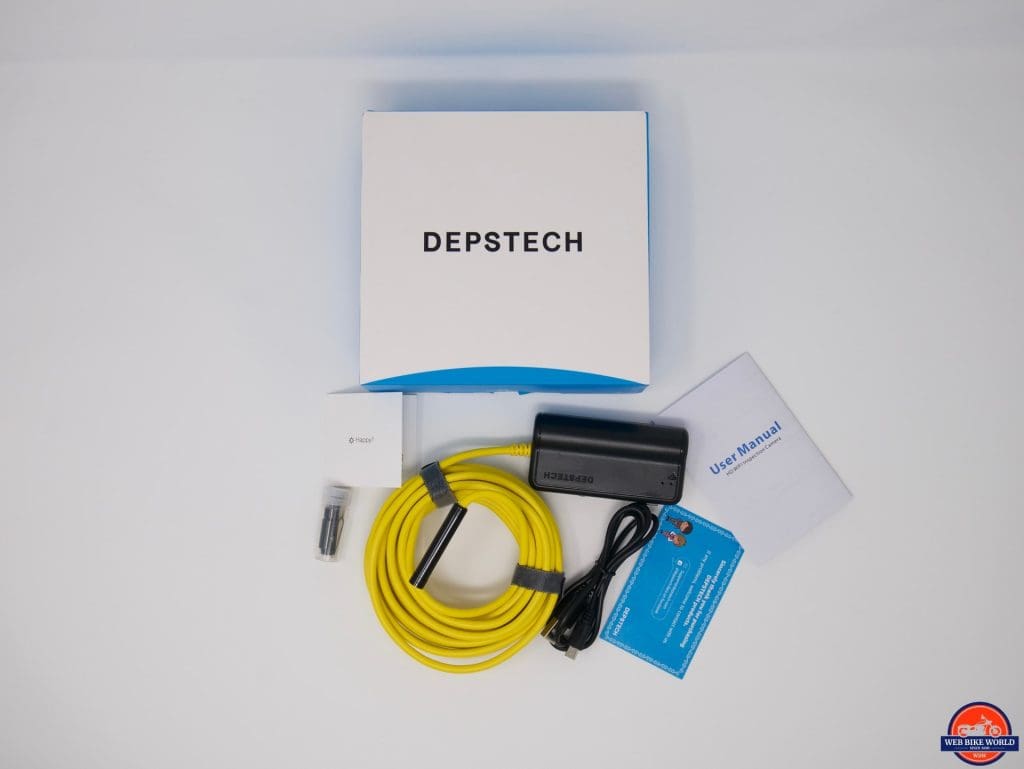 There's not a ton in the box. You get the W-Fi box which is wired to the camera via the 16.5-foot bendable wire. At the end of the line are the camera and the LED lights. There's also a small manual, which was all I needed to use the camera and a little card with more information about where to go if you need help or want to have a full manual, and a little canister with the additional tips you can add to the camera.
The tips consist of a magnet for picking up metal pieces you drop in tight to reach places (comes in handy for screws and other fasteners when working on your bike), a mirror that allows you to see around corners, and a hook that will allow you to hook and remove things from wherever it is that you're trying to see into.
There's also a small metal piece that's not referenced in any of the user manuals or literature. The only thing I could come up with is that it's perfectly sized to hit the absolutely tiny reset button on the Wi-Fi box next to the charging port.
In addition to all the goodies is a charging cable. It's important to note that the charging cable only offers a USB connection on one end, so you will need to plug it into a laptop or an adapter for a wall outlet.
Camera Capabilities & Features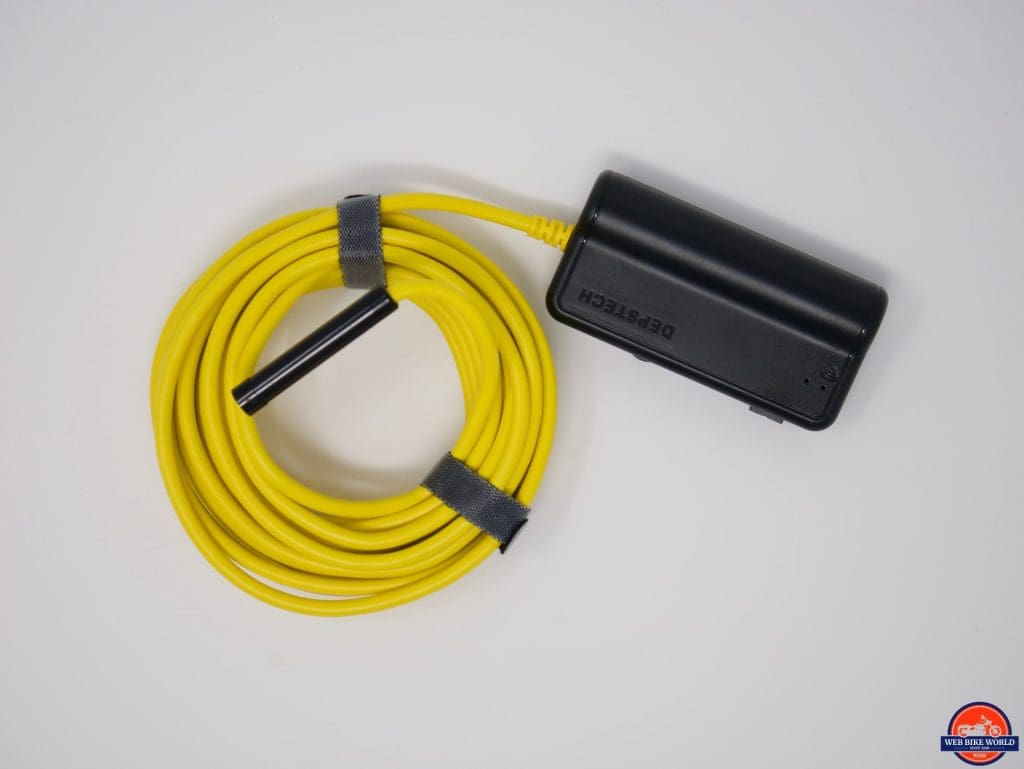 The camera is a genuinely cool product. It's not overly complicated or difficult to use, it has some basic features, a few buttons, and an app. After a few minutes of fiddling with the camera, you'll know how it works and what it does. It's a nice little unit and feels well-built, too.
Charging
Before you use the camera, charge it. I put it on the charger for a few hours while working and it was fully charged. The battery offers 2600 mAh battery capacity, which should last between three and four hours according to the manufacturer.
I used the endoscope for about 45 minutes the first day I used it. I left it on for two more hours refreshing the app every so often and it was still going strong when I finally turned it off, so I believe the manufacturer is correct.
Features, Functions, & Capabilities
As I've already mentioned, and you can probably surmise from the fact that this is a camera – the mean features and functions of the camera are to take pictures and video of whatever you point the camera at.
The DEPSTECH camera is an HD 5.0 MP camera and is supposed to take much higher quality video and pictures than other non-professional endoscope cameras. As I mentioned above, it can take various resolutions for video up to 2592×1944 and operate underwater. It'll work in water up to a meter deep.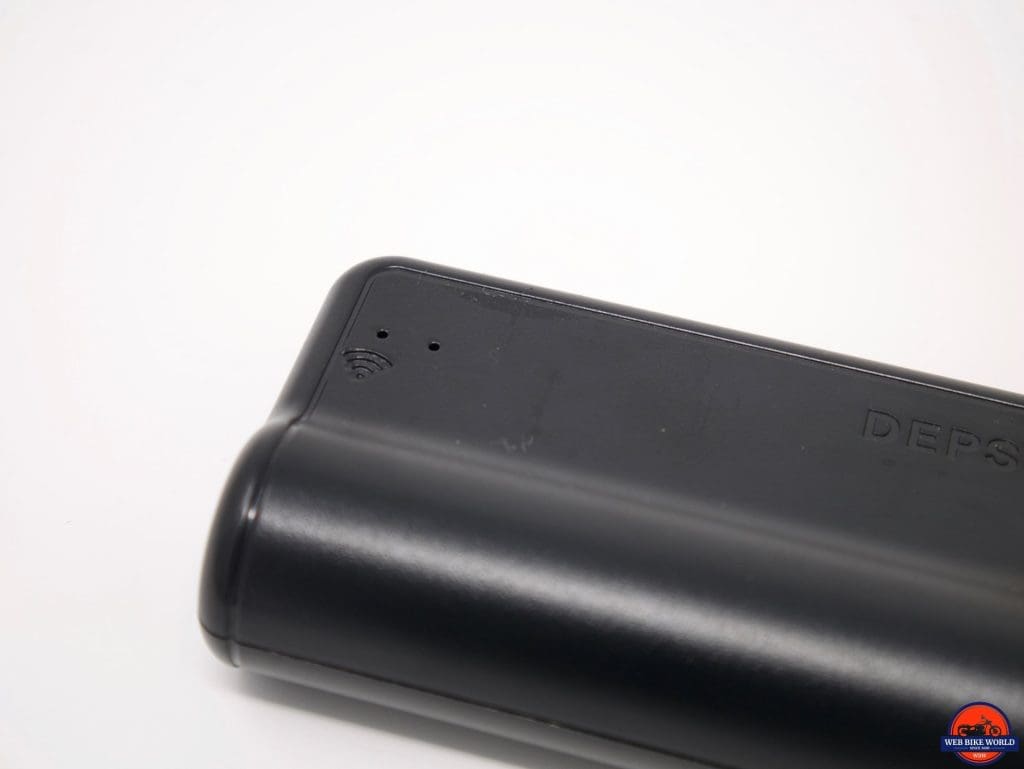 The Wi-Fi function also lets you view what the camera sees on your phone. 
It saves pictures and video to your phone's internal memory or to an added micro SD card if you have one installed on your phone. From there, you can upload these files to Google Drive, Dropbox, or wherever you want to store them.
The camera system interfaces with an app that you'll have to download. 
The app is available for Apple and Android products. If you don't want to use your phone to see what the camera see, you can always use a tablet, which would actually be nice, and give you a very clear view of what the camera sees.
The app is easy to use.
With clear indicators for taking pictures, taking video, rotating the camera angle by 90 degrees, seeing the files that you've previously taken, or adjusting settings. The only settings you can actually adjust are the Wi-Fi, the Wi-Fi password, and the resolution.
Using the Camera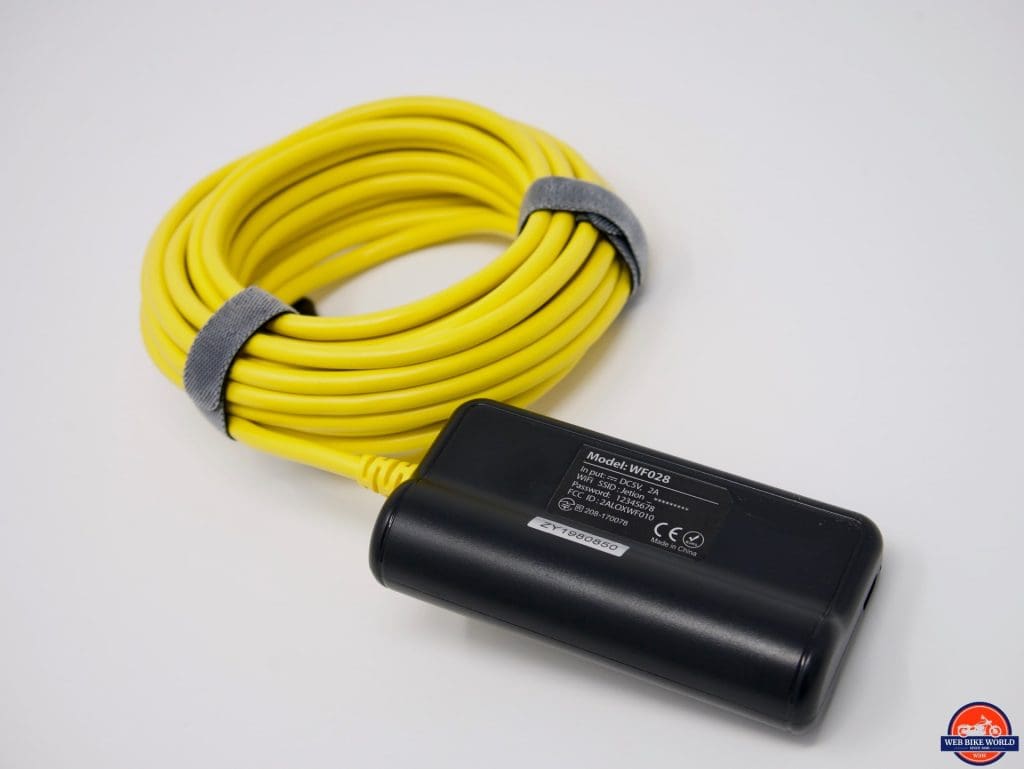 Actually using the camera is a simple three steps.
Step One: You turn the unit on via the switch on the Wi-Fi box. This turns on the Wi-Fi and makes the camera discoverable.
Step Two: Then you go into the settings of your phone and connect to the Wi-Fi network, input the password included with the unit, and then you're good to go.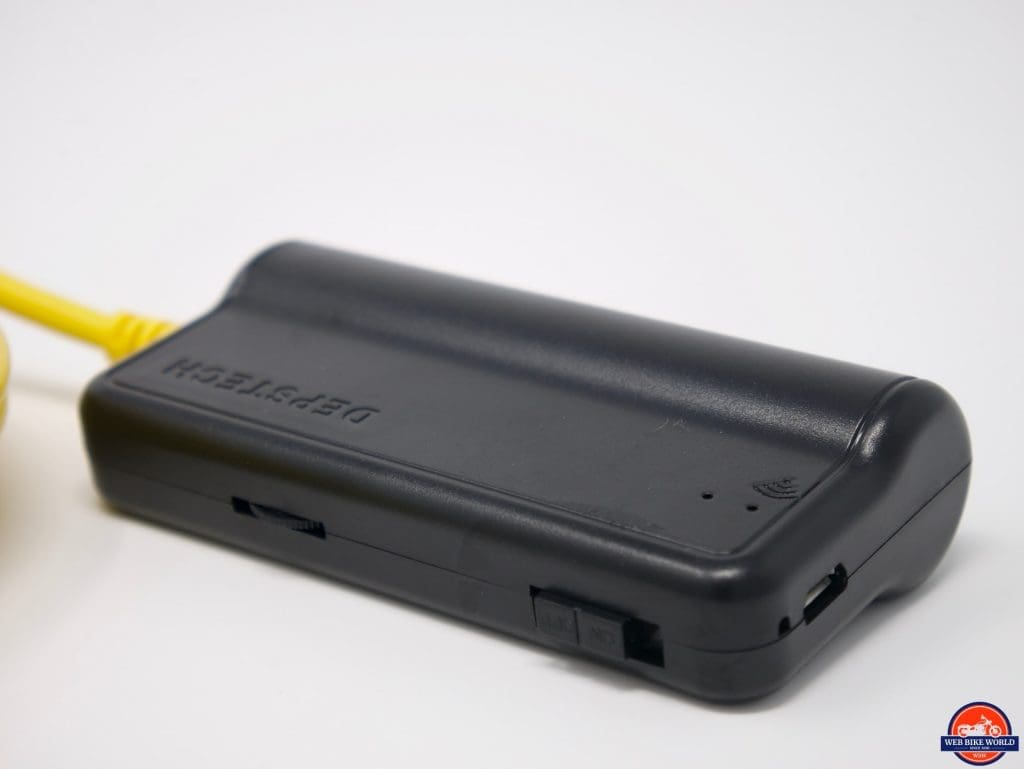 Step Three: You open up the app, press the start button, and bam! You're looking at what the camera sees right on your smartphone. Done.
From there, you can snake the camera into whatever tight space you want to, adjust the brightness of the LED lights via the little rotary dial on the side of the Wi-Fi box (I left it on its brightest setting), and see what you need to see.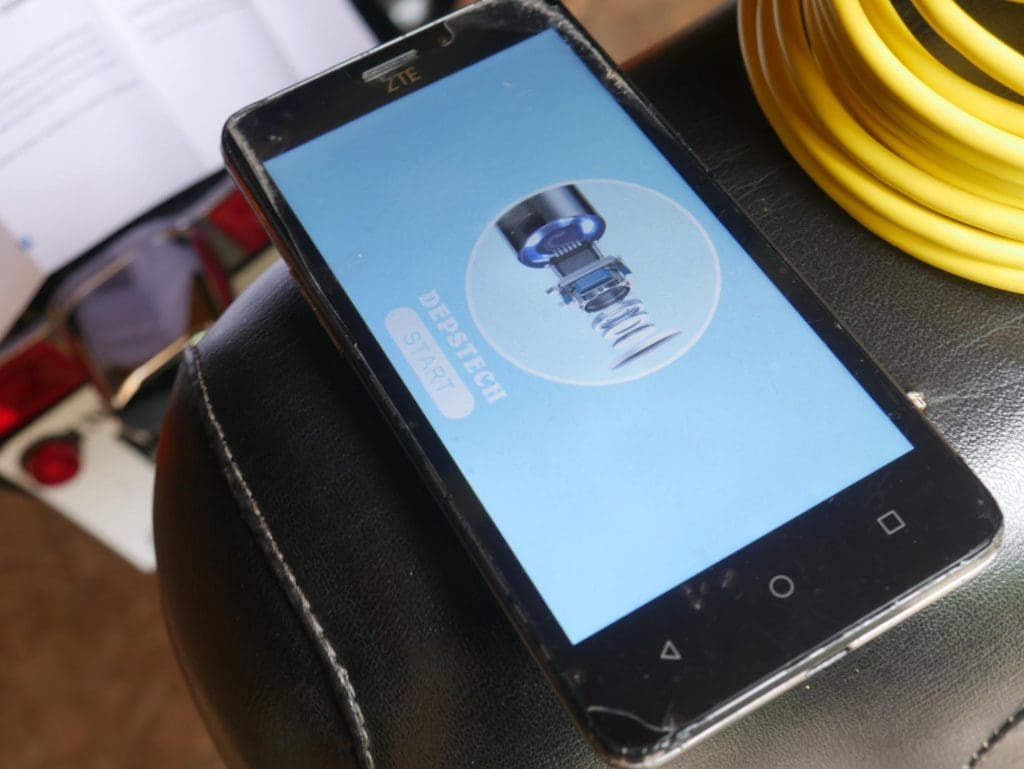 You can take pictures or video, depending on your needs. You cannot do both at the same time. What I mean is you can't run video and them snap photos while the video is rolling.
Tip: If you have a video of something, you could just pull it up on your smartphone or laptop later and take some screenshots for pictures.
Otherwise, you can take pictures with the camera on its own and access them like you would any other file. Once you're done, you just turn the camera off via the switch on the side of the unit.
Results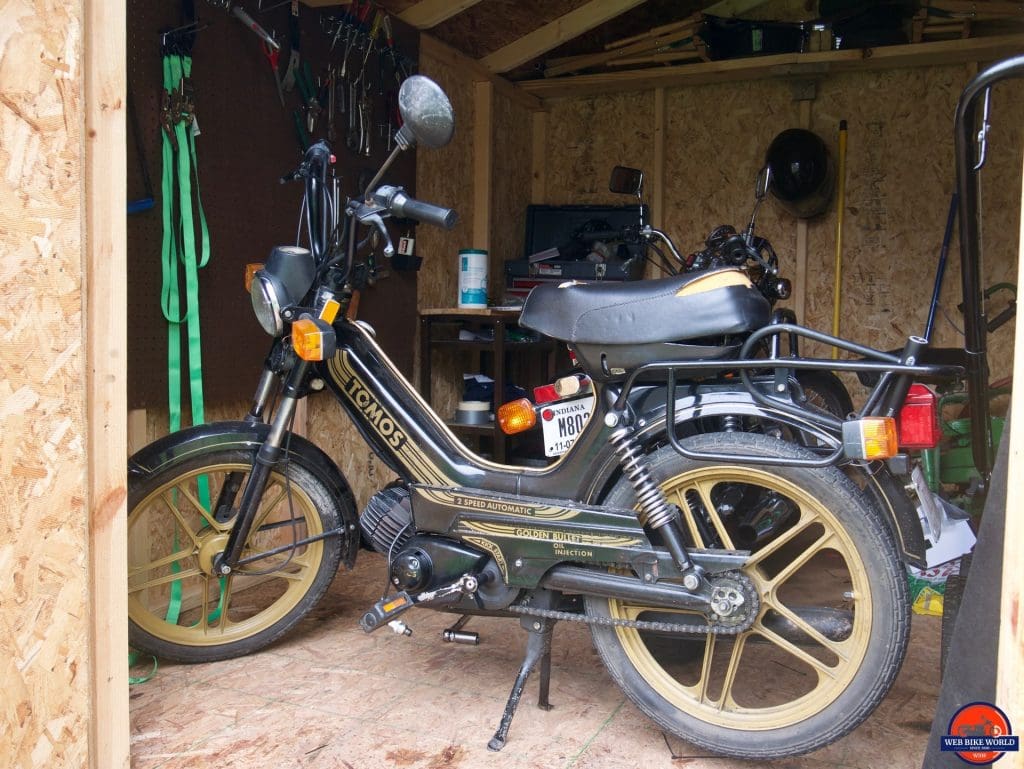 I was impressed by the results. I expected such a bargain-priced item to have low-quality video and images, but this camera delivers good results. I took images and video in the lowest resolution setting and the highest, but I didn't notice much of a difference.
I've included a couple of videos below and some images I took while inspecting the inside of the cylinder on my vintage moped. As you can see, there is quite a bit of carbon buildup in there. This winter, it might be time for me to take the engine apart and deal with all that.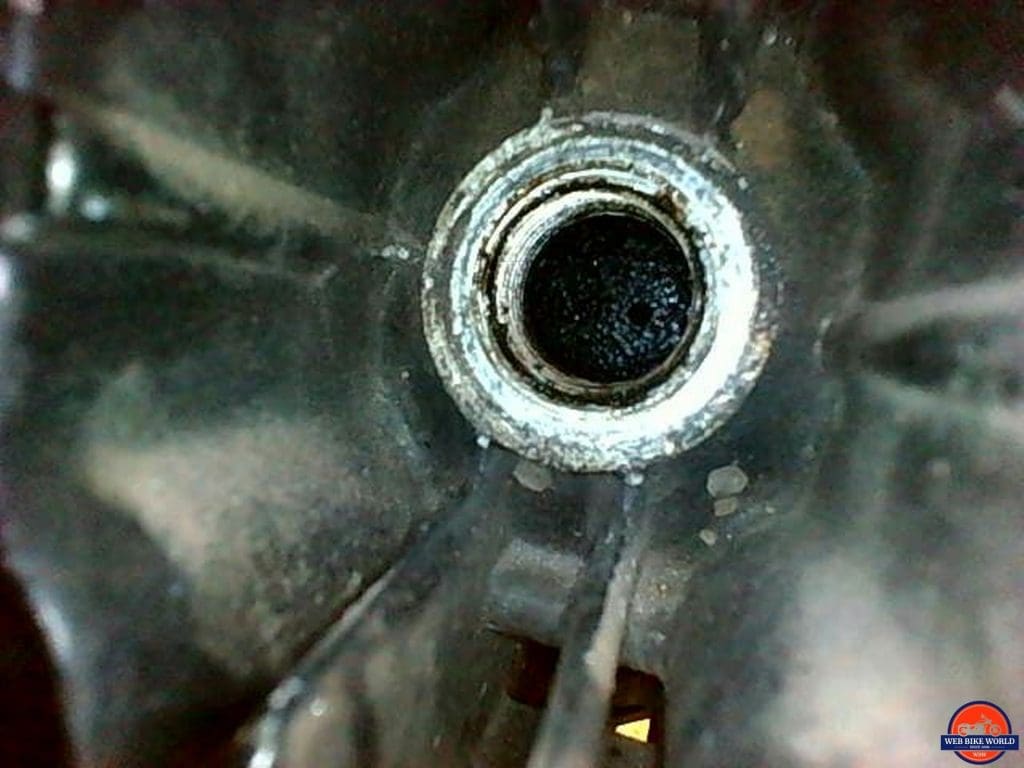 Below is a look at the two videos I took. The first is in 640×480 resolution and the second is in 2592×1944 resolution.
640×480 Resolution Example
2592×1944 Resolution Example
Verdict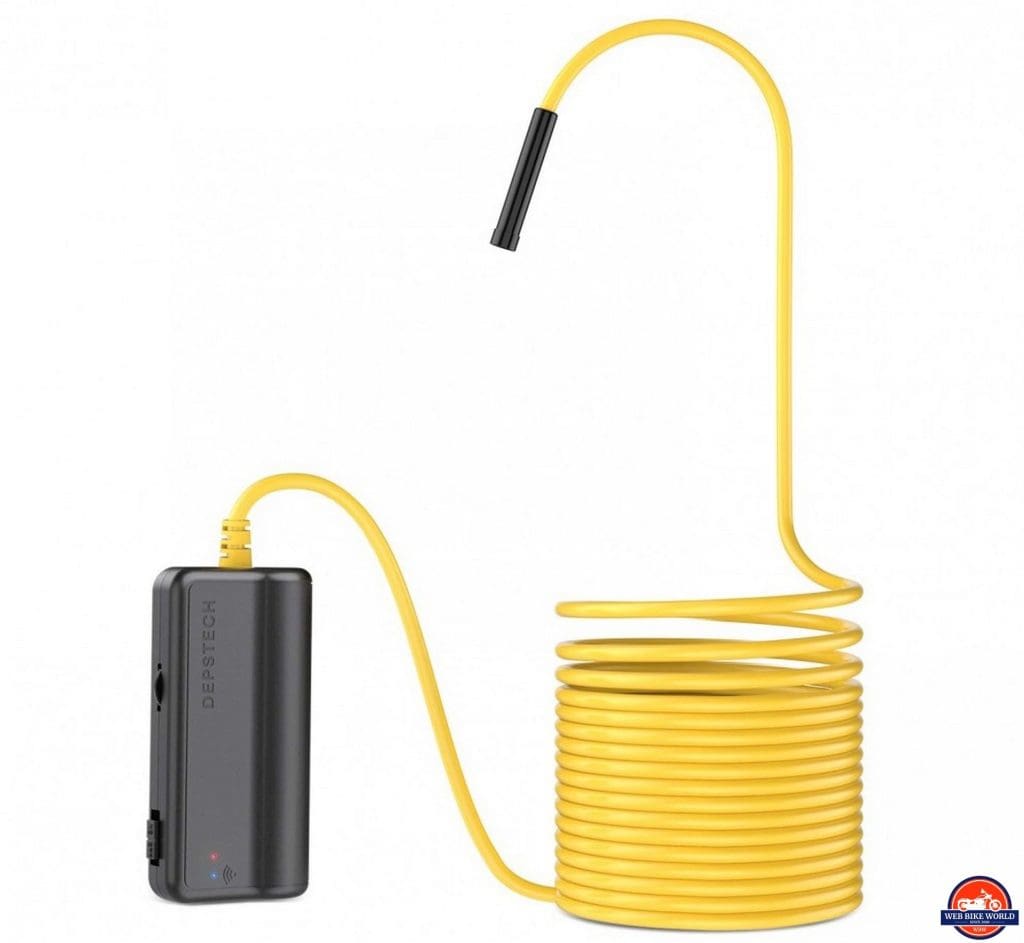 I think the DEPSTECH WF028 Wi-Fi Endoscope Camera is a worthy investment. It's one of the many tools you're bound to use on your motorcycle, around the house, and who knows where else. It's a handy little thing and isn't difficult to use.
I was impressed by the quality of the video and the quality of the product itself. It feels sturdy and well-built. It functioned flawlessly when I used it and I have few complaints. I think If I were to buy one, I wouldn't get one with quite so much wire. I found 16.5 feet of length to be somewhat cumbersome, but otherwise, I can think of little to gripe about.
Bottom line, if you need an endoscope camera, and are looking for an affordable one, you should give this camera a look.
Pros
Clear pictures and video
Easy to set up and use
Plenty of lengths in wire
Handy attachments included
Cons
The long wire can be cumbersome
Have to use your smartphone to see what the camera captures