Unlike any glove you'll find at your local shop.  Super-supple deer hide gives a "creamy" feel that you can't get from typical bullskin. These are the gloves to wear on a coast-to-coast trip! "The hand is the cutting edge of the mind" Jacob Bronowski. Gloves is gloves, right?  Wrong!
"In the old days", we used to ride wearing any old pair of gloves.  I had a pair of old beat-up leather gloves that I used to heave bales of hay on the farm. My hands were tougher than oak back then, but those wire bales can really do a job on bare mitts. I figured if those gloves were good enough for wire baled hay, they were good enough for riding my Bultaco Metralla.  Who cares about crashing when you're younger than legal?
Besides, those gloves and my Thrift Store leather jacket gave me just the right "Rocker" look that scored beaucoup points down at the local pub. Of course, now we know better.  It honestly took me another 30 years— to realize that a good pair of gloves can make a huge difference in my riding ability.  Huh? How's that??
It's true.  I developed a bad habit of buying el cheapo gloves all my life (leather's leather, right?), and it wasn't until just recently (I'm embarrassed to admit) that I tried on a pair of quality gloves and went for a ride.  I couldn't believe the difference!  I could actually feel things through the handlebars that I never knew were there before.  These were completely new sensations from my bike coming up through the handlebars.
The human hand, and especially the fingertips, are absolutely filled with nerve endings.  Here's a test: take a hammer and pound your butt.  Then put your thumb on a board and pound it with the same force (not really!).  It's going to hurt about a zillion times more, partly because there are so many sensitive nerves in your fingers.  That sensitivity is what helps you to feel what your bike is doing, and a good pair of gloves will protect you while providing good "feel".
High-quality motorcycle gloves pay attention to things like the design of the pattern and how it's cut, how the material is stitched, the type of stitches used, and the type and quality of the material itself.  The material and the way it fits the palm of your hand is crucial, because this is one of the primary contact areas between a rider and the motorcycle.
My palms are what woke me up to the advantages of a quality motorcycle glove — when I finally got a pair, I realized how much feel I had been missing through the handlebars.  My bike was trying to tell me things and I was hearing impaired!  So in your continuous quest to become a better rider, you may want to consider how something as simple as a glove can help.
Since hands are so sensitive and personal, each rider usually develops an individual relationship with a pair of gloves.  If you've been riding for a while, you probably have found one favorite pair of gloves that feel just right.  Remember the saying "fits like a glove"?
But it can sometimes take months, or even years, to "break in" a glove so that it feels right.  Little things can be a subconscious distraction — thinks like the way the stitching binds, or the way the material bunches up, or my pet peeve: scratchy internal stitching that gets caught under my fingernails.  For some reason, that really bugs me.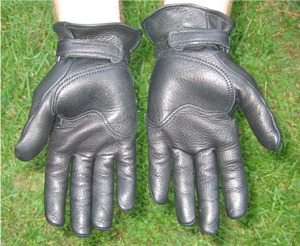 So it was a real pleasure to get a pair of Lee Parks Design's "DeerTours" gloves.  You can tell they are different as soon as you open the package.  They have that quality leather smell and deliciously creamy feel that comes from proper tanning.
The use of deerskin doesn't hurt, either!  Deerskin is supposed to be more abrasion resistant than cowhide, and is more comfortable over a wider temperature range.  You can really feel the difference when you slide a pair of these on.
There's a bit of controversy over the "innies" vs. the "outies" when it comes to stitches.  The innies fans say that internally seamed gloves look better, don't bunch up and will be less prone to the stitching coming apart in a slide, while the outies say that the gloves will be more comfortable without the internal stitching.
The outies have a point, but one of the main reasons why internal stitching can be uncomfortable is that most glove manufacturers make a commodity product that is built to a price, and they don't take the time or care to correctly design and stitch internal seams.  If done correctly, and if the glove has the proper fit, this shouldn't be a problem, and it isn't on the DeerTours.
The quality and feel of the leather make these the perfect gloves for a long, long distance ride.  The deerskin is very soft and comfortable.  The palms are designed to eliminate as many pressure points as possible, while still providing good feel.  Special threading makes the seams strong and helps minimize any thread pulling through the leather.
Lee provides a size chart template on his website; you print out the chart, lay your hand over the guide and locate your size.  I fell in between a medium and a large, and I went with the large size.  At first I thought that the fingers were a touch too long, but I realized that after I curl my hands around the grips that the 10mm or so extra room in the fingertips gives me some stretch room that prevents my fingertips from meeting the ends of the fingers.  I may have gotten by with a medium, but I think the thumb would have been too short.
Lee's gloves are designed and made in the U.S.A. from deer and elk hides, and are available in either the DeerTours model seen here, which is perfect for cruising or long-distance riding, or the DeerSports model, with a longer gauntlet.
They're available in both black or tan, and are hand-washable.  They're probably a touch more expensive than the mass market gloves you can find in just about any motorcycle shop, but these will most likely last a lifetime, and they can be repaired if damaged.
wBW Product Review:  Lee Parks Design DeerTours Gloves

Available From:  Lee Parks Design
Suggested Retail Price:  $79.95
Colors:  Black or Tan
Made in:  U.S.A.
Notes:  Available in the DeerTours design (shown); also available in the DeerSports design with longer gauntlet.  Available in sizes XXS to XXXL.
More:  Read Lee Parks' book "Total Control: High Performance Street Riding Techniques"
Note:  For informational use only.  All material and photographs are Copyright © webWorld International, LLC – 2000-2011.  All rights reserved.  See the webBikeWorld® Site Info page.  NOTE:  Product specifications, features and details may change or differ from our descriptions.  Always check before purchasing.  Read the Terms and Conditions!
Owner Comments and Feedback
Comments are ordered from most recent to oldest.
Not all comments will be published (
details
).  Comments may be edited for clarity prior to publication.