Can you help David Black by offering him a regular pillion ride?
You may say you never pillion another male as it's a "dangerous threat to one's manhood" as this funny video shows. 
Or you may think David should simply learn to ride.
But after you read his story, his love of bikes and his inability to ride, you may reconsider.
Or maybe there are women out there who would love to have a male pillion!
READ OUR TOP TIPS FOR PILLION RIDING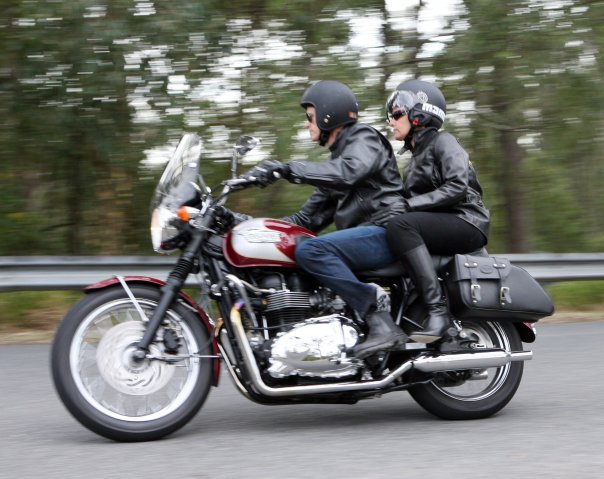 Hello my name is David; I have been a fan of motorbikes since my early 30s. I grew up in Hurstville and went to a private school and in those days' motorbikes were something that tough kids did. It never entered my head then to learn let alone become a bikie.

After many years working and then a brother-in-law who rode a bike, I soon became hooked after he took me for a ride on his Honda that wasn't really built for two but we travelled anywhere we could in a day as it wasn't my sister's idea of fun.

He was struggling with a mortgage and three young children when I got a loan and bought a BMW R 100 RT and it was like riding in an armchair after the Honda.

I guess I owe my love of riding to Bill. He taught me how to pillion. Sometimes I felt so comfortable with him that I would nod off to sleep.

I never learnt to ride as my school years were something of a bully session — both physically and mentally — that left me with no confidence at all. At 15, I tried to end it all but as you can read I'm still here. Those years I have learnt has scarred me for life, so you see learning to ride was never an option.

After a year Bill decided to sell the Beemer. I paid the loan out and he bought a Harley and even though he looked the part I still hung on and spent many a day travelling to places I would never have known. Just before I turned 40 he divorced my sister and I never heard from him again.

Then things took a change for the worse. After two major operations I was pensioned off never to be the same again. Since then I've lost a lung and suffer chronic pain.

I'm now 55, but am interested in wanting to ride again.

Nearly three years ago I put a call out for someone to take me for a ride just to see if I still could ride without major pain trouble. Three riders took time out of their Sunday to take me for rides around Nowra where I lived at the time.

I took a Honda to Berry, Virago to Culburra and was speeding though the hills of Nerriga on a sports bike having the time of my life.

I will always be very grateful to those three as they did a wonderful thing.

Now I have moved to the Sutherland shire for health reasons and I have contacted every local motorcycle club I can find searching for a rider that wants a pillion.

But it seems no one wants another bloke on their back.

I'm writing this as I'm hoping there is a rider or riders that would like to take a guy that just loves bikes and riding pillion to see the sites I would never see.

So if you think you would like to take this desperate pillion please contact me by email as I would love to hear from you.
Will you help David? Sharing the thrill of riding a motorcycle with a pillion is a treat that many riders don't experience. Try it; you might like it.