Dainese York Air Shoes Review Summary
Review Summary
The Dainese York Air shoes are motorcycling footwear that you could easily mistake for a regular pair of sneakers. They're made from leather, suede, and mesh and excel in materials and build quality. They're primarily comfortable, but a firm sole does increase the likelihood of sore feet at the end of a long day. They lack hard plastic or TPU inserts or reinforced toes and heels, a notable drawback.
Pros
Looks great on and off the bike
Impressive breathability with perforated panels
Build quality and materials are admirable
CE EN 13634 certified
Cons
Subpar protection for the price
Cumbersome to wear
Sole lacks grip in the wet
Dainese York Air Shoes Image Gallery
Review Summary
The Dainese York Air shoes are priced at $199.95
Come in a high-top sneaker design with two distinct color options
Fit true-to-size and are comfortable despite a firm sole
Designed for hot-weather-riding with perforated suede and mesh panels
CE-certified, but lacks more serious protection like reinforced toes or heel
Dainese York Air Shoes
Before working with WebBikeWorld, I was employed full-time at Autocar India as part of the 'Bikes' team. I soon discovered that in the world's largest two-wheeler market, this is a hectic affair. There was a new motorcycle or scooter to test and review nearly every day, which obviously meant that our small team of four saw a lot of riding. Naturally, I'd go to work clad in riding gear from head to toe.
Fast forward to today, and I don't spend as much time on a motorcycle. And when I do, it's usually in situations that call for a more versatile footwear choice than my Forma Ice Pro track boots. And while I'm still very much an advocate for the unmatched protection that a pair of tall boots offers, I felt I needed a more pragmatic alternative.
The answer is ankle-length riding shoes, of which there are hundreds to choose from. I narrowed down on these the Dainese York Air shoes. I'll explain my decision-making process and everything else you need to know about them below.
Dainese York Air Shoes Design:
Unless you're a hardcore sneakerhead (or a motorcyclist who recognizes the large logo on the side of the shoe), you'd probably mistake these shoes as yet another pair of high-top sneakers. You can choose from two color schemes: the 'Phantom Red' one you see in these pictures and a 'Dark Carbon' option with the iconic 'devil head' logo in black.
While the latter is the colorway I had my sights on, my preferred size was unavailable at the time of purchase, so I opted for the former. At first, I found the large, bright red logo a little much, but I've grown to accept it for what it is, and it's not as ostentatious as I thought it would be.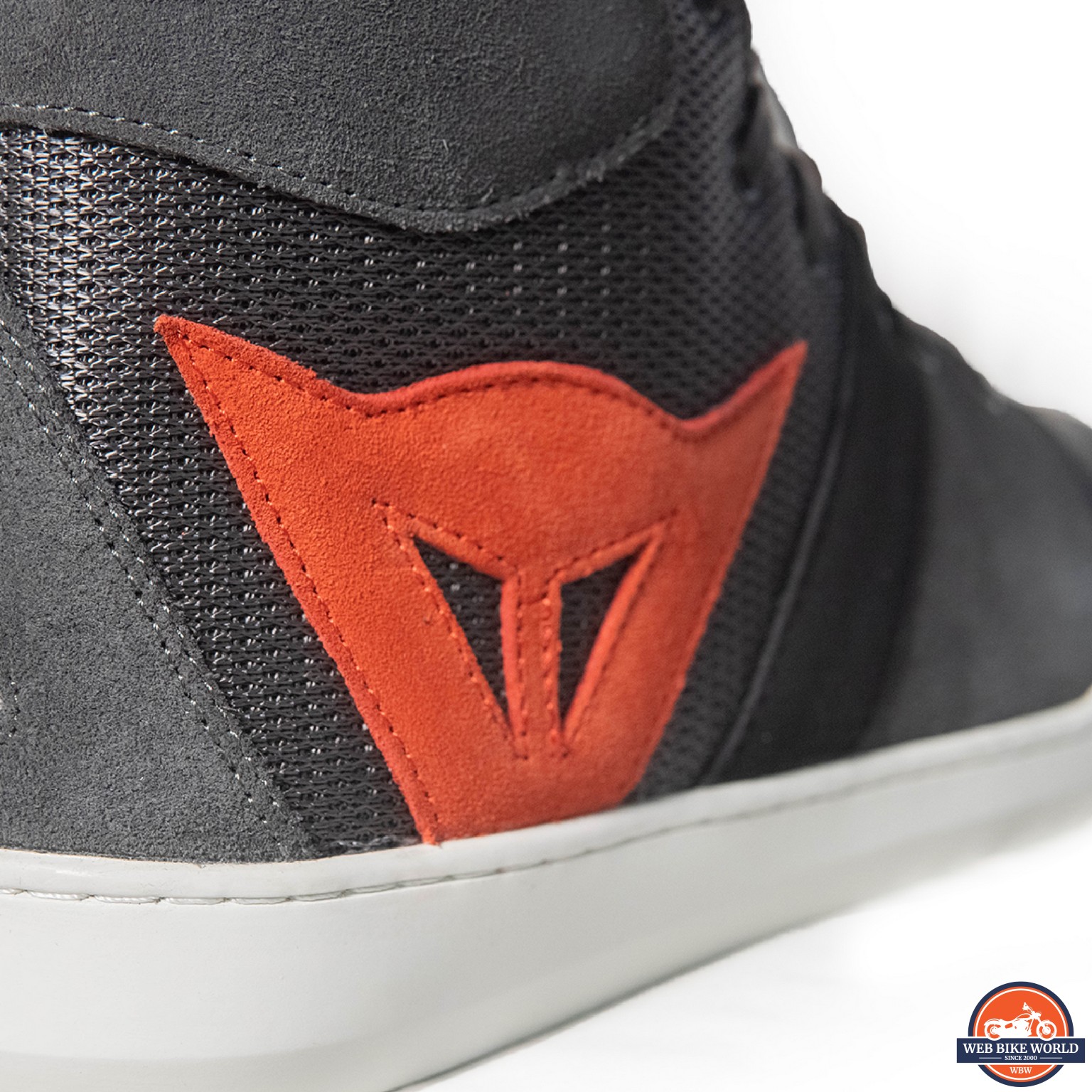 Materials and Build Quality:
The Dainese York Air shoes feature leather, cowhide suede, and mesh sections. The front area of the shoe, which will be tasked with shifting gears, is made from leather, while the midsection and upper heel are suede.
The rest of the shoe is made from a mesh-like material. In terms of overall craftsmanship, these shoes are put together impressively well. I couldn't find any loose stitches or fraying threads, inside or out. But there is one aspect that left me a little perplexed.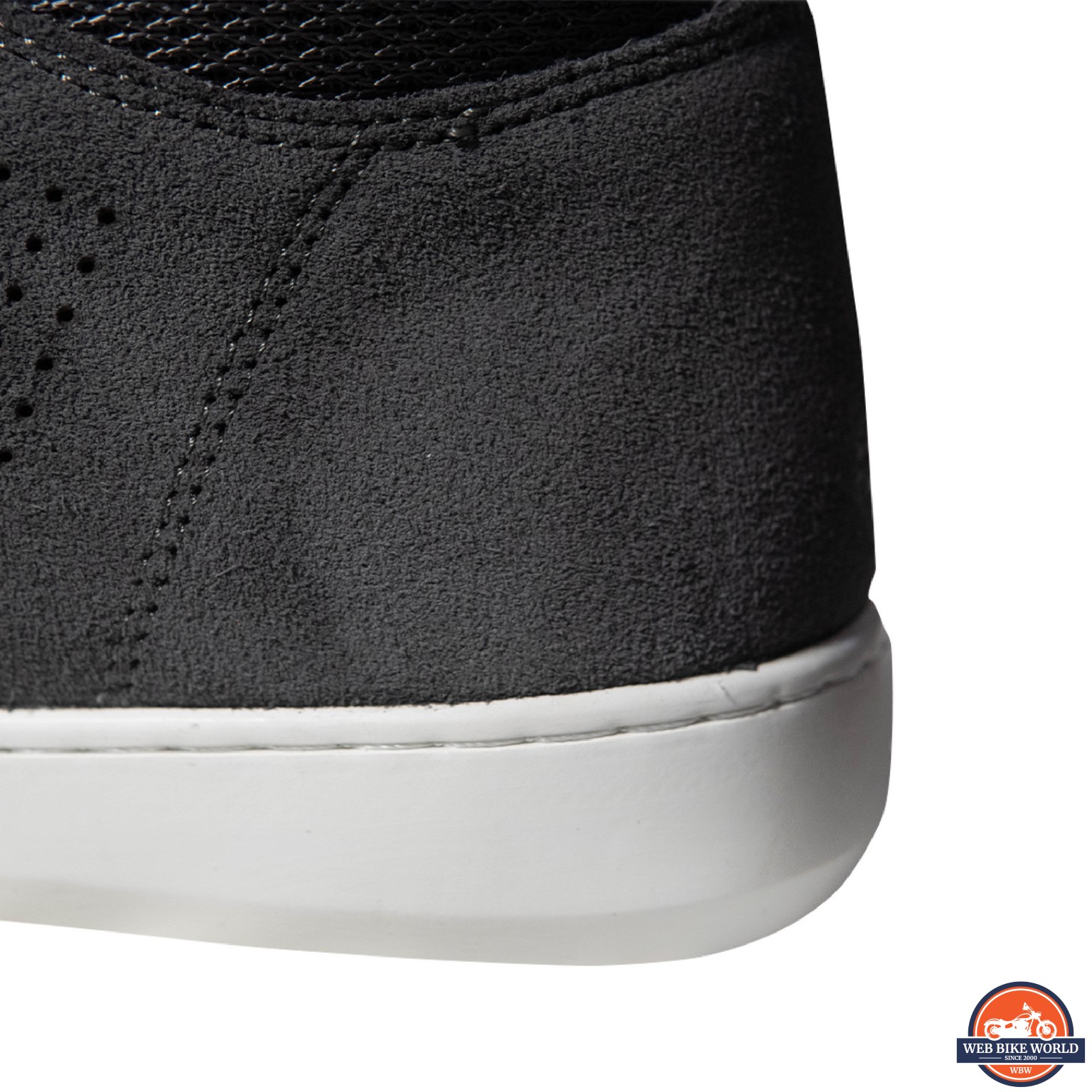 Check under the insole, and you'll see that the loose ends of the thread used in the stitching are glued to the bottom of the sole. It's not something that affects the performance of the shoe, nor is it something you'll ever have to look at often, but it just left me wondering if there was a less haphazard way of doing it. Especially since so much attention to detail seems to have gone into the rest of the shoe.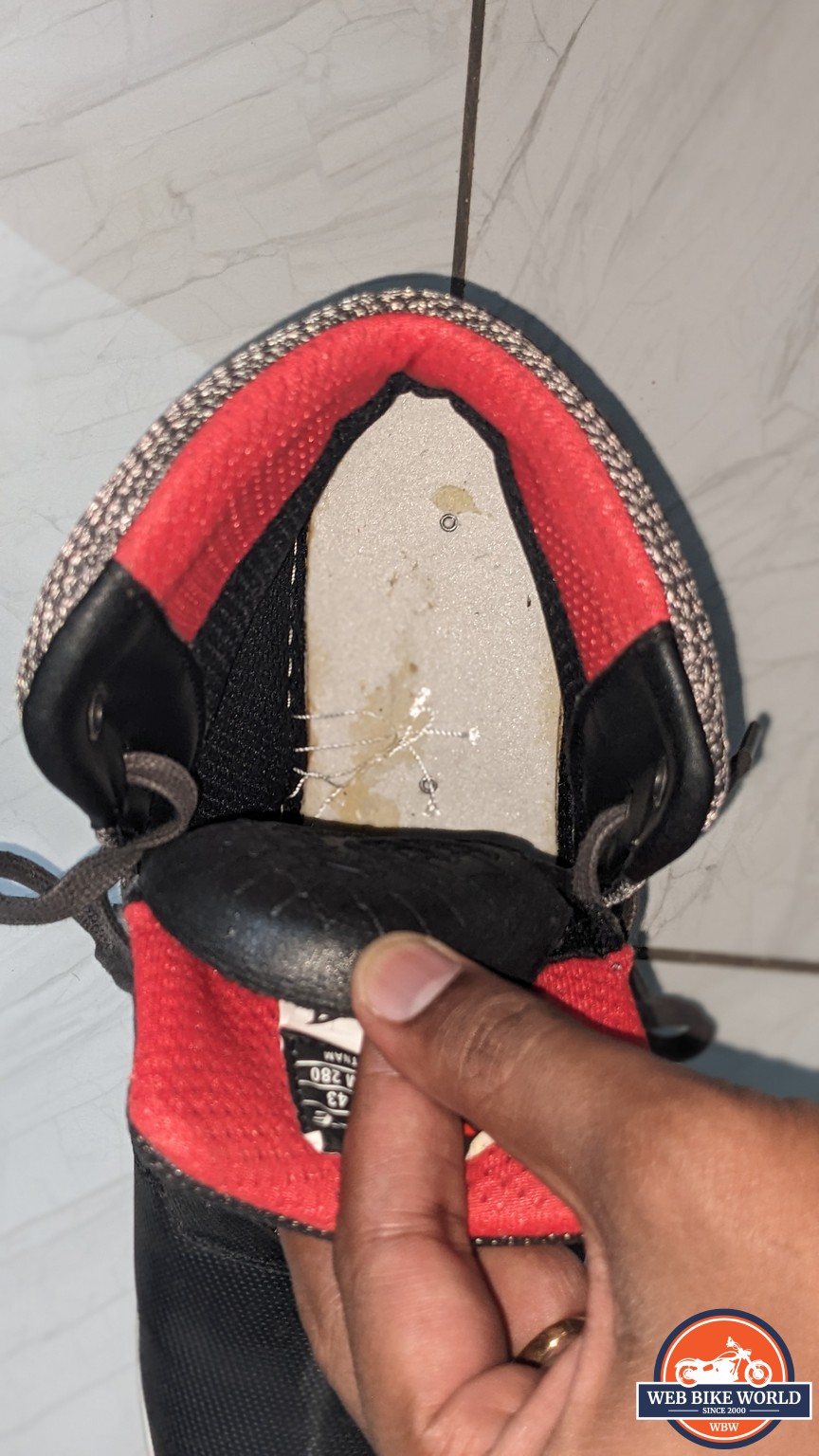 The sole itself is a white rubber unit reminiscent of several everyday sneakers, and over the last few months, it's this part that, understandably, shows the most wear.
Dainese York Air Shoes Comfort and Fit
I'd say the Dainese York Air shoes fit true to size. Opting for my standard size 44, I found that they fit well right out of the box, accommodating my slightly wide feet easily. The sole, while notably firm and devoid of substantial cushioning, is reasonably comfortable.
This design choice lends itself to a particular benefit — more feel on the pegs. However, the caveat is that your feet will get sore if you spend too much time standing. For the most part, these shoes you can wear on or off the bike all day without any severe discomfort.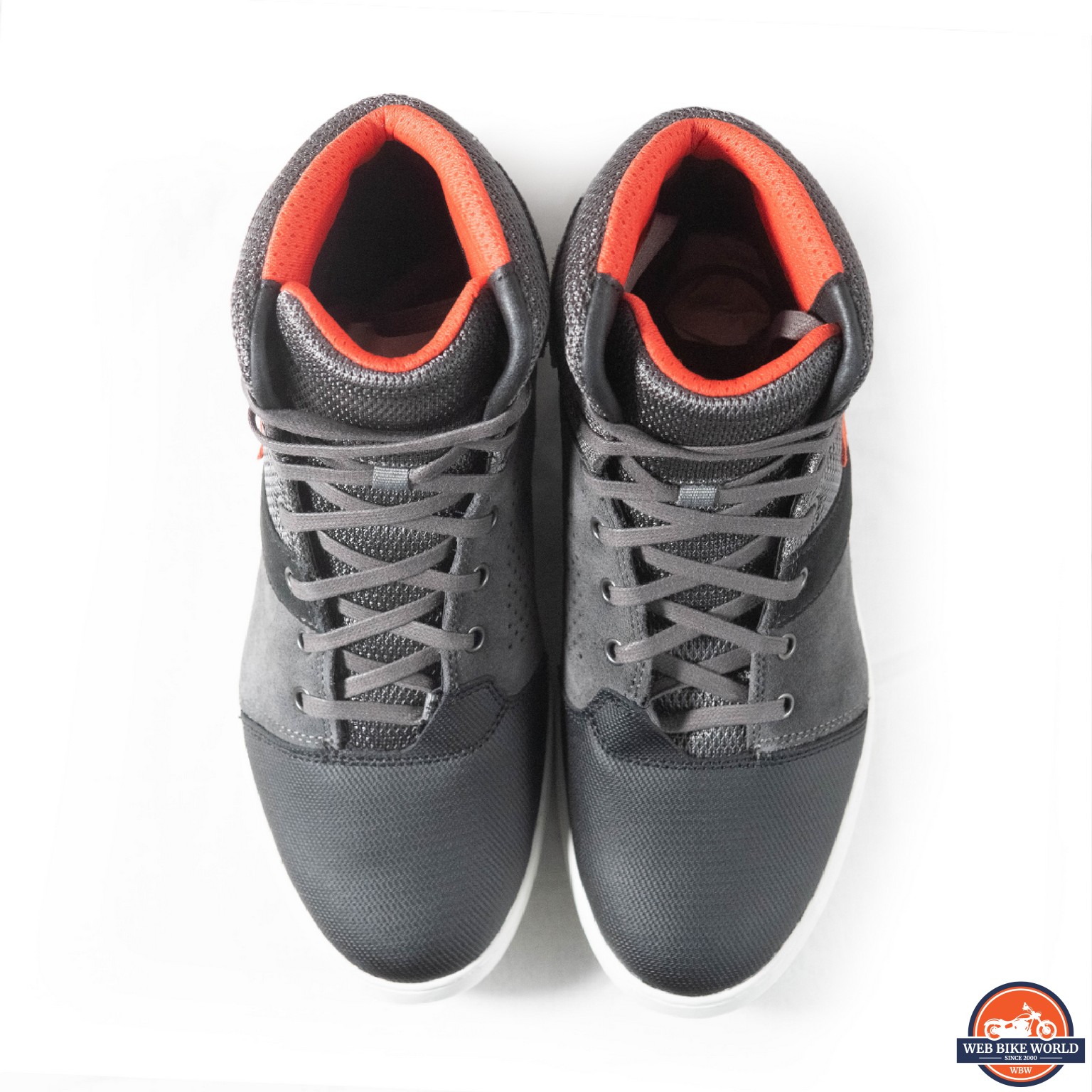 Breathability and Ventilation:
The 'Air' in their name alludes to their ventilated design. The lightweight mesh material is supposed to aid airflow, and the inner side of the shoe features a large perforated suede panel. In application, I can tell you that the Dainese York Air shoes are nearly as breathable as an everyday pair of high-top sneakers. My feet didn't feel sweaty or cramped even after extended periods on the bike.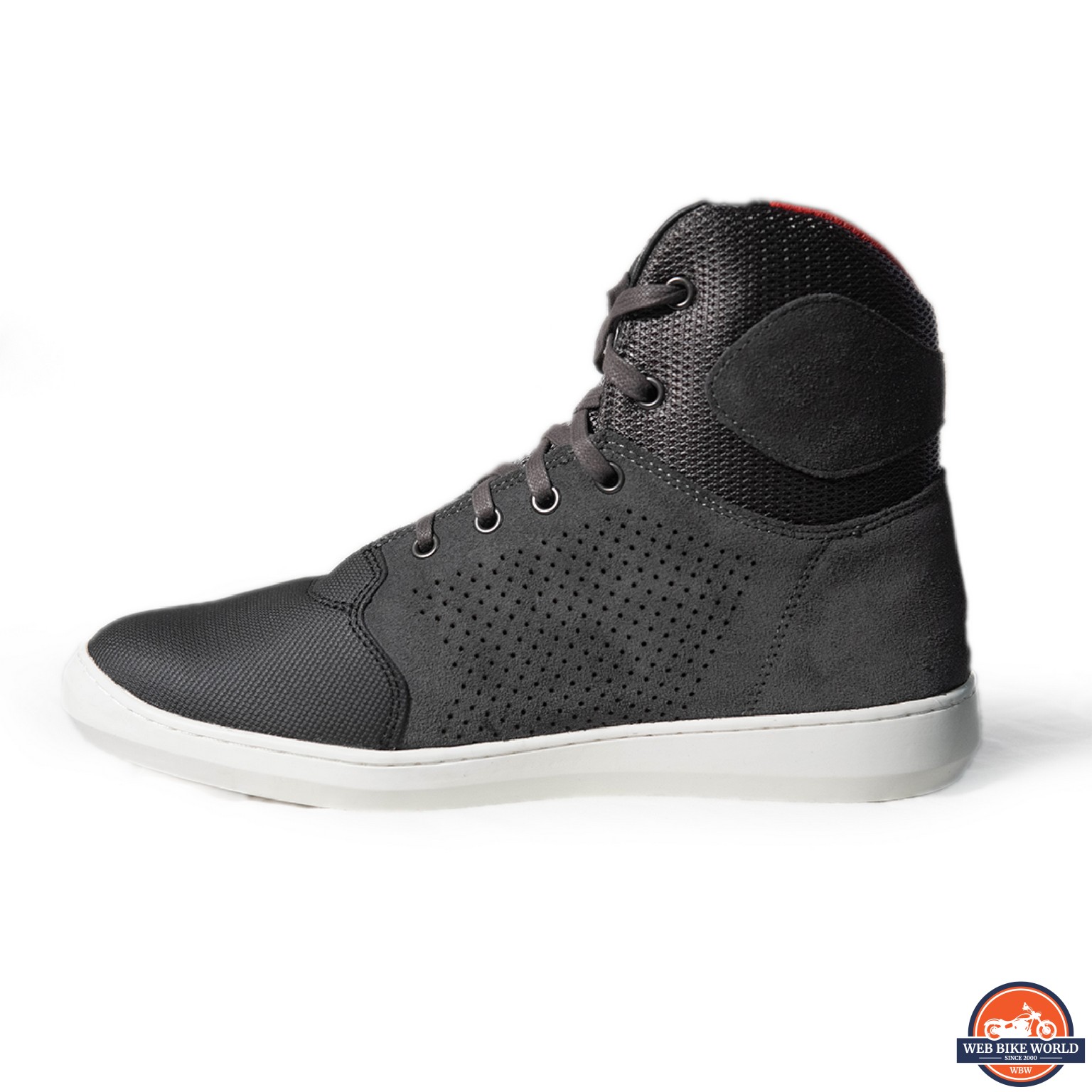 The obvious trade-off with ventilated shoes is that they are more susceptible to letting water in. While I did ride in the wet (more on that below), I must clarify that it wasn't actively raining, so I can't comment on how they perform in torrential downpours. But if water resistance is something you're looking for, Dainese also offers the York D-WP shoes, essentially identical to these but fortified with a waterproof lining.
Ease of Use:
Remember how I said I opted for riding shoes for the practicality they offered? Well, I second-guessed my decision the first time I attempted to wear these shoes. Slipping your foot into them proved to be a more time-consuming endeavor than I had anticipated.
The shoes feature seven eyelets on the outside and six on the inner edge. You'll have to undo the laces from the top two and meticulously loosen them across a couple more to slip your foot in. The simply addition of a pull tab would've made this a lot easier. In contrast, getting into most tall boots available today is far simpler. This may be obvious to some of you, but I'll admit I didn't think about it.
That said, once you're in them, they are more practical for pretty much everything else — whether that's just sitting at a desk or walking around.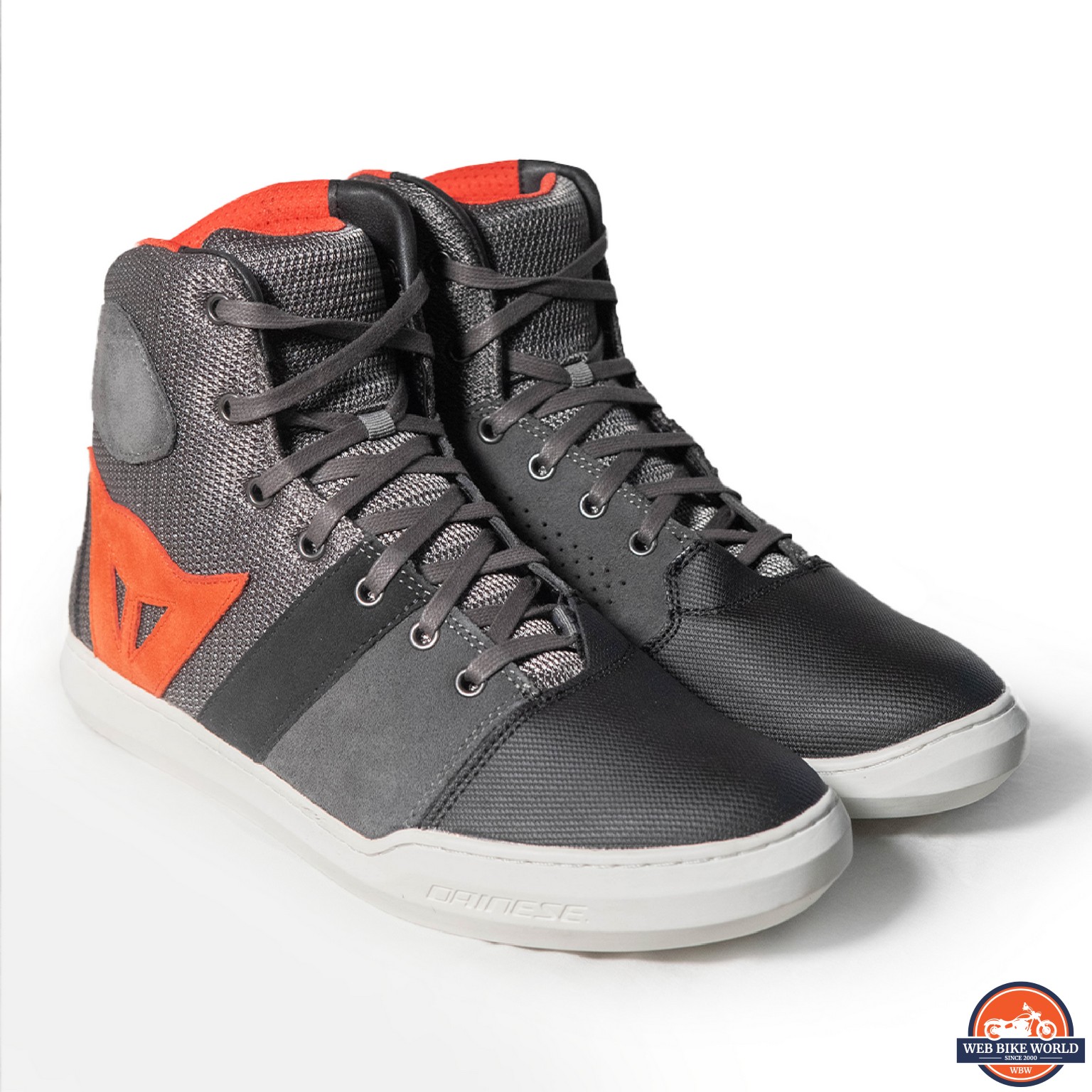 Dainese York Air Shoes Performance and Protection:
Consider the Dainese York Air shoes an average pair of sneakers, and the protection they offer is impressive. But look at them as the motorcycling shoes they are, and you'll be pretty disappointed. There's no serious protection on offer, and this, by far, is its biggest drawback. Unfortunately, it's a rather problematic situation for an otherwise impressive shoe since it's often the foremost expectation from motorcycle footwear.
The Dainese website mentions that these shoes are CE-certified to an EN 13634 Standard. That means they have met the minimum requirements for abrasion resistance, transverse rigidity, and sole delamination testing. Still, there is no reinforced toe or heel; the only additional protection on offer is some rigid inserts for the ankles.
I'm not certain what they're made of, but I can assure you that it isn't a hard plastic or TPU insert and is quite malleable. They are positioned to protect your medial and lateral malleolus — the round protruding bones on either side of the ankle. The inserts will provide a little extra impact resistance, but I suspect they will do little against lateral twisting forces, which is how you end up with a broken ankle.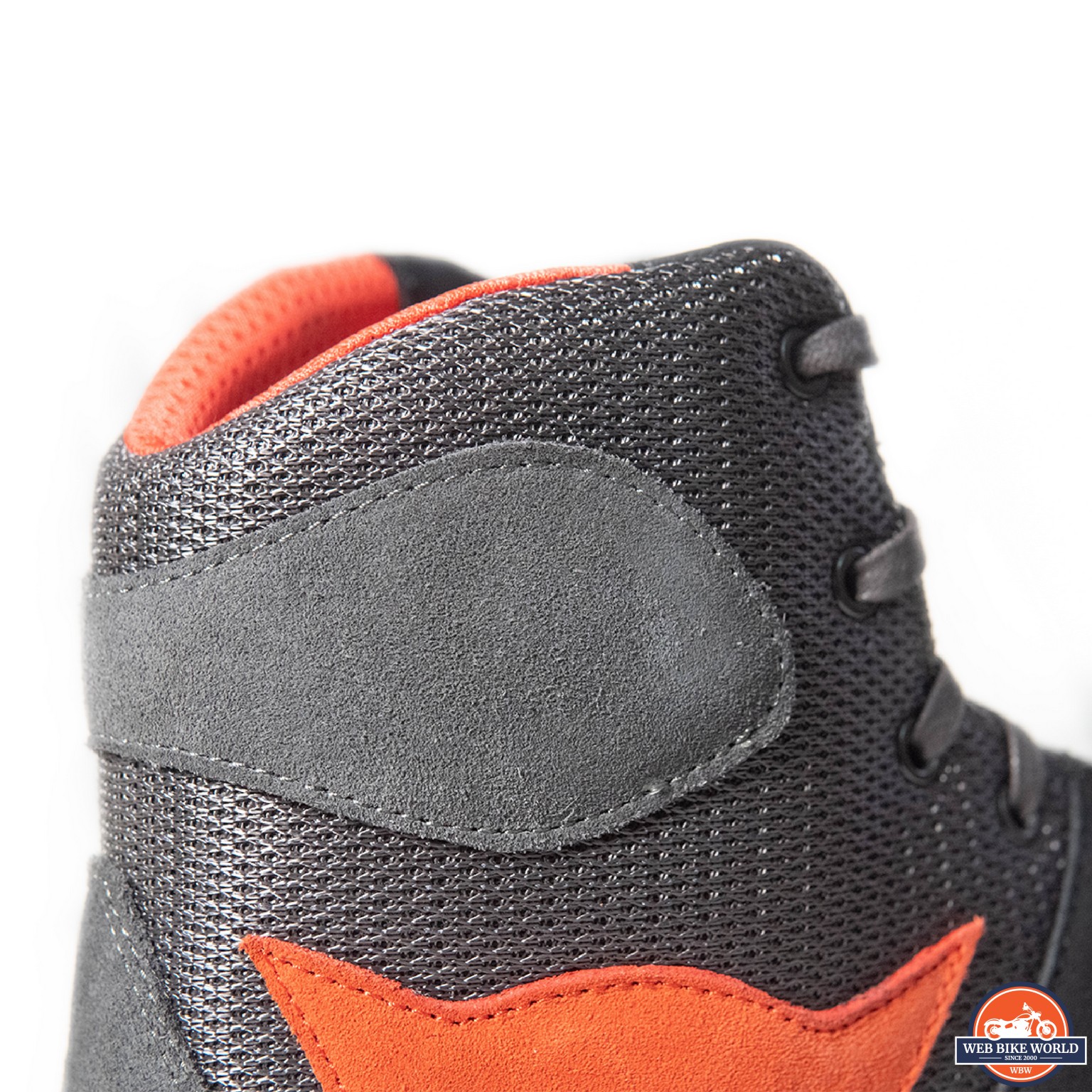 In addition, I'm also disappointed by how the shoes perform in the wet. They're shockingly slippery on wet footpegs, but luckily, this appears to be a problem with the rubber on metal and not tarmac or dirt, so walking when the ground was wet wasn't as sketchy. Funnily enough, Dainese seems aware of this since its website mentions that these shoes are "Comfortable and lightweight certified sneakers with a special rubber sole to provide grip on a scooter."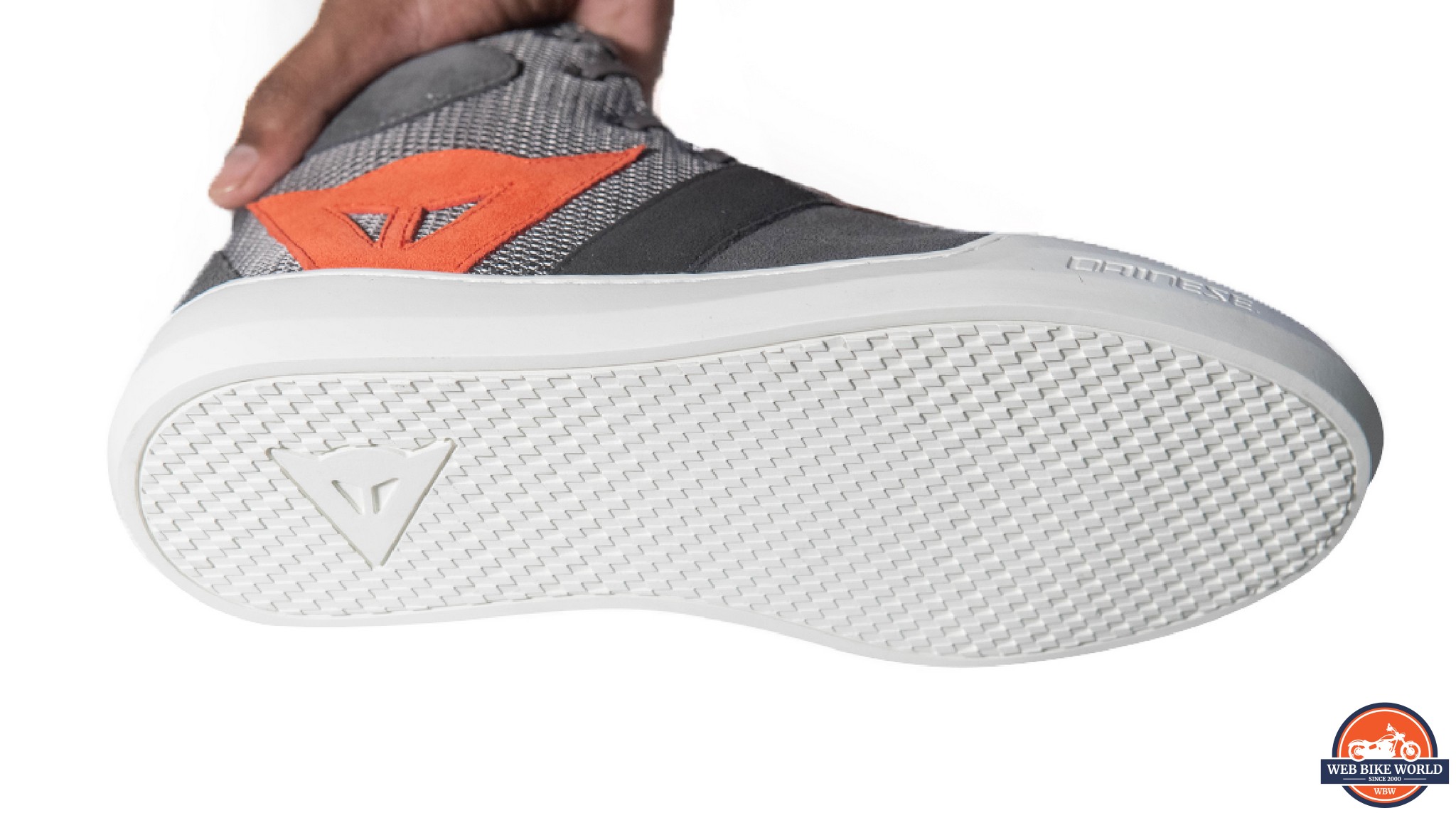 Dainese York Air Shoes Value for Money:
At just under $200, the Dainese York Air shoes sit closer to the upper end of the short-riding shoe pricing spectrum.
Unfortunately, that doesn't reflect what it has to offer, especially in terms of protection. For just as much, you could get yourself the Alpinestars Faster 3 Rideknit shoes that feature a TPU-supported ankle and TPR sliders on the heel and outer edge of the toe box, among other impressive features.
Having said that, the AStars features a much bolder design and are evidently purpose-oriented shoes that may not suit everyone's fancy. The York Airs, on the other hand, won't raise any eyebrows even if you wear them in a non-motorcycle, casual setting.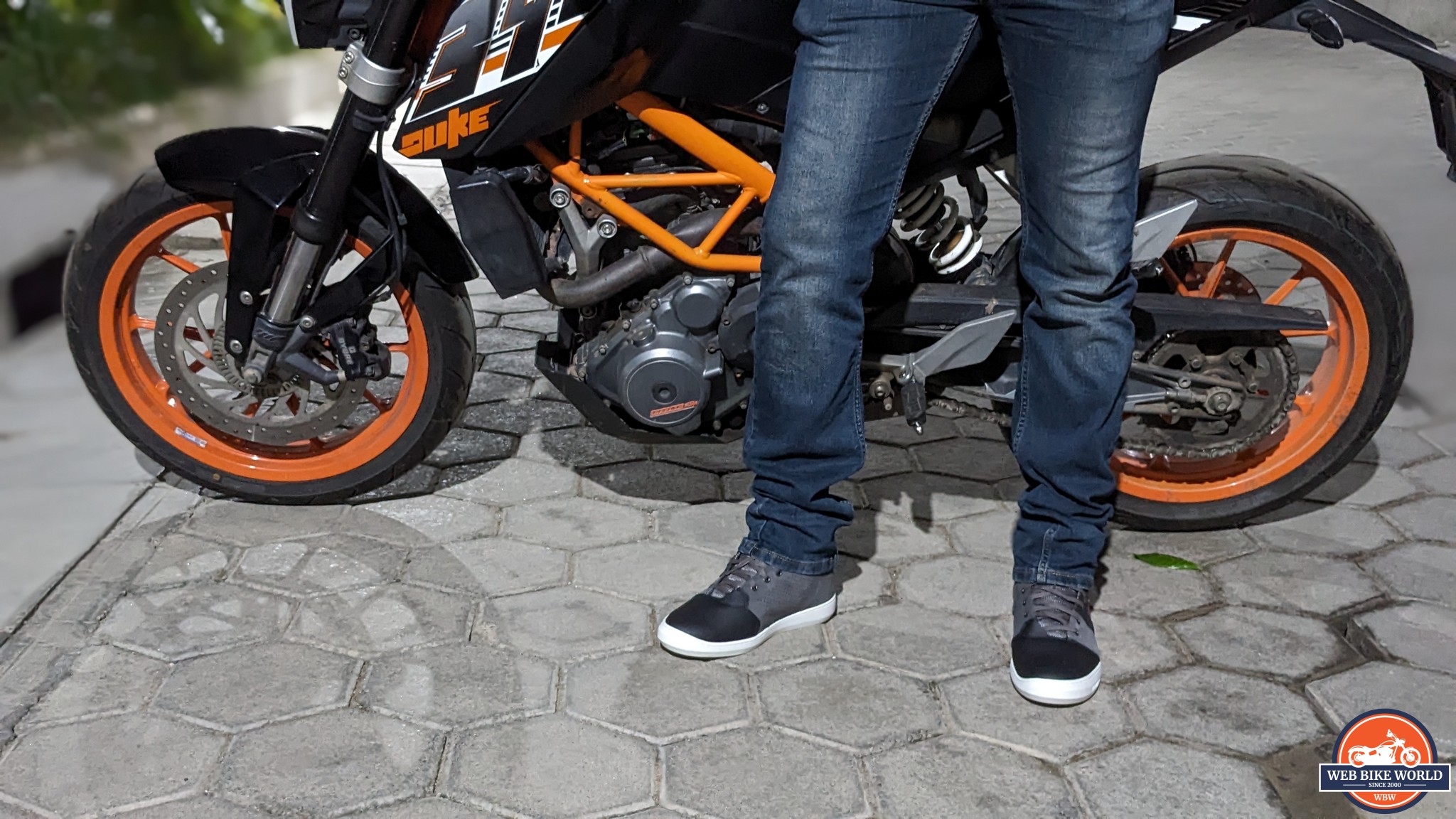 Final Thoughts
Reviewing modern-day motorcycles and gear is typically straightforward, as products are often mostly impressive or disappointing. However, I find myself in a somewhat intriguing predicament with these shoes. To a considerable extent, they check all the right boxes: practicality, comfort, and aesthetic appeal. But they fall short in the one regard that arguably matters most in a riding shoe.
It's worth noting that Dainese isn't making any false claims about the Dainese York Air shoes. What you see on the website is what you get. For me, the deciding factor is the price. In all honesty, if these shoes were priced just about $50 lower, they'd be a much more sensible investment for your money.
Pros
Looks great on and off the bike
Impressive breathability with perforated panels
Build quality and materials are admirable
CE EN 13634 certified
Cons
Subpar protection for the price
Cumbersome to wear
Sole lacks grip in the wet