Dainese Jet Stream Tourer Helmet Review Summary
Dainese Jet Stream Image Gallery
Here's my prediction: you're looking at the next big thing in motorcycle helmets.
I realize I'm going out on a limb here, because not everyone is into what could be called "Jet" or "Scooter Style" helmets.
But they're becoming hugely popular in Europe and just about everywhere else in the world.
Clothing and gear that becomes popular in Europe usually takes about 2 years to hit it over here, thus my prediction.
Examples? How about Birkenstocks? I toured Germany one summer back in the 1980's and there were grown men wearing white socks and Birkenstocks on every street.
I thought it was about the dumbest-looking shoe I've ever seen, but guess what? They not only became popular here, their even uglier cousin (if that's possible), the Teva sandal, became even hotter.
And how about those tiny little eyeglasses that were first seen (pardon the pun) in Europe? It took a little longer, but that's all you can find today in an American optometrist shop.
Yep, us Yanks like to think we invented it all, but this is a prime example of how wrong we can be, because the small eyeglass fad absolutely started in Europe, no two ways about it.
So Scooter Style helmets it is, like it or not. That's my prediction, and I'm sticking to it!
It's OK with me. My feeling is that this lid is the coolest-looking thing to hit the staid motorcycle helmet industry in a long time. And this is an industry that needs some shakin' up, for sure.
Copycatting is the name of the game — I can only think of two really original helmet ideas in, oh, the last 5 years or so. One is the SCHUBERTH J1 and the other is the so-called Enduro helmet, typified by the Airoh S4.
In fact, I'll bet J1 and S4 customers will love the Dainese Jet Stream…
BBesides looking new and different (and some say dorky, but just remember how dorky small eyeglasses and Birkenstocks seemed at first… Well, OK — Birkies are still dorky).
This type of helmet is comfortable; and the European versions typically offer more features than those 1930's half-helmets that are their nearest American competitor.
Besides, this Dainese Jet Stream Tourer provides more air flow than just about any other helmet I've ever tried.
I lived in Orlando for several years and I just came back from visiting the relatives. I took the Jet Stream with me for a ride on my cousin's Fat Boy to enjoy the warm Florida weather (relatively speaking).
I'll tell you this: it's the perfect helmet for hot 'n' sticky Florida. It's like wearing a strainer on your head, it flows that much air.
OK, so full-face protection is missing, but some riders will absolutely not wear a full-face or even a flip-up helmet, no matter what.
My neighbor wouldn't wear one if I gave it to him, and he's an ex-Motor Officer who's been riding for many years.
Besides, motorcyclists in the U.S.A. like to be different, so here's your chance. Just remember that this Dainese helmet isn't DOT FMVSS 218, but it does meet the ECE 22.05 safety standards.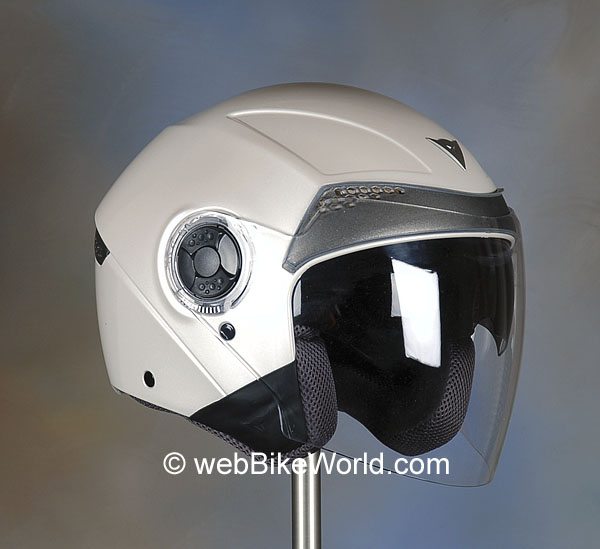 Paint and Finish
The Jet Stream Tourer is so lightweight at only 2 lbs., 9-5/8 oz. (1179 grams) for a size XL that it naturally feels flimsy when it's first handled.
Also remember that the small size and thermoplastic shell don't help in the confidence department either.
Hold the helmet up to a light and you can see way too much light through it, believe it or not.
But there's the same amount of foam and padding in there as any other helmet that meets the standards, and a lot more actually than most of the cruiser lids I've seen lately.
It has whatever it takes in terms of padding to meet the same safety requirements as any other half-helmet sold in Europe.
I ordered the white color, which is actually a nice creamy shade loaded with tiny metalflake bits, which are unfortunately not visible in the photos. The paint and finish is good to excellent.
I've seen a lot worse and I've seen a few better. It's always hard to evaluate paint on a solid color helmet, but this one looks good.
There are no runs or drips or dust bits under the finish, and that's a sign of quality. Run your hand over the paint and it feels like it has a nice thick clearcoat finish that's been buffed and polished. So I give it a thumbs-up in this department.
Helmet Fit
I bought the helmet from the Dainese Shop in Belgium. They asked for my head circumference, but I added a millimeter or three because I'd rather have a helmet slightly too big than slightly too small.
But I should have trusted them — the size XL fits me but I could have done with the size large.
So I'll say that the XL is true to size. It feels like a round-headed fit at the top, as most of the Scooter Style helmets I've tried seem to be. I should have remembered that there's a lot more wiggle 'n' stretch room in a half-helmet then in a full-face.
I think it should be ordered exactly to size and will fit neutral to round heads best. I'm not sure what the return policies are with the Dainese Shop, but you wouldn't want to pay the postage, believe me.
The helmet comes in two shell sizes, which is very unusual for a this type of half-helmet style. For more information on selecting and fitting motorcycle helmets, see the wBW Motorcycle Helmet FAQ page.
Face Shield
The Jet Stream Tourer has a big, clear face shield that provides excellent coverage for the entire face.
It comes down to cover my chin on the slightly-too-large XL and the bottom of the clear face shield is just about where the bottom of a full-face helmet rides on my head.
I'm used to full-face or flip-up helmets and riding with the Jet Stream's big, fishbowl face shield is a lot of fun. There's virtually no other part of the helmet in my peripheral vision, and that's a real treat.
And get this — here's the surprise: the Dainese Jet Stream Tourer has a flip-down internal sun shade!
This one seems to work about as well as any I've tried. The rubberized wheel on the left-hand side rotates the tinted face shield up and down.
I have to push the XL down on my head slightly to get it to fit correctly to make the sun shade rotate down far enough to be out of my line of sight.
So I'm guessing that the correct size large would place the sun shade in the perfect position without my having to mess with the orientation of the helmet shell.
The clear face shield has about 10 small detents and it feels relatively sturdy. The face shield can be flipped up through any number of positions and it stays in place. Nice.
Liner and Venting
Dainese says they use a "double jersey mesh" along with a double-knit fabric for the liner.
It's comfy and better than most of the liners I've experienced in half- or open-face helmets, which seem to usually have hard parts that can be felt through their thin liners, for some reason.
The liner material is also claimed to be hypoallergenic. The padding is removable for cleaning, and there's lots of mesh, so the air really flows over the top of the head.
The Jet Stream Tourer (and the Jet Stream City, a differently named helmet that looks identical to me) has always-open vents across the brow. They can be seen in the photos below.
When the clear face shield is closed, the brow vents are uncovered and they flow air right into the helmet, over the rider's head and out the back through the mesh exhaust vents.
I believe the Jet Stream Tourer was really designed as a pure summer helmet — it flows enough air that you wouldn't want to wear it in the winter. Dainese calls it a "revolutionary" ventilation system that's "one of the features making it an inseparable summer companion for every rider."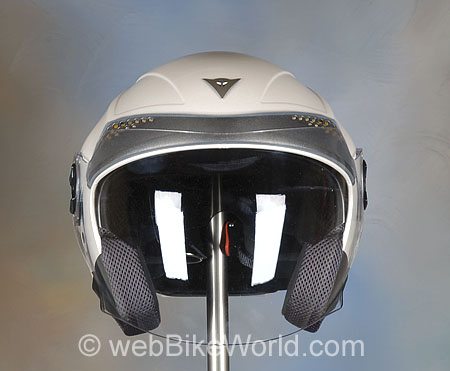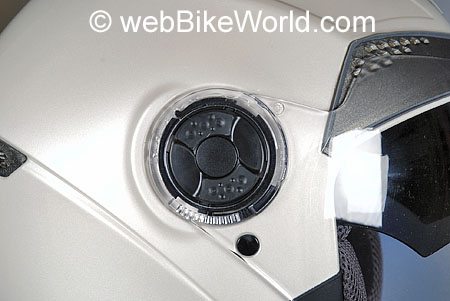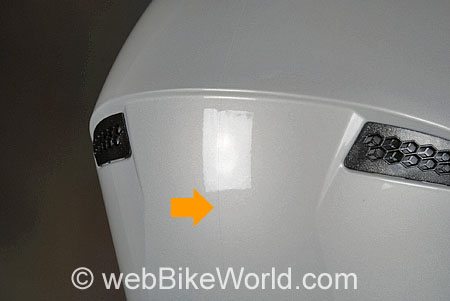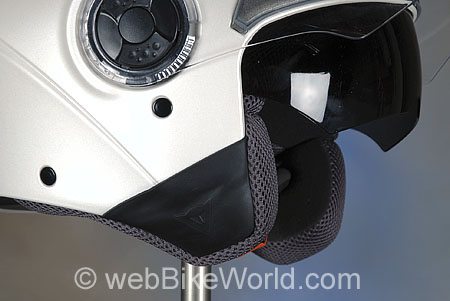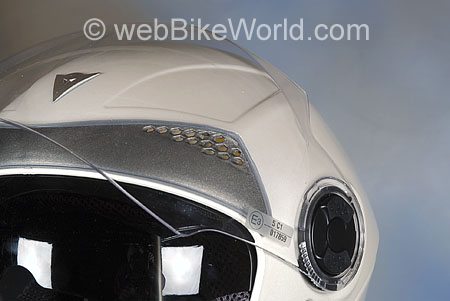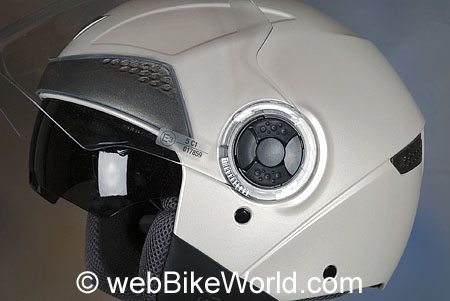 Noise Levels
Believe it or not, the Jet Stream Tourer isn't as noisy as you'd think, even with all that air pouring through. It's biggest enemy is the relatively thin shell, which doesn't do much to block wind noise and vibrations from the outside.
Wear a pair of good earplugs and since most of these style helmets will be worn by touring riders behind big fairings or scooter owners, this isn't a problem.
Don't forget, we always wear correctly inserted earplugs when we ride — see the wBW Earplugs and Hearing Protection page for more information on choosing and wearing ear plugs.
For more information on helmet noise, visit the wBW Motorcycle Helmet Noise page.
Helmet Weight
As I mentioned above, the Jet Stream Tourer weighs only 2 lbs., 9-5/8 oz. (1179 grams). This makes it one of the lightest weight helmets we've ever reviewed, bested only by the (claimed) 1,000 gram weight of the BMW SportIntegral Carbon (review) and the Bell Shorty (review).
Between the light weight and the spaghetti-strainer air flow, the Jet Stream Tourer feels as close to riding without a helmet as I can imagine.
See the wBW Motorcycle Helmet Weights page for a chart that compares the weights of all of the helmets we've reviewed.
Other Features
The plastic does have a very faint mold line down the middle, the only flaw that mars the otherwise nice surface finish. The chin strap is an unusual ratchet type.
The strap can be adjusted within a certain range and then the end of the strap is pulled through a ratcheting catch. This allows some adjustment and is sort of half-way between the infinite adjustability of the D-ring system and the so-called "quick release" types.
The helmet is also available as the Jet Stream City and the Jet Stream Naked. The Naked apparently has only the pull-down dark face shield.
Dainese claims the helmet has an "absorbent polystyrene foam shell with central polyhedric perforations and upper collapsible structure enables more air to pass within the helmet, while providing greater protection against knocks and collisions."
Regarding the face shield, they claim that it's an "injection-moulded, toroidal scratch-proof polycarbonate face shield" with a "toroidal scratch-proof polycarbonate sun shield, concealed within the shell, controlled from the left by an anti-slip nut."
Conclusion
You may think I'm daft, but I like this "Scooter Style" helmet and I think they're going to be a hit with touring riders, naked bike owners and scooterists in the U.S.A. Prove me wrong!
w

BW

 Review:  Dainese Jet Stream Tourer
Manufacturer: Dainese
List Price (2007): 125 Euros
Colors: Red, Yellow, White, Black, Matte Black, Silver, Grey.
Made In: E.U.
Review Date: February 2007
Note:
 For informational use only. All material and photographs are Copyright © webWorld International, LLC since 2000. All rights reserved. See the webBikeWorld® 
Site Info page
. Product specifications, features and details may change or differ from our descriptions. Always check before purchasing. Read the
Terms and Conditions
!
Owner Comments and Feedback
---
From "R.D." (9/10):  "Greetings from Australia, New South Wales in particular…
I purchased the Dainese Jet Stream Tourer helmet in October last year from Bimoto in Belgium and have covered about seven thousand miles with it so far.
I just can't wear a full face or flip up helmet simply because I feel claustrophobic in them (I'm 70 years of age now…).
In Australia I couldn't find a decent open face helmet and when I read your review of the Dainese, I sent my head measurements with my order to Bimoto.
I'm happy with the helmet even though it doesn't carry the necessary certification standards that would make it legal in this country.
But then as far as I can see there isn't a helmet on the world market that offers proper shock absorbing material for one's head inside a helmet.
I ride a Suzuki 650 V-Strom with a larger screen than standard that I look over, not through. The helmet is susceptible to wind noise and the only way to avoid this is to have your head nearer to and behind your screen.
Not practical! I therefore wear ear plugs if I'm travelling any distance.
Also, the noise of vehicles approaching you from behind on an adjoining road lane appears to be amplified and without ear protection is very annoying. I don't have to ride in traffic on a daily basis so this isn't a concern to me.
I love the face shield screen. It will fit right down to your chin or will sit a notch or two up from fully closed without dropping down. Dainese have done a good job with that. It is also very easy to remove and replace.
The winner for me was the inclusion of the sun shade. It works well and avoids the necessity of having to wear sunglasses whilst riding.
(We get a lot of sun in Oz!).
It's a bit fiddly twiddling the thin round knob on the side of the helmet with gloves on, but it's only a very minor niggle.
However, I'd love to be able to clip on a peak. Riding directly into a rising sun is not much fun even with the sun shade lowered. How about it Dainese? Oh, and I love the light weight and the helmet fastening arrangement.
I'm sick of those 'D' ring thingies, they've had their day!
Would I buy another one of these helmets? Yes, unless something better came along but I'm not holding my breath!"
---
From "B.E.": "After reading your review, I ordered one this past spring. Dainese made the ordering very easy and delivered it FAST.
I did a little trimming of the padding around the ears to make it more comfortable for me. Other than that, this is the most comfy helmet I own, and the helmet I ride with most often.
I find the shield a little flimsy, it bends and creaks and makes funny noises is high wind. With the front vents open, the helmet is very noisy. I find it noisier than my Arai Corsair!
But you don't need to open the vents, the helmet vents well because of the high neck, it just sucks the hot air right out the back.
I love the internal sunscreen. I love the light weight. This helmet is a must for those of us who want a half helmet or 3/4 helmet that is comfortable.
Looking at European helmets on the web, I notice many variants of this helmets theme. I will be looking into these as well, for some of them are even lighter than this one."
---
From "P.D.":  "I received a Jet Stream Tourer in yesterday's mail. I'll second your comments about the Dainese shop in Belgium, their service is exceptional and shipping time is short. I ordinarily wear a full face Shoei size XL.
The shop recommended a size L based on the measurement of my "head girth."  They were (mostly) right in their size recommendation. The L is a nice tight fit and I suspect that I would have found the XL too loose.
However, the range of adjustment of the chin strap is quite limited. I have it at maximum extension and am concerned that it may prove to be uncomfortably tight. In other respects I think it's good value for the money."
Editor's Note:  The Jet Stream Tourer has a webbed chin strap which can be lengthened and the finer adjustment at the end of the strap, using the "ratcheting" mechanism.