You stupid boy, get on your bike and check out this Brough Superior outfit used in the hit British comedy TV shows Dad's Army and George and Mildred.
The 1933 Brough Superior 1096cc 11-50hp and Cruiser Sidecar is heading to the Bonhams annual Spring Stafford Sale at the International Classic MotorCycle Show in Stafford on 27-28 April 2019.
The TV star outfit is expected to fetch up to £80,000 (about $A150,000).
Dad's Army
It was used in 1972 in season five, episode 12 of Dad's Army titled "Round and Round went the Great Big Wheel".
Other bikes used in the series from 1970-77 include a Matchless G3L in the same episode as above and a BSA M21 in season seven.
George & Mildred
When the 1933 Brough Superior outfit was finished fighting off Mr Hitler's invading forces, the bike was then featured heavily in George & Mildred (1976-79).
Its biggest starring role was in the opening credits.
We won't tell you the punchline to the opening scene.
Suffice to say Mildred is once again less than impressed by George!
Before the Brough wound up on the "idiot box", it started life as a works entry for the formidable ISDT (International Six Days Trial) in 1934, winning a coveted gold medal.
It is one of only 308 built and has been owned by a family for more than 50 years.
Superior Brough
However, it will not expected to be the superior bike at the auction.
That honour is expected to go to a 1926 Brough Superior 986cc SS100 Alpine Grand Sports estimated to fetch up to £180,000 ($A338,000).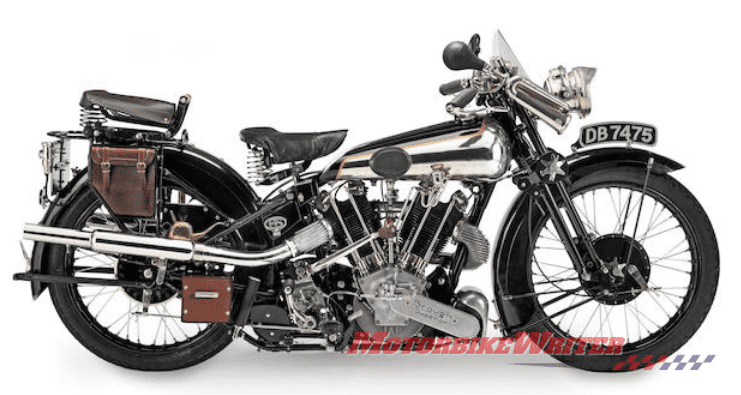 It includes several modifications to improve reliability and practicality, including an anti-theft switch and an electrical generator concealed behind the gearbox.
The high-quality sporting motorcycles were built in Nottingham by George Brough from 1921.
Every Brough Superior was essentially a bespoke motorcycle, built to the customer's individual requirements and famously earning the British company the nickname 'The Rolls-Royce of Motorcycles'.
A succession of famous customers rode Broughs, including T. E. Lawrence – better known as Lawrence of Arabia.