Esoteric American motorcycle company Curtiss Motorcycles has unveiled a third electric motorcycle concept called Psyche to compete against Harley-Davidson's LiveWire.
The company is already taking orders for the wild Zeus electric motorcycle with radial "V8" batteries and has released plans for the even wilder Hades with a bullet-shaped battery and motor.
They say these will go into production next year and cost $US75,000 (about $A106,000).
Now they have released plans for the more affordable Pysche priced at $US30,000 which is just a few bucks more than the Harley LiveWire.
There are no tech details yet on the Psyche, but Zeus and Hades will have 201hp (150kW) of power and 199Nm of torque.
That is far more than the $US29,799 (about $A42,500) Harley-Davidson electric LiveWire at 78kW and 116Nm.
Curtiss has also released no details of the Psyche's range, while the LiveWire has 235km of city range and 150km on the highway.
Psyche shot at Harley
CEO Matt Chambers says the Psyche is "a clean shot at Harley, exposing the hollow seemingly cynical nature of their EV effort, their own CEO (Matt Levatich) referring to their rather commodity looking Livewire example as a catalyst for their petrol line".
"Curtiss is the precise hard knock-out punch he didn't see coming," he says.
"He (Harley's boss) is way too big and spread way too thin. The volumes will be too low for the next five years.
"We have out-planned them, out-designed them, out-engineered them, out-branded them and out-promoted them.
"The market is very small, ideally suited to our core competencies, skillsets and bandwidth. We have the experience and collaborative relationships to ideally grow with this market. Harley does not."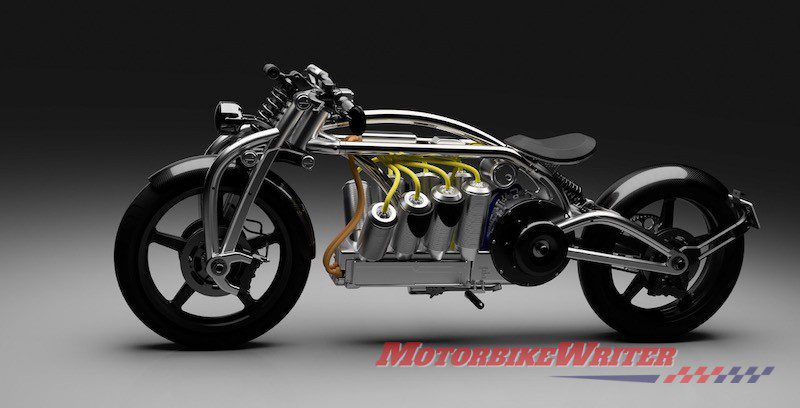 Despite his rhetoric, their first electric motorcycle prototype Zeus is only now entering pre-production stage, while the Hades is still just life-like drawings.
The LiveWire is now available in North America and Europe, but will not be available in Australia until late next year.
Harley-Davidson Australia spokesman Keith Waddell says the "US/European markets have had strong pre-order activity in the lead-up to the release".
"For ANZ we have not moved into the pre-order phase just yet, however we have heard that some dealers are already receiving request to order, which is great given we are 13-14 months out," he says.
"We don't have exact timeframes for when units will be delivered into market however we are working to the normal model year release cadence."