As some mature riders begin to suffer from various aches and pains they tend to opt for cruisers to relieve the stresses on their body. 
But are cruisers with their relaxed riding position really the most comfortable bike to ride?
It really depends on what ails you.
Common ailments for mature riders are bad backs, crook knees, dodgy hips and arthritic hands.
As someone who has all these problems to varying degrees and tested all types of motorcycles over the years, I feel I am qualified to comment.
So let's look at these separately and together.
Bad back
If you have a bad back, a cruiser may not be the right bike for you.
In the relaxed riding position of a cruiser with feet-forward controls, you sit as though you are in a couch. Usually your spine is straight up and down or slightly curved.
That means any bumps from the suspension will be relayed straight up your ageing backbone.
Your legs cannot prevent any of that jolting to your back because they are out in front of you.
Depending on the handlebars, your arms also cannot take any of the stresses and strains away from your back.
All your weight is pressed in to the seat with no way to relieve that stress, so you can get a sore lower back and backside. An aftermarket backrest or luggage on the back seat may help.
You may find a bike where your feet are in a mid-mount position is better because your body is in the shape of a coiled spring and absorbs the bumps more evenly.
You can also take some of the weight on your feet and legs.
A softer seat or a supplementary cushion such as an Airhawk may help.
Some people even find a sports bike is good because they can take some weight on their hands.
Crook knees
If you are in need of a knee operation or replacement, you will find that anything with a tight knee bend in the riding position is uncomfortable.
That rules out sportsbikes.
However, bikes with a neutral riding position such as most naked bikes should be ok as you can occasionally straighten your leg to relieve the pain.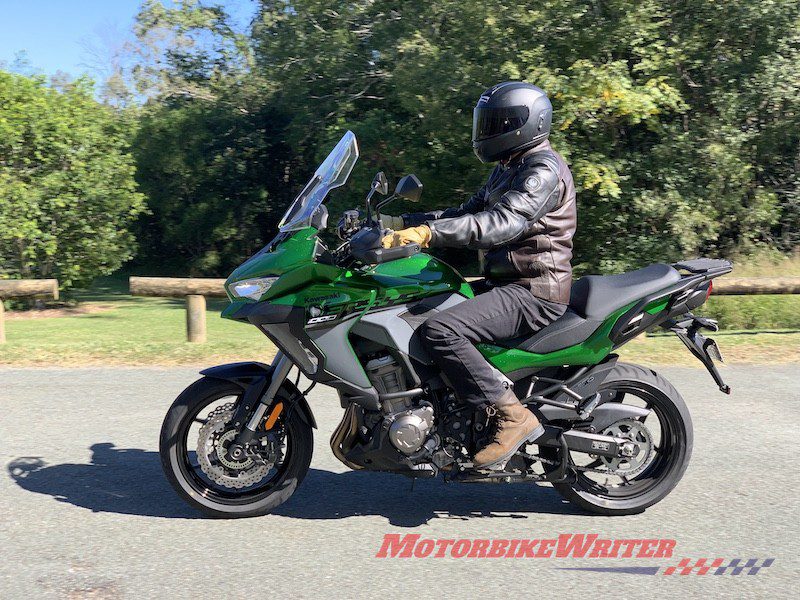 That is more difficult when your feet are tucked up behind you.
The best bike in this situation is a cruiser where your legs are straighter.
Some people install highway bars to rest their feet, but this can be considered dangerous as your feet are away from the important gear and brake controls.
Dodgy hips
You would think that a cruiser with its relaxed position would be best for mature people suffering from hip problems.
However, most low-riding cruisers have wide fuel tanks which means you sit with your hips splayed around the tank.
This affects the hip flexor muscles and can cause a pinching sensation.
You are best to find a bike with a narrow tank so you can get your legs closer together.
Arthritic hands
Arthritis in the hands can be very painful on long trips without cruise control. You can also buy a palm rest so you don't have to curl your fingers around the throttle.
Being able to relieve the pressure on your hands also means finding a bike where the bars are not too low or far away.
You will probably also need a fairly thick bar grip so your hands aren't curled too much.
You can buy wider and softer grips such as Grip Puppies to alleviate some of the pain from the jackhammer effect of the front forks over rough surfaces.
Mature conclusion
If you are becoming a mature rider with one or more of these problems, you are going to have to think hard about what you need to remain comfortable on a longer ride.
That's why it's important to go for as long test ride, not just around the block. That's if the dealer offers you a test ride at all!
A short sit on a motorcycle in a showroom (if they let you!) also won't provide any answers. You would have to sit there for a couple of hours and the bike would need to be vertical, not on its side stand.
We suggest trying a few bikes, maybe try your friends' bikes, and don't just opt for a cruiser because it looks comfortable!